Imagine for a moment if people purchased cars, homes, or anything of value with similar rules and expectations like we fantasy football owners draft players. After doing months of research, consisting of film review, test drives, and reading countless reviews to determine that car X with a cherry red paint job is a great value at $10,000.

You scour the internet for a car dealership that is willing to let your purchase car X for $10,000. It is the exact car you want. The one you poured your time and heart into for the past few months, but instead of purchasing the car at a value you determined to be fair, you decide to wait for a better deal. After all, who wouldn't want to get a deal on a car and get it for even less than fair market price? Would you like the vehicle more if you were able to wait a week or month and buy it for, say, $9600 instead of $10K?

Sure, everyone wants a deal regardless of what product they are purchasing, whether it is underwear, a house, a bunch of bananas, or a fantasy football player. But what if there is only one cherry red x in the world for you to purchase, and waiting a day, week, or month for the price to come down could result in you missing on your dream car, forcing you to settle for a green car X?

This may sound like a stretch for most people, as cars are a mass-produced product in which finding exactly what you want is not difficult to do, especially in a global economy where securing a desired product or service has few limitations.

But the economy of fantasy football players is finite in the microcosm of the league player pool, and each player can be owned by a single owner. So why as fantasy owners do we play the game of fantasy chicken and bypass players whom we determine to be valued correctly and a certain point in the draft, simply because ADP or rankings tell us that "experts" value a player a round or two later?

Is the thrill of gaining a round or two of draft equity worth losing your coveted player only because an imperfect market based on subjective ADP and biased rankings tells you can get a player later in the draft?

I believe it is not, yet millions of fantasy owners will make this mistake in their drafts this summer.

Ranking players is an imperfect science based on reviewing film, examining changes to offensive schemes, projecting strength of schedule, and whether or not an expert will admit it, personal preference and bias is a big part of the pie. No fantasy analyst is perfect at ranking players. It is an inexact science filled with pitfalls. We do our best with the information at hand and make educated guesses as to what we think will happen. If fantasy "experts" we perfect at assigning value and predicting outcomes, they would not waste their time writing articles like this and would make a fortune in Las Vegas betting on games.

Average draft position is a second tool used by fantasy owners to help predict where certain players will fall in a draft. Because individual leagues value positions differently, scoring systems tend to differ between home leagues, and drafting philosophies like late-round QB and Zero-RB can change the landscape of the leagues that make up the pool, ADP should only be taken with a grain of salt.

The third factor that goes into player valuation is the personal bias that we all have toward players, which can be affected by numerous factors that are based somewhat on logic, but mostly in illogical feelings that can be irrational. This third valuation factor is the wild card that can throw all best-laid plans out the window. Just because you may think Marshawn Lynch is a good value at pick 29 as the 15th RB off the board, your brother-in-law who is a die-hard Raider fan may take him in the middle of the second round.

With player valuation a borderline exercise in futility, how should a fantasy owner prepare for a draft, especially a live version where the default value of a service provider like ESPN or Yahoo is not ever-present to establish a baseline ranking for owners to use?

Personally, I like to stat out player projections and rank players based on how I think they will finish the season at their respective position. I combine that data and mesh it with a few fantasy writers that I respect in the industry, including our very own Doug Orth here at FFtoday. Then I add tiers to my rankings to help me keep focus on a range of when I should target similar players at a position, so I don't succumb to positional runs and other shenanigans on draft day.

Once the draft starts and players start coming off the board, I use my rankings as a loose guide knowing full well that the process will not pan out as planned. Some players will go much higher than projected, while others will fall and become a value to a fortuitous owner.

But if there is a player that I covet and they are available at a point in the draft that I deem worth the price, I will take them regardless of what conventional wisdom based on rankings and ADP tell me.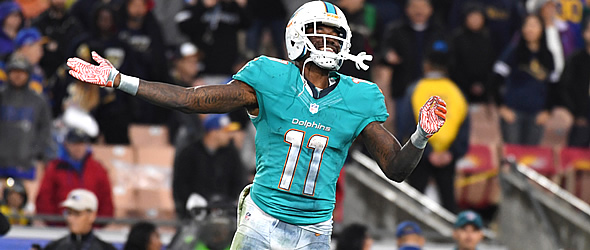 If you value DeVante Parker in Round 6, take him despite his ADP being a couple rounds lower.
For example, I have DeVante Parker finishing just outside the top 24 of wide receivers this year, putting him close to Golden Tate, Tyreek Hill, and Larry Fitzgerald. The market based on ADP and consensus rankings on FantasyPros.com has him pegged closer to a 7th or 8th round pick as the 34th WR overall.
Parker is a flag player of mine (along with numerous other writers/analysts) as the 26th ranked WR on my board. He is my cherry red car ready to bust out and deliver on his first round pedigree. The market tells me I can wait until the seventh, eighth, or possibly early ninth round, yet I have him valued in the sixth round. Sure, I can roll the dice and see if I can luck out and get a "steal" on Parker, but it is an unnecessary risk if I have Parker ranked as a six round value.
Too often than not people get greedy with draft equity and wait too long, only to be left with a green car X or Pierre Garcon. If you deem a coveted player should be taken a round or two ahead of what the inefficient market tells you, go against conventional wisdom and grab your player. You may get some grief from your buddies claiming "boy that guy went early," but it will be worth the risk if your DeVante Parker comes through this season.