I am a self-described Twitter junkie always on the lookout for that next big injury update or news item that might give me a leg-up on the competition in my league. With nearly every NFL beat writer tapped into social media, ready to be the first to break the latest NFL headline, Twitter is a vital tool that has revolutionized the fantasy sports industry.

With the good always comes the bad, and the need for beat writers to provide new content on a daily basis can create a plethora of coach-speak nonsense, as coaches boast how well their players are playing in mini-camps and how they plan to get wide receivers more active in the red zone.

Is some of this information useful for fantasy owners when looking for an edge on identifying possible sleepers or value picks? Sure, but the problem is that there is so much information spewed out on a daily basis that it becomes difficult to discern between factual intel and NFL off-season gibberish.

Fantasy writers like myself are not immune from the pressure to provide regular content and insight on players, and our articles and thoughts can shape the early ADP of players to the point that we help develop a market based purely on speculation. If a player becomes too hyped on social media and on early season articles, that player's ADP rises to a point in which they are no longer a value.

Here are five players that I suspect will not be on any of my rosters in 2017 based simply on the fact that their preseason hype pushed their ADP to an unattractive level.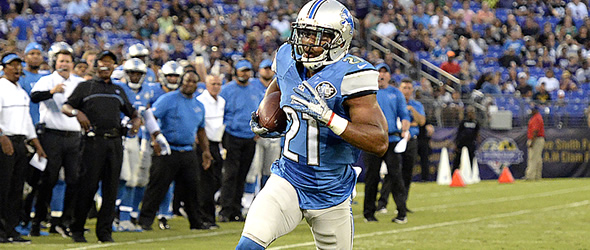 Recent history plays a big role in player value and some won't forget Abdullah's lost season in 2016.
Note: ADP Data Based on 12-team, PPR leagues
Ameer Abdullah (RB - DET)
ADP: 5.11, 59th Overall
Dubbed as one of the big winners of the offseason due to the fact that the Lions did not use a high pick on a running back in the draft or sign a free agent complimentary back like LeGarrette Blount, third-year running back Ameer Abdullah appears to be the starting tailback for Detroit heading into training camp.
After a solid rookie campaign in which he averaged 4.2 yards per carry in limited action, Abdullah looked primed to take over the lead back role in 2016. Unfortunately, injuries derailed a promising start to the season, leaving Abdullah with 18 carries in two games before getting placed on IR.
With no clear threat to the starting role this season, the love for Abdullah continues to grow, and his ADP is edging toward the end of the fifth and beginning of the sixth round. I anticipate that if the Lions do not add another running back to the mix before training camp, owners will continue to push his ADP to a point where he is no longer a value.
The Lions lost starting left tackle Taylor Decker for an undetermined amount of time, and their schedule to start the season is one of the most difficult in the league (ARI, @NYG, ATL, @MIN). As a late sixth or early seventh round pick, Abdullah is worth the risk, but not if he continues to rise.
Marshawn Lynch (RB - OAK)
ADP: 2.09, 21st Overall
If there is a 31-year-old running back in the NFL today that can successfully return to form after spending a year away traveling the world, it would be Marshawn Lynch. Despite entering the league as a first-round draft pick of the Buffalo Bills way back in the 2007 season, Lynch has a relatively small number of carries on his wheels (2144) and has mostly avoided serious injury while a member of the Bills and Seahawks.
In the history of the NFL, there have been 12 players to rush for more than 1000 yards in their age-31 season, with Curtis Martin setting the bar high with a career-best 1697/12 season with the Jets in 2004. Fellow Hall of Famer Walter Payton posted his third-best statistical season at age 31, while Thomas Jones of the Jets posted career-best 1402 yards and 14 touchdowns while playing for New York in his age-31 season.
So there is certainly a history of players performing well after they pass the 30-year old threshold, and both Martin and Payton posted their impressive numbers with hundreds of more carries and much more wear and tear on their legs.
But the unknown of how well Lynch will respond after missing a year of action is enough to make me hesitant to take him before the late third or early fourth of 12-team leagues this season. With an ADP of 21st overall according to FantasyFootballCalculator.com, it appears as though the masses do not have my reservations, and Beastmode will likely be drafted well before I can pull the trigger.
Tyreek Hill (WR-KC)
ADP: 4.05, 41st Overall
Tyreek the Freak has been a prominent topic on social media this off-season as people continue to speculate how much of a volume increase Hill will see after his impressive rookie campaign. The frenzy on Hill hit astronomical levels when the Chiefs released Jeremy Maclin out of the blue, giving Hill apologists even more fuel for their fire.
Hill's 1.66 fantasy points per touch in 2016 was tops among wide receivers, and a negative regression is almost a certainty when his volume increases. There are also questions on how well his small frame will handle an increase in snaps and the corresponding beating he will take if he does increase his catch totals.
Despite these questions, Hill is one of the most dynamic players in the league and is a threat to score from anywhere on the field. As a mid-to-late round pick, the risk associated with Hill and his significant upside is built into his price. At his current and likely to rise ADP of 41st overall (4.05), owners are paying too much draft capital for a player that has one year of production under his belt.
Terrelle Pryor (WR-Was)
ADP: 4.01, 37th Overall
One year removed from his first full season as a converted wide receiver, Pryor joined the Washington Redskins as a free agent over the off-season. With Pierre Garcon now in San Francisco and DeSean Jackson down in Tampa Bay with Jameis Winston, Pryor appears to have landed in an advantageous spot with close to 200 targets available for the taking.
Pryor's size 6'6", 230 lbs and his ability to be a downfield and red zone threat have made him a favorite of fantasy analysts entering training camp. The fantasy football community doesn't consider last year a fluke either as evident by his early-fourth-round ADP.
There is no doubting his talent, and the opportunity to get triple-digit targets is certainly there in Washington. But there are significant red flags in that Pryor has only been fantasy relevant for one season, the Redskins have very little invested in him (one-year contract), and Kirk Cousins already has two wide receivers in which he enjoys an excellent rapport (Jamison Crowder and top target Jordan Reed).
Pryor is going to have some big weeks, and it would not surprise me to see him finish as a top-24 wide receiver. However, at his current ADP as the 18th wide receiver off the board, he is too expensive for me based on the fact that I don't think he will be consistent enough to justify the cost.
Brandin Cooks (WR-NE)
ADP: 2.11, 23rd Overall
In keeping with the trend of New England players that I will likely not own in 2017, the trade of Brandin Cooks for the Patriots 2017 first-round draft pick made an already overvalued player even more overpriced.
Cooks is a talented player, averaging 1150 yards and eight touchdowns in his last two seasons as a member of the Saints. But to achieve those stats, Cooks needed an average of 125 targets from Drew Brees as the 1B option in the passing offense with Michael Thomas. In New England, Cooks will enter as the number three option behind Gronk and Julian Edelman, and Tom Brady has proven over the years to spread the ball around.
I anticipate that Brady will use his new weapon well and the Patriots offense will be excellent in 2017 in route to another AFC title and likely Super Bowl ring. But Cooks may be a better real-life player than a fantasy option as I doubt he will receive enough consistent volume to justify his second-round ADP.