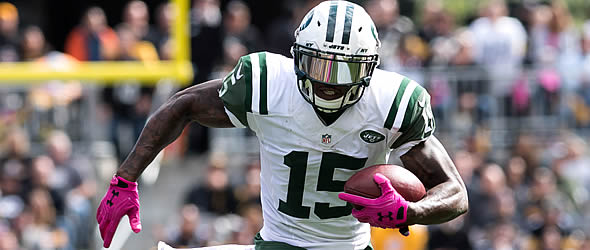 Marshall's effect on the Giants offense will be one of the more interesting fantasy storylines of 2017.


The month of May is an interesting time in the fantasy football community, as writers and analysts no longer need to prognosticate which college player will land on what team now that the NFL draft in the books. With fantasy football players coming out of hibernation in search of new articles and rankings, fantasy websites, including the one you are reading right now, are motivated to provide new rankings, articles, and draft kits.

But the problem is that all of us in the fantasy community are working with metaphorical blinders right now, as there is no discernible information in the early summer months that gives us any real intel that can be used to make a reasonable assumption on how players will perform this year. Especially fresh face rookies yet to play a down in the NFL, or veterans on new teams looking to resurrect their careers.

Despite this fact, we all love to read articles predicting the next big thing or the player who will jump the proverbial tier and outperform their current ADP (keep in mind ADP in May is like a Trump view on reality; it is constantly changing). Heck, I too love to scour the internet looking for articles that may give me a little bit of an edge on my competition when I draft in August.

I thought I would throw my hat in the ring of the echo chamber nonsense (an ode to Chris Harris) that is Mid-May speculation with the narrative that Brandon Marshall is the most interesting fantasy football player in 2017. Marshall is fascinating this season not only for the fantasy points he may or may not produce, but also for the way he will affect Odell Beckham Jr., Eli Manning, Sterling Shepard, and whoever emerges as the top running back option in what could be a high-powered offense in New York.

Entering his age 33 season, Marshall has been one of the most productive real life and fantasy football wide receivers since joining the league as a fourth-round pick of the Broncos in 2006. With eight 1000-yard seasons, six in which he caught over 100 balls, and 82 touchdown receptions in 151 games, Marshall has quietly put together a hall-of-fame worthy resume while playing on teams with average to below average quarterbacks.

As much as I do not think Eli Manning is an elite quarterback (no, I do not want to rehash that tired discussion), I believe it is clear that Marshall has yet to play with a quarterback as good as Manning or in an offense as prolific as the Giants. From a fantasy perspective, it is not always advantageous to be a good player on a good offense, if you are surrounded by other talented skill position players that will limit your ability to get the required targets to be fantasy relevant.

In his 10 NFL seasons, not counting his rookie season, Marshall has never received less than 100 targets, including four injury and suspension-filled years. Ten seasons of triple-digit targets is a recipe for fantasy gold and a solid NFL career for any WR, especially one that is 6'4" with Marshall's ball skills and ability to dominate in the red zone.

With targets, especially those in the red zone, being key for Marshall and any veteran wide receiver looking to make an impact on a new team, where will the 100-plus targets for Marshall come from on the Giants? Beckham will certainly get his volume, but will he see a decrease from the 169 targets he garnered in 2016?

Will the Giants stunt the growth of second-year wide receiver by taking targets away from Sheppard in favor of Marshall, and what about the addition of 2017 first round draft pick Evan Engram? Predicting the allocation of target share is much easier when there is a dearth of targets from players vacating their spots in an offense, like with Washington and the loss of Pierre Garcon and DeSean Jackson.

But in the case of New York, where a veteran WR accustomed to 100 targets a season joins an already potent offense, there is no certainty how things will pan out. It is anyone's guess how things will go with the Giants, and if any fantasy football analyst or writer claims to have a clear idea of how Marshall will affect the Giants in 2017, they are more than likely mistaken or flat out lying.

There is a plausible narrative that Marshall will open the door for OBJ to have his most dominant season to date, as opposing defenses will no longer be able to double and triple team Beckham in coverage. Conversely, it is not out of the realm of possibility that Marshall and Manning develop instant chemistry and the two hook up for double-digit targets and 1000 yards, thus marginalizing Beckham Jr.'s fantasy value and removing OBJ from the top tier of players.

On one hand it would not surprise me to see Marshall become disgruntled as a result of not getting targeted much by Manning, leading to dissension in the Giants offense and an eventual release of Marshall by general manager Jerry Reese. It is also possible that Marshall's success could frustrate Beckham Jr. to the point where his production is limited by a poor attitude on and off the field.

Because there are so many possible outcomes, and the fact that all of the narratives directly affect a top-six consensus pick, Marshall joining the Giants is the most interesting story of the 2017 fantasy football season.

Now it begs the question, do I recommend using a pick Brandon Marshall at his current ADP of 67 overall and the 29th wide receiver? When considering the wide spectrum of outcomes, ranging from having no fantasy relevance due to getting released as a disgruntled player to posting No. 1 wide receiver numbers in the event ODB gets hurt, his current ADP is worth the risk of the former narrative playing out.

The middle ground and most likely stat production one can anticipate is 75 catches for 825 yards and seven touchdowns, which would have made him the No. 19 wide receiver in standard leagues this year. Assuming you can get him as the 29th WR wide receiver off the board, he already has built-in value at his current ADP. When you add in the high end of the spectrum as a low-end WR-1, Marshall is well worth the risk of him not panning out.

I plan on rolling the dice on Marshall, as the risk of him not panning out is worth the possibility of him providing double digit touchdowns. But what the heck do I know? It is May, and we are all just speculating without any real information.