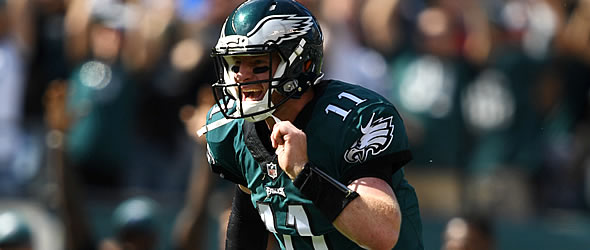 Carson Wentz has an improved receiving corps but still remains a fringe draft pick in 12-team leagues.
QB Carson Wentz
(2016 QB Rank – No.27, 17.5 FPts/G)
Wentz looked every bit the top three pick at the start of his rookie season in 2016, posting double-digit touchdown games in three of his first four career starts, including 301 yards and two passing TD's Week 3 against Pittsburgh. As the season progressed and the Eagles faced tough defenses, Wentz struggled with interceptions and a poor completion percentage, highlighted by a two-interception, zero-TD loss Week 6 on the road against Washington.
It did not help the rookie passer to lose starting right tackle Lane Johnson to suspension for most of the season, and the Philadelphia receiving corps was arguably the worst in the league. Both issues were addressed in the off-season with Johnson ready to start the season Week 1, and the Eagles front office adding Torrey Smith and Alshon Jeffery via free agency.
As a sophomore, Wentz commands an offense with one of the better offensive lines in the league, a revamped wide receiving group, and a productive running back stable of LeGarrette Blount, Darren Sproles, and Ryan Mathews. The depth of the quarterback position will make him a fringe draft pick in most 10 and 12 team leagues, but home games against weak defenses like the 49ers in Week 8 and the Bears Week 11 are excellent streaming options.
RB LeGarrette Blount
(2016 RB Rank - No.8, 14.2 FPts/G)
Blount led the NFL in rushing touchdowns (18) and set a career high in rushing yards (1,161) in 2016 as a member of the Super Bowl champion New England Patriots. As is often the case with the Patriots, who are masters of maximizing production while not paying for past performance, Blount was rewarded with a lowball offer and a free agent signing for below market value with the Eagles.
Although Blount is big and relatively agile for his size, he is not elusive and only excels as a powerful between the tackles running back (as evident to his subpar 3.9 YPC average last season.)
In Philadelphia, Blount joins a crowded group of running backs in which four running backs combined to carry the ball 353 times for first-year head coach Doug Pederson. The former Chiefs offensive coordinator proved that he prefers to use a backfield by committee, which could limit Blount's effectiveness for fantasy owners in 2017, as Blount received 299 carries in New England last year.
Despite these concerns, Blount will have significant value in standard leagues if he is given the majority of goal line carries in what appears to be a much-improved Eagles offense. If the team does not release Ryan Mathews and the two players share duties, Blount will be a nightmare for fantasy owners, as Pederson is unpredictable in how he uses his running backs.
RB Darren Sproles
(2016 RB Rank - No.46, 7.4 FPts/G)
As part of the running back-by-committee last season, Sproles posted the most rushing yards (438), attempts (94), and receiving yards (427) in his three seasons with the Eagles. His relatively low touchdown total of only four combined scores limited his effectiveness in standard leagues, but his usage in the passing game made up for his shortcomings (pardon the pun) in PPR formats.
At age 34, the diminutive running back continues to prove his detractors wrong by delivering productive seasons well into his 30's. The addition of Donnell Pumphrey is a significant threat to Sproles, as Pumphrey is a talented pass catching back that could take the third-down duties away from the ageless one.
For this reason, Sproles should only be considered in deep PPR formats and not standard leagues. The addition of Blount to an already crowded backfield will certainly limit Sproles' usage in the red zone, and Pumphrey could take the receiving back lead in training camp.
WR Alshon Jeffery
(2016 WR Rank - No.39, 7.8 FPts/G)
After five up and down years in Chicago, Alshon Jeffery signed a one-year "prove it" contract with the Eagles, instantly becoming the No. 1 wide receiver on a team devoid of any viable receiving threats in 2016. Joining Jeffery in Philadelphia is fellow free agent wide receiver Torrey Smith, who will likely be the deep option for Carson Wentz alongside Jeffery and slot receiver Jordan Matthews.
Although Jeffery as never been a big touchdown scorer, with only one double-digit TD season to his credit, when given over 130 targets he has proven to be capable of at least 1100 yards and seven touchdowns. The biggest question surrounding Jeffery is his ability to play a full-16 game season, as injuries and suspensions have limited him to a full slate of games only twice in his career.
From a consistency standpoint, Jeffery lags behind other No. 1 wide receivers, with only one career top-ten finish according to FFtoday's fantasy consistency calculator tool. But with a new offense and playing in a contract year, Jeffery could deliver one of his best seasons and finish 2017 as one of the steals of the draft.
WR Torrey Smith
(2016 WR Rank - No.107, 3.7 FPts/G)
Smith spent two seasons wasting away in the dumpster fire that is the San Francisco 49ers organization, fading away from fantasy relevancy with 53 catches and seven touchdowns over 27 games.
After signing a three-year, $15 million contract with the Eagles over the off-season, Smith has once again emerged as a viable flex play in deeper leagues as the likely deep threat for quarterback Carson Wentz.
Owners looking for Smith to return to his 100-plus target days back in 2013 in Baltimore will surely be disappointed, as there are too many mouths to feed in the passing game with Alshon Jeffery, Jordan Matthews, and Zach Ertz also vying for passes. But it is feasible for Smith to garner close to 50 targets, especially nine-routes and posts to stretch the defense, making him a home run play based on matchups.
WR Jordan Matthews
(2016 WR Rank - No.51, 7.0 FPts/G)
Matthews appears to be the forgotten receiver in Philly this season after posting a surprisingly good, but injury shortened season in 2016. Despite playing in just 14 games, Matthews finished with 73 catches for 804 yards and three touchdowns on 117 targets. His 16-game pace would have left him with an 82/904/4 line, making him a viable flex or matchup play in deeper 12 and 14 team leagues.
With the additions of Alshon Jeffery and Torrey Smith helping to take away coverage from Matthews in the slot, the former second-round pick from Vanderbilt could have a bounce back year and post close to the eight touchdowns he averaged in his first two seasons in the league.
TE Zach Ertz
(2016 TE Rank - No.10, 7.5 FPts/G)
Ertz finished as the No. 10 fantasy tight end last season after posting a respectable 78/816/4 line, despite playing in just 14 games in 2016. Depending on which narrative you believe, the addition of Alshon Jeffery and Torrey Smith could be a positive or a negative for Ertz. On one end, having viable receiving threats on the outside could open up the middle for Ertz and Matthews to exploit. While on the other side of the argument, the crowded reviving corps will take away targets and catches from Ertz, a player that has never caught more than four TDs in a season, relying heavily on volume and yardage to score fantasy points.
It remains to be seen which narrative will play out for the former Stanford Cardinal. One thing is for certain, if you do draft Ertz, be sure to play him in the final two weeks of the season, as he has been one of the most heavily targeted players in weeks 16 and 17 since joining the league in 2014.