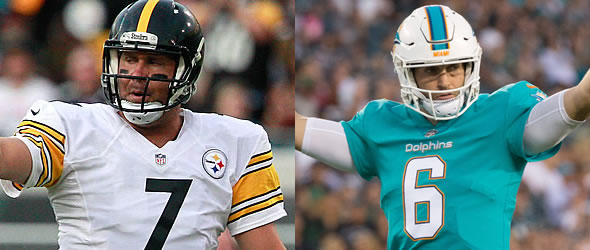 Plan of bypassing the top QBs? Try pairing Ben Roethlisberger with Jay Culter late in your draft.


The concept of late-round quarterback pioneered by NumberFire's JJ Zachariason is a logical theory that many owners use to load up on valuable skill position players early while waiting on quarterbacks late in drafts. Fantasy football is a game of acquiring as much value as possible, and it makes sense in most cases to wait on a deep position like QB, with replacement level value often available on the waiver wire.

I would argue that the late-round quarterback theory does not work well in deep leagues with large benches, especially those similar to my league of record in which numerous players draft their second QB before the end of the tenth round. Also, I believe drafting a stud like Aaron Rodgers in the early third round is a smart move based on the fact that the market has incorrectly valued multiple players in that round.

But I digress. The intent of this article is not to prove whether or not JJ's theory is correct. The intent of this article is to share my favorite tandem of quarterbacks for late-round QB drafters who are looking for top 5 value at a bargain price.

As the title of this article suggests, the quarterback tandem of Ben Roethlisberger and Jay Cutler is a calculated strategy that all owners who pass on a QB early should consider in drafts this season.

The road struggles of Big Ben are not a breaking new take in the fantasy community and anyone who suffered through Ben's awful road games last year, including his 167-yard, zero-TD gem Week 11 at Cleveland, know full well how frustrating owning the Pittsburgh quarterback can be. But they also know the ridiculous upside Big Ben provides at home, especially with a healthy Le'Veon Bell and a loaded receiving corps that now includes his top deep threat, Martavis Bryant.

ProFootballFocus' Scott Barrett pointed out in the following chart just how drastic the home/split woes have been for Big Ben over the past three seasons, with the two-time Super Bowl Champion averaging just over 10 more fantasy points per game at home.
Ben Roethlisberger Home/Away Splits - FPts/G
Year
Home
Away
Diff
2014
25.2
14.8
+10.4
2015
23.5
14.5
+9.0
2016
25.5
13.8
+11.7
To overcome this extreme variance in splits, it makes sense to target a streamer off the waiver wire to plug in your roster when the Steelers go on the road against difficult opponents, including Week 1 at Cleveland, Week 3 at Chicago, Week 4 against the Ravens, and Week 6 against the Chiefs.
Although streaming the position is an option, it makes more sense to use the last pick of your draft on a second QB like Jay Cutler that is otherwise going undrafted, as Cutler has attractive matchups during those first four Big Ben away games. The Dolphins host the Bucs and the Saints in weeks 1 and 4 respectively, while going on the road in attractive matchups against the Jets and Falcons in weeks 3 & 6.
Of course, Smokin' Jay Cutler earned his nickname for a reason and carries the risk of throwing interceptions and making boneheaded throws. Despite the risk, Cutler is surrounded by three good receivers, a red zone tight end threat, a talented running back, and one of the best offensive lines of his career. In his current situation, it would not surprise me to see Cutler sneak into the top 12 of fantasy QBs this season, and his early season schedule makes him a viable road replacement for Big Ben.
For those asking what to do in the second half of the season, Joe Flacco and the Ravens have a schedule that pairs well with the Steelers' final two road games of the year, highlighted by a tough fantasy Super Bowl tilt Week 16 at Houston. It may make a few readers squeamish to think of rolling out Joe Flacco with the title on the line, but a home game against the lowly Colts doesn't get much more appealing.
Selecting a top three quarterback before the end of the fourth round is a typical draft strategy that I use based on the fact that I value the consistent production that Rodgers, Brady, and Brees offer owners willing to give up the draft capital. For those who feel the opportunity cost of drafting a QB early is too great, the combination of Big Ben and Smokin' Jay Cutler is a sneaky way to get top 10 QB fantasy production at a tenth-round price.