This weekly series will provide you with in-depth analysis of key injuries and their resultant implications on fantasy football. This information comes straight from my perspective as a Physical Therapist and collegiate Athletic Trainer of ten years. Over that time, I have seen and treated almost every injury that can occur in this violent sport. Hopefully this piece gives you a little more insight into the anatomy of an injury.
---
Player: Michael Turner
Injury: High ankle sprain
Healing Time: 2-6 weeks
Impact on the Field: This is not good. Turner was just hitting his stride with four big weeks in a row. He was also having a huge game against Carolina when he injured his ankle. Although it did not look bad when it happened, it was later diagnosed as a high ankle sprain which is the most dreaded of all ankle sprains. It is impossible to come back quickly from this injury and I would expect him to miss next week's game and then be a game-time decision the following week. This is a serious injury and, in all reality, Turner is likely to miss multiple weeks.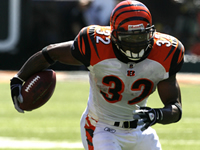 Cedric Benson should sit this week against Oakland.
Player: Cedric Benson
Injury: Hip flexor strain
Healing Time: 2-4 weeks
Impact on the Field: Muscle strains are tough to recover quickly from and usually take at least two weeks to heal. Benson pulled his hip flexor and was running very cautiously on his leg. He will most likely be limited all this week but be healthy for next week's game—assuming he doesn't do something stupid like try to play against Oakland. Bernard Scott becomes an immediate pickup and is a good bet for RB2 stats this week. With all the carries Benson has been receiving, it's amazing he made it this long without an injury.
Player: Ronnie Brown
Injury: Ankle sprain/mid-foot sprain
Healing Time: 1-3 weeks
Impact on the Field: The Miami backfield is already a pretty even split between Brown and Ricky Williams. The good thing working in Brown's favor is that he is the goal-line back. And with the Dolphins offensive line playing so well, both backs can be productive. Brown was helped off the field in the third quarter on Sunday and did not return. If he is not completely healthy this week, Ricky Williams will dominate the carries. If this injury is truly a minor ankle sprain, then Brown could possibly play this week. However, this could very well be a Lis Franc sprain. If the sprain is bad enough, Brown would require surgery and be out for the year.
Player: Kyle Orton
Injury: Ankle sprain
Healing Time: 1-3 weeks
Impact on the Field: The week of ankle injuries continues. It's a bad sign anytime a player can't continue a game, and Orton's injury was severe enough to prevent him from returning. This injury is not too big a deal from a fantasy perspective because I doubt anyone is relying on Orton. However, this injury affects the rest of the Denver skill position players. Marshall is a big-name starter but without Orton he becomes very unreliable. Knowshon Moreno is also a bit more shaky because it's unknown if Simms can be productive enough to keep the pressure off the running game. Orton may miss this week's game and he will be limited if he does play. However, he is not very mobile as it is, so if he does play you may not see too much of a drop-off.
Player: Brian Westbrook
Injury: Concussion
Healing Time: 2 weeks minimum
Impact on the Field: The party is over. Say goodnight. Westbrook is now in the same category as Tomlinson; neither one looks like the players they once were nor are they able to stay consistently healthy. Age has caught up to both of them. Westbrook suffered another concussion this week, giving him multiple concussions in back-to-back games. He will be out again this week and it's not out of the question that he misses the next month with post-concussion syndrome. I doubt that Westbrook can be trusted again this season. At best, he is in a timeshare with the potential for goal-line work in a pass heavy offense. He is very likely to be released in the off-season due to his large roster bonus and salary. I doubt he plays again this year, though talk of this being a career-ending injury is premature.
Player: Julius Jones
Injury: Broken rib and punctured lung
Healing Time: 2-4 weeks
Impact on the Field: I can't believe how many times I've written about bruised or broken lungs this year. When the ribs take a blow, they can be forced inward toward the lungs. If the force is strong enough, as was the case in this particular injury, the jagged rib will puncture the lung. This is the absolute worst-case scenario with a bruised/broken rib. The broken rib will take at least four weeks to fully heal and I doubt you see Jones on the field before Week 13, if not later. Get Justin Forsett ready as a backup.
Player: Keenan Burton
Injury: Torn patellar tendon
Healing Time: Year
Impact on the Field: I doubt any of you had this guy in your lineup, but an injury to a skill position player is still a significant injury. Burton was playing more frequently due to the injury to Laurent Robinson earlier this season. Burton tore his patellar tendon on Sunday, which will likely limit him into next season. These tendons take a long time to heal and this injury dampens Burton's long term potential. On a positive note, Rams rookie wideout Brandon Gibson had 7 catches for 95 yards last week and may be worth a look.
Player: Steve Smith (CAR)
Injury: Bruised ribs
Healing Time: 2-4 weeks
Impact on the Field: Another injury involving ribs. Smith bruised his ribs during a hit he took while scoring his second touchdown. He was able to return but did nothing the entire second half. The fact that he was still able to play means he should be out there—with the help of painkillers—even in the short week. With the Panthers running so well, Smith is once again becoming the playmaker he's been the last few years. I'm sure he's very sore, but it is safe to include him in your lineup.