This weekly series will provide you with in-depth analysis of key injuries and their resultant implications on fantasy football. This information comes straight from my perspective as a Physical Therapist and collegiate Athletic Trainer of ten years. Over that time, I have seen and treated almost every injury that can occur in this violent sport. Hopefully this piece gives you a little more insight into the anatomy of an injury.
---
Player: Tom Brady
Injury: Jammed index finger
Healing Time: 2-3 weeks
Impact on the Field: A lot is going to be made of this injury but, in reality, it's not a big deal. Brady was able to play a full game on Sunday and he threw a 58-yard touchdown to Randy Moss on the second play of the game. He will have some pain and some problems with gripping the football, but he will not miss any time.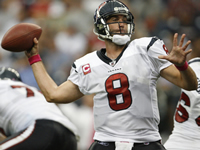 Expect Shaub to suit up this week.
Player: Matt Schaub
Injury: Dislocated shoulder
Healing Time: 1-6 weeks
Impact on the Field: At first I thought Schaub separated his shoulder, but it was later reported as a dislocation, also termed a subluxation. With a subluxation, the ball of the arm bone "pops" out of the shoulder and then pops back in. There is significantly less pain once the shoulder is back in place, though it will remain sore, yet functional. The team probably won't want to perform surgery in-season, opting until after the season to discuss fixing any damage that occurred. Schaub will be in a brace restricting motion in the joint and preventing the injury from re-occurring. If all goes well, I expect him to play this week and be relatively unaffected by the injury.
Player: Justin Forsett
Injury: Quadriceps strain
Healing Time: 2-4 weeks
Impact on the Field: Forsett injured his quad muscle in practice last Friday and was able to play last week, although on a significantly limited basis. Muscle pulls are at least 2-week injuries, so Forsett will be limited again this week. The problem is that as one continues to play or practice on an injured muscle, there is a high incidence of reoccurrence. Jim Mora appears to be committed to Julius Jones anyway, rather than the more productive Forsett.
Player: Hines Ward
Injury: Hamstring strain
Healing Time: 3-6 weeks
Impact on the Field: This might be the end of the fantasy year for Hines Ward. From what I have read, his injury is a grade strain, which is not good news. Ward may very well try to make an early return next week, but he won't be even close to 100%. And there is a high likelihood of re-injury when attempting to sprint on a leg that won't allow it. Ward has been tremendous this year and has provided great value based on where he was drafted. I doubt he will play in the Thursday night game--though I'm not too upset about that since he's on the team I'm playing in the first round of my fantasy playoffs.
Player: Jamaal Charles / Donnie Avery
Injury: Subluxation of the shoulder
Healing Time: 1-3 weeks
Impact on the Field: I guess this is the week of the dislocated shoulder. As I explained in Matt Schaub's injury status, these things feel much better once the shoulder pops back into place. I doubt either of these injuries is a big deal, considering that they have been recurring injuries since high school in both cases. Charles has been playing at a high level and is really gaining some dynasty league momentum. He is a player to target next year. Coach Haley knows what he is doing and can turn that offense around in a hurry. In regards to Avery's injury, the same time frame applies. Avery has been inconsistent all year due to his supporting cast. Use him at your own risk--because of his production, not because of his injury.
Player: DeAngelo Williams
Injury: Knee swelling/cartilage tear
Healing Time: 2-4 weeks
Impact on the Field: Williams is dealing with some type of cartilage tear in his knee. He has had periodic swelling over the last few weeks that was limiting his practice time and is now preventing him from playing. I doubt he will undergo an in-season surgical procedure, which means this is a week-to-week thing. If he has the knee drained and it does not swell back up, he plays; if it does swell back up, he sits. This injury will ultimately require surgery and Williams will most likely wait for that until the off-season. Hopefully if you own Williams you also own Jonathan Stewart, who is almost as talented and is a fine fill-in at running back.
Player: Kurt Warner
Injury: Bruised hip
Healing Time: Day-to-day
Impact on the Field: Bruised hips can be very painful. This injury is medically termed a hip pointer and it occurs when a blow is applied to the exposed hipbone. Because there is no soft tissue between the hipbone and the skin, there is no padding to soften the blow. The area becomes engorged with blood and you typically get these wonderful looking bruises. They are very sore but the pain can be controlled with medicine. The important thing to consider is that this is Warner's hip opposite to the one that was recently operated on. Warner was able to take snaps to end the game on Sunday after the injury occurred, so I don't think is a big deal. He will be out there every week until the Cardinals wrap up their division.
Player: Devin Hester
Injury: Strained calf
Healing Time: 3-4 weeks
Impact on the Field: This injury is being downplayed as minor, but the reality is that it will be difficult for Hester to play or run on his injured leg this weekend. Hester went for a precautionary MRI that will likely show no additional damage. He has a pulled muscle and will be limited for a few weeks. With Chicago out of the playoff hunt for the most part, I don't expect Hester to play this week.
Player: Mark Sanchez
Injury: PCL sprain
Healing Time: 8-12 weeks
Impact on the Field: PCL sprains are not as serious as ACL tears in regards to ending a player's season. The knee is still pretty stable when someone injures their PCL. This injury would not allow anyone who needed to run to come back and play in only a week's time. However, since it is not as detrimental to a quarterback's abilities, Sanchez could very well be out there this week. If that is the case, Thomas Jones and Jerricho Cotchery will maintain their normal value. Braylon Edwards at this time is way too hit-or-miss for my liking. He is wonderfully talented when it comes to getting open, but he can't even catch a cold.