This weekly series will provide you with in-depth analysis of key injuries and their resultant implications on fantasy football. This information comes straight from my perspective as a Physical Therapist and collegiate Athletic Trainer of ten years. Over that time, I have seen and treated almost every injury that can occur in this violent sport. Hopefully this piece gives you a little more insight into the anatomy of an injury.
---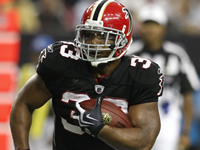 Don't count on Turner the rest of the season.
Player: Michael Turner
Injury: High ankle sprain
Healing Time: 3-6 weeks
Impact on the Field: You have to be kidding me, right? They let this guy play injured again and he re-aggravated his ankle sprain after just one play. They should have let him heal and allowed him time to recover, like the Bengals did with Cedric Benson. It is the medical staff's job to protect a player from re-injury. The Falcons were eliminated from the playoffs prior to this game and they still let Turner play. It was just plain foolishness and he'll be out for the rest of the season because of it.
Player: Reggie Bush
Injury: Hamstring strain
Healing Time: 2 weeks
Impact on the Field: This is sad, but very true: Bush's pulled hammy is bigger news for the other New Orleans running backs than for Bush owners. It means Pierre Thomas will get his normal carries in addition to playing a larger role in the passing attack. Bush is more of a scat back at this point in his career and has difficulty running between the hash marks. He is still capable of the big play--just not this week with that pulled hamstring.
Player: Greg Jennings
Injury: Ankle sprain
Healing Time: 1-3 weeks
Impact on the Field: This injury really isn't even worth mentioning. Jennings enjoyed one of his better games of the season last week. He was able to get open deep and make catches across the middle of the field. He rolled his ankle in the game and limped off the field. He was able to return and I didn't notice him having further problems with his ankle. He will be stiff and sore and will receive treatment all week, but he will be good to go this Sunday. He can safely be inserted into lineups.
Player: Julius Jones
Injury: Rib injury
Healing Time: 1-3 weeks
Impact on the Field: I didn't think Jones had any ribs left to injure. A few weeks ago he injured a few ribs and punctured his lung. Now he has managed to bruise some more ribs. He was able to continue, in pain, last week. He is currently rotating with Justin Forsett, but neither should be a fantasy option.
Player: Hines Ward
Injury: Hamstring strain
Healing Time: 1-3 weeks
Impact on the Field: I keep writing that Ward is going to be limited, yet he continues to post solid lines. He's been productive without being able to accelerate--a testament to his skills as a route runner. His game is not based on speed and he does not need it to get open. I wish some of the faster guys had some of his savvy. He re-strained his hamstring and will be limited in practice all week. But with the Steelers still alive for a playoff spot, there is no way he misses Sunday's game.
Player: Hakeem Nicks
Injury: Hamstring strain
Healing Time: 2-4 weeks
Impact on the Field: This guy is a dynasty sleeper who I believe will become a star next year. He has all the tools of the big time wide receivers: He's big, fast, and can catch the ball. He strained his hamstring against the Redskins and did not return in Monday night's blowout. The Giants are right in the thick of a things for the playoffs and I think Nicks will give it a go this week.
Player: Brady Quinn
Injury: Mid-foot sprain
Healing Time: 3-4 weeks
Impact on the Field: Though I doubt anyone is using Quinn at this point in the season, I have to bring this him up for fantasy purposes. Mid-foot sprains are tricky and slow-healing. I have not heard reference to a Lisfranc injury--which is what ended Ronnie Brown's season--but that could very well be the case here. If this is just a sprain, Quinn should be back working out in a month; if it is a Lisfranc injury, it would be closer to six months.