This weekly series will provide you with in-depth analysis of key injuries and their resultant implications on fantasy football. This information comes straight from my perspective as a Physical Therapist and Athletic Trainer for ten years. Over this time, I have seen almost all the injuries that can happen in this violent sport on the college level and how to treat them. Hopefully, this piece gives you a little more insight into the anatomy or an injury.
---
Player: Wes Welker
Injury: Knee Injury
Healing Time: 1-4 Weeks
Impact on the Field: Welker was a last minute scratch in Week 2 due to a knee injury. It is most likely that his knee swelled up either after the Monday night game or sometime during the week at practice. If the knee swelled up, it is without question some form of meniscal/cartilage injury. Either he has a tear or irritation of some form or he had surgery over the summer that has gone un-reported. Depending on his activity level or twisting of the "wrong" way, the knee can flare up and swell. If that happens, it causes pain and can prevent him from playing. He was good enough to play Week 1, so my guess is he will play in Week 3 after getting the knee drained and receiving medication.
Player: Mike Bell
Injury: MCL Sprain
Healing Time: 2-4 Weeks
Impact on the Field: The MCL is a ligament that stabilizes the inside of the knee and is frequently injured when another player hits the outside of the knee causing a force of stretch to the inside of the knee. This ligament, when damaged, causes some swelling and will provide an irritant because of its close attachment with the medial meniscus. Thus, some time is required even with bracing to allow for return to competition. Mike Bell had carved out a nice little niche as starting tailback while replacing Pierre Thomas as he recovered from his own sprained MCL. The timing is good for the Saints because Thomas should be back to play next week. I would anticipate Bell missing at least 2 weeks and probably a bit longer. If you know how this situation shakes out when they are both healthy, buy me a lotto ticket.
Player: Brett Favre
Injury: Torn Thumbnail
Healing Time: Zero
Impact on the Field: Favre was seen holding his hand in the fourth quarter and throwing rather protectively. The reason - he tore his thumbnail. It's definitely gross and if you've ever had a torn nail, you would know it damn right hurts. So, I am sure you could only imagine how it feels if the whole nail is torn off. But, this of course is Brett Favre and I would not be concerned in the slightest that he would miss a game.
Player: Matt Hasselbeck
Injury: Fractured Rib/Bruised Ribs
Healing Time: 1-4 Weeks
Impact on the Field: This is a tough call. It is essentially the same injury that McNabb suffered last week. Bruised ribs and broken ribs are very similar. They both hurt a lot. I think the important thing to remember here is that he did not re-injure his surgically repaired spine. I have seen conflicting reports here on the severity of the injury. Whether bruised or broken, these injuries are extremely painful. And that is the only thing that prevents one from playing. If Hasselebeck gets enough painkillers in his system, he will play. If not, he is out. I think he would miss next week's game.

Player: Brian Westbrook
Injury: Ankle Sprain
Healing Time: 1-3 Weeks
Impact on the Field: Here we go again. It only took a week to get this frequent flyer back on the injury report. As a guy that has owned Westbrook in the past, I can't begin to explain the anxiety that I used to get watching him be a game-time decision every week. He sprained his ankle and that is usually not a big deal. What is a big deal though, is the fact that he could not run or cut on it during the game, which is why he took himself out. It is his surgical ankle and that does raise a red flag. Even if his ankle is not pristine, an ankle sprain is still just an ankle sprain meaning that it should not have a major impact on his ability to play. As long as he does not have major swelling after the game, I think he will be healthy enough to play this week.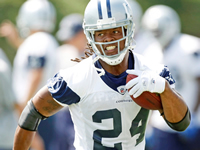 Barber: Get Felix Jones in your lineup now.
Player: Marion Barber
Injury: Quad Strain
Healing Time: 2-4 Weeks
Impact on the Field: Quad strains are a big deal. It is being reported that it is minor and he will be fine. Did you see Barber pull the muscle and fall to the ground like a ton of bricks? I did. If he does attempt to play this week, he will not be close to 100%. It is impossible to reach full speed or worse, more severely injure the quad while sprinting in a football game. It is not something that they medicate because you want to feel the damage that you are causing when playing. He might attempt to play, but won't be a major factor. I don't care how tough he is. Get Felix Jones active if you have him. Barber will probably miss at least a week.

Player: DeSean Jackson
Injury: Groin Strain
Healing Time: 1-4 Weeks
Impact on the Field: Jackson pulled his groin a few weeks ago and it is only a minor injury. Until, it worsens when running. Then, it feels better and worsens again with running. Anybody see LT from last year? Ultimately, his speed at 85% is better than most at 100%. He ran wide open on a blown coverage against New Orleans, but otherwise was relatively quiet. If Kolb does start again, I wouldn't think the injury hinders Jackson's performance as much as Kolb does. This groin strain will be something to think about for a few weeks, if not longer.
Player: Domenik Hixon
Injury: Knee Sprain
Healing Time: 1-3 Weeks
Impact on the Field: I have not heard exactly to what extent Hixon hurt his knee. He was removed from the Sunday night game in the second quarter and did not return. I would rather not speculate on what it could be, rather analyze the implications. I liked Steve Smith as a breakout player this year and now I am even more likely to term him Eli's favorite target. I really like the speed he exhibits and his route running. He is very adept at going over the middle and catching in traffic. I would not be surprised in the least if he puts up 1100 yards and 6-7 scores this season.

.