This weekly series will provide you with in-depth analysis of key injuries and their resultant implications on fantasy football. This information comes straight from my perspective as a Physical Therapist and collegiate Athletic Trainer of ten years. Over that time, I have seen and treated almost every injury that can occur in this violent sport. Hopefully this piece gives you a little more insight into the anatomy of an injury.
---
Player: Eli Manning
Injury: Bruised heel/plantar fasciitis
Healing Time: Day-to-day
Impact on the Field: As I noted last week, I do not think this is a big deal at all. Eli's foot was taped, padded and supported so heavily that if a car had run it over, he would not have felt a thing. He made it through the game unscathed and was able to do whatever he wanted against the hapless Raiders. He has been playing very well, as have his receivers, which has propelled Eli to QB1 status going forward. Expect good numbers next week in what could be a shootout versus New Orleans.
Player: Glen Coffee
Injury: Ankle/foot sprain
Healing Time: 1-3 weeks
Impact on the Field: This appears to be another non-issue of an injury. It is pretty much a moot point even if it were serious since Gore will be back and healthy after the bye. Coffee was playing quite well last week before he was sidelined with his injury. The 49ers have a bye this week and he should be healthy enough as Gore's backup for the remainder of the season.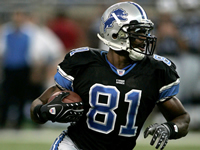 Don't expect Megatron to suit up this week against the Pack.
Player: Calvin Johnson
Injury: Knee injury
Healing Time: 1-4 weeks
Impact on the Field: I am not exactly sure what happened to Johnson's knee. I did not see the injury occur, but I did watch the trainers look at the knee on the sideline. They were poking around at the inside of his knee which would likely indicate an MCL sprain or meniscal damage. He probably sprained the ligament, in which case I am guessing he will be out this week. He could not return to the game after injuring the knee in the first quarter, which means he must have been pretty sore. With the Lions having a bye in Week 7, Johnson will have extra time to get healthy if he sits out this week. Sorry Johnson owners, but I don't think he plays this week against Green Bay.
Player: Peyton Manning
Injury: Knee injury
Healing Time: 1 week
Impact on the Field: You know it was a slow week on the injury front when I go in this direction. If you watched the game Sunday night, you would have seen that Peyton looked just fine. But it was reported that he experienced a knee injury during the game and had to receive treatment for it. Peyton has had a few procedures done on his knees before, and it is not that far off to say he probably has some wear and tear in both knees. He could have aggravated one of his knees, causing some swelling due to those past knee surgeries. Any way you look at it, with the bye week to heal, he will not miss any time due to this so-called "injury".
Player: Marion Barber
Injury: Quad strain
Healing Time: 2-4 weeks
Impact on the Field: I bring this up again because it continues to be a pet peeve of mine. I hate how these little injuries can linger into month-long situations. Barber is obviously not right. If he would have sat for two games, he would have had the bye to rest some more, and he would be healthy for Week 7. Tashard Choice has been nothing short of excellent in his abbreviated time in the backfield, and he could have handled the primary ball carrying duties without question. Sometimes management, coaches, and training staff should just use their brains and let a guy get healthy, no matter how badly that player tries to convince everyone that he is fine.
Player: Jerricho Cotchery
Injury: Hamstring strain
Healing Time: 2-6 weeks
Impact on the Field: Those of you who have read my column before know that hamstring strains or pulls cannot heal in a week. Cotchery pulled his hamstring in practice on Thursday and tried to play on Monday night, with poor results. He will once again try to play this weekend, and, again, I anticipate him being relatively unsuccessful. As you saw with Marion Barber, you can try to play, but in the end the muscle won't let you sprint or run as fast as you would normally be capable of moving. In this game, there is too much speed on the defensive side of the ball to think one could play successfully at less than 100%. Cotchery will probably be healthy in two weeks. One of the bigger concerns though is the arrival of the newly-motivated Braylon Edwards. I have been a huge fan of Braylon ever since he was a Wolverine (I may be the only one). He clearly was running sharp routes on Monday, and was the "go-to guy" for Mark Sanchez. If Edwards continues to dominate the targets, Cotchery's numbers will fall considerably. He was a good WR2/WR3, but could fall to fantasy backup material.