This weekly series will provide you with in-depth analysis of key injuries and their resultant implications on fantasy football. This information comes straight from my perspective as a Physical Therapist and Athletic Trainer for ten years. Over this time, I have seen almost all the injuries that can happen in this violent sport on the college level and how to treat them. Hopefully, this piece gives you a little more insight into the anatomy of an injury.
---
Player: Eli Manning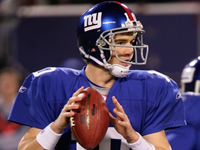 Eli Manning: Foot injury shouldn't slow him down one bit.

Injury:

Bruised Heel/Plantar Fascitis


Healing Time:

Day-to-day


Impact on the Field:

Because it was a slow week from the injury perspective, I will bring it up but this is really a non-issue. I know they are sending him down to see the famous foot specialist in Carolina to be cautious, but I don't see this being a problem. He bruised his heel and was shown on TV walking with his shoe off. He seemed to put full weight on it while he was walking and while he was probably sore, he could have returned to action had the game not been out of hand. I think he will be playing next week without any concern whatsoever. He also is playing the best ball of his career from a fantasy perspective and while Plantar fasciitis can be a nuisance, I don't think it will hinder his performcance. Expect him to be in a walking boot all week.


Player: Devin Hester
Injury: Shoulder/Neck Strain
Healing Time: 1-4 weeks
Impact on the Field: This appears to be another mild injury. I am sure he is sore and has limited mobility, but Hester should be fine in two weeks since the Bears have a bye Week 5. He is having a nice start to the season and is obviously extremely explosive. His route running is much improved and he has developed a rapport with Cutler.

Player: Johnny Knox
Injury: Bruised Shin
Healing Time: Day-to-day
Impact on the Field: This is a painful injury because there is little padding between the tibia and the skin - that bone is susceptible to bruising. He has been spotted limping around in the locker room, but again, with 2 weeks to get healthy, I don't anticipate him missing any time. Knox has also shown some promise and has similar numbers (14-190-2) to Hester (14-189-2) but I am bigger fan of Hester. You could do a lot worse however than using Knox as bye week replacement or a fourth wide receiver.

Player: Matthew Stafford
Injury: Subluxed Patella
Healing Time: 2-4 weeks
Impact on the Field: Now, we are getting to the more serious injuries. Stafford experienced a subluxed kneecap, which is not as severe in regards to swelling as a full dislocation of the kneecap. The difference is, the kneecap moves out of place and returns to its normal alignment in a subluxation. A dislocation means it "pops out" and stayed out until someone puts it back in place. As a person who has "popped" one back in a few times, those can be very painful until they are back in place and then the pain subsides. Stafford definitely experienced some swelling and now has some "loosening" of the ligaments that hold the kneecap in place. I think he will be fine to play in two weeks because the symptoms of swelling and pain should have subsided. Bracing should allow him to return quickly to action and help prevent re-injury. Long-term, these injuries can re-occur. Once it pops out, it has a tendency to do so again, which will require surgery to re-stabilize the knee to keep the injury from happening again. Even if the worst-case occurs, he could finish out the year and have the procedure in the off-season.

Player: Roy Williams
Injury: Bruised Ribs
Healing Time: 1-3 weeks
Impact on the Field: This has been the most prevalent injury to date during the 2009 season. Bruised or broken, there is not much difference in the prognosis. As you have read before by me, pain is the only reason why someone would miss game action. If one can stand the pain, they play. If not, they don't. Williams said he had never been hit that hard in his life and I believe it. DJ Wiliiams laid a severe blow on the Dallas wideout bruising his ribs sidelining him for the remainder of the game. There is a real good chance he misses Week 5. If he does play, he will be on painkillers/injections and can continue producing mediocre numbers until he and Romo get on the same page.

Player: Correll Buckhalter
Injury: Ankle Sprain
Healing Time: 1-4 weeks
Impact on the Field: Sprained ankles are relatively minor in most cases assuming it is not of the "high" variety. . There is some speculation that Buckhalter has a high ankle sprain. If true, he will be out for close to a month. It sounds worse than it is because the player is on crutches and is put in a walking boot to protect the ankle until it heals. The ankle is rehabbed around the clock and more often than not, the player ends up making the game the next week - unless your name is Brian Westbrook. Getting back to Buckhalter, he is part of a rotation at running back along with Knowshon Moreno for the surprising Denver Broncos. Moreno is the more talented of the two backs and while I was a bit pessimistic about his role in the offense, Josh McDaniel appears to have faith in the rookie. Regardless of Buckhalter's injury, look for the more explosive and talented back to get the majority of carries moving forward making Moreno a coveted fantasy back.

Player: Darren McFadden
Injury: Torn Meniscus and Surgery
Healing Time: 2-4 weeks
Impact on the Field: The bad gets worse. It was a dismal performance for the Raiders running game against the Texan defense, especially for McFadden. Zero fantasy points is tough to swallow. Now, he ends up on the operating table having surgery for a torn meniscus. The cartilage between the knee bones was torn and needed to be removed. It's a minor procedure and most of the rehab cleans up the surgery damage itself. He will be back in a month at worst. The bigger concern is the long-term outlook for McFadden as the Raiders are a disaster. Their last three #1 picks - Russell, McFadden and Darius Heyward-Bey – leave a lot to be desired. McFadden is talented, but the passing game has sunk to depths never seen before. He is no more than a spot starter the rest of the year and his dynasty value is dropping like a rock. Until a change comes at the top, the Raiders are going to have a hard time turning their franchise around.

Player: Marion Barber
Injury: Quad Strain
Healing Time: 2-4 weeks
Impact on the Field: I question how this situation was handled. One can't run with a quad strain and it is impossible for it to heal in one week. The Cowboys should have been smart and sat him down knowing he would be fully healthy in Week 6. Make no mistake, Barber is not 100% and won't be this week. He may return to play, but he is susceptible to another "tightening" episode which would remove him from the game just like it did in Week 4. If I owned Choice, I would start him. If I owned Barber for this week, I would bench him.