This weekly series will provide you with in-depth analysis of key injuries and their resultant implications on fantasy football. This information comes straight from my perspective as a Physical Therapist and collegiate Athletic Trainer of ten years. Over that time, I have seen and treated almost every injury that can occur in this violent sport. Hopefully this piece gives you a little more insight into the anatomy of an injury.
---
Player: Andre Johnson
Injury: Chest injury/bruised ribs
Healing Time: 1-3 weeks
Impact on the Field: Johnson was injured in the fourth quarter and was unable to return after he endured a vicious hit that damaged his chest wall. It is believed he bruised his ribs as well, in what is becoming the most common injury of the year. What complicates the matter in Johnson's case is that he also suffered a lung contusion. He endured such a tremendous blow that his ribs pushed into his lung and caused a bruise. I can guarantee that he is having breathing problems and is in a tremendous amount of pain. He will be a game-time decision this week and I doubt you will see him practice before Friday. He's obviously a must-start if he's healthy enough to play, and I would feel confident that he will make it through the game if he plays at all.

Player: Jermichael Finley
Injury: MCL sprain
Healing Time: 2-4 weeks
Impact on the Field: I was watching this game and saw the hit Finley took to the outside of his knee. That blow caused a stress to his inner knee ligament, damaging the MCL. He will undoubtedly undergo an MRI to rule out an ACL tear. Even if that comes back negative, he will be out at least two weeks. Finley has emerged as a force in the middle of the field for the Packer offense and he has become a primary target for Aaron Rodgers. He is a breakout candidate for next year and should be a TE2 option for the rest of 2009, once he returns from injury.
Player: Leon Washington
Injury: Open fracture of the tibia/fibula
Healing Time: 16-20 weeks
Impact on the Field: Washington broke both the long bones in his shin, with one of them breaking the skin is what is commonly termed an "open" fracture. This type of gruesome injury is very similar to the one caused by LT when he sacked Joe Theismann in that 1985 Giants-Redskins contest. Washington needed immediate surgery to stabilize the bone and reconstruct his lower leg. This is a tough injury because he needed plates and screws to realign the bones, and he will not be able to put any weight on his foot for some time, which leads to a slower recovery. Washington was in a contract year but luckily took out an insurance policy to cover himself financially from a severe injury like this. Thomas Jones's value should stay as is, but bump up Shonn Greene on your waiver wire priority.
Player: Bernard Berrian
Injury: Hamstring strain
Healing Time: 2-6 weeks
Impact on the Field: As you may know, hamstring strains are very slow in healing. Depending on the severity, Berrian may try to play this week at less than a 100%, given that he won't be able to push off the injured leg properly in order to accelerate. To play it safe, he should rest for the next two weeks and take advantage of the Vikings' Week 9 bye. Berrian's injury has little effect on the rest of the Minnesota offense in the mean time. They can still be very productive without him, especially considering the emerging relationship between Brett Favre and Sidney Rice.
Player: Reggie Wayne
Injury: Strained groin
Healing Time: 1-4 weeks
Impact on the Field: Wayne left Sunday's game with an injured groin. He attempted to return but couldn't make it through the second half. Groin strains are not as severe as hamstring strains, and it is easier to play through that injury, though they can cause missed time. This injury does not appear to be too serious and, with some rest and the proper treatment, I think he will play this weekend--albeit at less than 100%. There is a chance of worsening the injury, however, so he may be kept out for that reason. The Colts play San Francisco this week and could probably get by without him. Make sure you check the Sunday injury reports on this one. It could go either way.
Player: Anquan Boldin
Injury: High ankle sprain
Healing Time: 2-6 weeks
Impact on the Field: Did anyone see Boldin try to run against the Giants on Sunday night? Sure, he had 75 yards receiving, and I would never question his toughness, but what I saw was insane. He was obviously limping badly, and I think I could have out-run him on some of those routes. Jerheme Urban is not a bad receiver and he easily could have been as productive. Sometimes I question what trainers are thinking. Then, as always, I realize that this game is about the money. Boldin is being pushed hard to play and his best interest is not always the first consideration. This is not really an injury that can worsen, since he was taped and braced with the best of modern medicine, but I have to believe he would have been better served taking a week off. Since he was able to play against the Giants, I would bet that he is out there again this Sunday.
Player: Brian Westbrook
Injury: Concussion
Healing Time: 2 weeks
Impact on the Field: That thud you heard was Westbrook's value in fantasy leagues crashing to the ground. Though he has earned the "injury prone" tag, this one was really not his fault. As he was going down, he took a knee to the head and was knocked out cold. The trainer guidelines say you should refrain from activity for at least one week--and most likely more, depending on your neurological symptoms. I don't think there is any chance he plays this week and I would not be surprised at all if he misses Philadelphia's Week 9 game as well. Bump up LeSean McCoy in your rankings.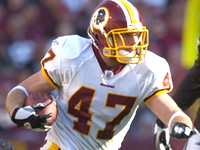 4 Weeks of recovery time for a broken ankle? Hmmm...
Player: Chris Cooley
Injury: Fractured ankle
Healing Time: 4 weeks minimum
Impact on the Field: The only reason I put 4 weeks minimum is because Cooley tweeted that he might be back in 3-4 weeks. Cooley broke his ankle on Monday night and required surgical pins and screws in order to stabilize it. I'm not sure what doctor he saw, but pins and screws need at least 4 weeks to heal before you can even begin running on the injured ankle. I'm sure he will start running in a reduced weight-bearing environment (such as a pool) before the 4-week mark, but I can't see him back on the field before then. I anticipate closer to 6 weeks recovery time, if not longer. The Redskins were already a mess. Losing Cooley won't help.
Player: Donald Brown
Injury: Shoulder contusion
Healing Time: 2 weeks
Impact on the Field: The Colts are becoming sneakier with their injury reports as the seasons go on. Bill Polian stated that a shoulder contusion (commonly known as a bruised shoulder) will keep Brown out at least 2 weeks. As a medical professional, I have to question this prognosis. My educated guess is that Brown lowered his shoulder as a defender plowed into the top of his shoulder, causing a separated AC joint. This is exactly the same injury that Sam Bradford suffered when the top of his shoulder was slammed to the ground. The injury is a painful one and does require a few weeks to heal. I would guess Brown misses two games.