This preseason series will provide you with in-depth analysis of key injuries and their resultant implications on fantasy football. This information comes straight from my perspective as a physical therapist and collegiate athletic trainer of ten years. Over that time, I have seen and treated almost every injury that can occur in this violent sport. Hopefully this piece gives you a little more insight into the anatomy of an injury.
---
Following is a run-down of injuries at the running back position. There are some big names on this list who have had very productive seasons, there are sleepers that you want to look for, and there are older veterans looking for one last big payday. Happy hunting on draft day.
Player: Arian Foster
Injury: Meniscectomy
Healing Time: 2-4 weeks
Impact on the Field: As a dynasty league owner of Arian, I am a bit concerned that he has had both knees scoped within the last three years. The injury itself is not a big deal and rehabs very quickly. Even as a non-athlete, I myself was back running in 10 days after the same procedure. So, I am very confident that this injury will not sap Foster of any explosiveness in the upcoming season. The one problem is that as a physician takes pieces of the meniscus out of the knee, it exposes the bones to each other, which leads to arthritis over a period of time. In a football player's case, this process is sped up. Still, this is more of a long-term than a short-term problem. Look for another big season from Foster, just not as big as last year.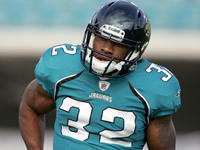 Did MJD jeoparidize the long-term health of his knee?
Player: Maurice Jones-Drew
Injury: Meniscectomy
Healing Time: 6-8 weeks
Impact on the Field: You will notice that I have different time frames on the same injury for both Foster and Jones-Drew. This is because of the length of the injury prior to surgical intervention. Just as with Foster, I am also a proud owner of Jones-Drew, but I was disappointed that he did not choose to have surgery when this injury first occurred last preseason. Short-term, it allowed him to play the season, but not with his same level of explosiveness; long-term, he jeopardized the future health of his knee. I have heard that when he initially considered the surgery, there was a chance it could have been of the microfracture variety, which sometimes is not determined until after the surgeon opens the knee. If he had undergone that type of surgery in the preseason, he would have missed the year. Knowing what I know now, I wish he had opted for the surgery last August. Overall, I think MJD will be a nice buy-low candidate this year. Everyone has been talking about how his knee is already worn out and how he may have had a microfracture surgery procedure. But the truth is that he didn't, and he is already back to running. All that negative talk about how he wasn't as explosive or he was hurt will be surrounding him, allowing his stock to slip in drafts. And I wouldn't be at all surprised if he out-produces Foster.
Player: Frank Gore
Injury: Hip fracture
Healing Time: 12 weeks
Impact on the Field: Gore experienced a very strange injury when he fractured his hip. The injury did not require surgical intervention, which would have allowed for a much simpler recovery, yet it was severe enough that he missed the season. He is good to go now, but as I always say: With football, it isn't the injury itself that is troublesome, but the fact that the player can't train to prepare for the season. Gore runs very hard and has developed a reputation as injury-prone due to his yearly bumps and bruises. He expects to get a lot of carries, and I would anticipate him being banged up again at some point due to this injury.
Player: Montario Hardesty
Injury: ACL reconstruction
Healing Time: 4-8 months
Impact on the Field: Hardesty is someone to really keep your eye on in dynasty leagues. He was drafted to become the lead back in Cleveland but in the preseason tore his ACL, which usually takes a player one to two years before he can return to his previous level of athleticism. For those wondering why it can take so long, a player needs 8 months to recover and return to competition and then another 8 or so to strengthen the muscles to their previous state. Even though he is on the Madden cover, I don't think Peyton Hillis was in Cleveland's long-term plans and I think he will become irrelevant at some point this season. The Browns have a great offensive line and Hardesty could really excel if he recovers quickly.
Player: Ahmad Bradshaw
Injury: Ankle surgery
Healing Time: 12 weeks
Impact on the Field: Bradshaw is another player who has been hurt far too frequently throughout his short career, especially considering how few carries he's had. In spite of that, he is an effective running back who was drafted very late due to character concerns, not a lack of talent. The Giants like to run the ball and provide their feature back with plenty of scoring opportunities, but Brandon Jacobs is still around to steal carries, which limits Bradshaw's upside. Still, Bradshaw has potential as an RB2 or RB3. This injury—which involved removing bone chips from his ankle—is a bit of a concern because he has had multiple injuries to his ankles before. He probably has some cartilage damage in there, which could prove to be an issue in the long-term. This year, however, I would not anticipate it being a problem.
Player: DeAngelo Williams
Injury: Mid-foot sprain, ankle sprain
Healing Time: 4-6 weeks
Impact on the Field: Because mid-sprains are really painful and nearly impossible to play on, this injury caused Williams to miss the remainder of the season. That's understandable…just ask Antonio Gates just how tough injuries to the bottom of your feet can be. Williams is another running back who is always dinged up, but when he plays, he is supremely talented and able to provide big numbers. This injury is healed now and has no bearing on his ability to train for the upcoming season. The real question for him is where will he play this year? Denver is supposedly interested. Miami has put out feelers. Even Carolina has expressed interest in getting him back. If he were to end up in Miami, I think he would have a huge season. The other two places, or anywhere else that ends up being a timeshare, would significantly hinder his statistics.
Player: Ben Tate
Injury: ORIF ankle fracture
Healing Time: 16 weeks
Impact on the Field: This injury is a great illustration of how an ankle injury itself can heal but still have major repercussions on how the rest of the lower leg performs. Whenever foreign objects (plates or screws) are inserted into the body, a change occurs. The foreign material in the body throws off how the muscles used to work, often causing them to become tight and weak, and creates secondary pain and other muscle compensations further up into the knee and hip. The bone injury will heal quickly and without question, but it could take an extremely long time for the muscles to return to normal—if they ever do. Now don't misunderstand me. A person can very well get back to going up and down stairs and walking around without pain after this surgery. But, twisting, cutting, sprinting, and jumping is a whole different story. It takes a long time to get all that back. Tate will be back on the field, but I seriously doubt he will have any impact on Foster's carries.
Player: Pierre Thomas
Injury: Arthroscopic ankle surgery
Healing Time: 12-16 weeks
Impact on the Field: Thomas underwent major cleanup surgery on his ankle. The problem for us is that no one other than the physician can tell you what occurred during that surgery. The phrase "cleanup" indicates that the physician removed debris and smoothed out the joint to create more space so that the joint is decompressed to allow for less pain. This procedure makes things better but does not fix the entire problem. Therefore, Thomas could continue to have some mild pain with or even without activity. Either way, his role will be limited with both the addition of Mark Ingram and his ankle surgery limiting his training prior to the season.