This preseason series will provide you with in-depth analysis of key injuries and their resultant implications on fantasy football. This information comes straight from my perspective as a physical therapist and collegiate athletic trainer of ten years. Over that time, I have seen and treated almost every injury that can occur in this violent sport. Hopefully this piece gives you a little more insight into the anatomy of an injury.
---
Well, here we go again with another installment of injury analysis from an athletic trainer's point of view. With the uncertainty of the lockout, none of us are certain when players will hit the field again. But we do know which tight ends are injured, and that allows us to analyze how these players are doing physically.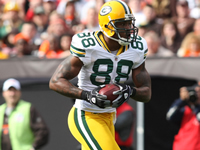 Finley: Back on track in 2011.
Player: Jermichael Finley
Injury: Lateral meniscal repair
Healing Time: 16 weeks
Impact on the Field: Finley was on his way to a monster season when he was tackled awkwardly and twisted his knee, which resulted in a lateral meniscal tear. Most of the time with this type of injury, the torn cartilage is cut out of the knee and a patient can return to the field within 2-4 weeks. The majority of knee scopes are simple meniscectomies and no big deal, but a repair is more complicated and takes a much longer time to heal. Repair is always the preferred surgery, but most of the tears are irreparable. Because of his youth, the type of tear, and long-term considerations, Finley chose to undergo a repair. He has since tweeted that he is fine and back to training fully. The injury occurred long enough ago that he should not have any repercussions from the surgery. Expect him to post top-three TE numbers this year.
Player: Antonio Gates
Injury: Plantar fasciitis
Healing Time: 8-12 weeks
Impact on the Field: How Gates handled this injury last year is yet another example of my biggest pet peeve. Certain muscle injuries like this are impossible to play with. A good trainer or therapist knows this, and I would hope that they would have the player's remaining season in mind when making decisions. But, as usually occurs, the player gets in the way and decides that he is going to play. What a mistake that is! He continues to play for a few weeks at less than 100%, making the injury worse, and then eventually he has to shut it down. But this offseason Gates did the same thing that Andre Johnson did; he took plenty of time off. With proper taping, orthotics, and exercise, this injury should be in the past, and he should healthy now. Gates does have a history of bad feet, and these things can recur, but it would not stop me from drafting him.
Player: Dallas Clark
Injury: Wrist surgery
Healing Time: 16 weeks
Impact on the Field: I really don't know what exactly happened to Clark since the Colts are always very secretive with their injury reports. He could have torn cartilage or he may have damaged a tendon. Whatever occurred, the injury caused Clark to miss the season. With these types of injuries, one usually loses a little mobility in the wrist or the hand. If Clark were playing with a poor quarterback, I might be a little concerned about how the injury could affect his play. But with Manning, the ball is usually right where it is supposed to be and that should keep Clark from experiencing any issues. Again, this injury occurred so long ago that he has had ample time to rehab and train. He, too, is a very safe pick.
Player: Chris Cooley
Injury: Meniscal tear
Healing Time: 2-4 weeks
Impact on the Field: Here we have yet another meniscal tear that was removed by surgery. Cooley stated that he played the entire year with a torn meniscus, which may have resulted in depressed stats. The tight end is usually a big cog in Shanahan's offense, but Cooley did not put up big numbers. Maybe it was McNabb, maybe Cooley was slowed by the injury…I guess we will never know. But I am cautiously optimistic that Cooley will bounce back this year no matter who is under center. He might end up being a nice value pick. As of right now, his injury is a non-factor.