This preseason series will provide you with in-depth analysis of key injuries and their resultant implications on fantasy football. This information comes straight from my perspective as a physical therapist and collegiate athletic trainer of ten years. Over that time, I have seen and treated almost every injury that can occur in this violent sport. Hopefully this piece gives you a little more insight into the anatomy of an injury.
---
Well, here we go again with another installment of injury analysis from an athletic trainer's point of view. With the uncertainty of the lockout, none of us are certain when players will hit the field again. But we do know which receivers are injured, and that allows us to analyze how these players are doing physically.Player:

Editor's: Note: Owens analysis added 7/1.

Player: Terrell Owens
Injury: ACL tear and reconstruction
Healing Time: 6 months
Impact on the Field: More drama for this guy. Apparently T.O. injured his knee during a workout back in April. I have read a great deal on his injury because nothing seems to add up to me. Based on what his agent, Drew Rosenhaus, has said, T.O. injured his knee in April, had surgery for a torn ACL, and will be ready by the start of camp, if there is one. The problem that I have is that the time frame doesn't add up. If T.O. did have surgery in late April, he would not be ready for full contact until October. And that is the best-case scenario. Ask Wes Welker, Owen Daniels, or anyone else with this injury how it works out when they come back to competition within the same calendar year. When a player tears his ACL, he may have little difficulty in performing everyday activities, but he will experience significant problems when placed in an athletic event. T.O. was seen walking around at an event in late April without any noticeable problem. That makes me believe he had surgery sometime in late April or early June and that Rosenhaus is talking him up as ready for camp because he is unsigned. If he takes the field earlier than he should, he will be nowhere as good as he once was. He was already losing speed, and if he loses any more ability, he would become a possession receiver—if he is willing to run those short routes over the middle. As has been reported, he was never a big fan of those routes and I doubt he starts becoming one now.

Player: Andre Johnson
Injury: High ankle sprain
Healing Time: 8 weeks
Impact on the Field: Johnson is the premier receiver in the league and the safest bet for big numbers on a year-to-year basis. He might not catch the most touchdowns, but he can still do it all, and his coaches and quarterback know how to get him the ball. Johnson unfortunately injured his ankle early in the year. Then he either received terrible advice or decided on his own to play through the injury. Either way it could have been a big mistake. This type of injury is devastating and takes a good amount of time to healóand it is imperative that time be allowed for healing. Whenever a player gets back on the field when heís not 100%, there is a higher probability of re-injury. Once these injuries heal, however, re-injury is no more likely than normal. Johnson fortunately was allowed that time, and he should be fully healed by now.

Player: Hakeem Nicks
Injury: Broken first toe
Healing Time: 4-6 weeks
Impact on the Field: This injury is no big deal, but more was made of it because Nicks had surgery on the same toe last year. When a player fractures his big toe like this, they usually put him in one of those big walking boots, which protects the toe while still allowing some weight bearing. Once the toe heals, the player can resume training. Nicks is primed for an even bigger year this year. Buy him.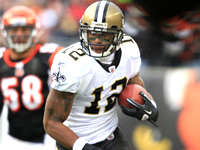 The knee surgeries are piling up for Marques Colston.
Player: Marques Colston
Injury: Knee scope
Healing Time: 4 weeks
Impact on the Field: Who knows what exactly was done in that knee. They could have removed pieces of cartilage, removed part of the meniscus, or injected cartilage. We fantasy football owners will never know. Whatever the procedure, the number of surgeries is mounting on this guy, and that is not good. As I have stated previously, anytime one has a meniscectomy, they are removing pieces of the cartilage. Therefore, one is more susceptible to developing arthritis, which can often necessitate a joint replacement. Each of Colstonís multiple surgeries is sapping his ability to play pain-free while increasing the likelihood that he will develop future problems based on his profession. Colston is likely back up and running already, but he is one I am shying away from.
Player: Dez Bryant
Injury: Fractured fibula
Healing Time: 16 weeks
Impact on the Field: This injury happened when Bryant rolled his ankle. That created a sprain that led to a fracture further up his leg. Bryant did not have surgery and was only casted. Therefore, his only concern is getting his calf muscle back into shape. When a player has an injury where they canít push off of their foot, it creates atrophy of the calf muscle. When this muscle is weak, itís very difficult to run or jump. But Bryant is now back to dunking basketballs, so look for him to have a huge year. In fact, I love all the Cowboy skill position players this season.
Player: Austin Collie
Injury: Concussion
Healing Time: 4 weeks?
Impact on the Field: Austin Collie has endured some pretty grotesque collisions, and the last one cost him his season. The healing time has a question mark next to it because no one really knows. My alma mater, Boston University, is now the leading facility on research information for the NFL on this topic. Things have gotten much more sophisticated with testing, but questions are still present. I can rattle off all the parameters that allow a player to return to competition, but the truth is that I canít tell what another person is thinking. As usually happens with athletes in this situation, the players end up saying all the right things, and in Collieís case, he has been practicing fully for some time. The question now becomes, is he is more susceptible to re-injury? Unfortunately, the answer to that is yes. Hopefully he and his trainers will keep this constantly in mind and take all the precautions to minimize that risk.
Player: Julio Jones
Injury: Stress fracture in foot
Healing Time: 8-12 weeks
Impact on the Field: I could not find clarification on exactly what this injury was. I do know he had a screw inserted into his foot because of a fracture. That makes me believe he had a Jones Fracture, a fracture that develops in the fifth metatarsal. But no matter where the injury occurred, he still had a screw inserted into his foot. That will cause some pain on rainy days but should not affect his on-the-field capability. Personally, I like Jones much better than A.J. Green. Although Green has better hands and supposedly has better body control, I prefer guys that have speed with that skill set. Jones is fast and Green seems to be more like Michael Crabtree. Good, but maybe not great.
Player: Steve Smith (NYG)
Injury: Microfracture, knee
Healing Time: 6 months
Impact on the Field: This is an injury that could take anywhere from 4 months to a number of years to heal, if it ever does fully heal. A player who has this type of procedure has a wearing away of the articular cartilage, which exposes one bone to another. When these weight-bearing bones push against each other it causes immediate pain. The idea with this surgical technique is to drill down into the bone, which will cause it to bleed and possibly stimulate healing by forming new cartilage. However, no one knows whether this has really worked until the surgeon goes back in for another procedure. Players do come back successfully from these surgeries, and Smith might miss just the first 8 games after he starts out on the PUP list. But I still think Hakeem Nicks is the better player, and I would not waste much time considering taking Smith.