8/4/12



Ok, fess up. Who thought that Jordy Nelson, Torrey Smith or Antonio Brown would have the seasons they had in 2011? These once no-name players stepped out of the shadow of bigger-name teammates and arguably became the best fantasy receiving options on their respective teams. Securing these kinds of players with late-round selections or off the waiver wire makes us feel a bit smarter and much better prepared than our league competitors. Knowing first where to look for players with opportunities to breakout is half the battle; keeping your fingers crossed comprises the other half.

Here are a handful of players in situations that could lead to breakout seasons in 2012.

Eric Decker, DEN: The Denver receiving corps is a relatively young bunch with tons of potential. Decker got off to a solid start last season with Kyle Orton under center, scoring multiple touchdowns in two of the teamís first four contests. Then the Tim Tebow debacle commenced, effectively rendering Decker a fantasy hit-or-miss candidate every week. Now enter Peyton Manning, and while I believe Manning will fall short of some peopleís expectations, he will certainly maintain a level of effectiveness that makes his receivers solid fantasy options.

There are some who look at Demaryius Thomas as the one who will benefit the most from Manningís arrival. Thomas is the big-play guy, no doubt; he averaged more than 17 yards per reception last season. But Decker, I believe, will be counted on to run the shorter, higher percentage underneath routes, compared to Thomas running the deeper routes. Donít forget that Decker caught eight touchdowns last season. Heís essentially assured of reaching that figure again, and he should also come close to doubling his 44 receptions as well. Decker enters the season as a low-end WR2 with potential to become more than that.

Nate Washington, TEN: Simply put, Washington is the most reliable receiver on the Tennessee roster, both on and off the field. Kenny Britt is solid on the field (when healthy) but a knucklehead off it, Kendall Wright is a rookie who signed a few days into training camp, and tight end Jared Cook is inconsistent. Washington stepped in for Britt after his injury in 2011 and proceeded to pick up where Britt left off. Washington had a few monster games, including a nine-catch, 115-yard, two-touchdown performance on the road in Atlanta. He developed a nice chemistry with Matt Hasselbeck, and while the old quarterback may find it difficult to keep the starting spot all season, Washington should still be the leader of the Titansí receiving options.

The Titans are probably eager to see what they have in Jake Locker, even though last year Hasselbeck had his best season since 2007. And the one good thing about young quarterbacks is that they usually lock on to and bombard the most reliable receiver on the squad. I see Washington as that guy once again in 2012. One has to be cautious of a wide receiver having his breakout season at 28 years of age, but I think the situation in Tennessee shapes up fine for the speedster, and he should make some noise this year as a reliable low-end WR2.

Danny Amendola, STL: I included Amendola on this list last year, but he hurt himself in the opening game and missed the rest of the season. The Rams last year were led offensively by coordinator Josh McDaniel and his pass-happy offense. Head coach Jeff Fisher now mans the sidelinesóa coach with a philosophy thatís geared more toward a ball control, power running game. That sounds good, but when you have a young Sam Bradford, St. Louis will not be averse to throwing the football.

Amendola will never be confused with a deep threat. But he is a solid underneath route runner who should do very well in PPR leagues. The other receiving options in St. Louis are shaky, led by Steve Smith, who continues his comeback after a knee injury several years ago. Itís the usual hyperbole to call Amendola a poor manís Wes Welker, but honestly, itís not too big a stretch. His yards-per-catch probably wonít reach double digits like Welker's, but I believe his role in the passing game will be just as important to the Rams as Welker's is to the Patriots.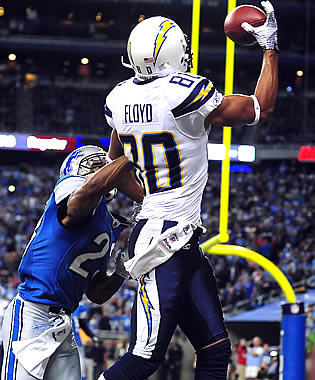 Floyd is no spring chicken, but the departure of Jackson will do wonders for his production in 2012.
Malcom Floyd, SD: Vincent Jackson is now in Tampa Bay and Antonio Gates is one year older with a history of foot problems. Throw in the addition of an inconsistent Robert Meachem and a young Vincent Brown, and the passing game in San Diego sets up nicely for Floyd to have the same kind of late-career renaissance that Brandon Lloyd enjoyed several years ago.
I think Philip Rivers rebounds this year and improves on a season in which he tossed 20 INTs, and Floyd should be the beneficiary of that improved play at quarterback. Many people may forget that Floyd played only 12 games last year but had four games of 100 or more receiving yards, in addition to two other games in which he went for 95 and 96 receiving yards respectively. By my count, thatís at least 95 yards in half the games he played. Thatís a nice foundation on which to build a late-career, breakout season in 2012.
Denarius Moore, OAK: Denarius Moore was the picture of inconsistency last year. He had three games in which he went for 100 or more receiving yards, but he also had three games with one reception and two others with zero. A full offseason with quarterback Carson Palmer, along with the trade of Louis Murphy, puts Moore on the fast track toward surprising a few people.
A side note: Can we please do away with the narrative that Oakland likes to throw the ball deep downfield? Of course they do. And so do 95 percent of all the other teams in the NFL. People say that as though Oakland is the only team with interest in that strategy. But I digress. Moore should ascend to the No. 1 wide receiver spot on Oaklandís roster, ahead of underachiever Darrius Heyward-Bey. Palmer has never been a quarterback who throws much to the tight end, so Moore should see targets early and often in games.

Doug Baldwin, SEA: Doug Baldwin came out of nowhere last season as an undrafted free agent to become Seattle's leading receiver. He will battle Sidney Rice as the team's No. 1 option, assuming, of course, that Rice remains healthy. Baldwin isn't the biggest receiver, but he showed last year that he can be relied on when needed the most. He's best known for his eight-catch, 136-yard, one-touchdown game early in the year at the Giants, and while fantasy owners would be delusional to expect that kind of performance on a regular basis, it speaks to some degree of his potential. The one major caveat playing out in Seattle is the question of who will be the quarterback. Tarvaris Jackson? Matt Flynn? Take your pick. Either way, Baldwin has the potential to show that his productive year in 2011 was a subtle sign of things to come.