8/18/12



The unpredictability of fantasy football is, among countless other things, what makes it such an entertaining activity. Every year, there are players that fall short of expectations and players that come from nowhere to put their names on the fantasy map. It's a fascinating process and one that keeps us coming back for more each season. Some will struggle, some will shine. The idea, of course, is to have less of the former and more of the latter. Here's a list of five who I think may shine in 2012 and five who I think may struggle.

Five To Shine

WR Victor Cruz, NYG: Cruzís spot on this list is nothing more than a presumed continuation of his breakout year of 2011. He came from nowhere last year, finishing the season with 10 games of at least 91 receiving yards. Thatís a ridiculous figure when you consider he barely made the squad in 2010. Cruzís torrid play should continue into 2012 for several reasons. For starters, fellow wide receiver Hakeem Nicks is just coming back from a broken bone in his footóyet another nagging injury he'll have to face. Heís battled through irritating injuries two of his first three seasons, and while Nicksí latest bout probably wonít linger too long into the season, it certainly gives Cruz more time to strengthen whatever rapport he has with quarterback Eli Manning.

Secondly, the Giants arenít usually a team that spreads the ball around much. Running back Ahmad Bradshaw has skills out of the backfield, but Manning is not known to include the tight end in the passing game very often. That translates into more opportunities for the wideouts. Depending on what cheat sheet you look at, Nicks is probably ranked ahead of Cruz. But Cruz appeared to be a game-breaker in 2011, and could very well continue into this season. He should prove to be a solid and reliable WR1 this year, so donít shy away from using an early-round pick on him.

WR Dez Bryant, DAL: I acknowledge, first and foremost, that Bryant has serious knucklehead tendencies. Relying on a player with his track record could be a dicey proposition. I concede that. But I think he is on the verge of becoming one of fantasy footballís most dynamic receivers. With Miles Austin fighting through yet another hamstring issue this preseason and tight end Jason Witten nursing an injured spleen, Bryant now emerges as Tony Romoís undisputed top optionóif he wasnít that already, prior to these injuries.

Bryant plays with an attitude, with an edge. When heís between the white lines, it seems he cares about football; he has a palpable passion for the game. Those traits in and of themselves donít always translate to production on the field, but with the way things appear to be shaping up offensively for the Cowboys, Bryant has an opportunity to make a name for himself both in the NFL and in fantasy football circles as well.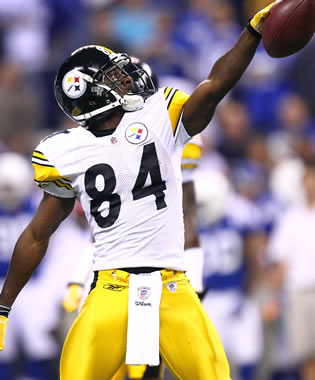 The Steelers have found a gem in Antonio Brown.
WR Antonio Brown, PIT: I traded for Mike Wallace last year after his Week 7, 118-yard performance against Arizona. I thought I was getting a player that would help fortify my squad. What I got was a player who all of a sudden appeared to turn into the Steelers' No. 2 receiver right before our eyes. Every Pittsburgh game I watched, I kept seeing #84 targeted by Ben Roethlisberger. Now with Wallace sitting out training camp and the Steelers losing running back after running back, I suspect Brown will become more and more entrenched as the teamís most reliable offensive option outside of Roethlisberger.

Wallace may be more physically gifted, but by rule I shy away from players who hold out during the preseason. They seem to never attain the level of productivity they could have had, had they reported to camp on time. But even had Wallace been in camp since day one, Brownís ascension in the passing game, I believe, would have still been realized. Brown will continue to represent my alma mater, Central Michigan, and will become a solid WR2 for fantasy owners everywhere.
RB C.J. Spiller, BUF: Spiller filled in for an injured Fred Jackson last season and performed admirably, including two fantasy playoff games in Weeks 14 and 15óone where he ran for 91 yards and had nine receptions, and another in which he had 111 yards on the ground. Jackson is expected to return this season and have a major role in the teamís running game. But the fact that Jacksonís late-career renaissance is coming as a 31-year-old running back should give some fantasy owners pause.
There have been whispers that the Bills will use both backs on the field at once, with Spiller used primarily in the slot. Some may think that the only way Spiller shines in 2012 is with Jackson sidelined for whatever reason. While that could certainly expedite the process, I believe Spiller will be utilized enough in the offense to carve out a productive seasonóperhaps even to the extent that he supplants Jackson as the bell-cow running back. As it stands now, though, Spiller can be had cheaply in your draft, and heís as big a low-risk/high-reward player as there is this year.
QB Jay Cutler, CHI: Cutlerís importance to the Bears was put on full display in 2011 when he missed the last six games of the season with a thumb injury. He was having a solid, if unspectacular, season up to that point, as he had not turned the ball over as much as he did in 2010. The fact that Cutler has even been fantasy-relevant with the collection of receiving options heís had during his time in Chicago speaks volumes on his overall ability. Devin Hester? Earl Bennett? Really?
Now heís reunited with Brandon Marshall, a player who should infuse a healthy dose of explosiveness into an offense that has been as boring to watch as any over the past several years. Marshallís presence as the teamís top receiving threat will do wonders for Cutler, and the addition of rookie wide receiver Alshon Jeffery wonít hurt either. The offensive line has long been a concern for Chicago, but if they can shore up the pass protection, Cutler will be in line for a dynamic season in which he could become a solid QB1 by seasonís end.
Five to Struggle
WR Andre Johnson, HOU: The one thing thatís more troubling about Johnsonís recent rash of injuries is the fact that theyíve come without contact from the defense. There wasnít a defender within five yards of him when he ripped his hamstring last year, and the strained groin he suffered in training camp this year came without contact. Thatís a bit disconcerting when youíre a 31-year-old receiver on a team that runs the ball as frequently and as successfully as the Texans do.
Iíve seen cheat sheets that have Johnson as high as the No. 2 WR. Iíd let someone else take that risk on a player whoís never had double digit touchdowns in a season and has proven to be a bit fragile recently. Johnson wonít be a bust; I just donít think he can be relied on with the level of confidence that his ADP (2.12) would suggest. Heís being drafted as a WR1, and that would be a nervous proposition for me.
RB Marshawn Lynch, SEA: Lynch had the best season of his career last year and finished with an impressive six games of 100 or more rushing yards through his last nine games. The Seahawks allegedly improved their passing game with the acquisition of quarterback Matt Flynn, which in turn should improve their running game. That assertion remains to be seen.
The issue I have with Lynch is that thereís nowhere to go but down; he has no upside. And to expect him to perform at the same clip as last year is asking an awful lot of a player who had never been more than a mid-range RB2 prior to last season. His current ADP (2.07) presumes many fantasy owners are banking on him to repeat his career performance from 2011. I have a hard time envisioning that. Iíd need more than one yearís worth of that kind of productivity before I invest that high a draft pick in a player at such a premium position.
RB Trent Richardson, CLE: The Cleveland Browns have been an anemic offense since they reentered the league in 1999. Only in 2007 were they ranked higher than 23rd offensively, and they struggled mightily running the football. Thus the drafting of Trent Richardson. The only problem with that is heís battled with the same knee issue this preseason that he had to contend with late last season while at Alabama. The expectations seem to be off the chart for this kid, starting with his draft position. I guess the Browns didnít get the memo that the NFL doesnít use high draft picks on running backs anymore.
In addition to his knee problems, Richardson will have to deal with a subpar supporting cast, eight-man defensive fronts, and six games going against the run-stuffing defenses in his division (Pittsburgh, Baltimore, Cincy). And, oh, by the way, in case you havenít noticed, Montario Hardesty is doing quite well this preseason; he wonít go away easily. It could even be a platoon approach to start the season, and thatís something fantasy owners donít want to hear about a player with a 3.07 ADP. Lowered expectations are in order for this rookie.
RB DeMarco Murray, DAL: Murray sure is getting a lot of love, especially for someone with only two rushing touchdowns on his resume. He replaced an ineffective and fragile Felix Jones last year and performed the way many were hoping Jones would. Now people are apparently pinning their hopes on Murray to the tune of a 1.12 ADP. These people have obviously not been paying attention to the struggles of the Dallas offensive line. Murray could possibly produce numbers; I just donít know if Iíd use a first-round selection on him.
Further, the Cowboys had one of the highest pass-to-run ratios in the league in 2011, passing the ball 60 percent of the time. Murray is not used heavily in the passing game, which could hinder his production even more. Look, I get the idea of jumping on a player while heís ascending. I understand that philosophy. But the price for Murray heading into this yearís draft is astounding to me. A first round pick? Preposterous! His touchdown total is bound to go up from the two he had last year, but donít expect RB1 production from this dude. Buyer beware, especially at his Rodeo Drive price tag.

WR Brandon Lloyd, NE: Lloyd followed offensive coordinator Josh McDaniels to New England just as he said he would. Lloyd has had a fairly productive last two years, and now he goes to the Patriots and their pass-first, pass-often offensive attack. So why is he on this list? Well, there are only so many receptions to go around.
At best, Lloyd could end up the No. 4 option behind Rob Gronkowski, Wes Welker and Aaron Hernandez. Whatís the production level of a teamís No. 4, even on a team as potent as New England? Thatís the ultimate question regarding Lloyd. If you think he could supplant Hernandez as the No. 3, then heís probably your guy as a high-end WR3/low-end WR2. If not, then Lloyd will toil on your roster while you struggle weekly on whether or not to place him in your starting lineup. Will Lloyd have a productive game or three this season? Quite possibly, yes. I just think theyíll be too sporadic for anyone to count on him as a weekly starter, which is how he is being drafted (4.09 ADP).