Jonathan Bales is the author of the Fantasy Football for Smart People book series. He writes for the New York Times, DallasCowboys.com, NBC, and Dallas Morning News.
---

When I published Fantasy Football for Smart People: How to Dominate Your Draft last year, I didn't really anticipate selling all that many copies. I wrote it simply to put pen to paper on some draft strategy thoughts I'd had over the years. Well, a few million (or thousand, I can't remember?) sales later, I have a whole lot of fantasy-related research behind me and I've continued the series with two new fantasy football books.

One of those books, What the Experts Don't Want You to Know, tackles 25 of fantasy football's most pressing questions. Do running backs really break down after a lot of carries? Can injuries offer value? Do players perform better in contract seasons? What's the typical age of decline for each position?

The latter question will be the subject of today's post. Age is one of the most influential factors in my projections, especially for dynasty leagues, but most owners overlook it. If you know when players at certain positions tend to break down, you can acquire all kinds of value. Here's a sample from a chapter on fantasy football production by age for each position.

Below, I charted tight end production over the past decade-plus, sorted by age.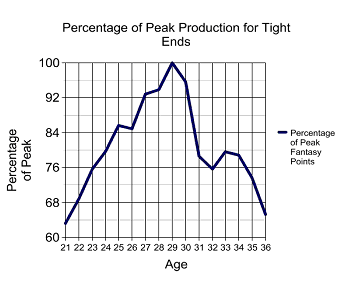 If that graph were a mountain, it would be difficult to climb on both ends. That's because tight ends have historically had a smaller range of peak years than quarterbacks, receivers, and even running backs. Tight ends take a long time to develop—the probability of a rookie tight end posting respectable fantasy numbers is almost zero—and they see a steep decline in their early-30s.

Historically, the typical tight end has produced only four seasons with at least 90 percent of his peak production. In that way, they're very comparable to wide receivers, who also record only a few elite years. The difference is that wide receivers sustain a decent level of play for a much longer time than tight ends.

But why? It's possible that the wear and tear of playing the tight end position takes its toll. By the time tight ends hit their 30s, they're just worn out. That might change with the rise of pure pass-catching tight ends who don't have to deal with the hassle of blocking, but it's unclear right now.

To show you the small window of opportunity for the average tight end, check out this graph.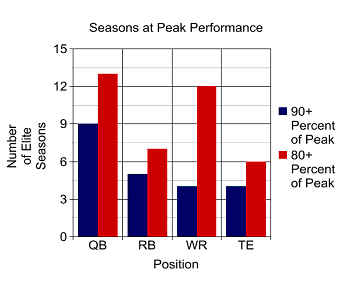 This gives you a really good idea of the number of quality (80+ percent of peak) and elite (90+ percent of peak) seasons for the average player at each position. Unsurprisingly, quarterbacks have the longest windows with an average of 13 quality seasons. Meanwhile, tight ends have the fewest quality seasons (six) and elite seasons (four).

I think this information actually both helps and hurts tight end value, depending what league you're in. In dynasty leagues, tight ends have to be downgraded since most of them won't provide you with long-term production. In redraft leagues, however, the lack of tight ends playing at an elite level at any given time could actually inflate their value. Remember, a fundamental concept of sound fantasy football drafting strategy is scarcity; elite tight ends are a scare (and surprisingly consistent) resource, meaning they're valuable.

So how should all of this affect your decision-making? Well, it's probably smart to target tight ends entering their mid-20s, whether you play in a re-draft or dynasty league. It's in that range that most tight ends see a dramatic spike in play.


Outside of the fact that Gonzalez is a freak and you can probably draft him until he's 55-years old, you should really be avoiding those aging tight ends. Most fantasy owners aren't too high on Gates, but Witten is the third tight end off of the board in most drafts. That's a problem. Actually, Witten's decline has been visible for a few years now, but not unless you know where to look. While his bulk stats have been impressive, they've coincided with an increase in workload in the Cowboys' offense. Take a look at Witten on a per-route basis.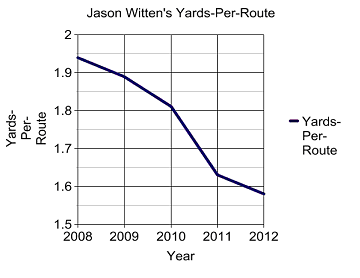 Witten's bulk stats are going to decline in the very near future, and my thinking is that it will be this year. I won't own him in any leagues, and based on his ADP, you shouldn't either.

Fantasy owners need to know a lot of information, but it's the data they use that others aren't that can lead to a competitive advantage. Age is the most overlooked trait when projecting players, so it isn't much of a factor in ADP. Know the historic rates and ages of decline for each position, and you can exploit that inefficiency.

Buying the books on Amazon or as a PDF is your first step toward fantasy dominance.