With the 2017 season complete it is prime time to start looking at potential targets to acquire for the future. This time of year is one of my favorites for putting out trade offers for players that I see as having a ton of potential, but before the pre-season hype attaches itself to any of them.

The following 5 players jump out to me because they are coming off subpar seasons (so they should be cheaper), but have done enough in the past, or have enough talent to take their game to the next level. In addition, each of these players are at an age that makes them valuable dynasty assets, whether you are going for it all in 2018 or rebuilding your team for the future. While each is certainly owned in all but the shallowest dynasty leagues, all should be affordable targets this time of year.

1. QB Marcus Mariota, TEN: By all accounts, Mariota regressed in 2017, throwing fewer touchdowns and more interceptions than each of his previous two seasons. Add to the fact he that has yet to play a full season healthy, and you have a player that should come at a deep discount compared to when he entered the league as a rookie.

There are two main reasons I like Mariota to take a big step up next year. First, and perhaps most importantly, the coaching staff change should do wonders for the Titans offense. Under Mike Mularkey the Titans ran one of the more conservative/boring offenses in the league despite having a dynamic player under center. The "exotic smash-mouth" style that Mularkey instituted in Tennessee resulted in a slow, deliberate style of play that saw the 4th fewest offensive plays run per game in the league and the 5th fewest pass attempts. This style is obviously not conducive to a quarterback putting up big fantasy numbers and while Mariota's legs helped his value, he still finished outside the top 15 fantasy QB's in most formats. While we do not know for sure how new head coach Mike Vrabel will run the offense, chances are he will open it up more than Mularkey did.

In addition to Vrabel, the new offensive coordinator will be Matt LaFleur, who worked under two of the most creative offensive minds in the game today, Sean McVay and Kyle Shanahan. While this is LaFleur's first official OC position, it is likely he will bring similar concepts with him that were so successful for Jared Goff last season.

In addition to the coaching changes, the support around Mariota, which has been suppressed under Mularkey, is oozing with talent. First off, the Titans offensive line is solid and young enough to continue to improve. Second, the run game will continue to be productive, even if DeMarco Murray is gone, as Derrick Henry has shown flashes of stardom in limited play and is coming into the prime years of his career. What stands out to me though, is the Titans receiving talent, led by underrated Rishard Matthews who is going into a contract year. Behind Matthews you have last year's 1st rounder Corey Davis who struggled with injuries and consistency his first year but flashed in certain games (including the playoff loss to the Patriots) and has the raw talent to be a top 10 receiver in the league. At tight end, Delanie Walker and Jonnu Smith that are pass-catching threats with great athleticism that can stretch a defense down the middle.

With a new scheme in place to take advantage of the Titans weapons, and the continued growth of the offensive youth (including Mariota himself), this offense could take a huge step next year and Mariota could be the biggest recipient of the uptick in fantasy value. In many dynasty leagues Mariota has lost some of the "shine" which makes him a perfect target to go acquire before everyone starts realizing the kind of upside this 2018 Titans offense really has.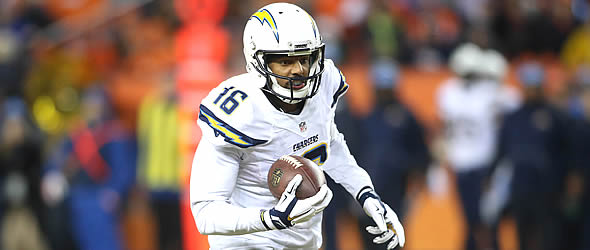 Tyrell Williams saw his production dip in 2017 making him a perfect buy-low option for dynasty owners.


2. WR Tyrell Williams, LAC: Williams has been one of my favorite under-the radar receivers for a couple years now and although his 2017 season was underwhelming compared to his 2016 breakout, I am certainly trying to acquire him wherever I can in dynasty. Williams, unlike the other guys on this list, is more of a speculative/buy-low acquisition than a pre-breakout player, but as hardcore dynasty players know, sometimes you have to roll the dice (when the price is right) in order to get the big payoff down the road.

Williams is currently a restricted free agent and will probably remain a Charger in 2018, but of course anything could happen. At 6'3'', 205, with a 4.45-40, Williams has the prototypical size/speed combo of a true No.1 NFL wide receiver. Even with limited college/NFL experience, Williams broke out big in 2016 after Keenan Allen went down with an ACL injury and finished with 7 touchdowns and over 1,000 yards. Even after his 2016 performance much of the dynasty community has failed to embrace Williams, and after a disappointing 2017 season that saw all his numbers dip considerably, he seems to be the forgotten man in a crowded receiving corps. The 2017 drafting of Mike Williams in the first round further decreases Tyrell's fantasy value to its lowest point in almost two years. This presents amazing value for a player that has superstar potential. By acquiring Williams in the next few weeks you should be getting a bargain for a player that will be just 26 at the start of the 2018 season and has the potential to be a star at some point during his career.

If the Chargers do re-sign Tyrell it takes a leap of faith to project an increase in targets, but Mike Williams still hasn't shown anything significant at the NFL level and Keenan Allen still has two lost seasons due to injury under his belt… stranger things have happened. If another team manages to pry Tyrell away, you may have hit the jackpot with a player that has the potential to be a 1,200-yard 10+ touchdown receiver in the right system.

Dynasty trades are much like the stock market and the lottery combined; you buy low and you take a chance on guys that could significantly outperform the value you have invested in them. Tyrell Williams is a prime candidate to acquire on the cheap while the potential return on investment is sky high.

3. RB Tarik Cohen, CHI: Much like the 2018 Titans, I'm focusing on the Bears as a team on the rise after getting rid of their coaching staff and conservative offense. While I also like Mitchell Trubisky as a potential breakout, Tarik Cohen is a player that intrigues me even more as a benefactor in a new offensive system.

After bursting on the scene in Week 1 of the 2017 season with over 100 total yards and a touchdown, Cohen unexplainably faded away the remainder of the year, thanks in large part to his usage, which topped 9 carries just three times all season. In limited action it was clear to anyone with eyes and a basic understanding of football, that Cohen was electric on the field. Part Darren Sproles, part Tyreek Hill, Cohen had the speed, the burst, the wiggle, and even showed toughness despite his size. Unfortunately for Cohen, his owners, and the Bears, John Fox and his archaic play calling limited the offense (2nd to last in NFL in plays per game) and the amount of work that Cohen received.

With Fox out of the way, Matt Nagy has been hired in his place after a successful stint as the offensive coordinator with the Kansas City Chiefs. With Nagy calling his own plays, look for the offense to be more creative and get players, like Cohen in space, much like Nagy did with the aforementioned Hill.

While Cohen does not profile as an every-down back, he has the hands and route running ability of a polished receiver and has shown he could easily handle 15+ touches a game. With few other offensive threats currently on the team, Cohen could easily be the offensive spark the Bears (and fantasy owners) rely on next season. If used to his potential I could see a similar season that Chris Thompson was off to last year before getting hurt.

With Cohen's best couple games far in the rear-view mirror and a cumulative stat line that looks below average on paper, he could be ripe for the picking. As a young, dynamic player on a soon-to-be improved offense, coming off a mostly quiet season, Cohen screams value to me as a 4th or 5th RB on a dynasty roster that could produce RB2 numbers as soon as this season, with a limited investment required.

4. TE George Kittle, SF: The tight end position is notoriously difficult for rookies to produce from, especially unheralded players drafted after the first three rounds of the NFL draft. Kittle was drafted in the 5th round last year in a draft class that saw major talent (Howard, Engram, Njoku, to name a few), however Kittle produced the second most receptions (43) among rookie TEs despite playing with several different quarterbacks. Despite this production, Kittle is nowhere near a household name and doesn't have the draft pedigree. He didn't make many highlight reel catches and only scored 2 touchdowns all year. These facts should have the 49ers tight end flying under the radar in fantasy circles right now, meaning it's the perfect time to acquire him.
Kittle has three main things going for him. First, he has the measurable. He is an underrated talent who is a capable and willing blocker, making him hard to take off the field. He has 4.52 speed which is excellent for his frame, and shows solid explosiveness when coming off the line. He also has excellent hands, dropping just one pass in his college career.

Second, Kittle was drafted by the current coaching staff, meaning he is probably a safe investment as someone they will keep and feature, especially after a productive rookie season.

Third, and maybe most importantly, the 49ers offense is going to be a force in the near future after acquiring their franchise quarterback in Jimmy Garoppolo and being led by one of the more innovative offensive minds in Kyle Shanahan.

Kittle and Garoppolo ended the year on a good note, connecting 11 times for 194 yards and a TD in their final three games despite playing some solid competition (TEN, JAC, LAR). While it is likely the 49ers bring in more offensive talent, chances are strong that Kittle remains the starting tight end and at least a top 2-3 option in an offense that should rank near the top third of the league in passing attempts.

While other dynasty owners will be trying to acquire bigger names and paying up for them, I'm looking at Kittle as a player that could soon join the upper echelon of talent at the position but without the high price tag associated with elite.

5. RB Duke Johnson, CLE: Much like another running back on this list, Johnson is an undersized (5'9'') player but one with immense talent and flexibility. Unfortunately for fantasy owners, Johnson is on the Browns where he's been underutilized thanks in part to game script but also to poor coaching.

Johnson had a solid year in 2017, finishing in the top 24 backs in both standard and PPR leagues, he mostly flew under the radar because of Isaiah Crowell being the starter and well, being on such a lousy NFL team. Johnson has enough production on tape highlighting his skills, but many owners in the dynasty community do not value him highly because of the perception of him being a part-time player.

For those die-hard dynasty owners (most of us) who like to predict the NFL Draft, Johnson may get downgraded more as impending fear of Saquan Barkley coming to Cleveland sends chills through the spines of Johnson owners. To me this presents a perfect time to buy Johnson on a couple different fronts. First, I see the Browns as a team on the rise, which I know sounds funny after not winning a game in 2017, but hear me out. They can't get worse, for starters, but the team has quietly been stacking up solid talent on both sides of the ball and if they can avoid the injury bug and young players continue to develop, the Browns could boast a solid receiving corps to go along with an already better than average offensive line. Add a top quarterback prospect in the mix, and you have a great spot to be in if you are a ball-carrier.

With Crowell likely to move on in free agency, Johnson may finally get a chance to carry more of a load in a contract year. Of course competition will be brought in, and yes, perhaps even in the form of the top running back in the draft, but even in that worst-case scenario, Johnson will have a role capable of solid fantasy production while barely topping 100 carries.

Being a dynasty format, he provides extra value given his youth, but he is also in a contract year and could end up in a much more favorable spot in 2019. He's a great guy to target with very little hype surrounding him that brings a great mix of high-floor and high-ceiling potential, both short and long-term.

Additional acquisitions I'm considering:

QB: Mitchell Trubisky (CHI), Jimmy Garoppolo (SF)
RB: Jerick McKinnon (MIN), Aaron Jones (GB)
WR: Kenny Stills (MIA), Jamison Crowder (WAS)
TE: Trey Burton (PHI), Vance McDonald (PIT)