It's that time of the year again, when NFL fans get overly optimistic or just plain depressed (usually nothing in between) about the future of their favorite team, based solely on who was picked in the NFL draft. For dynasty fantasy owners it is a chance to re-stock, re-build, or re-think their rosters, as investing in (or avoiding) rookies is probably one of the most important things an owner can do for the future of their franchise.

This year's NFL Draft was interesting, as there was not a real consensus on the top players and a general sentiment of weakness for fantasy purposes. While this may or may not prove to be true, it is likely some players will emerge as having fantasy relevance, and for several players this could come as soon as this coming season.

Below is the result of a rookie draft that I had this past weekend (5/7/22) in one of my long-standing dynasty leagues. The league is 12 teams, .5 PPR and uses relatively standard lineup (1 QB, 2RB, 3 WR, 1 TE, 1 Flex, 1 K, 1 DEF) and roster size (22 spots). Hopefully you can use this as a benchmark for your upcoming dynasty rookie drafts so you have some idea what to expect.

Happy drafting!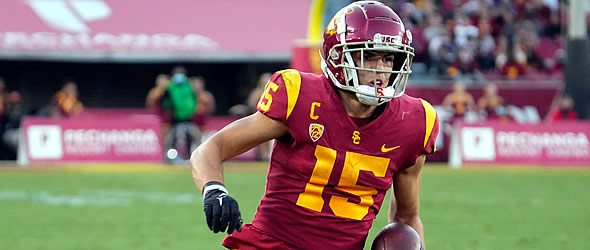 1.01 - Breece Hall, RB (New York Jets)
1.02 - Drake London, WR (Atlanta Falcons)
1.03 - Treylon Burks, WR (Tennessee Titans)
1.04 - Garrett Wilson, WR (New York Jets)
1.05 - Kenneth Walker III, RB (Seattle Seahawks)
1.06 - Chris Olave, WR (New Orleans Saints)
1.07 - Christian Watson, WR (Green Bay Packers)
1.08 - Jameson Williams, WR (Detroit Lions)
1.09 - Skyy Moore, WR (Kansas City Chiefs)
1.10 - James Cook RB (Buffalo Bills)
1.11 - George Pickens, WR (Pittsburgh Steelers)
1.12 - Kenny Pickett, QB (Pittsburgh Steelers)

Round 1 Analysis

The only sure-pick in this draft class is at pick 1 with Hall. While the landing spot is not perfect, Hall is a terrific prospect both from a production and athletic standpoint. Include the high draft capital at a shallow position in this class and he is an easy top pick for me.

After Hall it gets a little cloudy but the next three (London/Burks/Wilson) make up Tier 2, as excellent prospects who also have great draft capital and solid landing spots.

The rest of the first round I can see going in almost any order. Guys like Watson and Moore ended up in great landing spots but had worse draft capital and were less heralded than a guy like Jameson Williams who ended up in a rough spot but could have the talent to overcome it.

Walker and Cook are the only other two running backs with first round consideration but each comes with risk based on landing spots and less than perfect scouting reports.

I could see zero quarterbacks taken in Round 1 of rookie drafts but Pickett slips in here and I think that is fine for QB-needy teams, as he was the only QB (surprisingly) drafted in the first round of the NFL Draft and actually landed in a QB-friendly team with the Steelers.

If you have a pick in the first round this year, outside of the top 4, I would probably advise trading up to a top 4 pick (preferably 1), or perhaps trading down (or out) to maximize your value, as it becomes a big cluster after the top four players.

2.01 - Jahan Dotson, WR (Washington Commanders)
2.02 - Rachaad White, RB (Tampa Bay Buccaneers)
2.03 - David Bell, WR (Cleveland Browns)
2.04 - Dameon Pierce, RB (Houston Texans)
2.05 - Brian Robinson Jr., RB (Washington Commanders)
2.06 - Isaiah Spiller, RB (Los Angeles Chargers)
2.07 - Tyler Allgeier, RB (Atlanta Falcons)
2.08 - Trey McBride, TE (Arizona Cardinals)
2.09 - Malik Willis, QB (Tennessee Titans)
2.10 - Alec Pierce, WR (Indianapolis Colts)
2.11 - Zamir White, RB (Las Vegas Raiders)
2.12 - Desmond Ridder, QB (Atlanta Falcons)

Round 2 Analysis

Six running backs go in this round and that is almost entirely based on juicy landing spots, as really none of these guys are highly rated prospects. That being said, sometimes all it takes is opportunity and all six could get a crack at significant work by early 2023, if not sooner.
The only tight end taken, McBride had good draft capital and was seen by most as the best player at his position this year. While his landing spot has pros (QB play, pass-first offense) and cons (Ertz, target competition), mid-2nd round feels like decent value for a position that is thin overall in fantasy.

After many had Malik Willis pegged as a 1st round NFL Draft pick, his draft day slide put a damper on his fantasy prospects, but is probably decent value here considering his enormous upside as a running quarterback and a potential starting job in 2023 if Ryan Tannehill leaves.

The 2nd round is mostly about opportunity based on landing spots and not as much on actual talent. This means I would try to trade up into the first round, or trade out of this round completely if I had a pick here, as most of these guys will likely be long-term busts.

Final Thoughts

One thing to note, I do not think Superflex formats change the draft much this year. Maybe QB's get moved up a pick or two and maybe Matt Corral (Panthers) gets taken late, but NFL teams have clearly soured on this class so it is likely Dynasty owners will too.

Overall, I am not that excited about this class outside of maybe 7-8 guys. That is not to say more won't have relevance, but I do not see this class as having many superstars or even many consistent, long-term fantasy plays.

As I mentioned above, my strategy is to pay up for pick 1, pay slightly less for picks 2-4, or try and trade back/out entirely. Draft fever always hits the dynasty community this time of year and I would not hesitate to target those in your league who you know have the highest temperature and use that to your advantage.

As always, assess your team and where it stands as far as being a competitor or a rebuild project and plan accordingly. If you are competing for a championship this year I would not hesitate to trade out of this draft for an established veteran who can help you bring home the trophy now. If you are in rebuild mode hopefully you have a top 4 pick or can get into that range, otherwise this may not be the year to have a bunch of rookie draft picks.