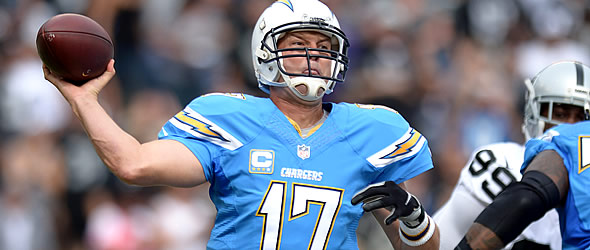 A consistent QB1: Philip Rivers has averaged 4492 yards and 31 TDs over his last 5 seasons.
QB Philip Rivers
(2017 QB Rank – No. 7, 21.1 FPts/G)
He's no longer a sexy name, but Philip Rivers remains an extremely consistent producer on a yearly basis. The 36-year-old has thrown for nearly 4,500 yards and 31 touchdowns per season over his past five seasons. While he's also typically among the league leaders in interceptions thrown, he actually threw just 10 picks this past season - his fewest number of interceptions since 2008.
Rivers will be without his top tight end, Hunter Henry, who will miss the season and be sorely missed after suffering a knee injury at minicamp. However, Rivers has been practically receiver-proof throughout his career, which is something that most quarterbacks cannot say. He hasn't thrown fewer than 26 touchdowns in a season since 2007 and he's only been under 4,000 yards once during that span. He's also one of the league's toughest and least injury-prone players, having started every game for the Chargers since becoming the starter in 2006.
For all his positives and a presumably high floor, Rivers is rarely an elite producer on a weekly basis which can make him difficult to trot out as a weekly starter. He's not poor very often so you can usually get by, but he doesn't often give his owners the big performances that win weeks. If you had to choose a mid-to-late-round QB to finish in the top 12 at the position, Rivers would probably be a good bet, but we live in a day where streaming the position is a legitimate option that can often out-produce even low-end QB1s like Rivers.
One more minor concern for Rivers is that the Chargers defense figures to be even better this season, which will likely mean fewer shootouts for the passing game to accumulate numbers. This can often be overblown and quickly made up for with improved efficiency, but it's still worth considering that Rivers' total pass attempts could very well be down this season. Still, he's a viable option for those who wait on quarterback, and especially for those in two-quarterback formats where the shiny new players at the position will often be overdrafted, leaving values like Rivers to fall to the later rounds where savvy owners can take advantage.
RB Melvin Gordon
(2017 RB Rank – No.5, 14.3 FPts/G)
Few players have a higher upside for total touches in 2018 than Melvin Gordon. Although Austin Ekeler saw significant playing time in 2017, the Chargers still opted to give Gordon the ball, either as a runner or receiver, an average of 21.4 times per game in 2017, and that was on a team that missed the playoffs. With the NFL the way it is now, it simply isn't easy to come by a player with this type of workload and it's an amount that that a few of backs being selected ahead of him in drafts simply are not likely to see. The aforementioned Ekeler and rookie Justin Jackson both have the capability to take some touches from Gordon, but neither is a serious threat to take over the role as the team's primary ball carrier.
Gordon's workload makes him a very safe option at the end of the first or early second round, but his inefficiency is a bit concerning when it comes to upside to finish as a truly elite option at the position. Despite finishing with a dozen total touches in each of his past two seasons, Gordon is yet to reach even 4.0 yards per carry in a season. His career average sits at a paltry 3.8 yds per carry. The bright side is that the Chargers don't seem to be worried as they continue to feed him a heavy workload, especially near the goal line, but there is still some reason to be concerned.
Most analysts project the Chargers to be at least a bit better from a defensive standpoint than they were in 2017, which should also help create some positive game scripts and potentially more touches for Gordon. A presumably improved offensive line that now includes Mike Pouncey and 2017 second-round pick Forrest Lamp should lead the way to Gordon being a solid RB1 in all formats this season.
RB Austin Ekeler
(2017 RB Rank – No.44, 6.5 FPts/G)
An explosive playmaker out of the backfield, Austin Ekeler surprised many when he burst onto the scene in 2017 and took some playing time from Melvin Gordon, particularly on obvious passing downs. It was on a limited sample size, but Ekeler's 7.3 yards per touch were among the best in the league for any running back and it's not as if that production came out of nowhere. Ekeler was a big-time producer in college where he rushed for over 1,000 yards in all four seasons in addition to making plays as a pass catcher and scoring a total of 73 career offensive touchdowns.
Ekeler would presumably be in for at least a slight uptick in touches this season if the Chargers hadn't selected Justin Jackson in the NFL Draft this past April. Jackson himself rushed for 1,000 yards in all four seasons in college and would almost certainly split backfield duties with Ekeler if Gordon were to go down. As it stands, neither Ekeler nor Gordon is likely to have much standalone value unless you're playing in very deep PPR formats where Ekeler might be worth a late-round flier selection. He could see 40 to 50 receptions this season which would make him a viable option for those in need at the running back position.
WR Keenan Allen
(2017 WR Rank – No.3, 11.4 FPts/G)
Talent really hasn't been a question for Keenan Allen since he came into the league and dominated as a rookie, going over 1,000 yards receiving with eight touchdowns after being selected in the third round of the NFL Draft. The problem has simply been a matter of health. Allen played just 23 total games over the next three seasons, and was playing hurt in a number of those games, which left fantasy owners wondering whether or not he was still capable of being a WR1 for fantasy. Allen went on to prove the doubters wrong in 2017, posting a 102-catch, near-1400-yard, six touchdown season. But most importantly, Allen stayed on the field and played all 16 games for the first time in his five-year NFL career.
If health wasn't still a concern, there would be a serious case for Allen to be the second receiver off the board behind Antonio Brown in drafts this season - and he may still go that high in some leagues - but from a talent and opportunity standpoint, Allen is absolutely an elite WR1. What's actually surprising is that Allen quietly led the league in dropped passes and was uncharacteristically inefficient in the red zone. It would not be at all out of the question for Allen to have double-digit receiving touchdowns in 2018 given that the Chargers will now be without red zone weapons Hunter Henry while not investing in other pass catchers.
He seems like a seasoned veteran but Allen is actually still just 26 years old and might still be working toward his prime as a receiver. The Chargers project to be a good team this season and that could very well translate into more red zone opportunities for the offense. Sure, they might not pass as much as they did in 2017, but few receivers in the league have a higher target floor than Allen as long as he stays healthy.
WR Mike Williams
(2017 WR Rank – No.149, 1.1 FPts/G)
At 6'4" and nearly 220 lbs, Los Angeles' Mike Williams has the body type to be the NFL's next top-level physical beast at the wide receiver. Health has been a concern, as he broke his neck while scoring a touchdown on Clemson's first offensive drive in 2015, then injured his back in training camp as a rookie for the Chargers in 2017 which kept him off the field until Week 6.
Once he was on the field, Williams really didn't do much to live up to the No.7 overall pick. He made just 11 total receptions on the season and didn't even catch half of the passes that came his way. He dropped four passes despite being targeted just 23 times - a horrendous number that simply has to go down if he hopes to be even a contributor at the NFL level.
Williams' 2017 is now in the past, however, and he's had a full offseason to prepare his body physically and get ready for his second professional season. There's optimism around camp that Williams will take a big step forward and potentially become the team's primary red zone weapon. Williams' big body does make him difficult to defend for most cornerbacks but his lack of explosiveness and shockingly low vertical jump also don't exactly scream "jump ball monster" at the NFL level.
Still, there's value to be had for Williams, particularly in dynasty leagues. Williams was one of the top draft picks in dynasty leagues in 2017 and his value has sunk dramatically after his ugly rookie season. Physically, though, not much has changed. He's fully recovered from his back injury and his opportunity might actually be better now, at least for 2018, with Hunter Henry vacating red zone targets. If the Chargers do commit to giving him opportunities in the red zone, there's a real chance that Williams could be one of the top touchdown scorers in the league at the position. Unfortunately, with Allen and other more established pass catchers still on the roster, Williams' realistic upside for targets is not high, so he's going to be a touchdown-or-bust type player in most weeks. That works for best ball formats but it's not exactly great for standard seasonal redraft formats.
WR Tyrell Williams
(2017 WR Rank – No.40, 6.1 FPts/G)
A free agent who some believed would not return this offseason, Tyrell Williams ended up being tendered at a second-round level by the Chargers, which essentially guaranteed that he'd be back with the team. That investment alone doesn't guarantee that he's a major part of the offense but it does tell us that the Chargers aren't expecting Mike Williams to push Tyrell out of the offense in 2018.
Williams is a complementary piece of the Chargers passing game, but let's not completely forget that he finished as a borderline WR1 in fantasy just two years ago when Keenan Allen missed almost the entire 2016 season. In that season, Williams saw 119 targets, which he caught 69 of for 1,059 yards and seven touchdowns. While his catch rate and yards per reception numbers actually went up a bit in 2017, Williams saw 50 fewer targets come his way which was the big reason why he fell from WR1 range all the way down to outside-WR3 range.
The situation really hasn't changed much, aside from the loss of Hunter Henry, but Williams is much more of a field stretcher than he is an intermediate route runner, so it doesn't seem likely that he's going to see a substantial uptick in targets this season from what he saw in 2017. That caps his upside as he'd have to be extraordinarily efficient to even have a chance of finishing as a WR2 in fantasy unless Allen goes down with an injury again. There's always that possibility with a player like Allen who has seen so many injuries already throughout his career, but don't bank on it. Williams is a deep option only for fantasy purposes and he might actually be considered somewhat of a "handcuff" at wide receiver for Allen despite the two being very different players from a stylistic standpoint.
WR Travis Benjamin
(2017 WR Rank – 43, 5.6 FPts/G)
A perennial leader in yards-per-reception, wide receiver Travis Benjamin typically does more for the NFL offenses he's a part of than for his fantasy owners. Benjamin topped out at just under 1,000 yards receiving back in 2015 as a member of the Browns coming to the Chargers in free agency. Since then, he's provided the team with just 1,244 yards over the course of two seasons with only eight touchdowns.
Of course, a big part of that is because his skill set is largely redundant to that of Tyrell Williams, who is also a big time field stretcher, but who also possesses superior physical size to Benjamin. With Keenan Allen and Tyrell Williams ahead of him on the depth chart and Mike Williams expected to take a step forward, there just isn't much room for Benjamin to provide any sort of consistent fantasy production.
He'll be unowned in most standard leagues, but Benjamin does have some value in best ball formats as his big play ability does provide some big weeks from time to time.
TE Virgil Green
(2017 TE Rank – No.50, 2.3 FPts/G)
After seven mostly fantasy-irrelevant seasons in Denver, Virgil Green stayed in the AFC West but headed to Los Angeles this off season to join the Chargers. Green presumably was brought in to replace the roster spot vacated by future Hall of Famer Antonio Gates, but he was never really a threat to take significant playing time from Hunter Henry. Then, Henry suffered the first major season-ending injury of 2018, leaving a gigantic void for the Chargers at a position that they had previously been considered one of the league's best at.
Green was one of the league's best athletes at the tight end position when he was drafted and he still possesses some explosiveness, but in a world of Travis Kelces, Rob Gronkowskis, David Njokus and George Kittles, a 30-year-old Green just doesn't jump off the page anymore. Not to mention, he's done nothing to inspire confidence in him even when he's had the opportunity to distance himself as the top pass catching option at tight end in Denver after Julius Thomas left a few seasons ago.
Yes, Philip Rivers has historically targeted his tight ends quite a lot, but he was also throwing to one of the best ever in Gates. Green could catch 40 passes for 300 yards and two touchdowns this season and those would all be career highs for him. Needless to say, Green should go undrafted in everything other than deep tight end premium leagues where pretty much every starting tight end should be owned.
Keep an eye on this situation as there's still a possibility that the Chargers could bring back Gates for another season. If that happens, Green goes from essentially irrelevant to completely irrelevant and Gates could have some value as a streaming option given the weak talent at the position throughout the league.