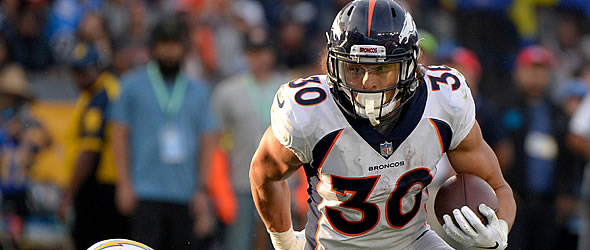 Phillip Lindsay's breakout rookie season may be difficult to duplicate in the Broncos new scheme.
QB Joe Flacco
(2018 QB Rank – No. 31, 19.5 FPts/G)
Longtime Ravens quarterback Joe Flacco heads to Denver this season, replacing below-average starter Case Keenum who was simply not the long-term answer at the position. Of course, trading for a player who was benched for Lamar Jackson in 2018 might not be the answer either. Flacco started just nine games for the Ravens this past season, throwing just 12 touchdowns with six interceptions, finishing as the No.31 fantasy quarterback despite his 273.9 passing yards per game, the second best mark of his career.

While he may have been unlucky in the touchdown department in 2018, Flacco's career high is 27 touchdown passes, which he achieved in 2014, but his career average is just 19 touchdowns per season. To put that into perspective, 20 different QBs threw more than 19 touchdowns in 2018. In fact, two different Tampa Bay quarterbacks threw for 17 or more touchdowns last season.
What he lacks in touchdown upside, Flacco unfortunately does not make up for as a runner. He ran for just 45 yards in 2018 and failed to rush for even one touchdown for the first time since 2009. He's eclipsed 100 yards in a season just once in his career, making him one of the least-threatening runners at the position.

Flacco now goes to a new offense with unproven weapons that he's unfamiliar with. Courtland Sutton is a high-end prospect and fellow 2018 rookies DaeSean Hamilton and Tim Patrick showed some ability but the only pass catcher who's done anything significant in the NFL is Emmanuel Sanders who will almost certainly miss time this season as he continues to recover from a late-season Achilles injury.

Another threat to Flacco's production is rookie Drew Lock who was one of the more highly touted prospects, albeit in an admittedly weak quarterback class. Still, Flacco owners should keep an eye on the rookie. If Denver ends up being out of playoff contention early again this season, there's really no reason to keep Lock on the bench.

Flacco lacks the upside to be a QB1 in fantasy and his downside is riding the bench, which is why he's likely to be one of the last starting quarterbacks selected even in 2-QB and SuperFlex formats, while being left undrafted in typical leagues.

RB Phillip Lindsay
(2018 RB Rank – 13, 12.5 FPts/G)
Undrafted rookie Phillip Lindsay turned in one of, if not the most surprising fantasy performance of the entire 2018 season as he finished as a borderline RB1 despite the Broncos drafting another running back, Royce Freeman, in the third round of the 2018 NFL Draft.
Freeman displayed marvelous big play ability and an ability to produce regardless of the game situation, which has him being touted by many experts as an early-round potential league-winner here in 2019.

While it's easy to look at Lindsay's breakout rookie season and project another big season in what should be an at least slightly improved offense, it's also important to look at the situation as a whole and weigh the risks involved in taking him in the first four rounds of fantasy drafts, which is where he's currently being selected.

The Broncos have a new offensive coordinator this season, Rich Scangarello, who comes to the Broncos from the 49ers where he was a quarterbacks coach. This likely means a fresh look at the entire offense, including the running backs. A look at the tape will tell you that Lindsay faced lighter defensive units with extra defensive backs on the field as opposed to linebackers much more often than Freeman did in 2018. This is partially due to Lindsay's pass catching ability, but it was also simply due to how the Broncos deployed him on offense.

In addition, Lindsay's 5'7", 184-pound frame is typically not a recipe for a heavy workload in the NFL. Projecting injury isn't something that's easy to do, but it's still something that we need to be aware of. Smaller, more explosive players like Lindsay are often more affected by minor lower body injuries than their larger-bodied counterparts, and it seems likely that the Broncos are aware of this and will look to rotate their backs again in 2019. Devontae Booker will still see some work, which would likely come out of Lindsay's share given that his skills are more comparable to Lindsay than to Freeman.

Lindsay was extremely efficient as a rookie and while he displayed some serious skills, the truth is that it's just very difficult to maintain that type of rushing efficiency from season to season. While a Jamaal Charles-like career is certainly in the cards for Lindsay on the high end, we've also seen quite a few smaller backs like him flame out after suffering an unfortunate string of minor injuries.
The bottom line is that Lindsay is a risk-vs-reward type of player who could be a league winner, but could also end up not leading his team in carries even if he is healthy. That's a major concern given his current average draft position, so tread lightly in this second-year back.
RB Royce Freeman
(2018 RB Rank – 45, 6.4 FPts/G)
While he still saw 150 touches as a rookie, Royce Freeman had to watch as an undrafted player at his position outperformed him in practically every statistical way in 2018. Freeman, a third round pick in 2018, had big time hype heading into the season and let fantasy owners down which has led to his significantly lower ADP this season. With that said, Freeman still possesses nearly the same upside in year two that he had heading into year one, just at a much cheaper price tag.

Vic Fangio, a lifetime defensive coordinator, is taking over as the head coach in Denver. While it's unlikely that he'll get too involved in the offense, it seems probable that the team will attempt to implement a conservative, run-heavy approach that will give the Broncos' defense - which is their best asset - the best chance to succeed. This could mean a heavier workload than many are expecting for Freeman, who is much more of a between-the-tackles banger than Lindsay is.

An injury to Lindsay would likely catapult Freeman into the strong RB2, if not the low-end RB1 conversation. At around 230 lbs, he's the kind of player who is built for a heavy workload. He'll need to improve as a pass catcher to actually make it into the RB1 range even if Lindsay did go down to injury, but he's a good enough runner behind a decent run-blocking offensive line that he should have some standalone value with a potential for some serious fantasy production if things break the right way for him.

Freeman isn't being drafted ahead of Lindsay, nor should he be, but there's a real possibility that he ends up being the better fantasy value this season.
WR Courtland Sutton
(2018 WR Rank – No. 47, 5.9 FPts/G)
First round draft pick Courtland Sutton underwhelmed when given an opportunity after the Broncos traded veteran Demaryius Thomas and Emmanuel Sanders went down with an injury. Many fantasy owners viewed this sudden shift in the passing game as an opportunity for Sutton to display the skills that made him one of the most highly-touted rookies in the class. His 50 percent catch rate and just 704 yards on the season with four touchdowns were not what we had in mind, however, as Sutton struggled to create separation and secure the ball. He caught more than three passes in a game just three times in 2018 and while all three of those games came in the final five weeks of the season, it's still concerning that he was unable to produce more than that given the lack of competition.

Still, Sutton had an overall solid rookie season when you consider his total numbers in comparison to the average rookie receiver. Most draft experts pegged Sutton as a raw talent who needed to refine his craft at the pro level, so it should have been no surprise that he was not particularly efficient as a rookie.

He's still by far the most likely player in this offense to have a breakout 2019 season, although he may not be the safest of the bunch. Be careful banking too much on Sutton this season in standard leagues as his production might be difficult to predict, but there is a good possibility of some breakout games which would be very helpful in best ball formats.
WR Emmanuel Sanders
(2018 WR Rank – 40, 6.1 FPts/G)
It might be surprising to hear, but Emmanuel Sanders was actually the WR12 in fantasy prior to rupturing his Achilles in Week 13. The veteran has been a mainstay in the Denver offense but it was not expected that the Broncos would bring him back in 2019 after such a devastating injury, given that the team is essentially in rebuilding mode. They did make the move to bring him back, however, and now all eyes are on his recovery.

Sanders has been providing his Instagram followers with glimpses of his offseason workout, but he has not been able to get on the field yet in 2019. There is legitimate concern that he may not be ready to start the regular season which would be a huge blow for fantasy owners who are drafting him around the 10th round in ADP.

Most players have historically needed about a full calendar year to recover from a ruptured Achilles. We'd want to see that Sanders is able to get back on the field and start moving around like he did prior to the injury before we deploy him in fantasy. If Sanders is able to play in the preseason, it'd be one of the fastest recoveries from the injury that we've ever seen, so the chances of that happening are pretty slim. The most likely scenario is that he'll start the season on the PUP list, which means he'll be out for at least six games. That's almost half of a typical fantasy football regular season.

Sanders is the only proven, productive pass catcher in this offense and he will likely see the highest target share of the bunch of he's healthy to start the season, but there's no question that the team is looking to get their young receivers - particularly Courtland Sutton and DaeSean Hamilton - more involved this season. The lack of true upside in a Joe Flacco-led offense and the Achilles' injury combined with emerging young receivers makes Sanders a very risky pick where he's currently being drafted. We'll likely see this number change throughout the season as we get more information and inch closer to the start of the preseason and eventually the regular season, but Sanders looks like a bust waiting to happen at his current ADP.
WR DaeSean Hamilton
(2018 WR Rank - 108, 5.2 FPts/G)
Fourth-round rookie wide receiver DaeSean Hamilton caught 30 passes for 243 yards and two scores as a rookie in 14 games. While he started just five games and was targeted just 45 times, Hamilton quietly had more targets, receiving yards and touchdowns than Sutton after Emmanuel Sanders' injury.

Of course, that probably had something to do with the role he played in the offense after Sanders went down, but there's reason to believe that Sanders will start the season on the PUP list anyway, so that may again be the case.

Hamilton has been one of the most volatile players in terms of ADP throughout late-May and into June, as his ADP has risen nearly two full rounds in PPR formats and one full round in half-PPR formats, while dropping nearly two full rounds in non-PPR formats over the same time period. Regardless of format, though, Hamilton is a late-round sleeper with actual upside to lead this team both in receptions and yardage in 2019. It's likely to be a low-volume offense anyway so that would almost certainly mean a mid-level WR2 performance on the season would be Hamilton's upside, but he comes with almost zero risk given his ADP.
TE Noah Fant
(2018 TE Rank – N/A)
At 6'4", 249 lbs, rookie tight end Noah Fant solidified himself as a player to watch as he ran a blazing 4.50 40-yard dash. This had him being compared to Indianapolis' Eric Ebron, who finally broke out in 2018 once he was tethered to a quarterback that actually targets the tight end position.

We know that Joe Flacco has a tendency to utilize his tight ends more than most quarterbacks and with Denver's tight end depth being practically non-existent, Fant seems like a lock to play significant snaps as a rookie.

We know that tight end is a position that typically doesn't produce much as a rookie and we've seen prospects with even more hype than Fant do practically nothing in their first season, but Fant really does have a chance to contribute, given the situation in Denver. If Emmanuel Sanders does start the season on the PUP, it seems likely that Fant could see some targets right away. That'd make him a sneaky DFS play as well as a cheap TE to target should your starter go down with an injury.

Fant is being left undrafted in most leagues so he'll likely be available on your waiver wire early in the season. Pay attention to his snap share and target share over the first few weeks, though, to see if he's being utilized in a way that could eventually lead to fantasy production.