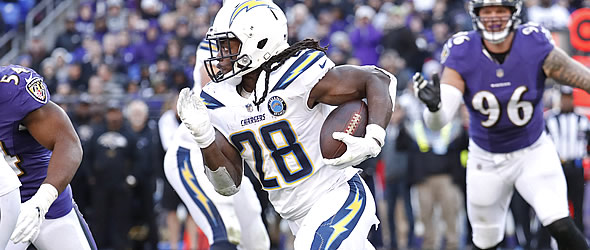 After the "big four" you can make a strong case that Melvin Gordon should be the 5th player taken.
QB Philip Rivers
(2018 QB Rank – No. 13, 21.5 FPts/G)
Veteran Philip Rivers has long been one of the most reliable, steady quarterbacks, both from a weekly and season-long standpoint. Quarterback as a whole continues to change which has meant that old school-style pocket passers like Rivers just don't have the upside that their younger position-mates do. Rivers, being one of the least-mobile quarterbacks in the league, simply does not contribute the "easy" fantasy points that players like Lamar Jackson, Russell Wilson, Cam Newton or the incoming Kyler Murray do on the ground.

This means that while he's a consistent producer who you can plug in as needed, it's very unlikely that he is ever going to ascend to be a top weekly option again. In fact, Rivers is practically a prime example of a player who fantasy owners should be looking to avoid playing on a weekly basis. Given that his realistic upside is capped at a minimal level, there's almost always an option on the waiver wire that could provide a better potential for a big week.

Of course, there are a few situations wherein it makes sense to roster, start and even potentially draft a player like Rivers, even in normal single-quarterback leagues. When you're a team that's taken many chances elsewhere and have quite a few players who are boom-bust, it might make sense to couple that with a more reliable passer like Rivers who might not give you the "pop" games, but will also avoid giving you the duds. It's also a somewhat wise decision to couple risky young quarterbacks like Lamar Jackson, Kyler Murray or Josh Allen with a player like Rivers who we know has a history of staying healthy and producing solid fantasy numbers.

The Chargers aren't likely to take a significant step forward offensively this season and their quality defense means that they aren't often in many shootouts, so don't look for Rivers to finish any higher than top-eight at the position. However, he should still finish somewhere in the top half, so there's certainly value in that, especially in two-quarterback or SuperFlex formats.

RB Melvin Gordon
(2018 RB Rank – No. 7, 18.5 FPts/G)
Melvin Gordon has now played four seasons in the NFL and while he's averaged over 1,300 total yards per season, there is growing concern that his body may just not be built to withstand a large workload for a 16-game season (and, of course, on into the playoffs).

Gordon has missed at least two games in three out of his four NFL seasons and every game he's missed has taken place after week 12. That's a huge problem for fantasy gamers who have been riding his fantasy production on into their playoffs, only to be left scrambling when the money is on the line.

The Chargers have seemingly noticed this trend and there's a realistic chance that they could end up cutting back on Gordon's touches in 2019. Make no mistake - Gordon is still the primary ball carrier in this backfield, but players like Austin Ekeler and even Justin Jackson, who have typically been backups or utilized in change-of-pace roles for Gordon, have established themselves as viable options in this Chargers' offense. As the coaching staff becomes more comfortable with those players being on the field, look for Gordon's touch totals to take a bit of a dip as the team attempts to keep him healthy for the latter part of the season. That could mean a bit of a dip in touches per game for Gordon, but he should still get the lion's share of the touches near the goal line, which is what we should really be focused on. Not only that, but if he's not sustaining as much damage throughout the early and middle parts of the season, he should be ready to make a strong playoff push, which makes him even more valuable at the end of the season which is when fantasy gamers will really need him.

Gordon is the best fantasy player in this offense and though there are some concerns about his health and longevity, there's no question that he should still be a first round pick in fantasy drafts this season. After the "big four" at the top of the draft, one could make a strong case that Gordon should be the fifth player off the board in most leagues. Even if he does go down again near the end of the season, he'll almost certainly produce good enough numbers to justify his draft position.
RB Austin Ekeler
(2018 RB Rank – 27, 9.4 FPts/G)
Austin Ekeler is one of the few change-of-pace backs behind a proven stud who could still end up producing quality standalone fantasy numbers in 2019. Ekeler finished the 2018 season as the No.27 fantasy running back and he did that while himself missing two games due to injury. He touched the ball 145 times on the season, which is roughly 10 times per game, and he produced impressive numbers both as a runner (5.2 yards per attempt) and as a pass catcher (10.4 yards per reception). He's now eclipsed five yards per rush and 10 yards per reception in each of his two NFL seasons, so those numbers appear to be more of a trend than a mirage.

Unfortunately, we've now seen that Ekeler's touches seem to be capped at around 17 even in games when Melvin Gordon is out with an injury. The team seemingly does not trust him to produce as a bell cow which does limit his upside potential of becoming an RB1 for fantasy, even on a weekly basis. While we have to like the weekly numbers he produces, the lack of upside does make him less appealing than some of the other backs who are being drafted near him that could potentially turn into every-down backs if things break right for them this season. Still, Ekeler makes for a nice, solid, high-floor play in deep leagues PPR leagues.

RB Justin Jackson
(2018 RB Rank – 74, 5.8 FPts/G)
2018 rookie Justin Jackson saw just 65 touches in his first season, but it's important to note that he had just five total carries heading into the team's Week 11 game when Melvin Gordon would sustain an injury that kept him out for four weeks. Over those next four games, Jackson saw a total of 44 touches, including a 19-touch performance in a huge Week 14 victory over the Chiefs in Kansas City. While Austin Ekeler is still the backup to own in Los Angeles, the player who might actually have the best upside in the event of another Gordon injury could very well be Jackson.
His ADP means that he's going undrafted in most leagues, but keep an eye on Jackson in the later rounds of your deep leagues, particularly dynasty startups. Also be sure to prioritize him on your waiver wire late in the season, after bye weeks, once you've established your starters for your fantasy playoff run. Jackson could have serious value down the stretch if Gordon and Ekeler are banged up as they were near the end of 2018.

WR Keenan Allen
(2018 WR Rank – 13, 10.9 FPts/G)
He's not as flashy as many of the receivers going ahead of him in fantasy drafts, but the only real concern about Keenan Allen is his injury history. However, after playing in all 16 games in back-to-back seasons for the first time in his career, Allen may finally be shutting the doubters up in that regard.

Allen's 199 receptions over the past two seasons are obviously an elite number, along with his nearly 2,600 receiving yards over that time span. Unfortunately, the one area where he's never been an elite producer is in the touchdown department. Allen has scored just six touchdowns in each of his past two seasons and his career high is just eight scores on a season. While it's easy to write him off and say, "well he's just not a touchdown scorer," it's worth noting that statistically, Allen should actually be in line for a bit of a positive regression in the touchdown department.

There is some concern that Allen will see fewer targets in 2019 due to the emergence of wide receiver Mike Williams and the return of Hunter Henry does give Allen some competition that he didn't have in 2018, but the Chargers will also now be without their No.2 wide receiver from last year, Tyrell Williams, who left for Oakland this off season, as well as Antonio Gates who is unsigned as of the writing of this article.

Ultimately, Allen is still the alpha dog in this passing offense and should see his targets hover around the 130 to 150 mark this season, making him a solid, high-floor player. If he's able to get into the end zone even just a couple more times, Allen will almost certainly finish the season again as a borderline WR1.
WR Mike Williams
(2018 WR Rank - 21, 8.5 FPts/G)
After a horrible, borderline embarrassing rookie season where he was barely even able to get on the field, former top 10 NFL Draft pick Mike Williams broke out in 2018 and is set to see a significant playing time increase in his third season. Williams caught 43 passes for 664 yards and a whopping 10 touchdowns, giving him one of the highest touchdown-to-reception totals that we've ever seen. He scored a touchdown on 15.2% of his targets, which was better than any other player in the entire league.

Obviously fantasy owners should not be expecting or even hoping for Williams to sustain his ridiculous pace of a touchdown every 4.4 receptions, but that doesn't necessarily mean that his touchdown totals will see a significant drop off - or even a drop off at all. The way that Williams can make up for this almost certain regression in efficiency would be additional targets coming his way. With Tyrell Williams now out of the picture, Mike Williams should be on the field substantially more this season which should translate to a serious uptick in targets. Sure, he won't compete with Keenan Allen to lead the team in targets, but an 85-to-100 target season is certainly not out of the question, given that he saw 66 targets in 2018 despite only starting in five games.

With the Chargers pass catching depth chart behind Allen, Williams and Henry being as thin as it is, Williams has a real chance to produce big numbers for fantasy owners this season in what should be an important role in this Los Angeles offense.
Tight end Hunter Henry broke out as a rookie when he scored a ridiculous eight touchdowns on just 36 receptions, then followed that season up with another solid campaign in 2017 despite spending both seasons competing with veteran future hall of fame tight end Antonio Gates for playing time. With Gates retiring prior to the 2018 season, it was supposed to be Henry's time to shine. He quickly rocketed up draft boards and was being selected as a strong TE1 for fantasy purposes. Unfortunately, Henry was the first significant victim of the injury bug as he tore his ACL on the first day of camp, ending his season well before it began.

While most fantasy owners were able to avoid him unless their drafts happened extremely early, the sting of missing Henry was felt throughout the season, especially in a year where the position was as thin as ever. There were late-season rumors that Henry might be able to get back on the field for the Chargers' playoff run, but it ended up not happening and the tight end will now have spent over a full calendar year preparing to get back on the field by the time the 2019 season kicks off.

That's great news for fantasy owners, and especially for the Chargers, who were sorely missing Henry's contributions as a pass catcher, particularly near the goal line. While Gates was once an elite player at the position, he became mostly a decoy on the field - and a weak one at that - and Rivers is very much used to play-making ability out of his tight end position. Henry's return, presuming he's healthy, should provide a serious injection into this passing game, and one that will almost certainly open things up for the other members of the offense as well. We've never seen Henry play a full season without Gates also on the field, so it's hard to project exactly what type of target share we're going to see out of him, but we do know that Gates and Virgil Green combined for 72 targets at tight end in 2018 - and neither of them was very good. Henry should command at least that type of target total at the bare minimum, which would put him right around the top 10 at the position, but with Rivers likely throwing the ball somewhere around 550 times, there's a real chance that Henry could push the 100 target mark if he's fully healthy and back around the skill set that he had prior to the injury.

Henry is being selected as a borderline top-five player at the tight end position and that's before we have seen him make it all the way through training camp and the preseason without re-injuring his knee. Look for his ADP to continue to rise throughout the off season as long as he does not have any hiccups with his knee, especially if he makes some plays in the preseason. If fantasy owners believe that he's back to being the Hunter Henry of old, there's no reason why he won't be drafted as a top-four player at the position, just like he was heading into 2018.