QB Drew Lock
(2019 QB Rank – No. 36, 17.2 FPts/G)
The Broncos didnít seem overly confident in 2019 rookie second-round pick Drew Lock when he was a rookie, as they stuck with Joe Flacco and Brandon Allen for what seemed like an eternity. Lock eventually got his chance and while he didnít immediately shine, he certainly looked like the best quarterback on the Denver roster as he led the team to a 4-1 record with him under center. Lock threw just seven touchdown passes in his five starts, but that number was more than Flacco threw in eight starts. The Broncos knew they needed to add more offensive firepower if they wanted to give Lock a chance to succeed going forward and they did so this offseason, using first and second round draft picks on wide receivers Jerry Jeudy and KJ Hamler.

Lock himself isn't a draftable option in standard 12-team, single-QB fantasy leagues, but there will likely be times when he's startable as a streaming option at some point this season. The Broncos offense should be better in 2020 and he'll likely face negative game scripts against the likes of Kansas City, as well as his favorable matchups against the poor defenses he'll face from the NFC South.

Lock is going off the board as a mid-level QB2 in mocks from early-July but that may actually be a little bit high for him given the QBs being selected around him. Players like Ben Roethlisberger, Baker Mayfield, Cam Newton and Jimmy Garoppolo all offer similar or better upside, but with higher weekly floors.

RB Melvin Gordon
(2019 RB Rank – No. 24, 12.1 FPts/G)
Melvin Gordonís 2019 contract holdout really didnít seem to help him much as he ended up signing a less-than-spectacular, two-year deal with the Broncos this off-season. From a fantasy standpoint, however, itís tough to argue that Gordon didnít increase his stock by making the move from Los Angeles to Denver. He escaped the rising competition from Austin Ekeler and landed on a team that was perceived to have a pretty solid RB depth chart in 2019 but which fell short of expectations when neither Phillip Lindsay nor Royce Freeman produced great numbers in their sophomore seasons. The team also brought in offensive guard Graham Glasgow, who was one of the better guards in football in 2019, and that should help create some additional running room for Gordon and the other backs in Denver.

Gordon himself wasn't great in 2019 as he delivered his least-efficient season since his rookie year, but he still projects to be the lead back in what should be an improved Denver offense in 2020. Freeman seems to lack the shiftiness and perhaps the vision to get things done at the NFL level and Lindsay lost the trust of his coaching staff in the passing game in 2019. Meanwhile Gordon has established himself as one of the league's few true bell-cow running backs. He projects to see 15-plus touches per game and that alone should make him a value given that he's being drafted outside the top 15 running backs in PPR formats.

He may not have the upside to finish as an elite fantasy producer given that Lindsay and even Freeman will still see playing time this season, but Gordon could be a real steal in the late-third and early-fourth rounds of fantasy drafts.

RB Phillip Lindsay
(2019 RB Rank – No. 19, 10.2 FPts/G)
Second-year running back Phillip Lindsay was one of the most hyped-up fantasy players heading into the 2019 season and while he didn't completely collapse into irrelevance, there's no question that the 5'7" back was a bit of a disappointment for many. It wasn't just fantasy owners who were underwhelmed, however, as Denver made one of fantasy football's biggest offseason acquisitions when they signed former Los Angeles running back Melvin Gordon. This move, of course, immediately tanked Lindsay's fantasy outlook as he now went from the team's starting running back to a backup without a clear role in the offense.

A small back by any measure, Lindsay profiles to be a pass-catching weapon, but that's actually where the Broncos seemed to lose faith in him this past season. He started off 2019 by averaging nearly five targets per game through the first five weeks of the season, but that tapered off and he failed to see more than three targets in a single game after Week 8 and never exceeded 11 receiving yards in a game over that stretch. It wasn't just a shift in offensive philosophy either, as the Broncos increased the snaps for backup running back Royce Freeman on passing downs.

Certainly Lindsay has the physical build to be a pass-catching weapon but with the coaching staff seemingly not seeing him as that type of player, it's tough to envision a scenario where he's going to get on the field consistently for the Broncos in 2020. Gordon is an established every-down NFL back, so Lindsay won't be seeing much early-down work unless there's an injury.

It appears as though Lindsay will operate as a classic change-of-pace type back who can come in and deliver some explosive plays here and there, but the chances of that being reliable for fantasy football are not particularly great. He only failed to reach double-digit touches once in 2019, but there's a good chance that he fails to get double-digit touches in more than half of Denver's games this season. He's going in the range of many backup and satellite backs so the cost isn't great to acquire him and he does have some RB2 upside if Gordon were to get injured, but Lindsay is unlikely to be an every-week fantasy contributor in 2020.

RB Royce Freeman
(2019 RB Rank – No. 40, 6.2 FPts/G)
Relegated to backup duty in 2019, third-year back Royce Freeman now finds himself third on the Denver depth chart heading into the 2020 season. A prolific college producer at Oregon who posted impressive size-adjusted workout metrics at the NFL Scouting Combine, Freeman has failed to see his physical tools translate onto the professional football field. He's produced just 4.0 and 3.8 yards per carry in his two NFL seasons and while he did see some increased usage in the passing game this past season, he has failed to produce even average numbers with the targets he was given.

At the moment, Freeman's best fantasy outlook would probably be if he were to be traded to another team that's in need of a bigger-bodied back, or one that suffers an early-season or off-season injury to their starter. Without an injury to both Gordon and Lindsay, Freeman will likely be relegated to late-game mop-up duty most weeks, where he won't see enough touches to be fantasy-relevant.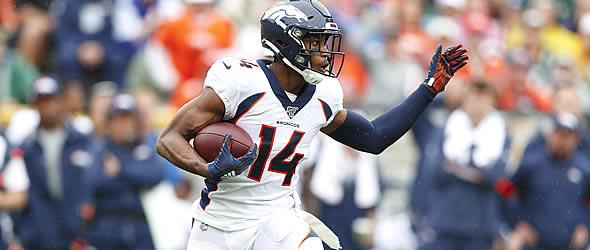 WR Courtland Sutton
(2019 WR Rank – 18, 9.3 FPts/G)
A breakout star in 2019, Courtland Sutton now heads into his third NFL season as the clear-cut alpha in what appears to be an emerging passing game. Sutton produced 1,100 yards along with six touchdowns despite dealing with some truly awful quarterback play early in the season. Most importantly he saw a 26.1-percent target share in the Denver offense, which saw him finish inside the top 10 at the position.

If quarterback Drew Lock can take a step forward, there's really nothing stopping Sutton from producing at least mid-level WR2 numbers, with the potential upside of cracking into the WR1 range, provided that his touchdown numbers continue to be solid. He's currently being drafted just barely inside or slightly outside the top-24 at the position so there's plenty of potential value to be extracted from this young, exciting player. Denver did add additional pass catching weapons in the draft which does cap Sutton's target upside a bit, but it's worth remembering that Denver rostered Emmanuel Sanders for 10 games in 2019 and Sutton still produced quality fantasy numbers with a high target share.

Many fantasy analysts are not sold on Lock as a long-term option in Denver, but Sutton finished at WR18 overall in 2019 while playing eight games with an over-the-hill Joe Flacco and three games with a barely-NFL-caliber Brandon Allen behind center. If Lock is at least competent, there's really no reason why Sutton shouldn't continue to be a reliable fantasy option.

WR Jerry Jeudy
(2019 WR Rank - N/A)
Considered by most to be a top-two wide receiver in this draft class, Jerry Jeudy immediately bolsters what was a thin wide receiver room in Denver. Jeudy was a monster producer in his sophomore and junior seasons at Alabama before declaring for the NFL Draft and could find himself starting for Denver as early as Week 1, provided that he gets enough of an opportunity to work out with the offense this offseason.

Jeudy was considered by most draft analysts to be the most polished, NFL-ready receiver in the class and while he lacks the size to be a prototypical alpha at the professional level, he may have found himself in the perfect role alongside Courtland Sutton, whose archetype is exactly that of an NFL "X" receiver.

An unknown offseason situation does put the all rookies at a higher level of volatility at the moment, but Jeudy is one of the few rookie wide receivers who might actually be a value this season. He's going off the board outside the top-40 wide receivers in many drafts so his cost is minimal and he could provide immediate return on investment if he's given a starting role on day one, as many expect that he will be.

WR KJ Hamler
(2019 WR Rank - N/A)
The Broncos didn't stop at just one wide receiver in the 2020 NFL Draft. They made it two straight wideouts to start the draft when they selected Penn State's KJ Hamler in Round 2.

An undersized field stretcher, Hamler is a bit of an unknown from an athleticism standpoint as he was physically unable to participate in any of his position-relevant drills at the NFL Scouting Combine. The player we see on tape is explosive at or near the level of any player coming out in this year's draft class, but that type of player is often more important for an NFL roster than he is for a fantasy roster. Players like Kenny Stills, Ted Ginn Jr. and Mecole Hardman have certainly helped their respective offenses, but they've rarely produced counting stats that make them valued pieces of fantasy rosters throughout their careers. Hamler could be someone like that for the Broncos, but he does have the upside to be Will Fuller, John Brown or even DeSean Jackson-type weapon if he hits his potential.

Unfortunately, Hamler was drafted to a team that simply has not shown a propensity to push the ball down the field. Even when they had the notoriously cannon-armed Joe Flacco behind center, the Broncos opted to deploy a less-risky short-to-intermediate passing game, while relying on their running game to set up short-yardage situations. That doesn't bode well for Hamler's immediate fantasy outlook here in 2020, but there may be games this season where he beats the defense deep for a long score, which would make him useful as a late-round dart-throw wide receiver in best ball formats.

TE Noah Fant
(2019 TE Rank – 14, 4.6 FPts/G)
Few tight ends possess better upside at their current ADP than Denver's Noah Fant. Fant is being selected at or even outside the top-12 at the position in many drafts. It's extremely rare that a rookie tight end actually produces quality fantasy numbers in the NFL so Fant's 40 catches for 562 yards and three touchdowns shouldn't be viewed as much other than just an initial starting point for what he can do.

While being outside the TE1 range is certainly in his range of outcomes, Fant nearly finished as a TE1 in his rookie season while playing more than half of his games with far below average quarterback play. His target quality across multiple metrics was outside the top-32 at the position on the year, but he managed to finish second among tight ends in yards per reception. In other words, the targets were erratic, but Fant made the best of what he had to work with. If Drew Lock is at least competent, there's little reason to believe that Fant won't improve on his numbers from 2019 and he has a real potential to crack into the top half of TE1s for fantasy football here in 2020.

Fant is a George Kittle-level athlete with the college production to prove his football skills. He scored 18 total touchdowns in his final two collegiate seasons despite playing alongside fellow first-round NFL tight end T.J. Hockenson. Everyone is always looking for the ďnext George KittleĒ and we may be looking at that guy in Denver. Heís a late-round pick with extraordinary upside - just what weíre looking for in fantasy football.