QB Russell Wilson
(2019 QB Rank – No. 4, 23.9 FPts/G)
If it wasn't for the monster season that Lamar Jackson delivered, there would've been a real case to be made for Seattle quarterback Russell Wilson to win his first NFL MVP award in 2019. Wilson exceeded 4,000 passing yards for the third time in his professional career while adding 31 touchdowns with only five interceptions. It was Wilson's third straight season of over 30 passing touchdowns as the Seahawks bounced back to throwing the ball over 500 times again after Wilson threw just 427 passes in 2018.

Still an "establish the run" offense under Brian Schottenheimer despite having one of the great quarterbacks of this era, the Seahawks' re-commitment to the passing game only brought them back up to 22nd in the NFL in passing plays per game. Incredible career efficiency has allowed Wilson to remain a fantasy stud despite significantly lower passing volume than most other elite fantasy QBs and that should tell us that we're likely seeing closer to the fantasy floor for Wilson rather than his ceiling.

Despite it long being an issue for the team, the Seahawks once again made no significant investments in the offensive line this offseason. In fact, the offensive line might be even worse, as they let guard D.J. Fluker and center Justin Britt walk. They did draft LSU guard Damien Lewis in the third round, but there's no guarantee that he'll even see the field in 2020. Seattle did add a field stretcher in Phillip Dorsett and a reliable veteran tight end in Greg Olsen, but they really made no hugely significant improvements to the offensive situation as a whole.

A continued deterioration of the defense and the loss of two road-grading offensive linemen could lead to Seattle actually finding themselves needing to pass the ball more often in 2020 than ever before under Wilson. That could mean a bit of a dip in efficiency if defenses know the pass is coming, but an increase in volume would almost certainly lead to a positive effect on Wilson's fantasy production.

Wilson is still considered one of the more elusive quarterbacks in the league and while he does still flash rushing ability from time to time, the days of him running for an average of more than 30 yards per game are probably in the rear view mirror. Nevertheless, he's a player who can comfortably contribute around 20 rushing yards per game, which remains an added value over most of the veteran quarterbacks.

He's one of only a few fantasy quarterbacks who have realistic QB1 overall upside and while he may not be likely to reach quite that level given the offense he's in, Wilson does offer an excellent floor along with a reasonable expectation to finish in the top five at the position.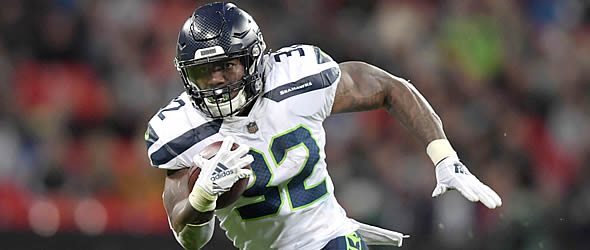 RB Chris Carson
(2019 RB Rank – No. 9, 13.6 FPts/G)
He's not a real flashy pick, but Seattle running back Chris Carson provided another solid fantasy season in 2019 as he rushed for 1,230 yards and scored nine total touchdowns in his third NFL season. Fantasy owners may remember that there was some hype that he'd be used more in the passing game heading into 2019 and while that ended up being true, Carson's 17 additional receptions on the season from what he had in 2018 resulted in just 103 more receiving yards so the bump resulted in negligible fantasy improvement.

The real value with Carson is the heavy workload he's been given over the past two seasons. He's carried the ball over 18 times per game over the past two seasons – a number not often seen by backs selected outside the first round of fantasy drafts. While the Seahawks did bring in Carlos Hyde seemingly to at least be Carson's backup while Rashaad Penny starts the season on the PUP list, it seems likely that Carson will remain by far the carry leader on the roster. Hyde is a similar back to Carson with average-at-best speed and a lack of historical usage in the passing game. It's good for Carson's usage, however, that Hyde was the only back of significance that the team added in the offseason, as he doesn't really do anything particularly better than Carson and will likely be used sparingly.

Carson should again provide at least 250 carries as long as he remains healthy. If he can continue to make improvements in the passing game then his fantasy ceiling will become significantly better, but he's a solid high-floor RB2 with low-end RB1 upside in standard leagues, while remaining still a strong enough contributor to be a quality RB2 even in PPR leagues.

RB Rashaad Penny
(2019 RB Rank – No.52, 7.7 FPts/G)
Heading into his third season as a pro, running back Rashaad Penny will almost certainly start the season on the PUP list after suffering a gruesome ACL & meniscus tear in Week 14 of the 2019 season.

A former first round NFL Draft pick, Penny has been one of the few backs with first round draft capital who has not produced at least some sort of useful fantasy numbers two years into his professional career. Penny has been banged up and stuck behind a surprisingly effective Chris Carson on Seattle's depth chart, but there's no question that he's been a huge bust given the investment that the Seahawks put into him.

Sadly, Penny might not even be the primary backup for Carson as Carlos Hyde is now on the roster. Certainly Penny offers more upside if he does end up being fully healthy, though, so there's still some hope that he may have some fantasy value. Penny was effective when given an opportunity in 2019, as he scored a total of four touchdowns while producing over 100 total yards per game in all three games that he was given at least 10 touches.

It's hard to argue that he's not the most physically talented back on the roster, but Seattle simply has not given him the type of touches that he'd need to be a serious option in normal fantasy leagues for now.
Penny is not worth drafting in standard fantasy leagues but his value might never be lower in dynasty, so it's worth shooting an offer to the owner of Penny in your league to see if you can get him as a throw-in in a trade. It's also worth considering that Penny might find himself on another roster in 2021, or even potentially get traded in 2020 which would probably help his fantasy outlook.

WR Tyler Lockett
(2019 WR Rank – No.15, 9.6 FPts/G)
A strong WR2 for fantasy, Tyler Lockett improved on his 2018 breakout season by cracking 1,000 receiving yards for the first time in his career in 2019. His 18 touchdowns over the past two seasons are also a clear indication that he's not just a speedy field stretching receiver anymore, but he's a player who can produce in all quadrants of the field.

Russell Wilson and Lockett have one of the strongest connections in all of football, having finished in the top five in QB-to-WR passer rating for two seasons in a row and that continues to give us hope that Lockett's production in 2018 and 2019 is not just a fluke. He sees an exceptionally high catchable target rate from Wilson and he converts those passes into big plays on a fairly consistent basis.

The Seattle passing game has become a true 1A/1B situation with Lockett and Metcalf, but the targets are consolidated enough between them given that there's not another wide receiver of real significance on the roster. Lockett does also have a more well-rounded game at this point which makes him more difficult for defenses to take away. While Metcalf is definitely the sexier play and has seen his ADP begin to creep ahead of Lockett's in many fantasy services, Lockett is the safer option as we've seen him have multiple years of success with Wilson. He probably doesn't have top-10 WR upside unless the Seahawks pass the ball quite a bit more this season, but Lockett is a safe bet to return value on his ADP.

WR DK Metcalf
(2019 WR Rank – No.25, 8.3 FPts/G)
Most would consider him a boom-or-bust type of player given his athletic measurables but DK Metcalf was actually a shockingly consistent fantasy contributor as a rookie. Metcalf was targeted at least four times in all but two games and he had at least 50 receiving yards in 10 of his 16 games. On the flip side, he only ever exceeded 90 yards once in the 2019 regular season. We know that the ceiling is there as we saw him absolutely torch the Eagles for seven receptions and 160 yards in the playoffs, so there's plenty of reason to believe that there will be more of those days to come here in 2020.

An offensive system like Seattle's would normally mean low volume for pass catchers, but it might actually be just fine for Metcalf as there's a consolidation of targets among only a few wide receivers, a tight end who's nearing retirement and a backfield of running backs who aren't known for their usage in the passing game. Metcalf commanded 100 targets as a rookie and it seems likely that he'll see even more passes come his way here in 2020 as he becomes more acclimated to the offense and gains more chemistry with Wilson.

Still likely the second option in the passing game, however, Metcalf will need to be efficient again with his targets given that he's not likely to push for the 140-plus targets that some of the top WRs see. Still, he could end up being one of the league's most-targeted end zone weapons as, similar to a player like Dez Bryant, Metcalf's massive frame is built to dominate in contested catch situations.
TE Greg Olsen
(2019 TE Rank – No.16, 5.1 FPts/G)
One of the more under-the-radar tight end moves this offseason happened when veteran Greg Olsen left the Panthers to join the Seahawks. Perhaps it's the Panthers just wanting to give the hyped-up Ian Thomas a chance, but the way that Carolina moved on from one of the best players in their franchise's history seemed a bit heartless.

Olsen was stuck dealing with some truly awful quarterback play in Carolina and he only played this past season, but Olsen still flashed big game upside a few times throughout the season. He accumulated six or more receptions in three of his 14 games. While he only scored twice on the entire season, it does need to be considered that he was dealing with some of the worst targets of any tight end in the league.

We don't really know what Olsen has left in the tank, but Russell Wilson does have a history of heavily targeting tight ends in the end zone. Sure, he had the opportunity to work with Jimmy Graham for a few years so the numbers might be a bit skewed historically, but it's even remained true when he's had much less talented players to work with. Most recently it was Will Dissly who scored four touchdowns over the first six weeks of the 2019 season. Jacob Hollister would go on to add another three touchdowns once Dissly hit the IR.

These other depth tight ends may still be involved in the offense a bit which could cap his upside, but Olsen is being drafted outside the top 16 tight ends in deep leagues and going completely undrafted in most standard leagues. He's a player who you don't have to invest much in, but he's probably the odds-on leader to finish third on the roster in targets if he's able to stay healthy. In an offense like Seattle's, that type of volume could prove to be quite valuable at the tight end position.