QB Kyler Murray
(2020 QB Rank – No. 2, 28.2 FPts/G)
2019's No. 1 overall NFL Draft pick gave us glimpses of greatness during his rookie season, but really broke out in his second year in the league. Kyler Murray made improvements in practically every single statistical category, catapulting him to being the second-highest scorer in all of fantasy football this past season. Now that his cost has risen to the point that he'll be one of the first three QBs taken in almost every draft. Murray is no longer a "sleeper" at the position, but he's someone who fantasy managers can legitimately build their team around, just like the Cardinals are doing down in Arizona.
Murray was on a record pace in 2020 prior to injuring his shoulder in the Week 11 loss to the Seahawks. This unfortunate injury surprisingly led to him running a bit less down the stretch, which really limited his fantasy output on the ground. After scoring a whopping 10 rushing touchdowns through his first nine games, Murray was held to just one rushing score from Week 10 on and he reached 35 rushing yards on the ground just twice in his final seven games.
Not only did the shoulder injury affect his willingness to run the ball, but he was also significantly less productive as a passer. Murray had thrown for an average of 264 yards per game through his first nine games, but that average fell to 228 yards per game in his final seven games. Worse yet, Murray was held to just one or fewer total touchdowns in four of those seven contests. Still, despite the major statistical cliff-dive, Murray had amassed enough fantasy points that he finished as an elite option at his position, as the No. 2 highest-scoring QB in 2020.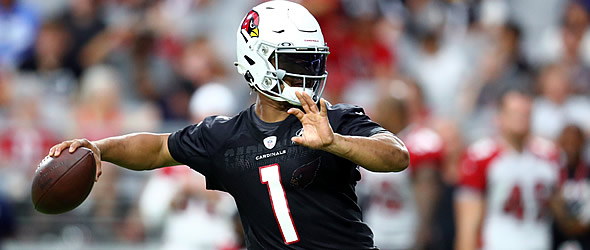 A full offseason to recover should allow Murray to hit the ground running to start the 2021 season, but there's some concern that the Cardinals will actually ask him to run less. We've seen an example of running quarterbacks being asked to run the ball less as they get older with Russell Wilson, who started off as one of the league's top runners at the position but has been noticeably less apt to run in recent years. In fact, Murray himself recently said that he hopes to run less in 2021. That could just be a throwaway comment, but it doesn't exactly inspire confidence about Murray duplicating the 67 rushing yards per week, touchdown-per-game runner that we saw prior to his shoulder injury. Still, even if we saw a staggering 30 percent drop in rush attempts, similar to what Russell Wilson experienced in 2016, Murray's rushing numbers would still be around 100 attempts. Only three other quarterbacks (Lamar Jackson, Cam Newton, Josh Allen) even reached 100 rushing attempts in 2020 and that high of a number, combined with more pass attempts, would still allow Murray to contend for fantasy football's top scorer at the position.
One of the most exciting offseason moves for the Cardinals has been their investment in pass catching weapons. Say what you will about A.J. Green, but he's a veteran presence who's dominated when he's been healthy throughout his career. We can't expect that he's going to step in and produce monster numbers, but it's hard to believe that he wouldn't be an upgrade to Larry Fitzgerald. Arizona also added rookie Rondale Moore in the second round of the NFL Draft, whose athleticism jumps off the charts, and has been called a perfect addition to the Kingsbury offense.
Arizona has embraced the theory of a high play rate, but they've actually run the ball more frequently than most expected. Their recent investments at wide receiver do imply, however, that they may be looking to lean at least a bit more on their passing game, which would theoretically help Murray reach closer to his passing ceiling.
Look for Murray to run the ball a bit less often in 2020, but even a slight shift to a more pass-focused offense could do wonders for the Cardinals' offensive production, which would in turn lead to more touchdowns overall, most of which are going to involve Murray. He participated in 37 total touchdowns in 2020 and that number would've almost certainly been even better if he was able to stay healthy throughout the season. He's one of the most reliable weekly options at the position given his rushing floor and the sky is truly the limit for him as a passer. If the Cardinals can improve as a team, Murray might not only be in the running for fantasy football MVP, but also a potential NFL MVP in 2021.
RB Chase Edmonds
(2020 RB Rank – No. 30, 7.2 FPts/G)
Chase Edmonds finished 2020 with a career high in rushing attempts (97) and rushing yards (448), but the real story was that he smashed career highs in the passing game with targets (67), receptions (53), receiving yards (402) and receiving touchdowns (4). Most Edmonds supporters have always suggested that he should be used more often in the passing game, but we finally got to see it and he certainly did not disappoint.
In addition to being a contributor in the Cardinals' committee backfield, Edmonds was impressive in the two games he actually started, compiling 233 total yards with 10 receptions. It was still an overall lackluster fantasy season for Edmonds, however, as he was stuck behind Kenyan Drake, especially in the red zone where he finished with just one goal line carry. Drake, meanwhile, finished with the second-most goal line carries in the entire league.
The offseason moves did seem to initially go in Edmonds' favor as the Cardinals moved on from Drake, who they had originally traded for midway through the 2019 season. This seemed to imply that Arizona would be looking for Edmonds to be the new workhorse back. However, the acquisition of former Steelers starter James Conner really threw a wrench into that equation.
Furthering the concerns about Edmonds is the reality that the Cardinals did make significant investments into their passing game. They finished sixth in the NFL in team run plays per game, but will almost certainly look to pass more often this season.
On the bright side, Arizona did also make moves along their offensive line, including adding former Jets guard Brian Winters, who started all 16 games for the Bills in 2020. They also signed Rodney Hudson, who's spent the last six years anchoring one of the league's most under-the-radar high-end offensive lines for the Raiders.
Edmonds' ceiling is likely around 210 to 220 total touches, but a more realistic number is probably closer to 170 to 190 touches, which equates to around 10 touches per game. That's enough to be a viable RB3/Flex option in PPR formats, but it's probably not enough that we should be confident in him delivering more than that without injuries to Conner and perhaps other backs on the roster.
RB James Conner
(2020 RB Rank – No. 25, 10.0 FPts/G)
The 2018 season, which saw former Steelers running back James Conner finish as a top-half RB1, seems like a distant memory at this point as Pittsburgh moved on from the veteran this offseason, opting instead to select Najeh Harris in the first round of this year's NFL Draft. Injury and COVID-19 problems have caused Conner to miss 12 games over the past three seasons since becoming the starter in Pittsburgh and he's been banged up enough that he was held to single digit touches in a number of contests aside from the full games he missed. Conner is coming off of a season-ending toe injury which he had surgically repaired this offseason. While the Cardinals do expect him to be fully healthy to start the season, there's no question that they're taking a chance on a player who seems to be damaged goods at this point.
He looks like a value on paper and may end up delivering decent fantasy numbers given his cost, but July ADPs have Conner being selected only about a round later than Edmonds. Conner enthusiasts will point to Arizona signing him as a clear sign that the team isn't fully behind Edmonds, but there's also a very good chance that they're simply looking to add some veteran depth to the running back room. Conner signed a miniscule one-year, $1.75 million deal so there's no serious investment here. If they believed Conner was going to step in and take over the Kenyan Drake role from 2020 then it would seem logical that they'd also want to sign their new starting running back to more of a long-term deal.
Conner isn't likely to end up being the "starter" in Arizona as long as Edmonds is healthy, but the upside is that he could at least take over Drake's role as the goal line back. It's hard to know whether the Cardinals just had supreme confidence in Drake's ability to score at the goal line or if they actually had concerns about Edmonds' lack of ability to get into the end zone. Either way, it's something to keep an eye on and it could end up leading to a nightmare-ish backfield committee situation where neither player is particularly useful on a week-to-week basis.
WR DeAndre Hopkins
(2020 WR Rank – 9, 11.1 FPts/G)
Another season, another top-12 WR performance from DeAndre Hopkins in 2020. The former Texan shut up naysayers when he joined Buffalo's Stephon Diggs in smashing the age-old "receivers don't produce on new teams" argument. Hopkins completely shattered all expectations by finishing second in the league with 160 targets, which he converted for a career high-tying 115 receptions, 1,407 receiving yards and six touchdowns.
Hopkins is about as reliable as it gets at the wide receiver position and there's really no reason to be concerned about him heading into the 2021 season. He was targeted at least seven times in all but one game in 2020 and he saw double-digit targets in nine different games. While the Cardinals did bolster their wide receiver group, history has shown us that truly elite wide receivers like Hopkins tend to maintain their target shares even when their team adds more complementary weapons.
The fact that Hopkins only finished as the standard-scoring fantasy WR9 in 2020 is something that does bring worry to some fantasy owners, but it's worth considering that he did that while scoring just six touchdowns on 115 catches. There's some positive regression coming for Hopkins if he's able to see that many passes come his way again this season, so look for that total to be closer to 10 touchdowns.
The Cardinals also look like a good bet to increase their pass-to-run ratio which should only further fantasy owners' confidence in Hopkins, who looks like every bit of an elite fantasy option once again this season. Young receivers like D.K. Metcalf, Justin Jefferson, Calvin Ridley and A.J. Brown have been getting plenty of hype this offseason, but none of them possess the high floor and high upside combination that a player like Hopkins does. Don't sleep on him in your drafts just because you like the idea of a shiny, new toy.
WR Rondale Moore
(2020 WR Rank – NA)
Arizona has been slowly adding to their wide receiver depth chart over the past few seasons by selecting players like Andy Isabella, Hakeem Butler, KeeSean Johnson and Christian Kirk, but perhaps none of those players have quite fit the Kliff Kinsgbury offense as well as 2021 second-round pick Rondale Moore.
An athletic freak with sub-4.40 speed, Moore also possesses incredible burst and agility. He was a monster producer as a freshman, but suffered injuries in his next two seasons before declaring for the NFL Draft. The knock on Moore is really just his size, along with concerns about whether or not he can stay healthy. Moore checks in at just 5'7" and at around 180 lbs, he lacks the size to really have close comparisons to successful NFL players.
The Cardinals will likely need to scheme up some plays for him to be successful, but that's certainly not impossible. Moore's agility and speed make him a screen pass nightmare for defenses and there's reason to believe that he'll be used occasionally in the running game as he was at Purdue.
Still, we've rarely seen players like Moore even succeed enough in college to be given a serious investment by an NFL team and that's what the Cardinals chose to do. That second-round draft pick is a sign that they plan to use him early and often. It's unlikely that he's going to be an immediate fantasy producer, but he's someone who has explosive upside. He's particularly suited for best ball formats where you can take his big play days and not have to worry about the weeks when he duds.
WR Christian Kirk
(2020 WR Rank – 50, 7.0 FPts/G)
Fourth-year wide receiver Christian Kirk should start the season as the WR2 to DeAndre Hopkins' WR1, but his window to perform might be shrinking by the moment. Kirk has largely been a disappointment throughout his career thus far and the Cardinals added both veteran superstar A.J. Green and second-round rookie Rondale Moore, an indication that they were not happy with what they were getting out of their wide receiver group aside from Hopkins.
Kirk has yet to reach 70 receptions or even 750 receiving yards in a season and he's suffered multi-game injuries in every season he's been in the NFL. He does have a few multi-touchdown performances, but he's been mostly forgettable as a fantasy asset thus far in his professional career.
The interesting thing about Kirk is while he's been most effective playing out of the slot, the Cardinals have almost exclusively opted to keep him out wide, instead lining up Larry Fitzgerald as a "big slot." The team did, however, sign A.J. Green this offseason, who also primarily plays outside. This could, theoretically, push Kirk to the slot in three wide receiver sets, which actually gives him more upside than many perceive at the moment. Kirk's fantasy value could hinge almost exclusively on if Fitzgerald does indeed retire. If he does, Kirk could see a gigantic spike in slot snaps. If not, he might be left trying to fend off Green and Moore for playing time on the outside, which would likely be a nail in the coffin for his fantasy value this season.
WR A.J. Green
(2020 WR Rank – 75, 4.0 FPts/G)
Kyler Murray has been gushing about A.J. Green throughout training camp. That type of talk can oftentimes be dismissed, but it's Murray's repeated statements about being impressed by Green that should be drawing more attention than they are.
Green struggled with some truly terrible quarterback play once Joe Burrow went down in 2020 and there's no question that his season as a whole was pretty forgettable. He did, however, finish as one of the league leaders in air yards, which should tell us that the Bengals were looking to get him the ball down the field, even though many of those passes, were completely uncatchable.
It's hard to conjure up a scenario in your mind in which Green returns to his status as a former elite fantasy wide receiver, but it may also be true that he's being slept on a bit in drafts right now. He's another year removed from his injuries in 2019 and he's still a big, physical receiver who fits a role that the Cardinals have been looking for as a legitimate outside playmaker opposite DeAndre Hopkins.
Figuring out whether to start Green on a week-to-week basis will likely be a nightmare, but don't be surprised if he has some explosive games, especially in the first half of the season while he's still healthy.