QB Patrick Mahomes
(2020 QB Rank – No.6, 28.8 FPts/G)
It was another monster season for the Kansas City offense and Patrick Mahomes in 2020. The fourth-year QB finished sixth among all quarterbacks in fantasy points, but jumped all the way to second in points per game among QBs who started at least six games. This boost happened because he and the Chiefs had already locked up the top seed in the AFC heading into Week 17 and opted not to play their starters.
Kansas City led the league with 414.7 yards of offense per game this past season and while the Chiefs were widely considered the best team in the league, they defied conventional wisdom by continuing to rely heavily on their passing game even after having drafted Clyde Edwards-Helaire with their first round draft pick in 2020. They passed the ball seventh-most in the league despite defeating their opponents by an average of nearly seven points per game. This isn't an aberration either, as the Chiefs have been doing this every year since Mahomes became the starter. They're really the only team in football that continues to pass at a high rate even when they're comfortably ahead on the scoreboard, and that's a big, yet often neglected part of what's led to the video game-like numbers from this offense.
There was obvious concern when the Chiefs offensive line struggled to protect Mahomes in their Super Bowl loss, but no one can deny that they took serious steps to address that issue by trading for Orlando Brown, as well by signing Austin Blythe, Joe Thuney, and the previously-retired Kyle Long. In addition, they used a second-round pick on center Creed Humphrey. This bolstering of the offensive line just adds to what is already a stacked offense and it makes an even stronger case for Mahomes being the safest player in all of fantasy football this season.
Quarterbacks are almost always drafted too high in home fantasy football leagues, but if you're going to reach on a QB, you could do a lot worse than Patrick Mahomes.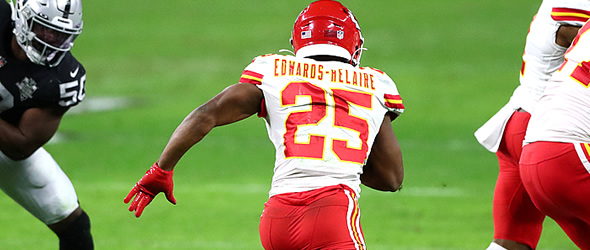 While his 2020 season wasn't a complete disaster, it's hard to argue Kansas City running back Clyde Edwards-Helaire wasn't a bust for fantasy purposes. The rookie saw an immediate path to a starting role when previous starter Damien Williams opted out of the 2020 season due to concerns about COVID-19. Edwards-Helaire took the opportunity and showed out by rushing for 138 yards and a touchdown in the NFL season opener against the Texans. Everything looked like it was headed in the right direction after that night, but things quickly went off the rails, at least from a yardage standpoint, as Edwards-Helaire reached 80 yards rushing just once more throughout the entire remainder of the season.
It wasn't just a lack of efficiency, either, as Edwards-Helaire's opportunities were curiously low at times despite less-than-stellar competition in the Kansas City backfield. CEH saw the field on 70 percent of snaps just twice during the season, and one of those games was when Darrel Williams missed the game.
The Chiefs even brought in veteran Le'Veon Bell midway through the season and it started to become evident that they did not view Edwards-Helaire's abilities in the passing game to be up to their expectations. This was particularly eye-opening as most scouts viewed Edwards-Helaire as one of, if not the best passing game running back from the 2020 draft class. Certainly his late-season injury caused some of these problems and he even ended up splitting snaps with journeyman Darrel Williams in the Super Bowl.
While the snap count is a concern, it's true that Edwards-Helaire still dominated the touches in the Kansas City backfield. His upside might still be limited if the Chiefs feel that he is not a good enough pass protector and contributor as a receiver. It seems as though this message was received by Edwards-Helaire, however, as he has reportedly been focusing heavily on his passing game abilities throughout minicamp.
It remains to be seen whether or not that additional effort will lead to a heavier snap share in 2021, but the benefit of Edwards-Helaire for fantasy going into 2021 is that not much has changed for him in regards to his situation, but he now costs about a full round less in seasonal leagues than he did heading into his rookie season. That reduced cost makes Edwards-Helaire an intriguing option in fantasy drafts as it's hard to deny that he has elite fantasy RB upside if he can simply stay on the field in this high-powered offense.
RB Darrel Williams
(2020 RB Rank – No.80, 2.7 FPts/G)
Clyde Edwards-Helaire immediately shot up fantasy draft boards when Damien Williams opted out of the 2020 season as he became the starter in one of the league's best offenses. But just as much as that opt-out helped Edwards-Helaire, it seems to have benefited fellow backfield-mate Darrel Williams.
Williams operated as the team's primary backup running back for much of the season until they brought in veteran Le'Veon Bell in what ended up being a failed experiment. Williams ended up finishing the season with a nearly 30-percent snap share and the Chiefs have since released both Damien Williams and Le'Veon. With Kansas City only bringing in the oft-injured Jerick McKinnon this offseason, Williams now finds himself with an opportunity to potentially see meaningful snaps in what will more than likely again be one of the league's best offenses here in 2021.
Williams isn't causing enough of a backfield split to be considered a viable weekly option, but he could be one of the more under-the-radar handcuff backs. Once the Chiefs moved on from Bell and Edwards-Helaire went down with an injury that caused him to miss three games, they turned to Williams in a near bell cow role. He didn't play Week 17 as the Chiefs benched their starters, but Williams played 70 percent and 79 percent of the Chiefs' snaps in the two games they were without Edwards-Helaire. It only added up to 23 carries for 124 yards along with eight catches for 43 yards, but that's a respectable 12.3 PPR fantasy points per game without scoring a touchdown.
Certainly Williams shouldn't be relied on as anything other than a lottery ticket type player late in drafts, but he has the requisite experience in this offense to be a viable fantasy option this season should the opportunity arise.
WR Tyreek Hill
(2020 WR Rank – No.2, 16.1 FPts/G)
It's hard to overstate just how good Tyreek Hill was in 2020 and there's really no reason to think that things are going to be any different heading into 2021. The super speed wide receiver lit up the league by tying a career high with 87 receptions for 1,276 yards and he set a new career high with 15 receiving touchdowns. His impact is unlike that of almost any other player in league history as he doesn't just possess speed, but he can also make plays underneath and on contested catches. This combination of skills, along with playing alongside perhaps the most physically gifted quarterback in league history, makes him an absolute monster for fantasy purposes.
Hill's season was not without frustration from a fantasy point as he did turn in a couple of duds, but he scored at least one touchdown in all but four of the 15 regular season games he played in 2020. He carried things over to the playoffs, too, where he caught at least seven passes in each of the Chiefs' three games, accumulating a whopping 355 total receiving yards during the Chiefs' run to the Super Bowl.
Now with Sammy Watkins out of the picture, the Chiefs could actually end up relying on Hill even a bit more than they have in previous seasons. Certainly Watkins has been a disappointment overall, but he was targeted an average of 5.5 times per game in 2020 and 6.4 times per game in 2019. No other wide receiver on the Chiefs roster has shown to be anything more than a situational contributor, so don't be surprised to see Hill's target total go up a tick this season.
Aside from Davante Adams in Green Bay, who happened to be the only receiver who outscored Hill in 2020, there may not be another other elite wide receiver who is in quite as consolidated of a target share situation as Hill is. That, combined with Hill's unique skill set and Kansas City's overall offensive firepower, makes Hill a serious contender to be the top wide receiver in fantasy football this season.
WR Mecole Hardman
(2020 WR Rank – No.59, 5.2 FPts/G)
Former second round draft pick Mecole Hardman has been a bust so far for the Chiefs, but he may now finally be given the opportunity to play consistent snaps in a starting role for one of the league's top offenses. With Sammy Watkins now gone, this is likely Hardman's final chance to do something on the field. He's played 32 career games since being drafted in 2019 and he's yet to reach 100 receiving yards in a single contest. In fact, he's been held to one or fewer catches in 12 of those 32 games, while exceeding four catches just once thus far in his career.
Still, Hardman was one of just two Kansas City wide receivers not named Tyreek Hill to have even one game of 20 or more PPR fantasy points in 2020, the other being Watkins who also only did it once. He's considered a "boom or bust" type fantasy player, but it's safe to say that the "booms" have been few and far between thus far.
While just about everyone would agree that Hardman is the only other Chiefs pass catcher outside of Hill and Kelce who could reasonably be useful for fantasy purposes in 2021, it's worth noting that he was out-snapped by Demarcus Robinson in games where the Chiefs were without Watkins. There's a good chance that Robinson actually ends up outscoring Hardman this season, but if there's one player who could end up breaking out in fantasy, it's much more likely to be Hardman than Robinson.
TE Travis Kelce
(2020 TE Rank – No.1, 13.8 FPts/G)
What can be said for Travis Kelce that hasn't already been said?
Kelce is coming off of a season in which he retook the NFL tight end receiving yardage record that he once held. His 1,416 yards were incredible and he also reached 105 receptions - fifth-most for a single season among tight ends in league history. His dominance is unquestioned at this point and his season-ending stat lines are rivaled only by a healthy Rob Gronkowski. Meanwhile, health hasn't been a concern for Kelce who has now played every game for the Chiefs in seven straight seasons, with the only exceptions being Week 17 games when the Chiefs have sat their offensive starters.
Kelce's remarkable 2020 campaign saw him outscore the No.2 TE, Darren Waller, by 34 standard points and the No.3 TE, Robert Tonyan, by 83 points. To put that into perspective, he would've been the WR3 if you eliminated the tight end position and just called him a wide receiver. The fact that he plays a position as shallow and frustrating to predict as tight end makes him a borderline cheat code for fantasy purposes.
Kelce has been the TE1 for three straight seasons and has been in the top two for five straight seasons. He's exceeded 850 receiving yards in seven straight seasons, which appears even more impressive when you consider that only Kelce himself and Darren Waller were the only tight ends to reach even 725 receiving yards in 2020.
The question at this point isn't whether or not Kelce is the TE1, but rather how far he is ahead of the rest of the pack. Darren Waller looks like a strong bet again this year and George Kittle will be back this season, but beyond that there really isn't anyone who has a realistic shot of dethroning Kelce unless he suffers an injury.
The advantage that Kelce provides at tight end is unlike anything else at any other position in fantasy football and that's why he's going to go in the first round in many, if not most fantasy drafts this season. His incredible consistency, durability and combination of high floor / high upside make him one of the most valuable players in all of fantasy football.