QB Russell Wilson
(2020 QB Rank – No. 5, 27.1 FPts/G)
A relatively quiet second half of the 2020 season makes it easy to forget that Russell Wilson was the best quarterback in all of fantasy football through the first seven weeks of the season. Wilson threw for at least three touchdowns in all but one of the Seahawks' first eight games and that incredible start allowed him to finish as a top five fantasy QB for the year even though he surpassed two touchdown passes in just one of the Seahawks' final nine games.

While there is reason to have some concern about Wilson's second half, there's some hope to be had when you consider that the team prioritized the passing game this April when they used their only draft picks in the first three rounds on wide receiver D'Wayne Eskridge. Say what you will about Eskridge as a prospect, but the point is that the Seahawks seemed to clearly identify that they needed to get deeper at pass catcher even though they had one of the league's top duos in 2020 with DK Metcalf and Tyler Lockett.

It's hard to believe that Pete Carroll will ever truly allow the Seahawks to maintain a modern, pass-happy offensive approach for an entire season, but Wilson's efficiency numbers are truly other worldly so he's been able to perform as a solid QB1 for fantasy even in years when his pass attempts have been relatively low. We do have to expect that his rushing totals will dwindle down as he nears his mid-30s but Wilson did finish the 2020 season with 513 rushing yards, which was a good step up from what he had in both 2019 (376 rushing yards) and 2020 (342 rushing yards).
For Wilson to finish as a top five QB again this season, he will need to continue to be both a plus-contributor in the rushing game while also maintaining his place as one of the league's most highly efficient passers, both of which he has done throughout his career. A boost up in pass attempts and we could be talking about Wilson competing for the crown of fantasy football's highest scorer this season. Wilson is one of the safest quarterbacks on the board once again.
RB Chris Carson
(2020 RB Rank – No. 16, 12.6 FPts/G)
An injury-riddled season meant that Chris Carson's totals saw a significant dip in 2020. The Seahawks back missed four full games and was uncharacteristically kept to fewer than 10 carries in four additional games, much of that due to pesky injuries. When he finally got back to at least near full strength, however, Carson was immediately a major part of the Seattle offense as he finished the season with at least 13 touches in each of the Seahawks' final six games, including their playoff loss to the Rams.
While the Seattle offense was less efficient overall down the stretch when they leaned more heavily on their running game, the fact is that the team went 7-1 in the eight regular season games where Carson carried the ball at least 10 times. Data analysts would tell you that this might be more of a "correlation" situation than it is a "causation" one, but the Seahawks have been a team notorious for playing "run the ball and play good defense" football. That might not be great for Russell Wilson and the passing game, but it's proven to be great for the running game and more specifically Carson over the past few years.
Another thing worth noting is that Carson tied a career high with 37 receptions in 2020. As stated earlier, Carson played significantly fewer downs in 2020 than he had in his previous two seasons, so this was actually a substantial uptick in passing game work. While his 16-game pace would've put him at just under 50 receptions for the season and we shouldn't necessarily expect that kind of usage, it's nice to see that Carson is no longer a complete nothing as a receiver. We had to drop Carson down a bit in PPR rankings in previous seasons but that shouldn't be the case anymore as he's seeing enough work to be a reliable RB2 in all formats.
RB Rashaad Penny
(2020 WR Rank – 138, 1.1 FPts/G)
Former first round draft pick Rashaad Penny has been one of the biggest busts of the 2018 draft class. The running back has touched the ball just 161 times in three seasons and he missed almost the entire 2020 season while recovering from an injury he suffered toward the end of the 2019 season.
While we expected that Penny's knee would be better by now, we recently got news that he had some sort of "clean up" surgery in June. The team does believe that he'll be ready for training camp, but this is certainly not a great confidence builder for those hoping that Penny would finally get an opportunity this season.
The Seahawks were forced to try out other running backs in 2020 with both Penny and starter Chris Carson missing time due to injuries and, to the team's credit, they saw success with almost everyone who saw significant touches. Carlos Hyde, DeeJay Dallas and Alex Collins all turned in viable fantasy performances at running back for Seattle, so there's reason to believe that Penny could contribute as well if Carson does end up going down again, but it's also very possible that he won't be given the first opportunity should that happen.
Penny is a late-round dart throw option whose health concerns have masked an otherwise fairly talented player. Don't go into your drafts thinking he's a certainty to contribute anything this year, but you could do worse if you're simply searching for a player who does have some "boom" potential late in your draft.
WR DK Metcalf
(2020 WR Rank – 5, 11.9 FPts/G)
One of the top breakout superstars of the 2020 season was wide receiver DK Metcalf. He turned in an excellent rookie season in 2019, but he established himself as one of the league's most dominant pass catchers this past season when he caught 83 passes for 1,303 yards and 10 touchdowns. Perhaps most impressive was Metcalf's consistency, as he was able to catch at least four passes in 12 of 16 contests for the Seahawks.
The Seahawks threw the ball at an uncharacteristically high rate to start the 2020 season which led to a big start to the season for Metcalf, but we did see a bit of a drop off from him later in the year. Still, Metcalf finished the season as a top five fantasy wide receiver in standard scoring formats and he was in the top 10 in average yards per target, proving that his upside could be even higher if he is given more opportunities.
WR1 overall is probably not realistic for Metcalf just given how Seattle tends to play, but Metcalf is a strong bet to be a top 10 wide receiver again this season. His only established competition for targets is Tyler Lockett and we've already seen that those two can both feast even in this relatively low volume passing attack.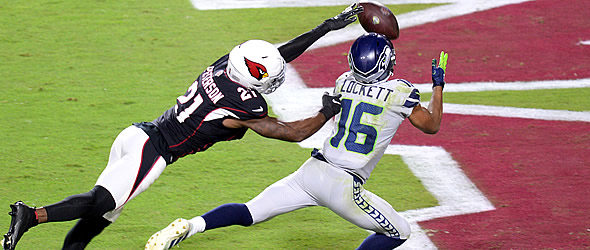 WR Tyler Lockett
(2020 WR Rank – 11, 10.3 FPts/G)
While the concerns about DK Metcalf being a "boom or bust" type of receiver have been put to rest, the player who truly exemplifies that phrase is actually his teammate, Tyler Lockett. An absurdly hot start to the 2020 season allowed Lockett to scrape together a top-12 WR finish on the year in non-PPR formats, but ask any fantasy owners who had a stake in the Seahawks wide receiver and you'll hear the disappointment in his or her voice as the tales of his pathetic second half are retold. From Week 8 through the fantasy championship of Week 16, Lockett scored just one touchdown. Worse yet, he failed to exceed 67 yards in any of those nine contests. It was an abysmal finish to what looked like it could be a monster season for Lockett, who was the fantasy WR1 overall after six games.
As we look into 2021, there is no longer a conversation about who the WR1 is in Seattle - it's Metcalf. But that doesn't necessarily mean that Lockett can't also provide some fantasy production this upcoming season. There's still very little target competition in Seattle so he should see significant enough opportunities to contribute some boom weeks which would be particularly helpful in best ball formats which continue to become more popular each year. Even in traditional formats, though, Lockett should at least be a bit more consistent, assuming that the Seahawks do end up leaning a bit more on their passing game than they did down the stretch in 2020. Still, there will likely be time that Lockett disappoints and it's been difficult to predict his spike weeks, so he could be frustrating to own yet again this season.
The Seahawks moved on from wide receiver David Moore this offseason but that doesn't necessarily mean that they're going to be leaning less on their passing game. While they didn't bring in another wide receiver of note in free agency, they did spend their second round pick on D'Wayne Eskridge, a wide receiver from Western Michigan.
Eskridge spent five years at the school, never reaching 800 yards in a season, but he did produce huge per-game numbers as a second-year senior in 2020. Eskridge caught 33 passes for 768 yards and eight touchdowns in just six games in his final collegiate season, drawing the attention from some NFL scouts. It was a bit of a surprise to many when he went off the board to Seattle in the second round, but it shows that the team sees something in him. Given that the Seahawks had just one draft pick in the first three rounds, they obviously are hoping that he can be an immediate contributor for the team.
Seattle's target share is seriously imbalanced as they leaned extremely heavily on Metcalf in Lockett in 2020. That won't likely change much in 2021, but there is still some opportunity for Eskridge to see some targets this season. He's more of a dynasty consideration than anything else, but there's a chance that he could become viable should Metcalf or Lockett go down with an injury.
TE Gerald Everett
(2020 TE Rank – 26, 3.6 FPts/G)
The Seahawks have been searching for a tight end since Jimmy Graham left in 2018 and whether it's been due to injury or just a general lack of skill, they're yet to find anyone who can contribute much on the field, especially when it comes to fantasy points scored. This offseason, however, they did add a player who has at least shown signs of pass catching prowess when they signed former Rams tight end Gerald Everett.
Everett has been stuck in one of the league's most bizarre tight end situations, competing with Tyler Higbee for playing time in what has, at times, been one of the league's best offenses. We've seen some big performances from both players when the other was out, but they've typically cannibalized one another enough that neither have been a viable weekly fantasy contributor so long as both are on the field.
With only Will Dissly and Colby Parkinson to compete with in Seattle, Everett should finally have an opportunity to see the majority of snaps in what should be an efficient Seahawks offense. Russell Wilson does have a history of finding his tight ends in the end zone and while touchdowns are not all that consistent, the tight end position is pretty much a crapshoot from week to week if you're not blessed with having one of the elite performers. There's very little chance that Everett becomes one of those elite performers, but you're paying almost nothing for him in drafts and there's a chance that he does finish in the top-12 at the position.