QB Jimmy Garoppolo
(2020 QB Rank – No.39, 14.2 FPts/G)
San Francisco head coach Kyle Shanahan has said that there "is no open competition at QB." Jimmy Garoppolo is the starter as we head into the 2021 season. While this isn't great for fantasy football as far as the overall quarterback position goes, it does give us clarity as to how the team currently views the quarterback they invested heavily in back in 2018.
It's been a rocky road for Garoppolo thus far in his 49ers career. He's had stints where he's looked like one of the next great quarterbacks in the league, but he's mostly been average throughout his tenure despite the fact that he did lead his team to a Super Bowl. Some of the disappointment can be blamed on the fact that Garoppolo has been extraordinarily unlucky in the health department, including his shortened 2020 season in which he suffered an ankle sprain early on, only to have it flare up and become a season-ending injury after just six games. The ankle injury noticeably bothered him and he didn't perform well even in the games he did play, averaging just 183 passing yards per game with only seven total touchdowns in those six games, along with five interceptions.
As we look forward into 2021, Garoppolo is probably not worth drafting in single-QB leagues, but he might actually be undervalued right now in 2QB/SuperFlex formats. The 49ers offense has been pretty good throughout the Shanahan regime, even when they've had some pretty terrible quarterback play. Garoppolo might not be an elite quarterback, but he's also not completely worthless, yet he's being treated that way in a lot of drafts.
The 49ers offensive line continues to actually be among the best at protecting their quarterback, so those predicting another Garoppolo injury are doing so solely based on the injuries he's suffered before, very few of which have anything to do with one another. The "he's just injury prone" line has been largely disproven by experts, so don't disregard Garoppolo solely based on that.
Garoppolo has one of the league's best young trios of pass catchers with tight end George Kittle along with wide receivers Brandon Aiyuk and Deebo Samuel. He's never going to give you much in the running game, but he could turn out to be a reliable QB2 in fantasy as long as he's able to stay on the field.
QB Trey Lance
(2020 QB Rank – N/A)
While the 49ers are content with starting their season under the leadership of veteran QB Jimmy Garoppolo, the writing is on the wall that we'll eventually see them make the move to the player they moved up to select at No.3 overall in the 2021 NFL Draft, North Dakota State's Trey Lance.
Lance was an absolute superstar in his one full season as a starter in college, throwing for an impressive 28 touchdowns while maintaining an absurd zero interceptions that season. Perhaps more importantly for fantasy, though, Lance lit up the highlight reels with his work on the ground as he ran for 1,100 rushing yards as a sophomore and 14 touchdowns. Despite his excellent passing numbers, Lance was not shy to run the ball, as he rushed 169 times in his sole 16 game season as a collegiate starter.
Unlike smaller quarterbacks like Kyler Murray and Lamar Jackson, Lance has the size to sustain a bit more of a beating, which could mean even more rushing for him than some expect in the NFL. It's hard to compare any prospect to Josh Allen, but Lance seems to fit that mold more closely than almost any other quarterback in the league right now. He has tremendous upside as a fantasy asset; he possesses a huge arm to go along with excellent athleticism. This is the kind of quarterback that can be a true difference-maker in fantasy, but he has to earn the starting job.
The biggest concern about Lance is that the 49ers seem hell-bent on heading into the season with Garoppolo as their starter. Certainly we've seen teams move on to their young quarterbacks in the past, but it rarely happens unless the team itself is performing poorly or the quarterback is just looking horrible. Considering that the 49ers won six games with the league's most injured roster in 2020, there's a high likelihood that they'll be competitive enough that they end up waiting until deep in the season to turn things over to Lance, if at all this season.
If he does get the chance to play, Lance should be an immediate waiver wire addition in just about any league. His upside is that of a weekly QB1 for fantasy and his legs could carry him to that as soon as right away. This is an offense built for a player like Lance with a dominant rushing attack, some incredible downfield weapons, and some bruising pass catchers who make their money after the catch. The sky is truly the limit for this potential future elite fantasy QB.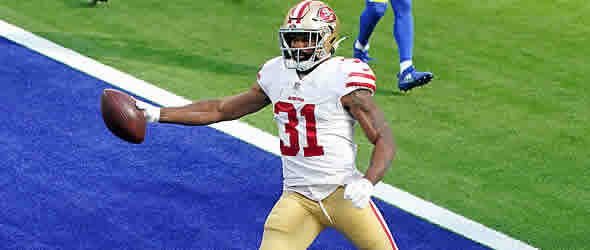 RB Raheem Mostert
(2020 RB Rank – No.47, 10.7 FPts/G)
The 49ers running back room has been completely devastated by injuries over the past two years, which has led to some ugly end-of-season numbers from individual players. What's been interesting is that, despite the carousel of backs, the team has actually been among the best in the league in terms of pure rushing numbers since Kyle Shanahan came to town. The 49ers have averaged 1,722 rushing yards from their running backs over the past four years, but they haven't yet had a back reach the 1,000-yard milestone in a single season.
As we look at the 49ers' depth chart in 2021, it seems unlikely that anyone will get there this season.
The team moved on from both Tevin Coleman and Jerick McKinnon which appeared to signal that they were finally ready to hand the starting job over to Raheem Mostert, but they then opted to draft running back Trey Sermon in the third round of the NFL Draft, further complicating what has been a confusing backfield situation for the past few seasons. In addition to Sermon, the team also added veteran running back Wayne Gallman, who led the Giants in rushing this past season. It's also being under-reported that the 49ers drafted a second rookie running back, Elijah Mitchell, with a sixth round draft pick and reports are that the speedy rookie has been impressive in camp.
A number of backs on the roster have a reasonable case to be made for seeing significant touches this season, even though Mostert seemed to have the most "juice" of any of the backs on the 49ers roster over the past four seasons. Mostert has been wildly productive when healthy, averaging nearly 5.7 yards per carry over his four years in San Francisco with Kyle Shanahan. Unfortunately, he's been unable to stay healthy and it's now become apparent that while the 49ers coaching staff still wants Mostert to be involved, they're probably not going to be willing to let him take what would be considered a full time workload this season.
Nevertheless, Mostert is currently being drafted well outside the top 20 running backs in fantasy. He's going around the range of players in similar committee backfields, but who are sometimes in significantly worse offenses and likely have less individual playmaking ability. At his current ADP, Mostert represents an interesting upside play as we've seen players like this from ambiguous backfields become fantasy football league winners in the past. He might be frustrating to own at times, but if he stays healthy, Mostert will almost certainly deliver some big weeks for fantasy owners.
RB Trey Sermon
(2020 RB Rank – N/A)
While the 49ers backfield is a stock full of usable running backs, the player who many fantasy owners seem to be most hyped about right now is rookie Trey Sermon. Sermon is seemingly being anointed as the eventual starter despite very little evidence to show that to be a guarantee and his ADP continues to creep closer to teammate Raheem Mostert by the day. By the time the season starts, it's entirely possible that Sermon will have surpassed Mostert's ADP.
While fantasy owners seem to be conflicted about the backfield situation as a whole, what we all seem to agree on is that this situation is a potential fantasy gold mine if any back is actually able to assert himself into even a semi-bellcow level contributor. San Francisco's offense has produced RB1 weeks out of Tevin Coleman, Jerick McKinnon, Jeff Wilson, Carlos Hyde and the aforementioned Mostert over the past four seasons. They've just been so injury-riddled that it's been almost impossible to ride the success of an individual back for longer than a few weeks at a time.
What we like about Sermon is that the 49ers obviously identified him as a player of importance as they selected him in the third round of the Draft. He possesses great agility and physical explosiveness, but he does lack high end speed, having ran a 4.61 forty-yard dash at his pro day, which is not particularly impressive for a player of his size. Sermon isn't small, at 6'0", 215 lbs, but he also isn't a bruiser. He averaged a very impressive 7.5 yards per carry in his senior season at Ohio State, but it's hard to put that into much context as he was often matched up against some truly inferior defenses.
What's interesting is that, while fantasy owners debate between Mostert and Sermon, it was actually another back who's still on the roster - Jeff Wilson (knee) - that led the 49ers backfield in rushing yards in 2020 while also scoring 10 total touchdowns. It's unlikely that Wilson ends up stealing the starting job from Mostert or Sermon, but he could be more involved than people like late in the year, along with the plethora of other running backs currently on the 49ers roster, all of whom are NFL caliber talents.
Sermon is shooting up draft boards and will likely eventually become expensive enough that he's going to need to earn a significant role in the 49ers offense almost immediately in order to not be a fantasy bust. Without reports stating that Sermon is "the guy," there's a lot of risk in the rookie right now. There will undoubtedly be moments of brilliance and probably multiple times where we think we know what's going to happen, but the most likely outcome in this backfield seems to be another confusing, unpredictable and ultimately frustrating fantasy season.
WR Brandon Aiyuk
(2020 WR Rank – No.32, 10.4 FPts/G)
With both wide receiver Deebo Samuel and tight end George Kittle out for considerable stretches during the 2020 season, 49ers rookie wide receiver Brandon Aiyuk was thrust into a trial by fire in his first season, regularly matching up against opposing teams' top cornerbacks while attempting to catch passes from some truly awful quarterbacks.
Aiyuk himself missed four games, but still finished the season with 60 receptions for 748 yards and five touchdowns, which would've equated to 80 receptions for just under 1,000 yards and nearly seven touchdowns over a 16-game season. Even without the extrapolation, Aiyuk finished second behind only Minnesota's Justin Jefferson in fantasy points per game among rookie wide receivers in 2020. 49ers fans and fantasy gamers should be ecstatic that this budding star receiver performed so well under such poor circumstances and he should have plenty of opportunities to improve on those numbers in his second professional season.
One obvious concern is that the 49ers should have a healthy Samuel and Kittle heading into the year, which would theoretically cut into Aiyuk's target share, but it's worth noting that the team also moved on from slot receiver Kendrick Bourne, who actually finished second on the team behind Aiyuk in targets in 2020. San Francisco really didn't bring in any additional pass catching weapons, so there should still be plenty of targets to go around, especially assuming that the team opts to be a bit more pass-heavy now that they should have at least some level of competent quarterback play, whether it be from Jimmy Garoppolo or Trey Lance.
If the 49ers offense takes a step forward, it will almost certainly have something to do with Aiyuk taking another step forward into legit alpha WR territory. Aiyuk has actually seen his ADP falling on many services over the past month, but there's a lot of upside for him to far exceed his draft position. The 49ers have been a very run-heavy offense under Shanahan, but that could very well lean more pass-heavy in 2021, which would be a great thing for Aiyuk and the other pass catching weapons in San Francisco.
WR Deebo Samuel
(2020 WR Rank – No.96, 6.8 FPts/G)
2019 2nd round NFL Draft pick Deebo Samuel showed out as a rookie, contributing over 800 yards as a receiver while adding an additional 159 yards as a runner, scoring six touchdowns in the process. Samuel looked to be in a great situation to improve on those numbers heading into his second season in the league, playing on a roster of mostly unproven pass catchers aside from tight end George Kittle. Unfortunately, Samuel suffered a number of injuries, as well as a trip to the COVID-IR, which effectively led to a mostly lost 2020 season.
Samuel now heads into his third season looking like the third option in and offense that should still lean run-heavy. Samuel himself does make contributions on the ground, but in order for him to be a consistent fantasy wide receiver, we need him to see a heavy target share. Competing with Brandon Aiyuk and George Kittle won't allow for that every week, so there are bound to be frustrating weeks for Samuel owners, even if he's the type of player who can sometimes turn six targets into a usable fantasy day. There will be and have been times where he just doesn't see enough volume to be a fantasy contributor.
The harsh reality is that Samuel might just be a better real-life receiver than he is a fantasy one. His gritty contributions as a YAC monster make him extraordinarily frustrating for defenses to defend, but he's been held to four or fewer catches in 13 of his 22 regular season NFL starts, despite being the top wide receiver on his team as a rookie and playing without both Kittle and Aiyuk at times in 2020.
Samuel has contributed four 100-yard games in his career, he's never once caught a touchdown pass in the same week that he went over 100 yards. He's also never scored more than one touchdown in a game. This could certainly be an anomaly and he'll almost certainly get there at least a few times throughout his career, but the reality is that - through two seasons - Samuel hasn't produced any real "spike" weeks in fantasy.
Samuel's season-ending numbers will likely be fine and he's a fine player to target in best ball formats, but he's someone who's probably going to be frustrating to own in traditional season-long leagues.
TE George Kittle
(2020 TE Rank – No.19, 9.6 FPts/G)
It was a frustrating 2020 season for superstar tight end George Kittle who suffered multiple injuries that ended up keeping him out for a total of eight games, but what we saw from him should give fantasy owners plenty of confidence in targeting him as an elite tight end once again in 2021.
Kittle was targeted 63 times in his eight games, which equates to an average of nearly eight targets per game. Only Kansas City's Travis Kelce and Las Vegas' Darren Waller saw more targets per game than Kittle. Perhaps more importantly, Kittle contributed 634 yards, which put him ninth at the position despite the fact that he played only half the season. If we extrapolate his numbers out to a 16-game season, Kittle would've finished with 1,268 receiving yards. That would've been good enough to be seventh-most in a single season for a tight end in NFL history. Keep in mind that he did this despite spraining his knee in Week 2 and then fracturing his foot in Week 8.
It would've been completely reasonable for him to never get back on the field given the foot injury and the overall team situation, but Kittle proved his commitment when he re-joined the then five-win 49ers in Week 16, helping lead them to a road win over the division rival Cardinals. Kittle would produce 11 catches for 160 total yards in his final two games of the season. There's absolutely no denying his grit and will to play, which is something that cannot be overlooked despite the fact that he is coming off of a season in which he suffered multiple lower-body injuries.
Kittle himself set the all-time record for single season receiving yards back in 2018 when he went off for 1,377 yards, but his record was actually broken this past season by Kelce. It'll be tough for him to compete for that record now that San Francisco has two other proven viable pass catching weapons in Deebo Samuel and Brandon Aiyuk, but Kittle is still absolutely an elite tight end. He's one of only three TEs who has the realistic potential to finish as the top performer at the position this season. He's going off draft boards nearly a round and a half later than Kelce who is admittedly a safer option, but the cost difference is also substantial despite both players being premium options at the position.
If there's one thing that is a bit concerning for Kittle, it could be that the 49ers might eventually turn to rookie Trey Lance at quarterback, which would almost certainly mean an even more run-heavy offense than the one they already utilize. Then again, while the, "young quarterbacks throw to their tight ends" narrative has been largely disproven over time, Kittle is also an extreme exception to just about every rule for tight ends, so there's a pretty good chance that he's still going to perform as an elite pass catcher no matter who's behind center in San Francisco.