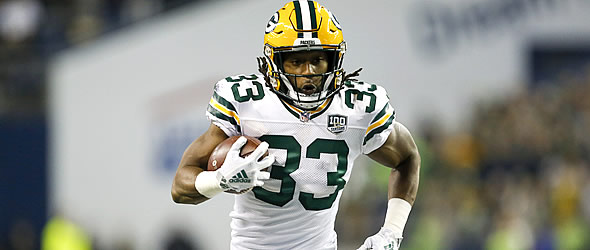 The expectation of more work in the passing game has the fantasy stock of Aaron Jones is on the rise.
QB Aaron Rodgers
2018 QB Rank - No.7, 22.6 FPts/G
The saying in pro sports is that availability is the best ability. But when is that only a half truth? When you play a full season on a mysteriously damaged knee, that's when. Although Aaron Rodgers finished as a QB1, had an absurd 25-2 touchdown-to-interception ratio, and once again threw for over 4,400 yards, he failed to finish in the top-5 among fantasy quarterbacks. 2018 was the first time thatís happened in a 16-game season since his first time as a full-time starter in 2008.

Clearly the knee injury suffered in Week 1 affected Rodgers the entire season. He struggled to avoid the rush, wasnít nearly as dangerous with his legs and lacked the normal touch his passes typically have. Add in the fact that he was breaking in a host of young, unfamiliar receivers behind Davante Adams, and there you have the reason the Packers only reached 30 points four times last season.

There are some fairly significant coaching changes coming for Rodgers in 2019. For the first time since he became Green Bayís full-time starter in 2008, Mike McCarthy wonít be the head coach voice in the headset. In comes fairly green Matt LaFleur who is yet another branch of the Sean McVay coaching tree, but is only a few years older than Rodgers. While LaFleur has worked alongside some of the leagueís most impressive offensive minds, he failed to really maximize the talent he had in Tennessee last year as the offensive coordinator. Rodgers had a rocky ending to his relationship with McCarthy, and it remains to be seen how heíll react to the change.

For all the changes going on in Green Bay from the roster and front office, to the coaching staff, Rodgersí fantasy value will as usual, come down to his health. Significant injuries to his calf, shoulder, and knee in recent seasons have been his downfall, and he left his final game of 2018 with a fairly significant concussion. Heís in his mid-30s, but is still one of the best players in the NFL. If the talent around him can continue to develop, heís as good of a bet as any to finish as one of the top fantasy quarterbacks.

RB Aaron Jones
2018 RB Rank - No.23, 12.3 FPts/G
Jones, the former 5th round pick from Texas Tech has simply been one of the most explosive running backs in the league the last two years. Heís averaged 5.5 yards-per-carry in his two seasons, leading all running backs in the NFL last year in that category. With speed to burn, and a year of development behind him, Jones ascended to the lead back role with the Packers last season, even showing up more as a receiver as the season wore on. Now more than ever Green Bay realizes that Jones gives the offense a dimension in the running game that must be respected, and with Matt LaFleur already talking about getting his running backs more involved in the passing game (something Mike McCarthy flat out failed to do), Jones might be ready to ascend into a higher tier of fantasy back.

Jones led the team in rushing yardage and rushing touchdowns last season, finally getting some distance on fellow back Jamaal Williams, but there remain some roadblocks to Jones becoming fantasy footballís next big thing. The first, is durability. Remember, you canít score from the trainerís room, and Jones has had his fair share of lower leg injuries the first few years in the league. Hamstring and knee injuries cost him 4 games last year, and with such a reliance on speed and quick twitch muscles, soft tissue injuries are a major concern. As a side note, word is heís gotten in much better shape this offseason. Second, is the presence of Williams. Williams isnít going anywhere, and will likely command more work than typical back-ups. LaFleur used both Derrick Henry and Dion Lewis often last year, (at least until Henry went on a ridiculous tear in the last month of the season) and ran the ball 51% of the time. Jones doesnít quite have the frame to hold up to 200 carries, so Williams will be involved.

The bottom line here is that Jones is dripping with talent and upside. Heíll never see 8-man fronts, and has a coach that uses a zone run scheme that fits his talents perfectly. With an uptick in receptions, and better health and stamina, Jones has a shot to get into RB1 territory, which would be a steal at his current ADP.

RB Jamaal Williams
2018 RB Rank - No.47, 5.3 FPts/G
The pecking order in this backfield became clear last season, as Williams was jumped by Aaron Jones. Less talented and explosive, Williams serves as a quality back-up who can handle all phases of the offense, but just doesnít do much that jumps off the screen. Although underutilized by Mike McCarthy during his coaching tenure, the running game figures to be a bigger part of the 2019 Packer game plan and Williams could benefit. While nearly invisible when Jones was healthy last year, look for Williams to soak up about 10-12 touches a game, with a chance at goal line work. It wonít be nearly enough work for standalone value, but you wouldnít be wasting a roster spot on your team if you grabbed him as a handcuff to Jones. With late round picks or undrafted free agents behind him, Williams has a lock on back-up duty, but is someone who could give fringe RB2 value if thrust into the starting lineup because of injury.

WR Davante Adams
2018 WR Rank Ė No.5, 14.4 FPts/G
Welcome to the rarified air of elite fantasy receivers Davante Adams! His ascension to stardom was easy to see coming, as itís been building for several seasons. Despite being on a struggling offense that had a gimpy quarterback, Adams was No.2 in the NFL with 169 targets, 5th in receptions, 7th in yards, and 2nd in touchdowns with 13.

A true complete fantasy receiver, Adams enters the prime of his career as the apple of Rodgersí eye and the clear alpha in a fresh, modern offensive passing scheme. With the improved development of the young receivers around him, and a more emphasis on the run game, duplicating the 169 targets and 13 touchdowns is going to be a challenge, but with Rodgers healthier the two should be even more deadly and efficient. Hopkins, Julio Jones and Adams should be vying for the top fantasy finishes at this position, so donít hesitate to grab the budding star.
Every Batman needs a sidekick, so can Valdes-Scantling be Robin for Devante Adams? If last yearís rookie numbers are any indication, this could be the next great Green Bay dynamic duo.
A raw 5th round rookie from South Florida, MVS has speed to burn, and uncoachable height. With the departure of Jordy Nelson, the decline of Randall Cobb, and injury to Geronimo Allison, Valdes-Scantling was probably thrust into a bigger role than the Packers expected, but he responded positively, playing in all 16 games and putting up a solid 38-581-2 line on 73 targets. Sure, the near 50% catch rate isnít ideal, but Valdes-Scantling certainly flashed in a mid-season 4-game stretch that saw him go over 60 yards three times, hit the century mark twice, and score two touchdowns. He faded a little down the stretch before a decent finish, but all-in-all in was an impressive rookie season.

With another year under his belt, and the continued development with Rodgers, MVS has a chance to be a much bigger fantasy player in 2019. With the No.2 outside receiver position his to lose opposite Adams, he should see plenty of single coverage. If he can learn to play to his strengths and build on his route tree, Valdes-Scantling is worth significant draft capital. Heís got great upside in an offense run by Rodgers, and should approach WR3 numbers, with a chance to have some big weeks. With a strong camp his ADP should rise into the single digits.
WR Geronimo Allison
2018 WR Rank Ė No.97, 8.5 FPts/G
A horrifically sounding injury (just google torn abductor muscle...ouch!) cost Allison half of his season last year, and itís a true shame, as he opened the season on a tear, with 19 receptions almost 300 yards and two touchdowns over the first two weeks. His 8.5 standard points per game over a full season would have made him a solid WR3. But while 2018 was mostly a lost season, the 4th year player is a great bet to set career highs across the board if he can stay healthy.

Taking on the slot role from the departed Cobb, Allison has a chance to carve out a significant role in this passing game. Itís tough to gauge just how LaFleurís offense will utilize the slot, as the Titan passing game was mostly a sloppy mess last year, but the Rams find ways to exploit matchups to get all their receivers involved. Early off-season reports have been glowing for Allison and his cohorts, and I have a feeling that this whole passing offense will see a big rebound. With Rodgers healthy, and the young guys developing, pay close attention to Allisonís role in the preseason. If this offense clicks like I think it might, and with his ADP currently higher than Valdes-Scantling, Allison could be a worthy bench add, especially in PPR leagues

TE Jimmy Graham
2018 TE Rank No.14, 4.7 FPts/G
Even at a fantasy position as shallow as tight end, Graham was a pretty big stinker during his first season in Green Bay. Even with yet another HOF quarterback throwing him the ball, Graham looked old and slow. Age and injuries seemed to sap him of any explosion he had, and he even had difficulty finding the endzone with only two scores.

Typically a dominant red zone target in his career, I have to believe that there is some positive touchdown regression on the way in 2019. The days of dominant reception and yardage totals, and chunk plays are gone though, and the Packers know it as they drafted Texas A&M Jace Sternberger with a 3rd round pick. Sternberger was drafted to catch passes, and heíll do more of it if Graham fails to be an impact player in the offense. With a young buck nipping at his heels, this might be Grahamís last chance. In a weak fantasy position heís worth a look as a fringe TE1.