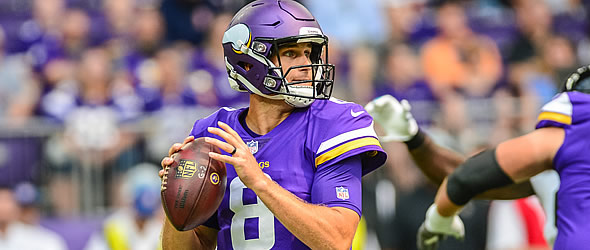 Cousins has used high volume to rack up big yardage and touchdown totals the last several years.
QB Kirk Cousins
(2018 QB Rank – No.9 22.1 FPts/G)
Kirk Cousins in THE example I think of when I consider the sheer depth of the quarterback position in fantasy. In his last few seasons he was a stat compiler on some poor teams, and he was largely the same during his first year in Minnesota. Despite back-to-back top-10 finishes at the position, Cousins hasn't proven to be a difference maker that can get his offenses over the top. The Vikings signed him to an unprecedented fully guaranteed deal, and on paper it looks they got their money's worth, but the offense lacked a true identity, and faltered greatly down the stretch, wasting a strong defensive performance.

The offensive dysfunction started with coordinator John DeFillipo, who irked his boss Mike Zimmer by failing to establish a consistent run game. Things came to a head following an embarrassing 21-7 road loss to the Seahawks where DeFillipo was fired and Kevin Stefanski, a long-time Vikings position coach and assistant, took over. Following the marching orders to get the run game going, Stefanski had Cousins dial up fewer passes during the final three games than he did during any 3-game stretch of the 2018 season. Despite finishing 2-1 in those games, the Vikings missed the playoffs.

As Stefanski was retained as full-time coordinator for 2019, it's important to consider what this means for Cousins' fantasy value. Cousins has used high volume to rack up big yardage and touchdown totals the last several years, finishing 4th, 4th, and 5th in total pass attempts. The Minnesota backfield would have to be ravaged by injury for this to happen again, and in that scenario I can see Zimmer spontaneously combusting on the field. The Vikings are going back to old school Black and Blue division football in 2019, and Cousins is going to have to be ultra-efficient to approach top-5 numbers again. With great talent around him he's still a QB1 for owners looking to fade the position, but I don't think he offers near the same value he has in the past.

RB Dalvin Cook
(2018 RB Rank – No.31 10.5 FPts/G)
Despite flashing a tantalizing combination of speed and power during his first two seasons in the league, being healthy has kept Cook from approached his true statistical potential. Missing 17 games over his first two seasons due to ACL and lower leg injuries, the Vikings desperately need Cook to be the main cog in the offense this season.

After being eased in to start the season, the promotion of Stefanski might have given us a small look into the usage numbers we can expect in 2019. Cook's 46 carries over the final three games were by far the most of any 3-game stretch during the season, and he continued to display the dual-threat traits that top tier fantasy backs need with 40 receptions for 305 yards.

There is a lot to like about Cook's fantasy prospects this year. He's nearly two years removed from his ACL tear, and has absolutely no proven back-up behind him on the depth chart to lose touches to. The Vikings offense is looking to emphasize ball control offense, and the defense gives them short fields and extra chances via turnovers. Throw in the fact that the passing game is scary enough that he'll never have to face stacked fronts, and the invested draft capital and free agent dollars to strengthen the interior line, and all signs point to a major breakout potential.

With everything in his corner, health is the only thing that stands in the way of a RB1 season from Cook. He's the Tier 2 back I like the most and would consider taking over guys with slighter higher ADPs. If he can play close to 16 games this year, Cook is going to win some fantasy championships.
With long-time back-up/vulture Latavius Murray off to be annoying in New Orleans, the handcuff to Dalvin Cook remains a fluid situation. With the 3rd round rookie Mattison, and unknown Mike Boone and underwhelming Lions cast-off Ameer Abdullah the current options, it's a true guessing game to see who picks up the leftover touches. The Vikings invested a significant pick in Mattison, and his profile and production at Boise State tell me he's the best bet to carry the load should something happen to Cook. A multi-year starter in college, Mattison caught 60 passes in his career, and what he lacks in breakaway speed, makes up for in athleticism and power. There have already been some respectable puff pieces about Mattison this offseason, and if he can earn the trust of Zimmer and the coaches, he could be in for a heavy workload if Cook falls. Upside and feature role combine to make Mattison a solid handcuff option, and a must-draft for Cook owners.

WR Stefon Diggs
(2018 WR Rank – No.15, 10.8 FPts/G)
Diggs has proven to be everything you want in a WR2. He's scores touchdowns (17 over the past two seasons), flirts with WR1 weeks (four 100-yard games and four double digit reception games) and gets enough targets to avoid some truly horrific games.

After a solid 2017, Diggs had a career year in 2018, making sweet music with his new quarterback Kirk Cousins. Diggs reached 100 receptions and 1,000 yards for the first time in his career, and the 9 touchdowns also marked a career high. While I was a little surprised with the drop in yards-per-reception average (way too many lost yards on ill-executed bubble screens) Diggs was a difference maker last season. So how will he fare in what looks to be a less pass-centric offense? I see a bigger drop-off for Diggs than I do for Thielen. It's going to be near impossible to repeat the 149 targets he received last year (this was 37 more than his previous career high) with his role on the offense unchanged. And although he usually is able to play through them, Diggs gets nicked up a bit, missing 9 games over his 4-year career.

Even with a slight regression, I'd still be happy to take Diggs as a reliable WR2 that has a chance to be a week winner a few times throughout the year.

WR Adam Thielen
(2018 WR Rank – No.8, 12.1 FPts/G)
With two straight top-10 finishes at the position, it's time to give Adam Thielen some serious respect. An expert route runner with a gigantic catch radius, Thielen was literally unstoppable during a historic first half of the 2018 season. He tied Calvin Johnson for the most consecutive 100-yard receiving games with 8, added 6 touchdowns, and recorded a mind boggling 89 targets during that span. While Thielen owners were rejoicing over the start to the season, fantasy seasons last longer than 8 weeks. And that's too bad, as Thielen's second half looked nothing like the first.

Over the final 8 games of the season, Thielen only had one more double digit game, and scored only three more touchdowns. The offensive inconsistency threw the Vikings into a tailspin from which they couldn't recover. Despite the amazing start, it's more than likely Thielen's poor second half cost those same teams fantasy titles.

All is not lost however! While I do think 2018 will likely go down as Thielen's career year, there is plenty of reason to believe he's still worthy of being a WR1 in fantasy. He's a format all-star, as he's sure to pace the Vikings in receptions for the 3rd straight year, and is sure to push for 6+ touchdowns and 1200 yards. Thielen showed a great rapport with Cousins last season, and his technical and physical gifts make him impossible to completely shut out. He might not be exciting, but he is as reliable and productive as any receiver in the league, and you are still likely to nab him with great value in your draft.

TE Kyle Rudolph
(2018 TE Rank No.9, 5.5 FPts/G)
I'm not quite sure why there was such a commotion over Rudolph this offseason. There was trade talk around the draft, then some talk of releasing him as well. In the end the Vikings decided to ink him to a contract extension that pays him in the top-5 at his position. That seems like a big chunk of change for very mediocre player, but I get that the team is in "win now" mode.

There was some hype about Rudolph's potential to return to top flight fantasy status last season with the addition of Kirk Cousins. Over the early career injuries woes that plagued him nearly annually, Rudolph went out and pretty much replicated his 2017 reception and yardage numbers. The biggest dip came in touchdown production, where the usually adept red zone receiver hauled in only 4. As the de facto No.3 receiver on this team, Rudolph is going to again be a TE1 option, abet an underwhelming one, especially if the touchdown floor remains under 5. There are simply better upside options at the bottom of this fantasy position. I wouldn't factor in the addition of Irv Smith in the 2nd round this year into Rudolph's 2019 value, as the rookie still has to develop.
>