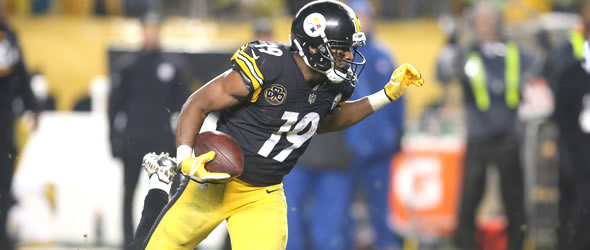 Can JuJu Smith-Schuster live up to his WR1 value with Antonio Brown not around to draw coverage?


Roethlisberger has typically remained on the fringes of high level fantasy quarterbacks. He's someone you always begrudgingly draft, but usually end up happy with the final production. If you waited on Ben last year, then you got some fantastic value, as he easily had his best statistical season as a pro, throwing for career highs in yardage and touchdowns. It's not often players have their best season in their 15th year, but Big Ben did just that despite not having Le'Veon Bell for the season, and dealing with a perpetually irritated Antionio Brown.

For all the might and majesty Ben had as one of fantasy's best quarterbacks, the Steelers missed the playoffs and then shipped out one of the best receivers of all time. With Bell and Brown gone, the Steelers offense now revolves solely around the final Killer B. Can Roethlisberger replicate the big numbers with a very talented, but inexperienced group of skill position players? I feel very comfortable in saying that a repeat of last year's numbers is borderline impossible. For one, Ben played a full 16 games for only the third time in his career, and no one is going to make me believe that removing Brown from the offense is somehow going to make the Steelers better. Yes, the offensive line is still one of the best in the league, but there isn't a stud veteran (Brown, or Bell) that this team can feed the ball to. I think this offense hits some rough spots as their young guys learn to deal with the increased attention and pressure and Ben regresses statistically as he's guided into a more conservative gameplan. With Brown gone, I think the Steelers play more "team" ball and lean on the ground game and defense more than they have in the recent past.
RB James Conner
2018 RB Rank – No.6, 17.3 FPts/G
In a longtime keeper league last season I kept Bell, and then kicked myself for "reaching" for Conner in the middle rounds of the draft. I didn't want to get left with my pants down should Bell miss the first few games. Well you know by now how things turned out. Conner went out and set the fantasy world on fire, scoring 13 touchdowns and piling up nearly 1,500 total yards. A late season injury cost him a few games, but savvy fantasy owners might have learned a lot during those missed games.

This might be controversial, especially with Conner being a borderline top-10 pick in early drafts, but I think he is an average player that had the benefit of being a bell-cow on a team with an elite line, scheme, and receiving core. While he showed more wiggle and speed than in his first season, nothing about his running style or play jumps off the page. He benefited greatly from hogging the teams running back snaps (83% of the running back touches went to Connor), and he had the 2nd most goal line carries in the NFL with 13. One of the long standing knocks against Bell was that he was simply a product of the system. It seems possible, as college h-back Jaylen Samuels was able to step right in for Conner late in the season and put up some impressive numbers.
The bottom line here is that Conner remains the RB1 on an offense that has been dominant for the better part of a decade. I just think there was a perfect storm of consequences for Conner to put up the numbers he did last year, and it's going to be very hard for him to repeat his top-10 finish.
RB Jaylen Samuels
2018 RB Rank – No.57, 7.3 FPts/G
Samuels falls into a common tier of fantasy backs. He's a handcuff that will be a volume driven RB2 should Conner go down, but doesn't have the talent or pedigree to truly challenge for meaningful snaps. Yeah, he was mighty impressive in a late season game against the Patriots, and was decent in Weeks 14 and 16 when Conner was banged up, but when the chips were down in a must-win Week 17 game, Samuels was out-touched 17-9 by a returning Conner. The Steelers added Benny Snell to the mix in the 4th round of the draft, but he's a big effort, limited athlete who projects to be nothing more than a backup. Samuels should see more early season work this year than last, but it simply won't be enough for fantasy relevance short of an injury to Conner.
JuJu put an end to anyone who thought his 2017 rookie year was a fluke, as the former USC Trojan finished 6th in the NFL with 111 receptions, 5th in yardage with 1,426, and tacked on 7 touchdowns for good measure. Smith-Schuster has made a living during his first two seasons feasting on single coverage as the defense focused on Antonio Brown. JuJu emerged as a go-to receiver for the Steelers last year, and has had a historical start to his career. He's been as consistent as they come, and now slides into the lead dog role in this passing game with the departure of Brown. His current mid-2nd round ADP reflects this, but there is a big question mark to consider before making JuJu an automatic selection.

He's played exactly one game in the NFL as the focal point of the passing game, and that came in Week 17 last season when Brown was "out with an injury". It didn't go well. He caught only half of his ten targets, and while he did score, he only tallied 37 unexciting yards. The big unanswered question here is whether the third year receiver has the route running discipline to get open against the double coverages once reserved for his temperamental former teammate. He's got a good rapport with Big Ben, but I still believe this offense will spread the ball out more than they have in the past. Young, highly picked receivers James Washington and Dionte Johnson figure to be in the mix, and the Steelers also added veteran Donte Moncrief in the offseason. JuJu's role and two-year production makes him an easy WR1 candidate; I'm just not sure he slots into an automatic replacement for Browns numbers.

WR James Washington
2018 WR Rank - No.124, 2.3 FPts/G
Aside for a few 60+ yard games late in the year, Washington had very little impact in his rookie season for the Steelers, but that should change in a big way in 2019. Washington could step into the No.2 role opposite Smith-Schuster, and that would be an immediate boost to his production and fantasy value. Washington has the draft pedigree and collegiate production to push Donte Moncrief for the scraps behind Smith-Shuster. Although he only saw 38 looks and hauled in 16 of them, Washington flashed in the preseason, and did score in the season opener. I'm sure the Steelers are hoping to spread Browns bevy of departed targets around to a host of guys on the offense, and Washington has a chance to return WR4 value if he can grab a significant role.

WR Donte Moncrief
2018 WR Rank No.55, 5.3 FPts/G
On his third team in three years, the former 3rd round pick of the Colts had a bit of a career resurgence last year on the Jaguars. Stuck on a sputtering offense with a bad quarterback, Moncrief still managed a respectable 48-668-3 line over 16 games. Inked to a fairly hefty deal in March, Moncrief instantly becomes the elder statesman in a receiver room packed with young, developing players. While Moncrief has never jumped off the page in his career, he gives Roethlisberger a reliable presence, and with the money they gave him, the Steelers clearly expect him to see plenty of snaps. Although he lacks the upside of the younger guys on the roster like Washingston and rookie Diontae Johnson, I feel Moncrief could be the best value pick among all of the Steeler receivers. With Brown's 166 targets to be replaced, Moncrief could be in line for 80+ of them, making 50 receptions and 700 yards a possibility.
In an effort to be thorough, and because this offense has a boatload of targets and receptions to be replaced, I want to mention Johnson. The 3rd round pick from Toledo has a chance to carve out a significant role on the team this season, but I just don't think much of it will result in fantasy production. Johnson has great quicks and burst, but he's a raw route runner and will need time to develop, much like another MAC receiver drafted by the Steelers years ago. Most of his impact in 2019 will come as a returner and gadget weapon on offense. Keep an eye on offseason reports, as he doesn't exactly have a stable of all-pros ahead of him on the depth chart, but for now he's a wait and see.
TE Vance McDonald
2018 TE Rank - No.12, 5.7 FPts/G
I could sense last year that this offense was tailor made for McDonald's strength and athleticism. Not only did he emerge as a threat down the seam, his flair for dramatic, punishing runs after the catch fired up this offense. Now more than ever the Steelers offense needs a reliable receiver at tight end. With the departure of Antiono Brown, and with the additional exit of Jessie James, McDonald has a tremendous opportunity. In 2018, McDonald was able to play 15 games, and put up career highs in receptions (50) and yards (610), and I feel like those are his floor if he can stay healthy this season. He finished just outside the top-10 at the position last year and is frankly one of my favorite value picks at tight end in 2019. There are targets to be had in the Pittsburgh offense, and I think Vance is the biggest beneficiary, putting him in my TE1 crosshairs.