QB Aaron Rodgers
2019 QB Rank - No.12, 20.5 FPts/G
New coaching staff for the first time in a decade, age, injuries catching up, whatever it was, it all added up to the worst statistical 16-game season in Rodgersís career. Toss in the fact that the Packers got mauled in the NFC Championship Game, and then TRADED UP for his replacement in the 1st round of the draft, and you wouldn't blame Rodgers for being a bit salty about the events of the last year.
It was very strange seeing the future Hall of Famer finishing the season toward the bottom of the QB1 rankings, but perhaps that's what the fantasy world should get used to. A few things are evident from the new front office and coaching regime. This offense is more run-game centric than they have been at any point in his career and they are adding personnel that matches this philosophy. No significant money or draft capital was spent on the passing game. Aaron Jones was one of the best all-around backs in the NFL last season, and the Pack spent a 2nd round pick on running back AJ Dillon from Boston College. Rookie Head Coach Matt LaFleur installed a run game that saw the Packers go from the fewest rushing attempts in the league in 2018 to the 13th most in 2019. And you honestly canít argue with the results. In his first season LaFleur led Green Bay to a 13-3 season and an appearance in the NFC title game.

2019 was the first steps in the remaking of the roster and offensive philosophy of the Packers. They are going to be a more balanced offense, and Rodgers will have to improve on his efficiency if heís going to see a jump in stats over last year. At times last season he looked very uncomfortable, but I expect a second year in the system will help, as will a full healthy season from Davante Adams - remember, he missed 4 games and the receivers behind him were not ready. Iím not ready to write off Rodgers as a fantasy stud just yet, as he is going to play with a giant cinderblock on his shoulder this season and has plenty of talent left to dominate. There are some incredibly talented, high-upside young players at the position, but I still take Rodgers and his weekly high floor to give me an advantage. The wheels might not be what they used to be, but that arm looks fine.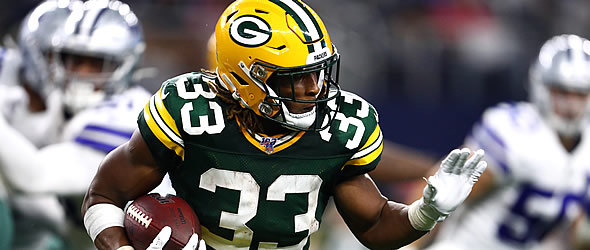 RB Aaron Jones
2019 RB Rank - No.3, 16.9 FPts/G
Iím going to bet that Jones won a bunch of fantasy championships last year, as 1,500 total yards, 19 touchdown seasons will have a tendency to do that. Held back by health and opportunity his first two years in the league, Jones exploded last year, becoming the centerpiece of a 13-3 playoff team. His 16 rushing touchdowns doubled 2018ís total, and tied Derrick Henry for the NFL lead. His monster Weeks 5, 8, and 10 likely put fantasy owners in the win column, but were balanced out by his mega duds in Weeks 6, 12, and 13.

So while 2019 was a revelation for the former 5th round pick, what does 2020 bring? Oddly, some question marks. Of all the backs who finished in the top-5 in standard scoring last season, his 285 total touches were by far the fewest, which means he was incredibly efficient and touchdown dependent, which are two areas that are exceedingly difficult to duplicate. So if the efficiency numbers are a good bet to regress, that means in order for Jones to repeat his top-3 finish, heís going to need more touches. Well bad news, the Packers used a 2nd round pick on running back AJ Dillion, and while not suited for a three-down role, is sure to eat into the rushing total pie. With last-yearís back-up Jamaal Williams still around, Jonesís understudies could be looking at nearly 200 carries between them, and with the Packís improved passing game, I just donít see a way that Jones tops the 236 carries from last season.

So listen, Iím more than happy to have Jones anchor my running backs as an RB1, but a finish in the 8-12 ranking seems much more realistic.

RB AJ Dillon
2019 RB Rank - N/A
The selection of Jordan Love in the first round rightly opened some eyes. But flying under the radar was the selection of Dillion in the 2nd round, despite having a 25-year old stud in Aaron Jones already on the roster. As I said earlier in this column, the new regime in Green Bay is looking long term. The selection of Love and Dillion are luxury picks for the future, not assets that will move the needle toward a title in 2020. Another strong season by Jones, who is in the final year of his rookie deal, likely means Green Bay gets priced out of his services long term. Dillion is a bargaining chip they can use or an alternative they can fall back on.

This is a fantasy article, not a front office simulation, so what, if any value does Dillion bring to your team? Well if you are a Jones owner, I think heís definitely a priority handcuff. His elite athleticism and size, (4.5 40-yard dash time) and production at Boston College certainly shows heís got a chance to be a starting caliber player. But the fact he didnít break many big plays, or catch many passes (21 in his B.C. career) means that heís likely slated for a two-down role at the NFL level. If Jones were to miss time, Dillion would immediately have RB2 value, but would be looking at a committee situation with veteran Jamaal Williams. Unless Iím a Jones owner Iím probably not picking Dillion in a non-dynasty league, but if heís still sitting there late in your draft heís worth a roster stash.

RB Jamaal Williams
2019 RB Rank - No.37, 7.7 FPts/G
The added emphasis on the running game and using backs as receiving threats certainly helped Williams greatly last season. Despite playing second fiddle to starter Aaron Jones, Williams racked up over 700 total yards and 6 touchdowns, numbers good enough to ensure fantasy roster value the entire season. And while he should hold on to No.2 duties at least to start to the year, 2nd rounder Dillion us sure to eventually eat into his rushing opportunities. Williams is a solid role player, but offers little upside as a playmaker, as his 4.3 yards-per-carry average last season was a career high. Bolstered by a surely to regress 5 receiving touchdowns in 2019, itís hard for me to envision a scenario where Jones and Dillon stay healthy, and Williams comes close to his numbers last season. Because the offseason is and will be tricky, experience will give WIlliams the leg up to start the season, but expect to see him on waivers in many leagues by mid-year.
WR Davante Adams
2019 WR Rank Ė No. 30, 10.8 FPts/G
There isnít much examination necessary when it comes to Davante Adams. On the cusp of breaking out for years prior to his monster 2018 season, 2019 looked to be the year that Adams planted his flag firmly in consistent WR1 territory. While missing four games with a leg injury suppressed his final numbers, he still remained one of the more dominant receivers in the game.
His 10.8 FPts/G average put him in the top-10 in standard leagues, and his 83 receptions in only 12 games put him on a 110 reception pace. He then bullied defenses at the end of the season, finishing with four 100-yard games in his final five, including dazzling numbers in the playoffs, where he gave Seattle and San Francisco fits.
Adams is the undisputed No.1 option in this Green Bay passing game. Most importantly he has the trust and rapport with Rodgers that ensures heíll be the first look in most situations. Adams is one of the more sure things in the fantasy world, and will be one of the first two or three receivers off the board in every format.
The drop off from Davante Adams is steep and swift. Widely expected to add a difference-making receiver via free agency or the draft, the Packers bucked conventional wisdom and instead opted for reclamation project Devin Funchess. The former Panther by way of the University of Michigan, Funchess had a tremendous third pro season when he popped off for a 63-840-8 line. He regressed the next season, and a broken collarbone basically stole his entire 2019.
Going into 2020, Green Bay is relying on the resurgence of Funchess and the continued development of undrafted free agent Allen Lazard to bolster the passing game. I actually really like the Funchess addition, as he gives the pass offense another big body (6í4íí, 225) and red zone threat. One reason Jones and Williams combined to catch 8 touchdown passes was the lack of a player who could post up and make contested catches near the goal line. Teams would blanket Adams and take their chances everywhere else. With Adams and the offensive philosophy limiting his targets, Funchess will have to find the endzone 5+ times to return value, but I really think he has a chance to surprise. Funchess is going undrafted in early mocks and thatís even more reason to take notice. With little established talent in the passing game beyond Adams, Iíd be more than happy to nab Funchess at the end of the draft.
WR Allen Lazard
2019 WR Rank Ė No.69, 6.2 FPts/G
A pleasant surprise for the Packers last season, the former UDFA signed a one-year extension this offseason. Likely thrust into a role he wasnít quite ready for due to injury and roster limitations, Lazard did provide a spark at times in his first season as a starter. With a similar build, but more physical game, I expect that Funchess will push Lazard down a peg on the depth chart. Early mock drafts have Lazard being taken before Funchess, but I expect that might flip-flop come late summer. With some other young talent in the receiving room vying for scraps behind Adams, Iím not sure this offense can really support more than one consistent fantasy option behind the big dog. For my money Iím going to put my stock in Funchess and his previous (albeit limited) production and draft pedigree.
Man the NFC North has been a wasteland of fantasy tight end talent! While Green Bay, Detroit, and Minnesota have some potential talented young guys, I canít say that this is a position of strength for this division. Sternberger, the teamís 3rd round pick in 2019, played only a sniff last year because of an ankle injury, registering just 4 targets in a season he didnít play in until Week 14. If not for the injury, many thought Sternberger would have been an upgrade on former starter Jimmy Graham, so here we are in 2020, as Sternberger finds himself atop the depth chart. If you are looking for a deep sleeper at tight end, look no further.

Sternberger is a smooth as silk route runner with an expansive route tree and soft hands. He was dominant in his final season as Texas A&M, compiling a 48-832-10 line. That 17.3 receiving average tells me he can get down the field in a hurry, and on an offense that is begging for receiving threats to take pressure off of Adams, Sternberger is up for it. Green Bay has talked up their young tight end all off-season, so if he can prove to be a capable enough blocker, and earn the trust of his quarterback, he could catch upwards of 50 passes. Those chances would be plenty enough to bring him to fantasy relevance for a bargain basement price.