QB Kirk Cousins
(2019 QB Rank Ė No.19, 19.8 FPts/G)
After years of making a fantasy living off of high passing volume, Cousins' numbers plummeted across the board last year as the Vikings committed to running the ball more and Adam Thielen missed six games with a hamstring injury. His attempts, yardage and touchdown totals were the fewest since he became a full-time starter in 2015.

A clear QB2 for most of the year last year, the bottom really fell out for Cousins from Week 14 on. He barely scraped together double digit points, and in a loss to the 49ers in the Divisional Round he could barely complete a pass past the line of scrimmage, rolling up a sad 6-yards-per-attempt. So while the lower passing numbers got the Vikings to the second round of the playoffs, they still fell short of a conference final, and Kirkís fantasy value went into the toilet. Can we expect a repeat or rebound in 2020?
This funky offseason should be manageable for the Viking offense. NFL lifer Gary Kubiak enters his 25th season in the League, and was the Minnesota Assistant Head Coach and Offensive Advisor last season so you know he had a big hand in crafting the offense. Now built around the legs of Dalvin Cook (more on him later), Cousins and the Vikings do have a gaping hole at receiver with Pro Bowler Stefon Diggs shipped off to Buffalo and replaced by rookie Justin Jefferson. How quickly Cousins and Jefferson can develop chemistry with little work prior to training camp will be big. Diggs was a deep home run threat, while Jefferson is more of a surgical slot receiver, so Cousins is sure to miss the nearly 18 yards per reception Diggs gave him last year. Another factor throwing a wrench into any analysis for Cousins in the status of Dalvin Cook. Currently threatening a hold-out unless he gets a new deal, the entire offense gets a downgrade if he misses games.

There are simply too many moving parts for me to trust Cousins as a QB1 this year. With Diggs and former coordinator Kevin Stefanski both gone, and a rookie being counted on for a big role, itís hard for me to envision Cousins greatly surpassing his 2019 numbers. Short of Cook holding out for the season, or injuries ravaging the backs, I think 450 passing attempts is right where Head Coach Mike Zimmer wants to be.

RB Dalvin Cook
(2019 RB Rank Ė No.5, 17.4 FPts/G)
Seeing Cookís breakout 2019 coming was truly one of the easiest fantasy calls in a long time. With the holy fantasy trinity of elite talent, workhorse role, and relative health, Cooks dazzled for much of the season, finishing in the top-10 in every relevant statistical category for running backs. He and Christian McCaffery were the only backs in the NFL to tally 1,100+ yards rushing, 500+ yards receiving and score double digit touchdowns. Incredibly consistent, Cook tallied all of his stats without ever having a 30-point standard league game!

Sure the season ending loss to the 49ers was an unmitigated disaster (26 total yards on 17 touches) and he still has to work with a below average line, but Cook is easily in the top-5 conversation again this year. I canít play what-if games with his contract, so letís assume that works itself out. Kubiak has stated this week that he isnít concerned with any time Cook might miss because he knows the system so well. With the offense breaking in a rookie receiver, there is room for those 303 touches from last season to rise. As one of the very few three-down workhorse backs in the NFL whose talent justifies it, there arenít many fantasy picks better at the position.
RB Alexander Mattison
(2019 RB Rank Ė No.55, 4.6 FPts/G)
While he was never called on for more than mop-up or breather duty, Mattison did well to live up to the hype he got last offseason. The former 3rd round pick put together a strong 4.6 yards-per-carry average on his 100 attempts, and showed heís more than capable of filling in if Cookís threat to hold-out comes to fruition. Mattison is one of the few MUST HAVE handcuffs in fantasy, both because heís actually got starting caliber talent, and heíll likely get a largely undisputed role if Cook isnít playing. There is always that one owner who likes to grab back-up runners with upside, so if you own Cook be prepared to pay a draft premium for peace of mind.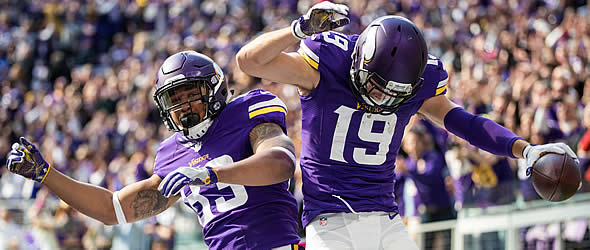 WR Adam Thielen
(2019 WR Rank Ė No.55, 8.4 FPts/G)
He was already going to have a tough time duplicating his historic 2018 season, so being a victim of a more run oriented offense in the first half of the season, then playing at less than 100% during the second half and missing 6 total games was too much to overcome, in what was largely a disappointing fantasy run in 2019.

Sure, there were flashes of the possibilities in Week 5 and the Wild Card round, but everything in between was a mess. In the other 10 games he did play in, Thielen went over 60 yards only once, actually had three games where he failed to reach a full point in standard scoring leagues. But an extremely down year could be a blessing in disguise for a player who had been one of the best values in fantasy football before last year.
With the departure of Diggs, Thielen instantly becomes the unquestioned WR1 for the Vikings. With a likely kick to the outside to let Jefferson take over the slot, Thielen should run more of the downfield routes in the offense, leading to more big plays. One positive takeaway from last season was the 6 touchdowns he managed to score in 10 games, meaning double digit scores this season are a decent bet. The passing volume in the offense is unlikely to return to pre-2019 form, so hoping Thielen sees 150+ targets is probably a pipe dream, but the departure of Diggs does leave 94 unaccounted for targets. He should be a back-end WR1 in PPR and standard scoring leagues that you can get value on.
With a high football IQ, experience in a pro system, and elite physical fights, Justin Jefferson was a dynamic force from the slot last season at LSU. Widely considered the best slot receiver in the draft, I would argue that Jefferson has a chance to be the most consistent fantasy receiver out of this yearís rookie class. His ability to make contested catches, and his 4.4 speed mean the Vikings can use him and Adam Thielen all around the formation, and with little impact talent behind him on the depth chart, Jefferson is going to get plenty of chances to show his stuff. Although rookie receivers typically have a hard time adjusting to the speed and complexity of NFL defenses, four rookies (Metcalf, McLaurin, Samuel, and A.J. Brown) last season were fantasy difference makers right off the bat. I think 50 catches 600 yards and a few scores is the absolute floor for Jefferson this season. Being picked near the overall WR60 in early drafts, I think he has a chance to finish higher than that come seasonís end, and will be a serviceable WR3 on many teams come mid-season. Heís got talent, opportunity, and a better than average quarterback, three things the other higher profile 1st round receivers canít all claim.
TE Kyle Rudolph
(2019 TE Rank - No.15, 4.8 FPts/G)
TE Irv Smith
(2019 TE Rank - No.39, 3.1 FPTs/G)
Largely a "start and hope for a touchdown" fantasy play in 2019, Rudolph's reception and yardage numbers took a nosedive along with the Vikings' passing volume. Entering his 10th year in the league, Rudolph provides the offense with a strong blocker, or solid red zone target, but zero playmaking ability or explosion. Look for last year's 2nd rounder, Irv Smith, to take over more of the receiving work from the tight end position. Raw and in his rookie year, Smith still had only 1 fewer target than Rudolph and flashed at times. As long as Rudolph is around, Smith's upside is capped, but with 94 targets left behind from Diggs, Smith is sure to claim some of that pie and see an uptick in opportunity. All things considered, if you are going the streaming route, or drafting for TE2 potential, roll with the guy with the higher ceiling, and for me, that's Irv Smith.