QB Jared Goff
(2020 QB Rank - No.16, 20.8 FPts/G)
Since 2016, the year I started doing the NFC North Outlooks, this is the first time a name other than Matt Stafford is in this section. Say what you will about his inability to get the team a playoff victory, but during his time in the Motor City he played with guts and heart week in and week out, and even had a few dominant fantasy seasons. With Stafford given an opportunity to restart in LA, perennial punching bag Jared Goff steps in to lead the moribund Lions in 2021.

In a stunning offseason trade that saw two 1st overall quarterbacks get swapped (with a few draft picks thrown in for good measure), Goff gets freed from the glitzy expectations of a team trying to get back to the Super Bowl, to a Detroit team in the infant stages of yet another rebuild. It's not that Goff has been a bad quarterback, but he simply hasn't lived up to the price the Rams paid in the 2016 draft. To his credit, he did lead the team to a Super Bowl and a few playoff wins, but there just wasn't confidence he could get the team further. Goff's lack of field stretching physical ability, both at runner and thrower, means his production is largely dependent on what the defense gives him, and what his players do with the ball after they catch it. Despite the likelihood of many 2nd half deficits to take advantage of, Detroit replaced Kenny Golladay and Marvin Jones with castoffs Tyrell Williams and Breshad Perriman, and the team's most reliable receivers are a tight end and a running back.
Goff couldn't get it done and was run out of L.A., and despite what the Lions might say, he's a bridge quarterback at best. Those long Michigan winter nights are going to be a far cry from the sunshine and bright lights of Los Angeles. A combination of limited talent and subpar weapons is not a recipe for fantasy success.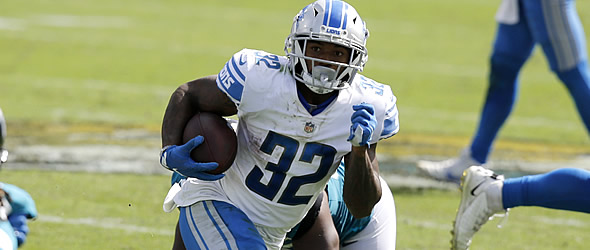 RB D'Andre Swift
(2020 RB Rank - No.19, 11.4 FPts/G)
Swift put it all on display in an oddly frustrating rookie year. It started with an inauspicious debut in Week 1 against the Bears, when despite scoring on the ground, tallied only 23 total yards and dropped the winning touchdown in the endzone with only seconds left. This minimal role continued over the first quarter of the season, but a breakout in Week 6 really showed how Swift could function and succeed in this offense. From Week 9 on the Lions finally gave their rookie back a consistent featured role as Swift rattled off four double digit scoring games over his last five weeks.

A big roadblock to Swift's playing time in 2020 was the presence of the grizzled vet Adrian Peterson. His offseason release is certainly good news for Swift, but the signing of Jamaal Williams isn't. While I expect Swift to be the focal point of the offense, this is a bad football team that is likely to have very few 4th quarter leads to salt away with the running game. With few real threats in the passing game, defenses will be able to load the box on early downs, and the presence of Williams and his all-around game is sure to cap Swift's upside. Despite the negativity, I do think Swift has a 50 reception floor and as the best playmaker on the team has double digit touchdown upside. Just be aware that Williams is going to be a weekly wet blanket to Swift's yardage, and be satisfied with RB2 production.
RB Jamaal Williams
(2020 RB Rank No.42, 6.6 FPts/G)
Interested in 800 total yards and a few touchdowns from your RB4? Well then sign up for a few shares of Jamaal Williams! Since joining the Packers as a 4th rounder in 2017, Williams has been the consummate committee back, averaging about 450 yards on the ground and 230 more in the air per season. Solid, but unspectacular, Williams joined the Lions this offseason, and figures to fill the "Robin'' role to D'Andre Swift's "Batman". The Lions are going to lean heavily on this backfield so there will be a path to weekly touches for Williams. He would have a major role should Swift miss time, as he's proven to be able to handle a starting role when called upon. Another perennial underrated fantasy asset, Williams is more than just an obvious handcuff for Swift owners.
We've officially arrived at the murkiest position group in the NFL, the Lion wide receivers. Let's start with Tyrell Williams who arrived on a 1-year deal this offseason after a short stint with the Raiders. Williams missed all of the 2020 season with a torn labrum, and now finds himself as the defacto No.1 receiver on a bad team with a limited quarterback. Williams has been nothing more than a complimentary deep threat during his time in the NFL, and seems a bit miscast in this offense. On the positive side, he should see a boatload of targets for a team likely to be trailing quite a bit, and if he remains fully healthy, should have no problem surpassing his career high of 119 targets. Can a heavy volume and the familiarity with his old coach Anthony Lynn be enough to make Williams one of the best receiver values in fantasy? I actually think it can. He's big, fast, and should be healthy enough to reach some surprising production. Missing the 2020 season, and being stuck in Detroit means you'll likely be able to steal a serviceable WR3 really late in your draft. With little investment, and a potential big role in the passing game, don't sleep on the upside of Williams.
WR Breshad Perriman
(2020 WR Rank – No.70, 5.8 FPts/G)
Another likely one and done receiver signing for Detroit is the mercurial Breshad Perriman. Possessed with an abundance of speed, and inability to stay healthy, Perriman profiles as another outside deep threat along with Tyrell Williams. The Lions needed some warm, cheap veteran bodies to run around the secondary as they begin their obvious rebuild, and Perriman will serve that purpose nicely. Perriman will occasionally flash with a 60+ yard touchdown, then return to earth with a 2-23 line the following week. Then he'll miss a few games with a soft tissue or lower body injury. About to join his 5th team entering his 6th season in the NFL, Perriman will need close to a full season of playing time to really be fantasy relevant, and there just isn't any reason to believe that's going to happen. He'll be an easy player to phase out later in the year when the season has become lost, and will likely be waiver fodder by that point.
TE T.J. Hockenson
(2020 TE Rank – No.5, 6.8 FPts/G)
Hockenson made a huge leap in his 2nd season, finishing 2nd on the Lions in targets (101), receptions (67) and yardage (723), and figures to improve upon those numbers in 2021 with the loss of Detroit's top two receivers. While Williams and Perriman are better suited as situational deep threats, Hockenson figures to soak up the short and intermediate targets, an area of greater strength for Jared Goff. On an offense that figures to be run-heavy, and mediocre at the same time, the cap on Hock's scoring potential is the only thing keeping him from joining the truly elite fantasy tight ends. He should certainly thrive in PPR leagues as he's my bet to lead the team in targets and receptions. Outside Kelce, Kittle, and Waller, the tight end position is as fickle as the weather, so Hockenson has as good of a chance as any to find a home in the top-8.