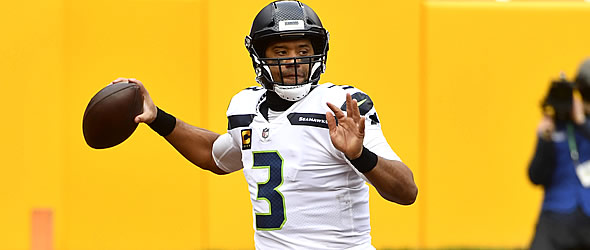 Publicly Russell Wilson and the Seahawks played nice, saying all the right things and keeping a modicum of professionalism in the face of overwhelming inevitability. The trade that has been in the works behind the scenes for a year-plus finally came to fruition this week, and boy does it have far rippling fantasy impacts for Russ and the Broncos.

Few rosters have more young, dynamic skill players on offense than Denver. While Courtland Sutton, Jerry Jeudy, and Tim Patrick lack the raw athletic talent of DK Metcalf and the veteran savvy of Tyler Lockett, the trio can threaten all levels of the field, and will only develop faster with Wilson behind center. Joining Wilson in the backfield is the duo of Melvin Gordon (FA) and electric Javonte Williams, who is coming off an impressive rookie campaign (1200+ total yards, 7 touchdowns). Both backs are adept receivers in their own right, and help to ensure Wilson isnít forced to carry the full burden of the offense like he was asked to do at times in Seattle.
A good part of the reason Wilson likely wanted out of the Northwest was the Seahawks total inability to field a competent offensive line. Heading into the 2021 season, Wilson had been sacked a whopping 146 times from 2018-2020, making up the three highest sack seasons of his career. While that number ďdippedĒ to 33 last year, keep in mind Wilson missed three games and Seattle lacked significant cap space or draft capital to turn that moribund unit around quickly. The move to Denver represents a slight upgrade in pass protection, (25 sacks allowed) but Wilson wonít exactly be playing behind a fortress, and that is where I see a potential rainstorm on the parade. A freak finger ligament injury cost Wilson the first missed games of his career last season, but strangely Wilson was on pace for one of his lowest rushing totals. His 183 rushing yards were by far the fewest heís had in a season in the NFL, and a loss of mobility and rushing upside could greatly alter his fantasy production.

All things considered, the trade to the Broncos represents a significant opportunity to return Wilson to elite fantasy production. The move should infuse the quarterback and the franchise with an energy they havenít felt since Peyton Manning retired and the offensive scheme Head Coach Nathaniel Hackett brings from Green Bay should fit Wilson perfectly. Since there wonít be pressure to force feed receivers in Denver, and the run game should ensure defenses canít sit in Cover-2, Wilson can and should return to elite levels of efficiency.

Popular belief is that the only thing holding this offense back was a competent quarterback. I guess that theory will be put to the test in 2022 and Iíll be ready to take a few kicks at the can with Wilson this fantasy season.