QB Joe Burrow
2021 QB Rank - No.7, 24.4 FPts/G
There are second year leaps, and there is what Burrow accomplished in 2022. Expectations were cool for Burrow and the Bengals, as the former 1st overall pick worked his way back from a devastating rookie year knee injury. We all know those expectations were shattered as Burrow and the Bengals rolled all the way to a 3-point loss in the Super Bowl.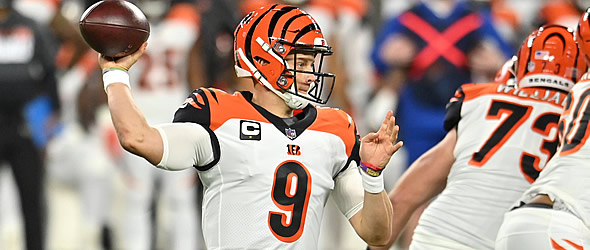 Scarily enough, this offense should have plenty of room to grow if the protection can improve. Burrow was sacked an unsustainable 51 times last season, and it became a meme by the time the season ended. That said, the main cogs in this offense are in their mid-20s, and Burrow gets a healthy offseason to continue to build chemistry with the receivers. The threat of the Super Bowl hangover exists, but this is a young team oozing with swag, so the improved teams in their division and increased expectations should supersede any residual effects from the tough loss. Burrow easily led the NFL in yards-per-attempt last season, and while thatís a stat you canít count on year-to-year, big plays should remain a large part of the passing game with Chase and Higgins outside. Short of a rash of injuries to their skill position players (they arenít deep at receiver especially), Burrow should flirt with 40 touchdowns and 4,500 yards, numbers that squarely put him in the top-5 conversation.
RB Joe Mixon
2021 RB Rank - No.3, 15.5 FPts/G
Like many guys on this offense, Mixon enjoyed a career year in 2021. His 292 attempts, 1.205 rushing yards, 314 receiving yards, and 16 total touchdowns were all career bests, even as Mixon ran behind one of the worst lines in the NFL. Efficiency has been a major problem for Mixon in his career, but that should change big time this season, as Cincinnati added three major pieces in free agency. Mixon should again dominate carries, so the floor there is safe. The biggest concern comes in the passing game, as the coaching staff seemed to lack trust in Mixon on 3rd downs and obvious passing situations, famously culminating in the sloppy final two plays in the Super Bowl. Samaje Perine and Chis Evans have both proved to be capable receivers, so a drop in Mixonís 42 receptions wouldnít be a surprise. An improved line, and the complete absence of stacked boxes should pave the way for Mixon to pile up numbers on the ground, but a diminished role in the passing game, and potential touchdown regression push him out of the top 5, but still in the top-10 in all formats.
RB Samaje Perine
2021 RB Rank - No. 63, 3.7 FPts/G
The blueprint for this offense has been established, and Perine, the 6th year vet, looks to retain his role as breather/passing down back. Perine maxes out as a replacement level player, and might actually be pushed for playing time by the more explosive Chis Evans if the coaching staff can build more trust in him. Perine isnít even an exciting handcuff for Mixon as the Bengals have never been interested in using him as a 1-1 replacement. If Mixon were to fall, this would be a full blown 2- or 3-man committee, and outside of the deepest leagues, itís hard for me to find a compelling reason to roster anyone in this backfield other than #28.
WR Tee Higgins
2021 WR Rank Ė No. 18, 10.4 FPts/G
Higgins has shown flashes of dominance over his first two seasons in the NFL, displaying elite body control and hands to go with his 6í4íí frame. He built on his solid rookie season by improving his reception and yardage totals while playing in two less games. Rookie teammate JaíMarr Chase stole the headlines (and rightfully so) last season, but Higgins had some week-winning games, finished on fire in the run to the Super Bowl, and should benefit greatly from the increased attention that Chase is sure to garner in year two. Whatís even more impressive about Higgins last year was that he did most of his damage with a torn labrum in his shoulder! Couple his health, with some positive regression in the scoring department, and a quarterback that isnít afraid to chuck it, and you have the recipe for a receiver ready to push into the WR1 conversation without having to pay the premium price of his teammate.

WR Ja'Marr Chase
2021 WR Rank Ė No. 3, 16.3 FPts/G
Coming off a year away from football, and with a great need at offensive line, some thought the Bengals made a mistake drafting Chase 6th overall last spring. After setting fire to the record books, and getting to the Super Bowl in Year 1, itís clear the Bengals made the right call. Chase dominated from the get-go, putting up a 5-101-1 line in his first game, and finding the endzone four times over the seasonís first three weeks. In Week 17 against the Chiefs, he put up one of the best receiving lines of all time, with 11 receptions, 266 yards and three touchdowns. The former LSU Tiger was a big play waiting to happen, scoring 13 touchdowns and averaging a gaudy 18.0 yards-per-reception. He was so good, that frankly, itís going to be extremely difficult to not only replicate, but also improve upon his rookie year numbers.
With Higgins and Boyd, there should be a continued split for target share, and itís hard to see Cinci passing enough for Chase to see many more than the 128 targets he saw last year. That ridiculous reception average is also a bet to take a dip, cutting further into his massive efficiency. Even with an anticipated regression, Chaseís talent, and quarterback situation make him one of the first receivers off the board in all formats.
WR Tyler Boyd
2021 WR Rank Ė No. 33, 7.2 FPts/G
While Chase and Higgins steal the limelight, Boyd is quietly the glue that keeps the offense chugging. The tough grabs on 3rd and 8 to keep scoring drives alive donít usually make the highlights, but the dirty work Boyd does for this offense canít be understated. Heís been a solid fantasy receiver for several years now, even though the motley crew of quarterbacks the Bengals would trot out. Heís averaged better than 7 fantasy points per game since 2018 and should make for a strong WR3 again this season, even if there is likely no clear path to an increase in targets.
TE Hayden Hurst
2021 TE Rank No. 34, 3.3 FPts/G
With C.J. Uzomah and his 63 targets off to New York, Hurst was brought in this offseason to solidify the position, and give Burrow another outlet in the passing game. The former 1st round pick of the Ravens in 2018, Hurst had a solid, if uninspiring two-year stint in Atlanta before joining the Bengals. Hurst should be a decent overall upgrade over Uzomah, especially as a blocker, but there isn't enough volume siphoned to the tight end position in this offense to realistically make him more than a TE2 option.