QB Aaron Rodgers
2021 QB Rank - No.8, 23.9 FPts/G
Capping off a 12-month period filled with more drama than a daytime soap, Rodgers finally signed the mega-deal with the Packers that will likely be the last of his career. This comes off the heels of another disappointing playoff exit, and the loss of one of the best receivers in the NFL. While much can be said and written about the drama Rodgers has caused and endured over the last few years, the loss of Adams is either going to deal a mighty blow, or be another chip on his mighty shoulders.

Swapping Adams and Marquez Valdes-Scantling for a fading Sammy Watkins and a 2nd round rookie from North Dakota State doesnít exactly seem like a boon to Rodgersís fantasy stock. Though he might not have been as locked in with his star receiver off the field as we thought, there is no doubt about the magic they had on the field. Short term, losing Adams hasnít seemed to be a problem for Rodgers, as over the last two seasons heís continued to rake with a 3-0 record and a 9-0 touchdown to interception ratio in the games Adams has missed. But a look back to the 2019 season, when Adams missed six games paints a much bleaker picture. Despite attempting the 3rd most passes in a season in his career (569), his yardage (4,002) and passing touchdown total (26) were well below his career averages for a full season.
The loss of Adams is going to be felt the most in the red zone where this duo was nearly unstoppable, and thus I expect a modest touchdown regression, and decrease in overall efficiency. Rodgers can spin the ball like few others even though heís tickling his 40ís, but that also means he offers much less value as a runner, as his scrambling numbers have declined several years in a row. His 101 yards on the ground last year are a career low since he became a starter in 2008. All-in-all Rodgers is still one of the best to ever sling it, but this season is going to be a true test. With less chemistry and reliability from his receivers, and with little upside as a runner, A-Rod falls to a low-end QB1.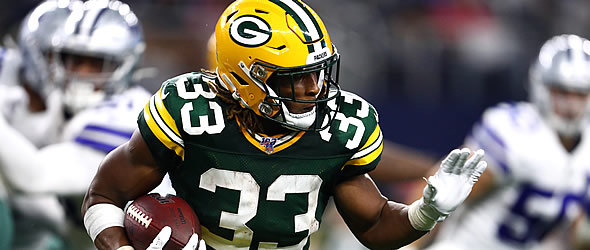 RB Aaron Jones
2021 RB Rank - No.13, 11.9 FPts/G
Sunny Skies: Jones, as the most trustworthy pass receiver on the team, soaks up targets from Rodgers and balances the loss of snaps to AJ Dillon by catching a career high number of passes. Gloom and Doom - Dillon continues to eat into his touch share with the offense becoming more conservative and ground based, and Jones becomes more of a RB2. These two possible roller coaster scenarios make Jones one of the more polarizing fantasy players this season.
Basically, it comes down to the league you are in. PPR? I think Jones easily sets career highs in receptions and yardage. Standard? Well, youíre going to be glum chasing his ground numbers from 2019 and 2020, as anything close to 200 carries is unlikely given the presence of Dillon. Whichever way your league scores, Jones is right in that RB1/2 range, as what he might lack in raw opportunity and upside, he can make up for with a strong floor.
RB AJ Dillon
2021 RB Rank - No.21, 9.0 FPts/G
2021 was the coming out party for Dillon. He led the Packers ground game with a team leading 187 rushes, 803 yards, and 5 touchdowns. He also displayed deft pass catching ability with 34 receptions for 313 yards. If the ascension to 1A status in the backfield seemed impossible after his rookie year, itís now a reality entering year 3. With the Packers entering a transition period on offense this season, I expect things to start out on a conservative slant. Itís crazy to think about the fantasy value this duo produced last year, but there lies the problem. The presence of Jones caps Dillonís value (and vice-versa), making it highly unlikely he can significantly improve on 2021ís numbers. While the upside is murky for Dillon, whatís crystal clear is that heís much more than just a handcuff for Jones. Heís going to offer standalone RB2 value, with possible elite production should Jones go down.
WR Sammy Watkins
2021 WR Rank Ė No. 97, 2.7 FPts/G
With Adams off to Vegas, it falls on newly signed Sammy Watkins to be the backbone of the passing game, and frankly thatís a scary position for Green Bay. Four teams, and seven years stands between now and the last time Watkins was a true difference maker on the field. Injuries and inconsistency led to flame outs in Buffalo, LA, Kansas City, and most recently Baltimore, so the chances Watkins suddenly returns to the dominant form he displayed in 2015 is highly unlikely. Fortunately for Watkins, the reality is that Green Bay lost over 220 receiver targets from last year and those have to be funneled somewhere. As the receiver with the most pedigree and experience in the room, IF Watkins can stay on the roster and eventually the field, he has a chance to return some tremendous fantasy value by leading this team in receptions.
WR Allen Lazard
2021 WR Rank Ė No.42, 7.3 FPts/G
Outside of Randall Cobb, Lazard has the most experience playing with Rodgers and if his three-game stretch to end the 2021 regular season is any indication, he could go a long way to filling in for Adams in the touchdown scoring department. Lazardís 8 touchdowns on 40 receptions in 2021 is obviously unsustainable, but his frame 6í4Ē, 227 gives him a huge advantage in the red zone. The days of this offense funneling 170 passes to one receiver are over, but #12 is still slinging it, and Lazard has as good of a claim as any to a chunk of those targets. There likely wonít be enough to make him a PPR asset, but in standard, or touchdown heavy leagues, Lazard is someone I wonít be afraid to go after.
Few can match the size (6í4Ē) speed (4.36 40-yard dash) combination of 2nd round rookie Christian Watson. Even if the production at North Dakota State doesnít pop, the measurables that Watson brings to the Packer offense do. Combine the physical traits with a strong work ethic, and serious opportunity, and you have a rookie receiver worth keeping an eye on. Can Green Bay rely on the vets to hold down the passing game, or will Watson be thrust into a prominent role early? Look for Watson to provide some early season sizzle as a deep threat. If he proves to be a quick learner as an NFL route runner, and become someone Rodgers can trust, he has the physical traits to dominate and become a fantasy asset down the stretch. With the most raw upside of any receiver on this offense, donít be afraid to reach for Watson in your drafts.
TE Robert Tonyan
2021 TE Rank – No.48, 4.1 FPts/G
Tonyan had his 2021 season detailed by a torn ACL in Week 8, but even before getting hurt it was extremely unlikely, he was going to match the numbers from his breakout 2020 season with only 18 receptions up to that point. Like several other pass catchers on this roster, what Tonyan lacks in pure talent he makes up for with technical skill, and familiarity with his fickle quarterback. Unfortunately, that's the best I can offer for his outlook. The ball is going to be spread far and wide in this offense, and combined with the return from a serious knee injury, Tonyan is looking like a mid-tier TE2 at best.