QB Mitchell Trubisky
2021 QB Rank - No.62, 2.1 FPts/G
For the first time in nearly 20 years the Pittsburgh Steelers will be holding auditions for their starting quarterback. The applicants? Mitchell Trubisky, who is now on his third team since being drafted 10th overall in 2017 and hometown rookie Kenny Pickett, the team's 1st round pick this year. Early in the offseason program it looks like Trubisky has the lead, but it's anyone's guess how long the lead will last as we get deeper into the summer. Trubisky's back-up level salary, and the fact the Steelers are very familiar with Pickett, mean they won't be shy picking the quarterback that truly gives them the best chance to win. This is a franchise that hasn't fully committed to a rebuild very often in the last 50 years, so the best player is going to start.
Fantasy wise, I'm taking a pass on both guys. Trubisky, the former Bear might have had a few eye-popping games in 2018, by far his best in the NFL, but that still barely got him in the top-12 in fantasy points-per-game that season (22.7) and he's coming off a year in Buffalo where he only attempted 8 passes as a little utilized backup. Pickett, if not the team's present, is certainly its future, and he'll play as soon as the coaching staff thinks he's ready. Another of the recent "one-year wonder" quarterbacks that have been drafted in the first round recently, Pickett is likely a year away from entering fantasy relevance. The battle, and eventual outcome will be much more impactful to the Steelers and their skill position players than it will be to your fantasy team.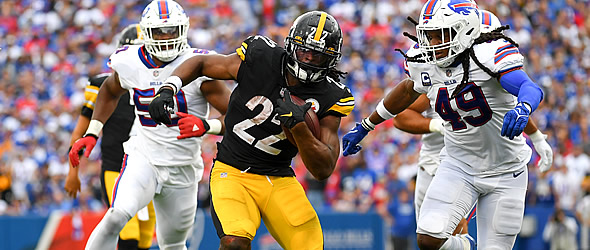 RB Najee Harris
2021 RB Rank - No.4, 13.3 FPts/G
The old fantasy running back adage that "volume is king" certainly applied to Harris in 2021. The former Alabama runner led the NFL in touches with 381, single-handedly keeping the Steeler offense above water enough to sneak into the playoffs. A true workhorse, Harris played in all 17 games and led the NFL by being on the field for 85% of all the Steelers offensive snaps! It's not hyperbole to say he almost never came off the field, but this does fit with the Pittsburgh philosophy for their backs going back a few decades. With little on the roster behind him, and an unsettled quarterback position, I don't expect much to change for Harris on the volume front. Let's hope it doesn't, because it was volume, and not necessarily efficiency that helped Harris to that top-5 finish. Among backs with 200+ carries, Harris's 3.9 yards-per-carry average was 21st in the NFL, and despite the 74 receptions, Harris had only one game with more than 50 yards receiving. With the highest touch floor among any back in the league, and a high pick regardless of league scoring, the only question for Harris is how long he can sustain this touch count without breaking down.
RB Benny Snell
2021 RB Rank - No.118, 0.9 FPts/G
After being a 4th round pick in 2019, Snell has been a bust. He was only trusted with 36 carries last season, and mustered a plodding 2.7 yards-per-carry average. In an effort to salvage his career, and be the one to take some heat off of Harris, Snell has lost some weight and tried to become quicker this offseason. It remains to be seen if that will be enough to hold off some hungry undrafted free agents the Steelers have signed, or a veteran that gets added later. Short of an injury to Harris, Snell holds zero stand-alone value, and at best, rates as an uninspiring handcuff.
WR Diontae Johnson
2021 WR Rank - No.9, 10.6 FPts/G
By most metrics, Dionte Johnson was one of the best receivers in the NFL last season. His 169 targets and 107 receptions both placed him in the top-5, and his 1,161 yards were good for 9th. He even capped his career year by cutting down on the "dropsies" that had plagued his early career. Another middle-round receiver gem the Steelers have uncovered; the ascending Johnson enters the eve of a big free agency payday having to adjust to the first non-Roethlisberger quarterback of his career. Johnson and Roethlisberger were locked in last season, as the quick twitch receiver finished 6th in the NFL in yards-after-catch. Quarterback chemistry has been a big part of Johnson's career success, as Big Ben sat in the pocket and delivered on-time, accurate throws. There is going to be an adjustment period with Ben gone and Trubisky and Pickett having different styles. If Claypool can rebound off a down year, and 2nd round rookie George Pickens makes a quick adjustment, the ball is sure to be spread a bit thinner this year. With enough factors working against him, look for Johnson to fall back into the upper-WR2 tier in 2022.
WR Chase Claypool
2021 WR Rank No.36, 7.2 FPts/G
A large regression in touchdowns, combined with an increase of injury and diva behavior, led to a 2nd year fantasy flop for Claypool. After dazzling with 11 touchdowns in his rookie year, Claypool couldn't get out of his own way in 2021, clashing with teammates and coaches, and displaying an immaturity that threatens to derail a very promising career. Hidden in the murky waters of his season, Claypool failed to significantly improve on his numbers, and the lack of refinement to his game was evident. He was able to physically dominate his rookie year, and when he couldn't replicate that in year 2, due to injury and defensive adjustment, he became emotional, culminating in a play on national television that might have cost his team a chance to win. Even with all that potential baggage, and more offseason noise about how he feels he's a top-3 receiver in the NFL, Claypool does possess the physical talents to dominate with a game very similar to Mike Evans. If the loss of Roethlisberger and improvement in the offensive line means the end of the dink and dunk passing game, then Claypool has a chance to be a fantasy steal. But with the flux at quarterback, and Johnson still on the team, Claypool might be a year away from a true ascension. Until then, he can be a high upside WR3 in standard leagues.
Considered a top receiver prospect after an electrifying freshman year at Georgia, Pickens missed almost all of his junior year to an ACL tear. That didn't stop the Steelers from taking a shot on him in the 2nd round in the hopes that he can be yet another receiver they develop into a star. He's certainly got the measurables and athletic profile to succeed in the NFL, but just how ready will he be after only 12 games played over the last two seasons? Drawing comparisons to another Georgia alum, A.J. Green, Pickens finds himself a bit buried on the target pecking order for a Steeler offense that has lots of mouth to feed. Last season the Steelers were one of only nine teams to pass the ball 600+ times, and with Roethlisberger gone, I find it very hard to believe they throw it 600 times again. As he continues to work back into shape, and learn the pro game, Pickens could be yet another rookie receiver to keep an eye on during the 2nd half of the fantasy season.
TE Pat Freiermuth
2021 TE Rank No.11, 5.7 FPts/G
With the Eric Ebron era finally dashed in Pittsburgh, Freiermuth had a chance to push back against the notion that rookie tight ends can't be trusted for fantasy production. On the back of seven touchdowns, and the 12th most receptions among tight ends, the former Nittany Lion solidified himself as a trusted member of the Pittsburgh offense. The athletic 6'5'', 260-pounder should still be a factor in the redzone and a safety net for either quarterback. There is a bit of a scary injury history to consider with Freiermuth, as he suffered two concussions during his rookie year, but as a player you won't have to reach for in a muddled TE1/2 area, it shouldn't be enough to dissuade you.