11/16/10





MyFantasyLeague.com Users...
Check out the most popular waiver wire pickups this week across thousands of MFL leagues. Also, quickly see who's available on your waiver wire this week by using the MFL Power feature at FF Today. Just input your league's 5-digit ID number away you go!

Targeting weekly waiver picks is a completely subjective business, but this column hopes to point out some obvious and not-so-obvious selections to help your team from week to week while you strive to collect fantasy wins, reach your league playoffs, and win the elusive title that your friends say is out of your grasp. While I'm a big proponent of making trades to bolster your roster, the waiver wire can be an almost limitless resource when it comes to discovering fantasy value in strange places. Each week, I'll target both offensive and defensive players — sometimes breakout stars that eluded your team's draft — as well as players who can help your squad that may still be lurking in deeper leagues.



Off the Top -

Includes my premier recommendations. These are sometimes players available only in more shallow leagues, and occasionally guys who are more readily but are thrust into the fantasy spotlight because of opportunity or exceptional production.



Digging Deeper -

Covers the next tier of quality waiver wire specimens, usually players available in a majority of online leagues. There are a lot of gems in this range who can be plucked rather easily.



Scouring the Barrel -

Chronicles the deepest of fantasy adds — and sometimes highlights players being tacked onto fantasy squads who I don't have much confidence in. Make sure you read the fine print.

Each week, I'll also provide a brief update on the 30-40 players I covered the previous week. It's the most accurate, comprehensive one-stop waiver-wire column available on the Internet, and it's only available here at fftoday.com.

Feedback is always welcome, appreciated and encouraged. I'll get to as many e-mails as I can.


---
Note:
Each player's next four matchups are listed in parentheses ()
Quarterbacks
Off The Top
Matt Cassel, KC (ARI, @SEA, DEN, @SD) – Many in the elite group of owners who started Cassel last week were just thinking bye week fill-in, but the Chiefs QB delivered a huge game (albeit in catch-up mode) that reanimates his value heading into an interesting stretch of games. These opponents are bad against the run, which could open up some spots for Dwayne Bowe to contribute big plays.

Vince Young, TEN (WAS, @HOU, JAC, IND) – With Kerry Collins out a few weeks, Young takes over for a few favorable matchups. He should be started in all two-QB formats and is a weak QB1, but could surprise with a couple big games.


Digging Deeper
Shaun Hill, DET (@DAL, NE, CHI, GB) – Not too many owners will be starting him this week but he could be a top scorer against Dallas - a weapon-laden, nothing-to-lose team that will be getting involved in shootouts down the stretch.


Scouring The Barrel
Troy Smith, SF (TB, @ARI, @GB, SEA) – Smith is now the starter in San Fran and things seem to be turning around. He's a risky play but should be owned in most 12-team leagues.

Tyler Thigpen, MIA (CHI, @OAK, CLE, @NYJ) – Thigpen turned in some big fantasy performances in 2008 when he took over the reins in Kansas City. If you can live with nearly as many picks and TD passes (which Chad Henne owners were doing anyway) he's a decent replacement. Since Dwayne Bowe had his best season with Thigpen throwing him the rock, expect Brandon Marshall's numbers to improve.


Updates
Brett Favre, MIN (GB, @WAS, BUF, NYG) – Favre's hurting all over and had another terrible game (one TD, three INTs, fumble). He's still capable of big outings, but is way too risky to count on even in the best of matchups – and he's got some good ones on the way.

Ryan Fitzpatrick, BUF (@CIN, PIT, @MIN, CLE) – It's hard to say what kind of Ryan Fitzpatrick we'll see now that the Bills have won a game. Will Buffalo slow it down and give us heavy doses of Fred Jackson or do they get right back to tossing the pill a la the scoring bonanzas that characterized the first eight games? The next few matchups are going to be tough for Fitzie unless the Bills are playing from behind.

Derek Anderson, ARI (@KC, SF, STL, DEN) – Anderson wasn't great on Sunday, but he wasn't as bad as Favre.

Running Backs
Off The Top
Tim Hightower, ARI (@KC, SF, STL, DEN) – With Beanie Wells still dealing with knee swelling and LaRod Stevens-Howling questionable as well, Hightower should get most of the carries this week at KC. He's a solid RB3/flex play.

Cadillac Williams, TB (@SF, @BAL, ATL, @WAS) – There's obviously still some life left in the old Caddy, but the difficult matchups make him a risky play. Don't get overexcited, as LeGarrette Blount has a stronghold on the starting job.

Justin Forsett, SEA (@NO, KC, CAR, @SF) – The upcoming matchups aren't that favorable, but he's been the most effective back the past few weeks (throw out the Giants blowout and he's got 271 total yards and two scores in his last four games). He should get at least 10-15 touches per game during next few weeks.


Digging Deeper
Donald Brown, IND (@NE, SD, DAL, @TEN) – With so many receivers hurting in Indy, Brown is getting regular work. Keep an eye on the injury report to make sure Mike Hart and Joseph Addai remain inactive and temper your expectations – Brown isn't going to have too many multiple-TD days.

Jerome Harrison, PHI (NYG, @CHI, HOU, @DAL) – If you're a McCoy owner and don't own Harrison, you need to stop screwing around and add him. He's only owned in about 50 percent of leagues, and there's nothing worse than losing a Top 10 back and having to fight with other owners for his backup.


Scouring The Barrel
Brian Leonard, CIN (BUF, @NYJ, NO, @PIT) – The upcoming schedule is going to be tough for the Bengals, and they'll need to look for creative ways to win. Enter Brian Leonard, who's about as explosive as any back in Cincinnati right now and gets work as a change of pace on passing downs. I honestly think Leonard has some latent value in super-deep leagues and could surprise in the second half.

Updates
Fred Jackson, BUF (@CIN, PIT, @MIN, CLE) – I knew it was only a matter of time before the Bills utilized Jackson correctly. Jackson had a career day, blowing up for 133 yards and a TD on 25 carries and 6-37-1 receiving. He fumbled twice and lost one, but that's a small dent in an otherwise brilliant fantasy day. Bills rookie RB C.J. Spiller injured his hamstring in Sunday's 14-12 win over the Lions and is out indefinitely.

Willis McGahee, BAL (@CAR, TB, PIT, @HOU) – Three carries, eight yards, one catch for -4 yards. Not good, but the Ravens are playing the lowly Panthers on Sunday and McGahee could get some work.

Clinton Portis, WAS (@TEN, MIN, @NYG, TB) – Inactive on Monday night. Stay tuned.

Javarris James, IND (@NE, SD, DAL, @TEN) – James rushed for 26 yards on 10 carries while scoring his third touchdown in two weeks. He appears to be the goal line back going forward.

Mike Goodson, CAR (BAL, @CLE, @SEA, ATL) – Goodson put up solid RB2 points (100 yards on 23 carries and 3/13/0 receiving) but didn't score and lost a fumble. I can't imagine his value holding on for multiple weeks, though.

Wide Receivers/Tight Ends
Off The Top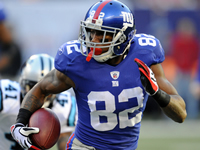 Mario Manningham: Own him if you can.
WR Mario Manningham, NYG (@PHI, WAS, JAC, @MIN) – I own Manningham in a 14-team league and had him starting as a FLEX even before I learned of the injury to fellow Giants receiver Steve Smith – who'll be out a couple more weeks. Grab him if he's still available – which he is in about 40 percent of leagues.

WR Nate Washington, TEN (WAS, @HOU, JAC, IND) – Washington scored a TD last week despite catching just a handful of balls. He should be owned in all 12-team formats and will produce opposite Randy Moss.


Digging Deeper
WR Mike Thomas, JAC (CLE, @NYG, @TEN, OAK) – Wow! That was quite a finish. There's no reason to doubt the abilities of Mike Thomas, who's been the most reliable receiver for David Garrard this season.

WR James Jones, GB (@MIN, @ATL, SF, @DET) – Donald Driver doesn't appear to be ready for Week 11, making Jones a must-add, despite his inconsistency. He could put up WR2 numbers, and he could put up a blank.


Scouring The Barrel
TE Rob Gronkowski, NE (IND, @DET, NYJ, @CHI) – How annoying is Bill Belichick? Aaron Hernandez owners, you wanna weigh in on this one? Gronkowski is now getting the bulk of red zone looks for the Patriots (three TDs last week), but that's likely to change next week, as Belichick is clearly the devil.

WR Deon Butler, SEA (@NO, KC, CAR, @SF) – Matt Hasselbeck (who should be good to go for Sunday) might have to throw to Butler a lot in this one. The second-year receiver is often targeted on short slants but caught a 63-yard TD bomb last week. He might not get loose versus the Saints, but I have a feeling he'll be a decent WR4 in PPR leagues going forward.


Updates
Steve Johnson, BUF (@CIN, PIT, @MIN, CLE) – The Bills picked up their first win, but Johnson posted just 3/37/0.

Mike Sims-Walker, JAC (CLE, @NYG, @TEN, OAK) – MSW only posted 3/26/0, but teammate Mike Thomas, who caught a Hail Mary that was batted back into his hands, blew up. He seems like the guy to add.

Sidney Rice, MIN (GB, @WAS, BUF, NYG) – While Rice remains on the PUP list and didn't play Sunday against the Bears, he practiced all week and could be ready. The Vikings aren't out of the playoff picture yet, so I'd imagine they're anxious to get him on the field.

Nate Burleson, DET (@DAL, NE, CHI, GB) – Burleson caught four passes for 47 yards on Sunday against the Bills. You've got to like him this week in Dallas.

Seyi Ajirotutu, SD (DEN, @IND, OAK, KC) – Barring a setback, Malcom Floyd could be ready to play on Monday night against Denver. That would hurt Ajirotutu's value, but not kill it. When Vincent Jackson comes off the roster exempt list for the game against the Colts on Nov. 28, there won't be much need to own Ajirotutu.

Jacoby Ford, OAK (@PIT, MIA, @SD, @JAC) – If the Raiders can get the running game going against Pittsburgh then Jacoby Ford might catch a bomb, but he's a high-risk WR3 at this point.

IDP
Off The Top
LB Derrick Johnson, KC (ARI, @SEA, DEN, @SD) – Despite a monster season (76 total tackles, INT-TD, and 10 PD), Johnson is still available in about a third of IDP leagues. Don't hesitate to add this guy if he's available in yours.

DB Ed Reed, BAL (@CAR, TB, PIT, @HOU) – I think Reed will provide a much-needed spark for the Ravens defense down the stretch. This week, he's a solid risk/reward play against a desperate Panthers team.


Digging Deeper
DL Jason Hunter, DEN (@SD, STL, @KC, @ARI) – Hunter is available in about 75 percent of IDP leagues and is one of the more consistent producers at DL this season. Last week he scored a TD, but his base value is good enough to warrant DL2 status or higher.

LB Zach Diles, HOU (@NYJ, TEN, @PHI, BAL) – I'm still all over Diles and this week he's got an excellent matchup. He's already got 71 total tackles despite not starting every game this year…so how this guy still available in so many formats? Who cares? Just grab him.


Scouring The Barrel
LB Cameron Wake, MIA (CHI, @OAK, CLE, @NYJ) – Wake injured his hip on Sunday but is expected to play Thursday night against the Bears. There's a good chance he'll record a sack or two if he's active.

DL Chris Long, STL (ATL, @DEN, @ARI, @NO) – Long has 5.5 sacks in his last six games and at least one sack in his last four. While that streak could come to an end against the Falcons, who do an excellent job protecting Matt Ryan, four out his last six matchups are quite favorable for opposing DLs.


Updates
LB Stephen Tulloch, TEN (WAS, @HOU, JAC, IND) – Tulloch had nine total tackles in the loss to Miami. He remains a Top 15 LB.

DL Calais Campbell, ARI (@KC, SF, STL, DEN) – One of my better calls this week. Campbell tallied six tackles and a sack.

LB Keith Brooking, DAL (DET, NO, @IND, PHI) – The veteran LB posted 10 total tackles (eight solos) and now has 62 (46 solos) on the year.

DB Antoine Winfield, MIN (GB, @WAS, BUF, NYG) – Winfield didn't pick off Jay Cutler but posted five solos. He's got another excellent matchup this week for a decent tackle total.

LB Tamba Hali, KC (ARI, @SEA, DEN, @SD) – A swing and a miss. Ryan Clady did an excellent job protecting Orton's blind side and Hali finished with just three tackles.