MyFantasyLeague.com Users...
Check out the most popular waiver wire pickups this week across thousands of MFL leagues. Also, quickly see who's available on your waiver wire this week by using the MFL Power feature at FF Today. Just input your league's 5-digit ID number away you go!

Targeting weekly waiver picks is a completely subjective business, but this column hopes to point out some obvious and not-so-obvious selections to help your team from week to week while you strive to collect fantasy wins, reach your league playoffs and win the elusive title that your friends say is out of your grasp. While I'm a big proponent of making trades to bolster your roster, the waiver wire can be an almost limitless resource when it comes to discovering fantasy value in strange places. Each week, I'll highlight some of the popular (and not-so-popular) players who can help your squad and may still be available in your league.

Feedback is always welcome, appreciated and encouraged. I'll get to as many e-mails as I can.


---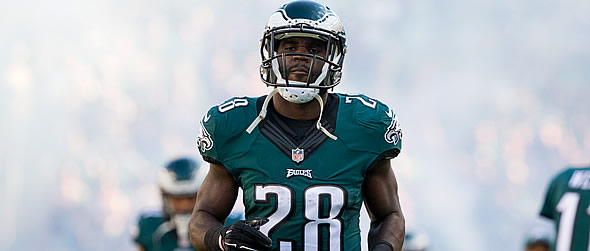 Injuries to Darren Sproles and Ryan Mathews should provide more opportunities for Smallwood.
Quarterbacks
Joe Flacco, BAL – Many fantasy rosters will return to full strength this week, relegating Flacco to the waiver wire, but he's got a decent matchup and his WR corps is looking surprisingly healthy. The Bengals secondary flummoxed the Bills in Week 11 but Flacco (30-60 percent owned) has more weapons at his disposal and his team doesn't commit as many penalties as the foot-shooting Bills. I'd give Flacco (who managed 269-1-0 against Dallas in Week 11) a look in deeper formats this week.
Ryan Tannehill, MIA – Tannehill (25-50 percent owned) took a while to get going, only eclipsing the 100-yard passing mark about halfway through the fourth quarter against the Rams, and finishing with 172-2-1 and 19 rushing yards. But he did manage an impressive comeback victory against a decent NFL defense and gets an juicy matchup against the Niners in Week 12. He's a worthwhile option in two-QB leagues but without the bye weeks he's probably not a guy you want to roll out in 12-team leagues considering his low floor and low ceiling.
Sam Bradford, MIN – UPDATE: The Vikings running game is paltry, but they've got a bevy of solid WRs and playmakers and one of the better TEs in the league in Kyle Rudolph. This bodes well for Bradford's prospects on Thanksgiving, when the Vikings travel to Detroit to face the Lions. He's not an obvious top-ten option, but he might come in handy in 12-team leagues or deeper formats this week.
Matt Barkley, CHI – UPDATE: We had Cutler here yesterday morning but with the news he's likely got a torn labrum and could sit out the rest of the season, we're replacing him with Barkley, who is a longshot for reliable fantasy production but someone who could post decent numbers this week facing the Titans. Barkley is 36-for-64 for 381 yards in his NFL career, and has yet to throw a TD pass as a pro despite six INTs. But he's still in the league, and he'll have some time to prepare for the matchup with Tennessee.
Updates
Tyrod Taylor, BUF – Taylor was one of the biggest fantasy disappointments this week among QBs, throwing for just 166-0-1 and rushing for 39 yards in the win over Cincinnati. It was his worst game since Week 1. There is a chance he and the Bills get Sammy Watkins back in Week 12 for a homecoming game with Jacksonville, which would boost his value.
Blake Bortles, JAC – Bortles 202-2-2 wasn't much of a fantasy revelation, but it was better than what Tyrod could manage. As I mentioned, he'll square up against a tough Bills defense in Week 12.
Colin Kaepernick, SF – Kaepernick turned in a solid fantasy effort in a difficult matchup with New England, throwing for 206-2-0 (32 rushing yards) and avoiding a turnover for the second consecutive week. He probably should've been the starter in San Francisco all along.
UPDATE: Kaepernick might be the best guy to add based on upside, but there's also the possibility that this game becomes a grind without too much fantasy goodness. Beware.
Running Backs
Rashad Jennings, NYG – He's owned in just 75-90 percent of fantasy leagues – a percentage that's likely to increase to nearly 100 percent after a solid Week 11 performance (85 rushing yards, TD; 5-44-0 on six targets). He's the number one Week 12 add if available, and that includes Rob Kelley and Thomas Rawls (more on them later).
Tim Hightower, NO – He's owned in just 50-80 percent of fantasy leagues because he was in a timeshare with Mark Ingram (possible concussion), but he's likely to get a few more carries going forward (and a lot more if Ingram misses additional time). A veteran back with versatility in various sets, Hightower is a must-own in all formats.
Wendell Smallwood, PHI – Ugh – I had the chance to pick up Smallwood in a 14-team league on Sunday morning to fill the second of two RB slots (I had Devontae Booker, Matt Forte and Bilal Powell on bye) and opted for Benny Cunningham. Smallwood (10-25 percent owned) rolled for 48 rushing yards on 13 carries and 4-31-0 on five targets after both Ryan Mathews and Darren Sproles went down with injuries. He's worth adding in all 12-team (and larger) leagues.
UPDATE: Mathews is supposedly day-to-day and Sproles looks like a probable go – but Smallwood will likely get the kind of touches that went to Rob Kelley on Sunday night when he shredded the Packers front-seven. He's an RB2 with some upside and great flex play this week.
Mike Gillislee, BUF – LeSean McCoy (finger) had surgery and is expected to play in Week 12, but Gillislee (14 carries, 72 rushing yards) did most of the heavy lifting after McCoy went down early in the Bills win over Cincy. Stay tuned.
Chris Ivory, JAC – UPDATE: There's not a ton of upside here, but if T.J. Yeldon is out we'll likely see Ivory dominate touches against the Bills. Again, Ivory has failed at just about every opportunity to make an impact despite Yeldon's inefficiency and the lack of other viable options, but he could get 20 touches this week.
Rex Burkhead, CIN – UPDATE: Burkhead is a gamer who's used every opportunity o get on the field, and he'll likely get a lot of passing down work the rest of the way with Giovani Bernard out with a torn ACL. He's worth grabbing in 12-tem and deeper leagues.
Updates
Thomas Rawls, SEA – If you didn't pick up Rawls this week (57 rushing yards, 3-31-0 on four targets), you likely missed out on the waiver wire pickup of the late season – as his ownership is now over 80-90 percent and he's expected to shoulder much of the load going forward with C.J Prosise (shoulder) going down at the end of the first half against Philly. Although only about 15-30 percent of fantasy owners started him in Week 11, he'll be good to go in nearly all formats next week facing the Bucs.
UPDATE: Rawls was admittedly "banged up" after Sunday's win, according to Pete Carroll, so he'll get some maintenance this week and should be ready by the weekend.
Rob Kelley, WAS – Rawls might have more latent value, but Kelley is looking like a bona fide fantasy stud – rolling for 137 rushing yards and three TDs in the win over Green Bay. He exploded in the fourth quarter, when most of his points came on some big impressive runs and TD plunges, but Thanksgiving provides another prime opportunity for him to rack up some fantasy points. The Cowboys have been tough against the run, but I expect a lot of Kelley in this matchup as the Redskins try to grind out a win.
C.J. Prosise, SEA – Prosise was on his way to huge fantasy day (four carries for 76 yards and a TD; 2-5-0 receiving on three targets) before the shoulder injury knocked him out. He's now almost universally owned but fantasy owners will need to stay tuned on his status in the coming days.
UPDATE: Prosise's shoulder injury could be season-ending, and he'll miss the next several games at a minimum. He's safe to drop in redrafts.
Damien Williams, MIA – Williams was conspicuously absent from the box score, registering only a target in the win over Los Angeles. Perhaps Ajayi is more of a one-man gang than anybody anticipated.
Fitzgerald Toussaint, PIT – With DeAngelo Williams' recovery now ahead of schedule (he had surgery to trim the meniscus in knee and will miss Week 12 but possibly return in Week 13), Toussaint is not a necessary handcuff.
Wide Receivers / Tight Ends
Brandon LaFell, CIN – LaFell hauled in just 4-32-0 in Week 11 but with A.J. Green (hamstring) and Giovanni Bernard (torn ACL) out for the rest of the season, the Bengals will see more targets going to him, TE Tyler Eifert, WR Tyler Boyd and even RB Rex Burkhead. LaFell and Eifert offer the most upside in the red zone.
UPDATE: Green's hammy isn't as bad as previously thought, but he's not playing this week, giving LaFell a more temporary boost but a boost nonetheless.
Malcolm Mitchell, NE – Mitchell had 4-98-1 on five targets and may have a difficult time repeating those numbers as the rest of the backs, wide receivers and Rob Gronkowski get healthy but he's worth mentioning for dynasty and deeper leagues. He's universally available in redrafts and looked good in Week 11.
UPDATE: Tom Brady praised Mitchell this week and he could be in line for more targets. He's definitely looking better as we get more info on his relationship with the veteran QB.
Tajae Sharpe, TEN – Sharpe (10-20 percent owned) played in the majority of snaps alongside Rishard Matthews in Week 11 and is starting to reinsert himself into the collective fantasy consciousness with TDs in consecutive weeks. The rookie from UMass is a borderline 12-team add but should be owned in deeper formats.
Tyler Boyd, CIN – Boyd's 6-54-1 in Week 11 demonstrated he can be an effective receiver when he gets targets. The rookie is owned in just 5-15 percent of fantasy leagues and will be utilized more in the coming weeks as a third down chain mover and slot receiver.
TE Charles Clay, BUF – Clay had just 5-23-0 on seven targets in Week 11, but the Bills need to get him more involved and look his way in the red zone more often. I anticipate that might happen in Week 12 against the Jaguars, when he'll be a mid-tier TE2.
C.J. Fiedorowicz, HOU – UPDATE: Brock Osweiler really seems to like throwing to his big TE, and he's a bona fide TE1 heading into this week's matchup with the Chargers. Fiedorowicz hauled in 6-82-0 on 10 targets in Week 11.
Updates
Jeremy Kerley, SF – Kerley was held without a catch on six targets in Week 11, and I'm flabbergasted. This was monumental failure in just about every aspect and I won't be recommending him again anytime soon.
Tyreek Hill, KC – Hill had 4-53-0 on eight targets Sunday and will likely remain involved in the offense even when Jeremy Maclin returns. He's a versatile and dynamic and a breath of fresh air in such a conservative offense.
Pierre Garcon, WAS – Wow! Garcon's 6-116-1 came in a game where DeSean Jackson, Jordan Reed and Jamison Crowder were all active and involved. The Washington offense is no joke right now, and Garcon is a boom-bust option with decent upside.
DeVante Parker, MIA – Now this is more like it! Parker's 8-79-1 on 10 targets against a tough Rams defense showed he can be a solid fantasy producer. He's only about 40-65 percent owned and is a decent WR3/flex option next week facing the 49ers.
TE Martellus Bennett, NE – Bennett's putrid Week 11 performance (1-14-0 on two targets) busted countless DFS lineups and helped to put a few notches in the loss category in season-long leagues. Next week provides a more difficult matchup against the Jets, but maybe he'll at least have more than two targets.
Eli Rogers, PIT – The Steelers game plan in windy Cleveland was to run LeVeon Bell, and run him they did. Rogers finished with 4-20-0 on six targets and makes a fine WR4/flex option in Week 12 facing the Colts.
Cameron Meredith, CHI – Meredith (50-75 percent owned) had just 4-49-0 on four targets from Cutler in Week 11, but the loss of Miller puts him again in a good spot for more targets. The Bears should look his way often in Week 12.
UPDATE: I'm not anxious to play Meredith with Cutler out this week but he could be worth a WR4 play in deeper formats.