12/7/10





MyFantasyLeague.com Users...
Check out the most popular waiver wire pickups this week across thousands of MFL leagues. Also, quickly see who's available on your waiver wire this week by using the MFL Power feature at FF Today. Just input your league's 5-digit ID number away you go!

Targeting weekly waiver picks is a completely subjective business, but this column hopes to point out some obvious and not-so-obvious selections to help your team from week to week while you strive to collect fantasy wins, reach your league playoffs, and win the elusive title that your friends say is out of your grasp. While I'm a big proponent of making trades to bolster your roster, the waiver wire can be an almost limitless resource when it comes to discovering fantasy value in strange places. Each week, I'll target both offensive and defensive players — sometimes breakout stars that eluded your team's draft — as well as players who can help your squad that may still be lurking in deeper leagues.



Off the Top -

Includes my premier recommendations. These are sometimes players available only in more shallow leagues, and occasionally guys who are more readily but are thrust into the fantasy spotlight because of opportunity or exceptional production.



Digging Deeper -

Covers the next tier of quality waiver wire specimens, usually players available in a majority of online leagues. There are a lot of gems in this range who can be plucked rather easily.



Scouring the Barrel -

Chronicles the deepest of fantasy adds — and sometimes highlights players being tacked onto fantasy squads who I don't have much confidence in. Make sure you read the fine print.

Each week, I'll also provide a brief update on the 30-40 players I covered the previous week. It's the most accurate, comprehensive one-stop waiver-wire column available on the Internet, and it's only available here at fftoday.com.

Feedback is always welcome, appreciated and encouraged. I'll get to as many e-mails as I can.


---
Note:
Each player's next four matchups are listed in parentheses ()
Quarterbacks
Off The Top
Chad Henne, MIA (@NYJ, BUF, DET, @NE) – Henne's best game this season was against the Jets in Week 3, when he passed for 363 yards, two TDs and one INT. And while that level of success will be hard to replicate, it's clear the Jets have difficulty stopping the pass. Just don't expect a Tom Brady-like performance - the Dolphins have weapons, but they're not the Pats.

Digging Deeper
Alex Smith, SF (SEA, @SD, @STL, ARI) – The Niners have reinstalled Alex as the starting QB, and while he's struggled in the past, he's a good bet for a couple TD passes this week. It's entirely possible the time on the bench motivated him, and the team needs wins badly if they want to compete for the NFC West title. They're still alive, and the next four opponents aren't world-beaters.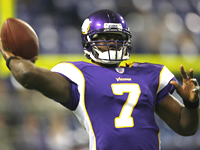 Jackson: Value down the stretch.
Scouring The Barrel
Tarvaris Jackson, MIN (NYG, CHI, @PHI, @DET) – I understand Brett Favre wants to play, but Jackson looked pretty good on Sunday (albeit against the Bills). If for some reason Favre's sprained shoulder prevents him from starting his billionth consecutive game, Jackson could have value down the stretch.


Updates
Matt Cassel, KC (@SD, @STL, TEN, OAK) – The game plan didn't involve much passing, but Cassel managed average numbers (196 yards, TD) and didn't turn the ball over against Denver.

Josh Freeman, TB (@WAS, DET, SEA, @NO) – Freeman came up short in Week 13, but the Redskins are a defeated team that he can easily shred.

Sam Bradford, STL (@NO, KC, SF, @SEA) – While Bradford had one of his worst fantasy games of the season, his team walked away with another win. He should be forced to throw a lot more against the Saints.

Kerry Collins, TEN (IND, HOU, @KC, @IND) – Collins had the worst game of his career since 2006, and while the upcoming schedule should bode well for production, he's too much of a risk.

Jimmy Clausen, CAR (ATL, ARI, @PIT, @ATL) – Even with a ground game that was clicking, Clausen couldn't muster a TD.

Running Backs
Off The Top
LeGarrette Blount, TB (@WAS, DET, SEA, @NO) – He could have 200 yards and three TDs against the Redskins. They were terrible against the run this past Sunday, and for some reason, Blount is still available in a bunch of fantasy leagues.

Jonathan Stewart, CAR (ATL, ARI, @PIT, @ATL) – Stewart looked good against the Seahawks, and while he'll have a much harder time barreling through the Falcons, the nifty back is probably his team's best bet at getting into the end zone.

Marshawn Lynch, SEA (@SF, ATL, @TB, STL) – I dropped Lynch in a two-RB league where I just didn't see a future for him, so his three-TD performance against the Panthers was shocking. Still, I can't see him putting up great numbers against the next few opponents.


Digging Deeper
Javarris James, IND (@TEN, JAC, @OAK, TEN) – With all of the Colts RBs nursing injuries, James might be more than just the goal line back when the Colts face the Titans. He's shown a nose for the end zone and will be a solid RB2 in Week 14.

Scouring The Barrel
James Starks, GB (@DET, @NE, NYG, CHI) – Starks emerged as the Packers' go-to runner against the 49ers, and should post excellent numbers in week 14 if he continues to get the workload. I'm a little wary of trusting him too much, but he's certainly an option if you're having problems at RB2 or flex.

Updates
Felix Jones, DAL (PHI, WAS, @ARI, @PHI) – Jones ran for 83 yards on 22 carries on Sunday. He's still without a rushing TD this season.

Mike Goodson, CAR (ATL, ARI, @PIT, @ATL) – Goodson scored early but was replaced as the workhorse by Jonathan Stewart and later was knocked out of the game with a shoulder injury. Stewart appears to be healthy and ready to resume the bulk of carries going forward. It was a nice run while it lasted, folks.

Brian Westbrook & Anthony Dixon, SF (SEA, @SD, @STL, ARI) – The two San Fran backs couldn't quite replicate their Week 12 success, and both were essentially useless against the surging Packers defense.

Toby Gerhart, MIN (NYG, CHI, @PHI, @DET) – Adrian Peterson was active on Sunday, relegating Gerhart to limited work and fantasy irrelevance.

Tashard Choice, DAL (PHI, WAS, @ARI, @PHI) – Choice exploded for 100 rushing yards and a TD on just 19 carries Sunday. In addition, he may have established himself as the team's goal line back with Marion Berber inactive and nursing a calf injury that could keep him out next week as well.

Wide Receivers/Tight Ends
Off The Top
WR Donald Driver, GB (@DET, @NE, NYG, CHI) – On Sunday, Driver had one of the most amazing catch-and-run TDs I've seen in 30 years of watching football. His quad injury looks healed, and with Greg Jennings is getting a lot of looks right now, I'm expecting some prime opportunities for Driver against the Lions.

WR Sidney Rice, MIN (NYG, CHI, @PHI, @DET) – I know he blew up for 5-105-2 versus the Bills, but I'd be wary of starting Sidney Rice against the Giants on Sunday, as they've done a good job shutting down opposing No. 1 WRs lately. As a risk/reward WR3, you could do worse, but don't expect a repeat of last week.


Digging Deeper
WR Robert Meachem, NO (STL, @BAL, @ATL, TB) – If you've been reading this column every week, I must sound like a broken record with Meachem. But he's still available in over 50 percent of fantasy leagues. Sure, he's going to have some games where he doesn't produce more than a couple catches for a modest yardage total, but as a WR3, he's a better bet to score than 85 percent of the guys in his ownership range.

TE Ben Watson, CLE (@BUF, @CIN, BAL, PIT) – Watson was a great safety valve for Jake Delhomme on Sunday, and he finished with 10 catches for 100 yards and a TD. He's a great option at TE1 going forward.


Scouring The Barrel
WR Anthony Armstrong, WAS (TB, @DAL, @JAC, NYG) – He had a career day (6-97-1) against the Giants in garbage time, and the Bucs are now without safety Cody Grimm (placed on IR following week 12) as well as LCB Aqib Talib (IR, hip injury). Armstrong could get loose this week, and the upcoming schedule is favorable.


Updates
TE Brent Celek, PHI (@DAL, @NYG, MIN, DAL) – Celek had four catches for 55 yards in the win over Houston on Thursday night. He should be targeted frequently against the Cowboys in Week 14.

WRs Jabar Gaffney & Eddie Royal, DEN (@ARI, @OAK, HOU, SD) – No Broncos WR had more than two catches, as Kyle Orton was limited to just nine pass completions and 161 yards.

Deion Branch, NE (@CHI, GB, @BUF, MIA) – Branch contributed 3-64-1 in the 45-3 win over the Jets on Monday night. Giddyup.

WR Danny Amendola, STL (@NO, KC, SF, @SEA) – The Cards did a good job on Amendola, holding him to just 1-17-0, but the Rams came away with another big win.

WR Nate Burleson, DET (GB, @TB, @MIA, MIN) – Burleson (3-27-0 in the loss to Chicago) ran his mouth this week and guaranteed victory – usually the kiss of death when it comes from an average NFL player. He came up short.

WR Jordan Shipley, CIN (@PIT, CLE, SD, @BAL) – The Bengals couldn't find a way to win over New Orleans, and Shipley managed only 4-25-0.

WR Jacoby Ford, OAK (@JAC, DEN, IND, @KC) – Ford didn't have to do much in Sunday's win over San Diego, but he did catch a 4-yard TD pass. He's the perfect deep-league flex option for WR3 based on his big-play ability.

TE Jimmy Graham, NO (STL, @BAL, @ATL, TB) – Graham stepped up with three big catches for 72 yards (no TDs) on Sunday and has 216 yards in his last four games.

IDP
Off The Top
DB Michael Griffin, TEN (IND, HOU, @KC, @IND) – He's only available in about 40 percent of leagues, but Griffin will see plenty of opportunities to post big numbers facing the Colts. Remember, the Titans offense is struggling and Peyton Manning has been turning he ball over a ton lately.


Digging Deeper
LB Rolando McClain, OAK (@JAC, DEN, IND, @KC) – McClain has really picked up his game since the Week 10 bye (22 tackles, INT in his last three games), and the tilt with the Jaguars provides a good chance for a major breakout.


Scouring The Barrel
DL Stylez White, TB (@WAS, DET, SEA, @NO) – I expected a breakout season from White, but after 12 games, he's right on pace for his previous yearly production (about 40 total tackles and 6.5 sacks). Still, the Redskins offer up the best matchup possible for opposing DL, and White is worth a look.


Updates
DB Terrell Thomas, NYG (@MIN, PHI, @GB, @WAS) – Thomas had five solos, a forced fumble, a PD and his fifth interception of the season on Sunday in the win over Washington. He's a Top Five fantasy DB and should be started every week.

DL Jason Babin, TEN (IND, HOU, @KC, @IND) – Babin didn't get to David Garrard and finished with just one tackle. The Titans defense looks as deflated as the offense right now.

DB Earl Thomas, SEA (@SF, ATL, @TB, STL) – Thomas disappointed with just one solo tackle on Sunday.

LB Dhani Jones, CIN (@PIT, CLE, SD, @BAL) – Jones had just two solos but eight total tackles in the loss to Green Bay. He's now over the century mark for stops in 2010.

DL Jason Pierre-Paul, NYG (@MIN, PHI, @GB, @WAS) – Pierre-Paul followed up his Week 12 breakout with another two-sack performance in Week 13, adding three solos and a PD.