10/5/10





MyFantasyLeague.com Users...
Check out the most popular waiver wire pickups this week across thousands of MFL leagues. Also, quickly see who's available on your waiver wire this week by using the MFL Power feature at FF Today. Just input your league's 5-digit ID number away you go!

Targeting weekly waiver picks is a completely subjective business, but this column hopes to point out some obvious and not-so-obvious selections to help your team from week to week while you strive to collect fantasy wins, reach your league playoffs, and win the elusive title that your friends say is out of your grasp. While I'm a big proponent of making trades to bolster your roster, the waiver wire can be an almost limitless resource when it comes to discovering fantasy value in strange places. Each week, I'll target both offensive and defensive players — sometimes breakout stars that eluded your team's draft — as well as players who can help your squad that may still be lurking in deeper leagues.



Off the Top -

Includes my premier recommendations. These are sometimes players available only in more shallow leagues, and occasionally guys who are more readily but are thrust into the fantasy spotlight because of opportunity or exceptional production.



Digging Deeper -

Covers the next tier of quality waiver wire specimens, usually players available in a majority of online leagues. There are a lot of gems in this range who can be plucked rather easily.



Scouring the Barrel -

Chronicles the deepest of fantasy adds — and sometimes highlights players being tacked onto fantasy squads who I don't have much confidence in. Make sure you read the fine print.

Each week, I'll also provide a brief update on the 30-40 players I covered the previous week. It's the most accurate, comprehensive one-stop waiver-wire column available on the Internet, and it's only available here at fftoday.com.

Feedback is always welcome, appreciated and encouraged. I'll get to as many e-mails as I can.


---

Note: Each player's next four matchups are listed in parentheses ()

For my initial column, I'll focus on guys that your league owners may have missed on draft day.


Quarterbacks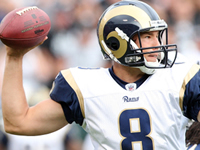 The upcoming schedule looks pretty for Bradford.
Off The Top
Sam Bradford, STL (@DET, SD, @TB, CAR) – The rookie turned in another solid game on Sunday, leading the Rams to their second straight win. He's got come favorable matchups on the schedule and probably has more value than Brett Favre, Jay Cutler and Donovan McNabb at this point.

Digging Deeper
Matthew Stafford, DET (STL, @NYG, BYE, WAS) – Stafford will test the shoulder this week, but given the success of the Lions' offense without him, he's worth adding in all formats if he's healthy.

Kevin Kolb, PHI (@SF, ATL, @TEN, BYE) – The Vick injury propels Kolb into relevance again, but expectations have to be lower given what we've seen and so far. More should be known about the Vick injury in the coming days and weeks; Kolb may not have much value in a week or two, when Vick is expected to return.


Scouring The Barrel
Jake Delhomme, CLE (ATL, @PIT, @NO, BYE) – The Browns may have won a game with Seneca Wallace, but Delhomme will resume the reins once his ankle his healed. Does that mean he should be on your fantasy team? Probably not, but it's a situation worth watching.


Updates
Kyle Orton, DEN (@BAL, NYJ, OAK, @SF) – Orton continued the Denver air show with another big game. He's a solid QB1 in all formats.

Chad Henne, MIA (BYE, @GB, PIT, @CIN) – If you forgive the three INTS, Henne had a nice game against the Pats, completing 29 of 39 passes for 302 yards and two TDs. He's an excellent fantasy backup with value as a starter given the right matchup.

Matt Cassel, KC (@IND, @HOU, JAC, BUF) – Cassel will have four straight favorable matchups coming off his bye week. I'm into it.

Ryan Fitzpatrick, BUF (JAC, BYE, @BAL, @KC) – What a bizarre situation in Buffalo. In his second start (a blowout loss to the Jets), Fitzpatrick completed just 12 of 27 passes for only 128 yards, but managed to toss a couple TD passes rushed for 74 yards, making him one of the better fantasy plays of the week. He's actually a decent option against the Jags this week.

Running Backs
Off The Top
Michael Bush, OAK (SD, @SF, @DEN, SEA) – Minor injuries to Darren McFadden and Michael Bennett have thrust a now-healthy Bush back into the Oakland spotlight. If McFadden plays, Bush is no more than an RB4, but he makes a solid flex or low-end RB2 if McFadden can't go against the Chargers.


Digging Deeper
Ryan Torain, WAS (GB, IND, @CHI, @DET) – Mike Shanahan's love affair with Torain continued on Sunday. With Portis indisposed from a groin injury, Torain filled in admirably, rushing for 70 yards and a TD on 18 carries. Portis had an MRI on the groin, but even if the veteran's ready to play next Sunday, I'd look for a 50-50 split between him and Torain.

Ladell Betts, NO (@ARI, @TB, CLE, PIT) – Sean Payton and Drew Brees were both impressed with Betts on Sunday. With Pierre Thomas and Reggie Bush out, the former Redskin RB rushed for 47 yards on a team-high 13 carries and hauled in four passes for 23 yards in the Saints' 16-14 win over the Panthers. Christopher Ivory also received 12 carries, but fumbled for the second straight week and won't get as many touches as Betts going forward. If Thomas can't go against the Cards, Betts makes for a fine flex play against Arizona's 29th-ranked rush defense.


Scouring The Barrel
Mike Bell, PHI (@SF, ATL, @TEN, BYE) – Bell isn't a long-term solution, by any means, but with LeSean McCoy dealing with a fractured rib that will likely keep him out in Week 5, Bell could see an expanded role as the Eagles try to bounce back from Sunday's tough loss. Grab him.

Kareem Huggins, TB (@CIN, NO, STL, @ARI) – According to a report in the St. Petersburg Times, Huggins and LeGarrette Blount will start eating into Cadillac Williams' touches starting this week at Cincinnati. A storm of hype surrounded Huggins in camp, so he's worth a look if he can get at least 10 touches a game.


Updates
Justin Forsett, SEA (BYE, @CHI, ARI, @OAK) – For the second straight ek, Forsett rushed for 60+ yards. If this team was even a little good, he'd be a fine RB2.

Peyton Hillis, CLE (ATL, @PIT, @NO, BYE) – With another 100-yard game and a TD, Hillis surpassed Chris Johnson's 2010 numbers (in PPR leagues) and moved into the top ten fantasy RB this season.

Marshawn Lynch, BUF (JAC, BYE, @BAL, @KC) – Lynch fumbled in limited duty; he didn't get his number called again in the blowout.

Willis McGahee, BAL (@DEN, NE, @BUF, BYE) – McGahee rushed for 39 yards and a touchdown in Baltimore's 17-14 win over Pittsburgh on Sunday. He started over Ray Rice and suffered a stinger but has already been cleared to play in week 5; this is a situation worth watching.

BenJarvus Green-Ellis, NE (BYE, BAL, @SD, MIN) – A solid game (76 yards, TD) on Monday night could ensure at least 60 percent of the carries going forward, even if Fred Taylor is active.

Kenneth Darby, STL (@DET, SD, @TB, CAR) – Darby only had one yard on two rushing attempts, but he did catch two passes, one of which went for a 21 yard TD in Week 4 against Seattle. Steven Jackson's injury might need a week off at some point, so stay tuned.

Wide Receivers/Tight Ends
Off The Top
Derrick Mason, BAL (DEN, NE, @BUF, BYE) – Mason had six receptions for 80 yards during Sunday's win over the Steelers, and should see plenty of targets with Champ Bailey covering Anquan Boldin next week against the Broncos. He's still available in a over a third of fantasy leagues.

Roy Williams, DAL (TEN, @MIN, NYG, JAC) – As much as they should be working their running game more, the Cowboys face a slew of upcoming opponents who will force them to throw the ball. Williams (a high risk/high reward option) is the Cowboys biggest deep threat, and he should be owned in all formats.


Digging Deeper
Davone Bess, MIA (BYE, @GB, PIT, @CIN) – Bess caught nine passes for 93 yards and a touchdown in Miami's 41-14 loss to the Patriots on Monday night. He won't help you this week (Dolphins bye week) but he's been a great situational play in PPR leagues for a couple years now.

Mike Thomas, JAC (@BUF, TEN, @KC, DAL) – Thomas had five catches for 68 yards in stunning 31-28 defeat of the Colts on Sunday. He's developed good rapport with David Garrard and is a much more reliable option than Mike Sims-Walker, who's failed to record a catch in two out of the Jags' four games.


Scouring The Barrel
Devin Thomas, WAS (GB, IND, @CHI, @DET) – The Redskins are reportedly shopping Thomas, who could make an impact on another team. He's a true sleeper add at this point, but in deeper leagues with roster space, he could pay dividends down the road.


Updates
WR Brandon Lloyd, DEN (@BAL, NYJ, OAK, @SF) – Lloyd continued to defy expectations with 11 catches for 115 yards in a 26-20 win at Tennessee on Sunday, and is now second to Reggie Wayne in NFL receiving yards on the season.

WR Lance Moore, NO (@ARI, @TB, CLE, PIT) – Five catches, 37 yards and a TD – a solid follow-up to his huge Week 3, even with a lost fumble. Keep him active as a WR3 in 12-team formats.

TE Jeremy Shockey, NO (@ARI, @TB, CLE, PIT) – Shockey had six catches for 58 yards on Sunday and remains involved in the Saints' offense.

WR Roscoe Parrish, BUF (JAC, BYE, @BAL, @KC) – One catch, 7 yards. Not good.

WR Steve Johnson, BUF (JAC, BYE, @BAL, @KC) – Johnson put together a passable game in the blowout loss to the Jets, snagging three catches for 31 yards and a score.

TE Tony Scheffler, DET (STL, @NYG, BYE, WAS) – Six catches for 63 yards in the loss to Green Bay. He's one of the most targeted TEs in the NFC, although there's no word on how, or if, the game plan changes when Stafford returns.

IDP
Off The Top
LB Brian Cushing, HOU (NYG, KC, BYE, @IND) – Cushing has served his four-same suspension and returns to practice this week for the Texans. His amazing 2009 campaign will be nearly impossible to repeat, even from a pro-rated statistical standpoint, but he's a must-own in IDP leagues, juiced or not.

LB James Anderson, CAR (CHI, BYE, SF, @STL) – Okay, I'm a believer. Anderson, who already had 29 total tackles heading into Week 4, posted 16 total tackles (14 solo) and a sack, forced a fumble and recovered two. He should be owned in all formats.


Digging Deeper
LB Shaun Phillips, SD (@OAK, @STL, NE, TEN) – Coming off a four-sack performance against the Cards, Phillips is clearly the LB to own in San Diego. He's got a few favorable matchups coming, so continue to deploy him as a LB3 or defensive flex player with upside.

DB Dawan Landry, BAL (@DEN, NE, @BUF, BYE) – Landry is still available in a bunch of leagues and could post double-digit tackle totals this week facing the Broncos.


Scouring The Barrel
DB Taylor Mays, SF (PHI, OAK, @CAR, DEN) – In his first start, the heralded rookie out of USC stole the show, posting 11 total tackles (9 solos) and recovering a blocked punt in the end zone for a special teams TD. The 49ers have released disgruntled veteran Michael Lewis, so Mays will be the starter at strong safety from here on out.

DL Charles Johnson, CAR (CHI, BYE, SF, @STL) – Look for Johnson to record a sack in his third straight game when the Panthers face the Bears this week.


Updates
LB Rolando McClain, OAK (SD, @SF, @DEN, SEA) – For the fourth straight week, McClain had exactly six total tackles. You could do worse than a guy who's that consistent, although fantasy owners are looking for more than 96 total tackles on the season from an MLB.

DB Greg Toler, ARI (NO, BYE, @SEA, TB) – Seven tackles, a sack, and a forced fumble. He's holding value as a solid DB2 and should be owned in most IDP formats.

DL Alex Brown, NO (@ARI, @TB, CLE, PIT) – Brown put up a goose egg in Week 4. No explanation provided on the Interwebs.

LB Bart Scott, NYJ (MIN, @DEN, BYE, GB) – Four total tackles and a QB hurry against the Bills; Scott was one of the better statistical IDP performers on his team, but nobody really blew up.

LB Mario Haggan, DEN (@BAL, NYJ, OAK, @SF) – As expected, Haggan yielded most of the tackle opportunities to D.J. Williams, but he had four total tackles and a forced fumble, which is okay for a sleeper pick.