10/26/10





MyFantasyLeague.com Users...
Check out the most popular waiver wire pickups this week across thousands of MFL leagues. Also, quickly see who's available on your waiver wire this week by using the MFL Power feature at FF Today. Just input your league's 5-digit ID number away you go!

Targeting weekly waiver picks is a completely subjective business, but this column hopes to point out some obvious and not-so-obvious selections to help your team from week to week while you strive to collect fantasy wins, reach your league playoffs, and win the elusive title that your friends say is out of your grasp. While I'm a big proponent of making trades to bolster your roster, the waiver wire can be an almost limitless resource when it comes to discovering fantasy value in strange places. Each week, I'll target both offensive and defensive players — sometimes breakout stars that eluded your team's draft — as well as players who can help your squad that may still be lurking in deeper leagues.



Off the Top -

Includes my premier recommendations. These are sometimes players available only in more shallow leagues, and occasionally guys who are more readily but are thrust into the fantasy spotlight because of opportunity or exceptional production.



Digging Deeper -

Covers the next tier of quality waiver wire specimens, usually players available in a majority of online leagues. There are a lot of gems in this range who can be plucked rather easily.



Scouring the Barrel -

Chronicles the deepest of fantasy adds — and sometimes highlights players being tacked onto fantasy squads who I don't have much confidence in. Make sure you read the fine print.

Each week, I'll also provide a brief update on the 30-40 players I covered the previous week. It's the most accurate, comprehensive one-stop waiver-wire column available on the Internet, and it's only available here at fftoday.com.

Feedback is always welcome, appreciated and encouraged. I'll get to as many e-mails as I can.


---
Note:
Each player's next four matchups are listed in parentheses ()
Quarterbacks
Off The Top
Mark Sanchez, NYJ (GB, @DET, @CLE, HOU) – Based on FFToday's helpful strength of schedule matrix, from now through Week 15, Sanchez has the most favorable schedule for a QB. While that's not the only factor you should look at, it's undeniable that he young QB will be forced to throw the ball more against a lot of those teams as they load the box to stop the formidable Jets running game. He's worth a look if your QB is on a bye during the next three weeks.

Digging Deeper
Matthew Stafford, DET (WAS, NYJ, @BUF, @DAL) – Stafford is expected to start on Sunday against the Redskins, and while DeAngelo Hall will be lurking, he's the least of Stafford's worries. I expect the young QB to be conservative in his first game back, but the next couple games require the offense to open up.

Ryan Fitzpatrick, BUF (@KC, CHI, DET, @CIN) – Fitzpatrick's fantasy numbers have improved each week since he took over the starting job in Week 3; it's obvious the offense is much better off with him at the helm. The 0-6 Bills have some promising fantasy-friendly matchups on the way. Since this game isn't about NFL wins and losses, Fitzpatrick must now be considered as a low-end QB1, especially in leagues that don't penalize for turnovers.


Scouring The Barrel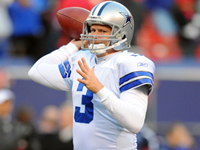 Kitna: A serviceable plug.
Jon Kitna, DAL (JAC, @GB, @NYG, DET) – With Tony Romo out indefinitely with a broken left clavicle, Kitna assumes the reins of this potent offense. But I don't expect a 38-year-old Jesus fanatic to do that well in the den of iniquity that the Dallas Cowboys are famous for cultivating. Still – with regular snaps in practice, a myriad of weapons and a boatload of experience, he could be a serviceable plug for gaping hole in the Cowboys' sinking ship.


Updates
Kevin Kolb, PHI (BYE, IND, @WAS, NYG) – With all eyes back on Michael Vick and a Week 8 bye, Kolb's poor performance on Sunday was probably a blessing in disguise for Andy Reid. Kolb fumbled and looked sloppy and inconsistent, managing just 231 passing yards, one TD and two INTs.

Matt Cassel, KC (BUF, @OAK, @DEN, ARI) – Cassel is poised to follow up the big win over Jacksonville with huge numbers against the Bills. His QB rating through six games is 91.5, although the passing yardage (174 per game) leaves a bit to be desired.

Matt Moore, CAR (@STL, NO, @TB, BAL) – Moore made the most of his second chance, leading the Panthers to their first win of 2010. If he can further develop the relationship with David Gettis, you could be looking at a fantasy spot starter in your stretch run.

Running Backs
Off The Top
Fred Jackson, BUF (@KC, CHI, DET, @CIN) – He's available in over half of Yahoo! Leagues and has a slew of excellent matchups coming. While the Buffalo offense thrives on big plays, Jackson is the workhorse, and C.J. Spiller has made some costly errors. I'm buying low on the undrafted Coe College alumnus.

Brandon Jackson, GB (@NYJ, DAL, BYE, @MIN) – This guy picked a terrible week to have a breakout game, as fantasy owners had probably given up on him. He's entering arguably the toughest stretch for any fantasy RB in the game. Jackson is owned in fewer than two–thirds of fantasy leagues, but you'll likely be waiting a few weeks to get good numbers from him - even if you can pick him up.


Digging Deeper
Darren Sproles, SD (TEN, @HOU, BYE, DEN) – Sproles might not be used as frequently in the passing game once all the Chargers pass catchers are healthy and active, but in PPR leagues, he has some value. Ryan Mathews and Mike Tolbert just aren't getting it done, so he could see more looks on the ground as well.

Scouring The Barrel
LeGarrette Blount, TB (@ARI, @ATL, CAR, @SF) – Blount was a breath of fresh air for the Tampa offense, which somehow grinded out a win over the upstart Rams. The rookie had 11 carries for 72 yards, and a fantasy associate of mine who was at the game said he was simply running people over. A grinding, physical back adept at breaking tackles who's also capable of some big runs, Blount is the resounding answer the Bucs have been seeking and he should get the bulk of carries going forward.

Updates
Justin Forsett, SEA (@OAK, NYG, @ARI, @NO) – He had 72 total yards from scrimmage and appears to be a worthy RB3 in 12-team formats going forward.

Cadillac Williams, TB (@ARI, @ATL, CAR, @SF) – He only has four carries for 12 yards, but in PPR leagues, he blew up with eight catches for 34 yards and a score.

Danny Woodhead, NE (MIN, @CLE, @PIT, IND) – Woodhead had just eight carries for 24 rushing yards and 3-28-0 receiving, giving him 52 total yards on the day.

Mike Hart, IND (HOU, @PHI, CIN, @NE) – Hart could be the go-to ground guy this week in Indy.

Wide Receivers/Tight Ends
Off The Top
WR Dez Bryant, DAL (JAC, @GB, @NYG, DET) – Did you see the Monday night game? Bryant is available in a third of fantasy leagues. I even dropped him on Sunday in one league because of a roster space issue…whoops. With Kitna leading the offense, it appears that Jason Garrett trusts Bryant's ability on the short slants and screens that don't require too much arm strength.

WR Kenny Britt, TEN (@SD, BYE, @MIA, WAS) – In one league, Britt dropped 67 points on me this week. Yeah. He's still available in over a third of formats, but after his seven-catch, 225-yard, three-TD performance in Sunday's win over Philly, he won't be available for long.


Digging Deeper
WR Steve Johnson, BUF (@KC, CHI, DET, @CIN) – His name may be hilariously generic, but his skill set is unique. Johnson has ideal size for a red zone target and is demonstrating a more physical presence in the Bills offense. He's got five TDs in his last four games and should be owned in all 12-team formats.

WR Davone Bess, MIA (@CIN, @BAL, TEN, CHI) – A possession receiver with major upside in PPR formats, Bess runs great routes, does what is asked of him and doesn't seem to be affected by adverse matchups. He's scored in three straight and has 32 receptions for 348 yards in six games this season.

TE Brandon Pettigrew, DET (WAS, NYJ, @BUF, @DAL) – A lot of owners were forced to drop him with the Lions on a bye in Week 7. He's safe to add again and should be heavily involved as Stafford eases his way back into the offense.


Scouring The Barrel
WR Blair White, IND (HOU, @PHI, CIN, @NE) – With Austin Collie out indefinitely and Dalla Clark on IR, White is expected to see increased playing time. While the rookie began the regular season on the practice squad, he's been impressive in limited duty and could be a significant fantasy presence in the all-important slot role for the next few weeks.

WR David Gettis, CAR (@STL, NO, @TB, BAL) – 8-125-2, Wow. I guess the Panthers never should have benched Matt Moore. Add Gettis ASAP in all formats.


Updates
WR Robert Meachem, NO (PIT, @CAR, BYE, SEA) – Two catches, 32 yards. Most of the Saints offensive production came in garbage time.

WR Lee Evans, BUF (@KC, CHI, DET, @CIN) – Nailed this one. Evans had just six catches, but they went for 105 yards, and he scored on three of them. Hopefully the second-half Lee Evans gravy train is once again open for business.

WR Mike Williams, SEA (@OAK, NYG, @ARI, @NO) – Williams followed up his career day in Week 6 with an even better fantasy day in Week 7: 11-87-1.

TE Tony Moeaki, KC (BUF, @OAK, @DEN, ARI) – Three catches, 42 yards. Not bad, but finding paydirt would have been a nice cherry for that frosted cupcake performance.

WR Patrick Crayton, SD (TEN, @HOU, BYE, DEN) – Crayton put up respectable, if not spectacular numbers (7-82-0) on Sunday, but once the big-time San Diego wideouts are back in business, he'll be relatively useless.

WR Michael Jenkins, ATL (BYE, TB, BAL, @STL) – Jenkins managed just 3-25-0 in his second game back as Roddy White stole the show.

IDP
Off The Top
LB Derrick Johnson, KC (BUF, @OAK, @DEN, ARI) – Johnson's INT/TD last week capped a solid stat line (six solos, 3 PD). He's an LB2 with plenty of upside and should be owned in more IDP formats. The upcoming schedule could mean more big numbers.

DB Troy Polamalu, PIT (@NO, @CIN, NE, OAK) – Polamalu's name recognition has him owned in about 70 percent of IDP leagues, and although he's been a steady performer, it's possible that a few folks have dropped him because he really hasn't been making big plays. That's all about to change. If for some reason he's available in your league, he makes a great play the next couple weeks as a DB1.


Digging Deeper
DL Ray Edwards, MIN (@NE, ARI, @CHI, GB) – Yes, the stats have been terrible so far, but I'm not giving up on Edwards as he enters the most favorable upcoming schedule for any DL. Also, since Brett Favre's ankle in three pieces, I suspect there will be a new focus on defense this week in Minnesota where they're looking for ways to put more pressure on opposing QBs.

LB Lofa Tatupu, SEA (@OAK, NYG, @ARI, @NO) – Tatupu's been quiet lately as the majority of tackles are being made by the Seattle secondary (not a good sign). But the next few matchups are LB-favorable, so I'm expecting an IDP resurgence for the veteran defender.


Scouring The Barrel
LB Desmond Bishop, GB (@NYJ, DAL, BYE, @MIN) – People still aren't getting the message: Bishop is a stud LB in the making. Grab him immediately!

DL Jason Hunter, DEN (@SF, BYE, KC, @SD) – Hunter's coming off a few productive games and has one more nice matchup in San Fran before his bye week. He's a pretty deep sleeper, but he's nearly universally available and has been getting to the ball carrier and QB more frequently (2.0 sacks and 18 solos in his last three games).


Updates
Kerry Rhodes, ARI (TB, @MIN, SEA, @KC) – Rhodes registered a humdrum six-tackle total against the Seahawks; he remains a top fantasy DB.

LB Paris Lenon, ARI (TB, @MIN, SEA, @KC) – Lenon had the weakest game of his fantasy season last week but still must be considered a solid LB2.

LB Zach Diles, HOU (@IND, SD, @JAC, @NYJ) – Get him in your lineup this week.

LB Stewart Bradley, PHI (BYE, IND, @WAS, NYG) – Two tackles. He's been an undeniable bust in 2010.

DL Kendall Langford, MIA (@CIN, @BAL, TEN, CHI) – Three total tackles against the Steelers. Meh.

DB Tramon Williams, GB (@NYJ, DAL, BYE, @MIN) – Williams posted just four solos, but safety Nick Collins had a big game.