9/20/11





MyFantasyLeague.com Users...
Check out the most popular waiver wire pickups this week across thousands of MFL leagues. Also, quickly see who's available on your waiver wire this week by using the MFL Power feature at FF Today. Just input your league's 5-digit ID number away you go!

Targeting weekly waiver picks is a completely subjective business, but this column hopes to point out some obvious and not-so-obvious selections to help your team from week to week while you strive to collect fantasy wins, reach your league playoffs, and win the elusive title that your friends say is out of your grasp. While I'm a big proponent of making trades to bolster your roster, the waiver wire can be a limitless resource when it comes to discovering fantasy value. Each week, I'll target both offensive and defensive players — sometimes breakout stars that eluded your team's draft — as well as players who can help your squad that may be lurking in deeper leagues.



Off the Top -

Includes my premier recommendations. These are sometimes players available only in more shallow leagues, and occasionally guys who are more readily but are thrust into the fantasy spotlight because of opportunity or exceptional production.



Digging Deeper -

Covers the next tier of quality waiver wire specimens, usually players available in a majority of online leagues. There are a lot of gems in this range who can be plucked rather easily.



Scouring the Barrel -

Chronicles the deepest of fantasy adds — and sometimes highlights players being tacked onto fantasy squads who I don't have much confidence in. Make sure you read the fine print.

Each week, I'll also provide a brief update on the 20-30 players I covered the previous week. It's the most accurate, comprehensive one-stop waiver-wire column available on the Internet, and it's only available here at fftoday.com.

Feedback is always welcome, appreciated and encouraged. I'll get to as many e-mails as I can.


---
Note:
Each player's next four matchups are listed in parentheses ()
Quarterbacks
Off The Top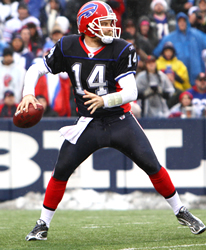 Fitzpatrick (7 TDs) is the sixth best fantasy QB after two weeks.
Ryan Fitzpatrick, BUF (NE, @CIN, PHI, @NYG) – The Bills are 2-0, and Fitzpatrick is the main reason why. He gets a return trip to the top spot after a huge Week 2 performance (264-3-1 passing; 23 rushing yards). He's still available in over a third of fantasy leagues.

Digging Deeper
Matt Hasselbeck, TEN (DEN, @CLE, @PIT, BYE) – Like Fitzpatrick, Hasselbeck put up big numbers in the first two weeks, and his ownership rate (18%) is even lower. He's an experienced, talented QB not too far removed from his prime. Jump on him before you miss out.


Scouring The Barrel
Andy Dalton, CIN (SF, BUF, @JAC, IND) – The rookie looked excellent in Week 2, and he's only owned in 5 percent of leagues. The next four matchups could mean big numbers, and he's a must-own in leagues that start two QBs.


Updates
Cam Newton, CAR (JAC, @CHI, NO, @ATL) – Newton lost again, but his fantasy numbers were similarly awesome. It's clear the Panthers are allowing him to throw the ball as he sees fit, and it might be too late to grab him off the wire at this point.
Chad Henne, MIA (@CLE, @SD, BYE, @NYJ) – Henne's Week 2 numbers left a bit to be desired, but he's got a slew of capable receivers and decent red zone targets.
Kerry Collins, IND (PIT, @TB, KC, @CIN) – I think the Kerry Collins experiment has run its course, and it's time to look elsewhere. Are you reading this, Colts brass?
Rex Grossman, WAS (@DAL, @STL, BYE, PHI) – Grossman pulled off another win and finished in the top 15 scoring QBs in Week 2 (291-2-2). He's going to throw picks, but the Skins will be in a lot of games this season.

Running Backs
Off The Top
Willis McGahee, DEN (@TEN, @GB, SD, BYE) – McGahee got the nod with Knowshon Moreno inactive, and he took full advantage. He also looks like the back better equipped to handle the main RB duties in the Broncos offensive game plan. The veteran carried the ball 28 times — the most he's had in a game since 2007. The experienced back finished 101 rushing yards and a touchdown and is available in almost 40 percent of leagues.

Dexter McCluster, KC (@SD, MIN, @IND, BYE) – I recommended adding McCluster before Jamaal Charles tore his ACL, but I don't want him to get lost in the updates section. He offers rare value as a WR-eligible RB with plenty of upside.


Digging Deeper
Thomas Jones, KC (@SD, MIN, @IND, BYE) – I don't think he's got much left in the tank, but he could have some value as a goal line back if the Chiefs can somehow get their act together.
DeMarco Murray, DAL (WAS, DET, BYE, @NE) – Murray could assume most of the regular carries in the vaunted Cowboys offense should the Felix Jones injury force him to miss any time.

Scouring The Barrel
Roy Helu, WAS (@DAL, @STL, BYE, PHI) – As expected, it didn't take long for Mike Shanahan to start a time share in D.C. If you can stash Helu and wait for a few more solid outings (10 carries, 74 rushing yards; 3-38-0 receiving), it's a wise move.

Tashard Choice, DAL (WAS, DET, BYE, @NE) – Again – this won't pan out much if Jones is okay, but Choice could be in line for more touches in the red zone. He won't be the main option in this passing offense, but I wouldn't be surprised if he's the preferred goal line option – bringing some value in deeper formats.


Updates
James Starks, GB (@CHI, DEN, @ATL, STL) – After 115 total yards last week and some clear indicators he's going to carry a bigger load in the ground game, Starks should be owned in all formats.

Ben Tate, HOU (@NO, PIT, OAK, @BAL) – Foster re-aggravated his injury, and Tate will get most of the work going forward. He's a must-own in all formats and should put up solid RB2 numbers in the coming weeks.

LaDainian Tomlinson, NYJ (@OAK, @BAL, @NE, MIA) – He wasn't too active in Week 2; the veteran back will be used judiciously this season and be more involved in closer games.

Derrick Ward, HOU (@NO, PIT, OAK, @BAL) – Ward's Week 1 injury, Tate's emergence and Foster's eventual availability could keep him from being relevant for a while.

Darren Sproles, NO (HOU, @JAC, @CAR, @TB) – Sproles is a PPR machine (8-43-1 receiving in Week 2) and should have decent value in those formats.

Cadillac Williams, STL (BAL, WAS, BYE, @GB) – Williams didn't find much running room against the Giants, but he didn't need to with the Gianst DBs giving so much ground via the pass. It's safe to assume he's not worth much more than a bench roster spot at this point.

Earnest Graham, TB (ATL, IND, @SF, NO) – As expected the Bucs returned to the ground in Week 2 and Blount had a monster game that rendered Graham ineffectual.

Wide Receivers/Tight Ends
Off The Top
WR A.J. Green, CIN (SF, BUF, @JAC, IND) – I know – he's gotten a bunch of press and he's taken in most formats. Well, he's available in about 20 percent of leagues, so make it not so!

WR Nate Burleson, DET (@MIN, @DAL, CHI, SF) – The Lions must throw the ball to win, especially against the next four opponents, and Burleson his second-favorite target (nine targets, 7-93-0 on Sunday). He's available about 40-45 percent of fantasy leagues.

TE Fred Davis, WAS (@DAL, @STL, BYE, PHI) – I added Davis in one super-deep league this past week and was rewarded with a big game: six catches for 86 yards and a TD (on seven targets). He's available in about 75-80 percent of leagues.

WR Jerome Simpson, CIN (SF, BUF, @JAC, IND) – He had a big game Sunday (4-136-0) and is primed for more opportunities with slot man Jordan Shipley out for the season.

WR Eric Decker, DEN (@TEN, @GB, SD, BYE) – There's a lot this guy can do in the Denver offense, and his size (6-3, 218) makes him an invaluable blocker and red zone threat. I almost added him Sunday morning just in case I needed to replace Lloyd, but didn't have the roster space and went with Devery Henderson (as I'll address later). Don't make the same mistake – if you still have the chance.


Digging Deeper
WR Denarius Moore, OAK (NYJ, NE, @HOU, CLE) – Moore exploded on the fantasy scene in the Bills-Raiders tilt, catching five passes for 146 yards and a TD on eight targets.

WR David Nelson, BUF (NE, @CIN, PHI, @NYG) – Fitzpatrick spreads the ball around but Nelson was targeted 13 times on Sunday, finishing with 10-83-1. He's not going to be an every-week stud, but he's worth starting in favorable matchups.


Scouring The Barrel
WR Brandon LaFell, CAR – In the new Carolina offense, I'm betting that LaFell (4-49-1 in Week 2) continues to get plenty of key looks in the red zone. He's owned in just 2 percent of leagues.

WR Jesse Holley, DAL – The universally available Holley won a 2009 Michael Irvin reality show on Spike TV to get a shot with Dallas, but made his mark on Tony Romo and the team with the big final drive and bombalicious almost-TD in overtime. He could have earned more regular looks with the injury to Miles Austin and Dez Bryant's slow recovery from a bruised thigh.


Updates
WR Jordy Nelson, GB (@CHI, DEN, @ATL, STL) – He was gobbled up from the wire after Week 1 and responded with an 84-yard TD. Nice.

WR Robert Meachem, NO (HOU, @JAC, @CAR, @TB) – Meacham wasn't targeted that much but he caught every ball thrown his way and finished with a solid game (4-10-1).

TE Dustin Keller, NYJ (@OAK, @BAL, @NE, MIA) – I'm patting myself on the back after this one, even though I didn't start him (I had Rob Gronkowski). Keller finished Week 2 with 6-101-1.

WR Devery Henderson, NO (HOU, @JAC, @CAR, @TB) – I grabbed and started Henderson in one league where I made the tough 1 p.m. decision to bench Brandon Lloyd. It paid off as Henderson went for 3-103-1.

WR Nate Washington, TEN (DEN, @CLE, @PIT, BYE) – Hasselbeck loves this guy: 11 targets, 7-99-0. He'll be a capable WR3/4 in all formats this season.

WR Jabar Gaffney, WAS (@DAL, @STL, BYE, PHI) – Gaffney had another good game (5-62-0) and remains a popular target for Grossman.

TE Scott Chandler, BUF (NE, @CIN, PHI, @NYG) – Wow. Another week, another TD for Chandler. Don't sleep on this guy in the red zone.

TE Ed Dickson, BAL (@STL, NYJ, BYE, HOU) – Six targets, just two catches for 25 yards. Whatever happened in Week 1 against the Steelers obviously didn't in the pathetic Week 2 loss to Tennessee.

IDP
Off The Top
LB Mason Foster, TB (ATL, IND, @SF, NO) – The rookie racked up 10 tackles (seven solos), a sack and a forced fumble during the comeback win over Minnesota. He'll see plenty of action in the coming weeks.

DL Michael Johnson, CIN (SF, BUF, @JAC, IND) – If he's DL-eligible in your league, Johnson is a steal. The pass-rushing 3-4 OLB posted seven solos, a sack and a forced fumble against the Broncos, and he's made a bunch of big plays so far this season (three PD, INT).


Digging Deeper
LB Rolando McClain, OAK (NYJ, NE, @HOU, CLE) – McClain could be in line for monster numbers during the next few matchups, where he'll undoubtedly be on the field a lot. Largely unimpressive (from a fantasy perspective) during his rookie season, McClain is starting to contribute with more numbers in this rough-and-tumble defense.

DB Jon McGraw, KC (@SD, MIN, @IND, BYE) – The Chiefs are bad, and Eric Berry's replacement will be busy cleaning up a lot of the plays that get into the second and third levels of the Swiss-like defense. He posted 10 total tackles, two PD and an INT in Sunday's loss.


Scouring The Barrel
LB Kavell Conner, IND (PIT, @TB, KC, @CIN) – The WLB position in Indy is a busy one, and Conner already has 15 total tackles, two PD and a forced fumble this season. Add him in deeper formats.

DL Derrick Morgan, TEN (DEN, @CLE, @PIT, BYE) – The talented defensive end may or mat not be counted on more and more as the season progresses (this hinges on the weekly status/performance of Jason Jones and Dave Ball), but he's off to a good start and could be a boost in deeper IDP formats.


Updates
LB Pat Angerer, IND (PIT, @TB, KC, @CIN) – Angerer only recorded three solos, but chipped in with five assists and a forced fumble. He'll continue to see plenty of action in the brittle Colts defense.

DB Reed Doughty, WAS (@DAL, @STL, BYE, PHI) – Doughty was a serviceable IDP fill-in last week, posting six total tackles and a fumble recovery in the win over Arizona.

LB Sean Lee, DAL (WAS, DET, BYE, @NE) – Lee continued his solid play with 11 tackles (nine solos) on Sunday. He should be owned in most IDP format sat this point.

DB Lardarius Webb, BAL (@STL, NYJ, BYE, HOU) – Webb had another solid game, finishing with 10 tackles (nine solos) and a PD.

DB Morgan Burnett, GB (@CHI, DEN, @ATL, STL) – Burnett had the best statistical game of any DB last week, posting seven solos, a sack, two PD an INT and a forced fumble. With fellow safety Nick Collins out, the burden will even be heavier on the second-year player.