9/27/11





MyFantasyLeague.com Users...
Check out the most popular waiver wire pickups this week across thousands of MFL leagues. Also, quickly see who's available on your waiver wire this week by using the MFL Power feature at FF Today. Just input your league's 5-digit ID number away you go!

Targeting weekly waiver picks is a completely subjective business, but this column hopes to point out some obvious and not-so-obvious selections to help your team from week to week while you strive to collect fantasy wins, reach your league playoffs, and win the elusive title that your friends say is out of your grasp. While I'm a big proponent of making trades to bolster your roster, the waiver wire can be a limitless resource when it comes to discovering fantasy value. Each week, I'll target both offensive and defensive players — sometimes breakout stars that eluded your team's draft — as well as players who can help your squad that may be lurking in deeper leagues.



Off the Top -

Includes my premier recommendations. These are sometimes players available only in more shallow leagues, and occasionally guys who are more readily but are thrust into the fantasy spotlight because of opportunity or exceptional production.



Digging Deeper -

Covers the next tier of quality waiver wire specimens, usually players available in a majority of online leagues. There are a lot of gems in this range who can be plucked rather easily.



Scouring the Barrel -

Chronicles the deepest of fantasy adds — and sometimes highlights players being tacked onto fantasy squads who I don't have much confidence in. Make sure you read the fine print.

Each week, I'll also provide a brief update on the 20-30 players I covered the previous week. It's the most accurate, comprehensive one-stop waiver-wire column available on the Internet, and it's only available here at fftoday.com.

Feedback is always welcome, appreciated and encouraged. I'll get to as many e-mails as I can.


---
Note:
Each player's next four matchups are listed in parentheses ()
Quarterbacks
Off The Top
Mark Sanchez, NYJ (@BAL, @NE, MIA, SD) – Sanchez (63 percent owned) can look very good and very bad within the same game, but he's clearly improving. One thing you can count on is an expanded passing repertoire in 2011, which we've already seen – largely due to a bigger arsenal of offensive weapons. He tossed a couple TD passes (369-2-1) and ran for two more in Sunday's loss to Oakland, and while the Ravens present some matchup problems next week, the tilts with the Pats, Dolphins and Chargers could be shootouts and yield huge numbers from the third-year QB.

Digging Deeper
Colt McCoy, CLE (TEN, BYE, @OAK, SEA) – McCoy (33 percent owned) isn't flashy, but he's proving that he belongs on the field as a starting NFL QB. With more weapons, he could be a Top 15 fantasy QB. I'd give him a look in deeper formats as a backup.


Scouring The Barrel
Tarvaris Jackson, SEA (ATL, @NYG, BYE, CLE) – There's not a lot to like about Jackson, who did more scoring with his legs than his arm in Sunday's sloppy victory over the Cards – an admittedly poor pass defense. There's a chance he develops some rapport with a healthy Sidney Rice, but you'd have to be desperate to take a chance on Jackson, especially with so many capable quarterbacks available.


Updates
Ryan Fitzpatrick, BUF (@CIN, PHI, @NYG, BYE) – After another monster game (369-2-2), the remaining 18 percent of leagues where he's not owned will likely surrender and put in a claim.
Matt Hasselbeck, TEN (@CLE, @PIT, BYE, HOU) – Hasselbeck threw for 311-2-0 on Sunday and has led his team to two straight victories. He's a decent backup or QB2 in all formats, although the loss of Kenny Britt does limit his options.
Andy Dalton, CIN (BUF, @JAC, IND, BYE) – The rookie fizzled in Week 3, tossing for just 157 yards and two picks (no TD) against the tough 49ers defense.

Running Backs
Off The Top
Darren Sproles, NO (HOU, @JAC, @CAR, @TB) – Sproles makes his second appearance in this column (I recommended adding him after Week 2) and is now only available in about 15-20 percent of fantasy leagues. He's a must-add in all formats and a weekly must-start in PPR leagues.

Daniel Thomas, MIA (@SD, BYE, @NYJ, DEN) – In two games (Weeks 2-3 against Houston and Cleveland), the rookie is averaging 101 rushing yards (4.9 YPC) and has accumulated 4-37-1 receiving. Despite taking over the reins as the Dolphins premiere rusher, he's still available in about 30-33 percent of leagues. Grab him right away.


Digging Deeper
LaDainian Tomlinson, NYJ (@BAL, @NE, MIA) – Like Sproles, I foresaw plenty of fantasy value left in Tomlinson's legs, especially in close games like the battle with Oakland, when he dropped 5-116-1 receiving on top of a paltry 38 yards rushing. He's still available in about 35-40 percent of fantasy leagues.

Montario Hardesty, CLE (TEN, BYE, @OAK, SEA) – Unless Peyton Hillis has contracted an especially nasty form of strep throat or gets injured at some point in the future, Hardesty probably won't get too many starts. But he's earned more touches in the Browns offense and appears capable of decent numbers when he gets an opportunity.


Scouring The Barrel
Kendall Hunter, SF (@PHI, TB, @DET, BYE) – Hunter shouldered most of the load (nine carrries, 26 yards TD; 2-12-0 receiving) for the Niners after Frank Gore exited with a right ankle sprain that could force the veteran back to miss additional time. Hunter's not a great option, but if you own Gore, he's probably a smart handcuff.

Alfonso Smith, ARI (NYG, @MIN, BYE, PIT) – The undrafted rookie out of Kentucky had the better stats on Sunday (veteran Chester Taylor just had eight carries for 20 yards) in the stead of Beanie Wells, who was inactive with a hamstring injury. Smith finished with 17 carries for 54 yards and 3-21-0 receiving, respectable RB3/flex numbers in PPR formats. He's not guaranteed regular playing time, but Wells is nearly useless in the passing game and Smith could fit the bill as a decent backup in deep PPR leagues.


Updates
Willis McGahee, DEN (@GB, SD, BYE, @MIA) – The veteran back was effectively stymied by the Titans on Sunday (52 rushing yards on 22 carries; 3-2-1 receiving).

RB/WR Dexter McCluster, KC (MIN, @IND, BYE, @OAK) – In his first game in the post-Jamaal era, McCluster finished with nine carries for 45 yards and 5-17-0. He's got more value than Thomas Jones in all formats except scoring-only leagues.

Thomas Jones, KC (MIN, @IND, BYE, @OAK) – 2.2 yards per carry just ain't getting' it done. I honestly don't think there's a place for him in football anymore.
DeMarco Murray, DAL (DET, BYE, @NE, STL) – Felix Jones was good to go on Monday night, so Murray wasn't a factor.

Roy Helu, WAS (@STL, BYE, PHI, @CAR) – Helu looked okay but faced a tough run defense. He's still in line for consistent touches somewhere down the line this season.

Tashard Choice, DAL (DET, BYE, @NE, STL) – See Murray, DeMarco.

Wide Receivers/Tight Ends
Off The Top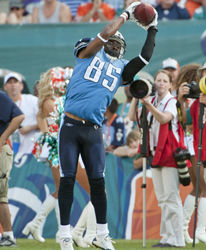 Nate Washington will be a hot waiver wire pickup this week.
WR Nate Washington, TEN (@CLE, @PIT, BYE, HOU) – I recommended adding Washington two weeks ago, but with the season-ending injury to Kenny Britt, the veteran deep threat is now the No. 1 receiver in Tennessee – and the Titans just keep on throwing the ball. Washington will be the top targeted wideout in Music City.

WR Torrey Smith, BAL (NYJ, BYE, HOU, @JAC) – Smith, a rookie receiver out of Maryland, erupted for five catches, 152 yards and three scores (74, 41, 18) against the Rams on Sunday. His ownership rate went from 0 percent to about 15 percent in a 24-hour period in leagues that don't run a waivers process. Washington and Smith will be the first two receivers targeted by owners this week, and while it's hard to trust one performance from Smith, it's hard to ignore a breakout like that.

TE Brandon Pettigrew, DET (@DAL, CHI, SF, ATL) – It's equally hard to ignore how much Matthew Stafford looked for Pettigrew on Sunday (13 targets) and the way Pettigrew responded (11-112-0). If you mix in a handful of touchdowns to what will inevitably be solid receptions and yardage totals for Pettigrew this season, he could be a Top 5 TE alongside Jermichael Finley, Jimmy Graham, Antonio Gates (if he can get healthy) and Rob Gronkowski.


Digging Deeper
TE Heath Miller, PIT (@HOU, TEN, JAC, @ARI) – Miller won't score too many TD or rack up huge numbers, but he's a capable fantasy backup with upside in spot starts. He had 5-71-0 on Sunday night in the squeaked-out win over the hapless Colts secondary.

WR Donald Jones, BUF (@CIN, PHI, @NYG, BYE) – Jones had his best game as a pro (5-101-0) and was targeted ten times by Fitzpatrick. The Bills spread it around quite a bit, but there seems to be growing rapport between the Harvard man and the undrafted Youngstown State alum.


Scouring The Barrel
WR Brian Hartline, MIA (@SD, BYE, @NYJ, DEN) – Hartline had four catches for 87 yards in a 17-16 loss Sunday at Cleveland, and will be a solid backup (WR4/5) in PPR leagues.

WR Victor Cruz, NYG (@ARI, SEA, BUF, BYE) – With Dominick Hixon done for the season, Mario Manningham still dinged up, and the injury history of Hakeem Nicks looming, the stage has been set for more big performances like Sunday's embarrassment of the Eagles. Cruz had 3-110-2 and could be a big-play threat for the still-dynamic Giants.

WR Michael Jenkins, MIN (@KC, ARI, @CHI, GB) – I don't trust the Vikings passing game (or the second half defense) at all, but the universally available Jenkins played well in Sunday's loss, hauling in nine catches for 88 yards.


Updates
WR A.J. Green, CIN (BUF, @JAC, IND, BYE) – Green was neutralized by the Niners, going for 4-29-0 in the loss.

WR Nate Burleson, DET (@DAL, CHI, SF, ATL) – Burleson wasn't involved on Sunday (2-12-0 on his only two targets) and was summarily outshined by Pettigrew.

TE Fred Davis, WAS (@STL, BYE, PHI, @CAR) – The Redskins didn't go to Davis that much, and the solid TE finished with just one catch for 23 yards. He's still a Top 15 TE going forward.

WR Jerome Simpson, CIN (BUF, @JAC, IND, BYE) – The soon-to-be suspended Simpson posted just 1-6-0 on four targets. He's safe to drop in all formats.

WR Eric Decker, DEN (@GB, SD, BYE, @MIA) – Decker had 12 targets and finished with 7-48-0 in the loss to Tennessee and looks like the primary target after the dicey Brandon Lloyd.

WR Denarius Moore, OAK (NE, @HOU, CLE, KC) – He had just six targets and 4-34-0 receiving, but added a 23-yard TD scamper in the win over the Jets. His numbers may not be consistent, but he's a gamer.

WR David Nelson, BUF (@CIN, PHI, @NYG, BYE) – Nelson was serviceable, posting 6-84-0 in the electrifying home win over New England.

WR Brandon LaFell, CAR (@CHI, NO, @ATL, WAS) – Sunday's goose egg (zero targets) doesn't help his value going forward.

WR Jesse Holley, DAL (DET, BYE, @NE, STL) – With Dez Bryant back, Holley didn't see much field time and finished without a catch.

IDP
Off The Top
DB Morgan Burnett, GB (DEN, @ATL, STL, @MIN) – For the second time in three weeks, Burnett had the best statistical game of any DB (he tied Kyle Arrington and Aaron Ross, who also had two picks each this week), posting five solos, one assist, two PR and two INT.

LB Sean Weatherspoon, ATL (@SEA, GB, CAR, @DET) – Weatherspoon is making a big fantasy impact and should continue to rack up tackles this season. Through four games, he's already posted 26 solos and five assists.


Digging Deeper
DL Greg Hardy, CAR (@CHI, NO, @ATL, WAS) – After Charles Johnson, Hardy is the DL to own in Carolina. He's making plays at the line of scrimmage and getting to the QB on the reg.

LB Bart Scott, NYJ (@BAL, @NE, MIA, SD) – He's not a top IDP option, but in deeper leagues, his big play potential (and ability to get to the QB) could pay dividends down the stretch.


Scouring The Barrel
LB Navorro Bowman, SF (@PHI, TB, @DET, BYE) – I ignored the results the first couple weeks, but Bowman now has 30 total tackles in three games. Time to pay attention to the other ILB in San Fran.

DB Sean Jones, TB (IND, @SF, NO, CHI) – I've always been a fan of Jones, who when healthy is a solid playmaker with consistent tackle numbers. He's a quality DB2 with upside.


Updates
LB Mason Foster, TB (IND, @SF, NO, CHI) – Five tackles and a sack in the win over Atlanta. I like this guy.

DL Michael Johnson, CIN (BUF, @JAC, IND, BYE) – Three tackles but no sacks in Sunday's loss to San Fran.

LB Rolando McClain, OAK (NE, @HOU, CLE, KC) – 12 total tackles in the stirring victory over the Jets.

DB Jon McGraw, KC (MIN, @IND, BYE, @OAK) – He was relatively useless to IDP owners on Sunday, posting a solitary assist in the loss to the Chargers after leaving early with an undisclosed injury.

LB Kavell Conner, IND (@TB, KC, @CIN, @NO) – 10 total tackles, but just two solos. Lots of assists handed out by the official scorer in Indy.

DL Derrick Morgan, TEN (@CLE, @PIT, BYE, HOU) – Three solos in the win over Denver, but no sacks.