10/18/11





MyFantasyLeague.com Users...
Check out the most popular waiver wire pickups this week across thousands of MFL leagues. Also, quickly see who's available on your waiver wire this week by using the MFL Power feature at FF Today. Just input your league's 5-digit ID number away you go!

Targeting weekly waiver picks is a completely subjective business, but this column hopes to point out some obvious and not-so-obvious selections to help your team from week to week while you strive to collect fantasy wins, reach your league playoffs, and win the elusive title that your friends say is out of your grasp. While I'm a big proponent of making trades to bolster your roster, the waiver wire can be a limitless resource when it comes to discovering fantasy value. Each week, I'll target both offensive and defensive players — sometimes breakout stars that eluded your team's draft — as well as players who can help your squad that may be lurking in deeper leagues.



Off the Top -

Includes my premier recommendations. These are sometimes players available only in more shallow leagues, and occasionally guys who are more readily but are thrust into the fantasy spotlight because of opportunity or exceptional production.



Digging Deeper -

Covers the next tier of quality waiver wire specimens, usually players available in a majority of online leagues. There are a lot of gems in this range who can be plucked rather easily.



Scouring the Barrel -

Chronicles the deepest of fantasy adds — and sometimes highlights players being tacked onto fantasy squads who I don't have much confidence in. Make sure you read the fine print.

Each week, I'll also provide a brief update on the 20-30 players I covered the previous week. It's the most accurate, comprehensive one-stop waiver-wire column available on the Internet, and it's only available here at fftoday.com.

Feedback is always welcome, appreciated and encouraged. I'll get to as many e-mails as I can.


---
Note:
Each player's next four matchups are listed in parentheses ()
Quarterbacks
Off The Top
Josh Freeman, TB (CHI, BYE, @NO, HOU) – Because Freeman's been such an enigma this season, he's still available in about 25 percent of fantasy leagues. If he can find a rhythm this week against Chicago and after the Week 8 bye, he might be worth starting again.

Digging Deeper
Sam Bradford, STL (@DAL, NO, @ARI, @CLE) – I love Bradford's upcoming schedule despite the less-than-stellar matchups. Call it a hunch, but I have a feeling he's ready to post some big fantasy numbers in the coming weeks – and he's on the waiver wire in over 50 percent of leagues. The Rams just added a talented downfield threat in Brandon Lloyd, and while Bradford twisted his ankle on the last offensive play, X-rays were negative and he should be fine going forward.


Scouring The Barrel
John Beck, WAS (@CAR, @BUF, SF, @MIA) – The Redskins benched Rex Grossman after a hideous performance at home against Philly. Beck has a bunch of viable weapons and while he'll make fewer mistakes, he's nothing more than a bye week fill-in.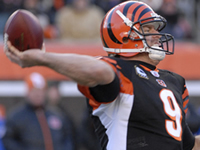 Carson Palmer in Silver and Black?
Carson Palmer, Oakland? – With the trade deadline coming today, it's possible Palmer could get moved to the Raiders. The Bengals owner has said he won't trade Palmer, but it seems ridiculous to pass up an opportunity for a reported first-round pick and another conditional pick that could become a first-rounder in 2013… if that's what the Raiders are offering.

Updates
Matt Cassel, KC (@OAK, SD, MIA, DEN) – Coming off a Week 6 bye, but he should be ready for the Raiders and a bunch of fantasy-friendly matchups.
Andy Dalton, CIN (BYE, @SEA, @TEN, PIT) – Dalton had another solid day (264-1-0) and continues to look like he belongs in the NFL.
Curtis Painter, IND (@NO, @TEN, ATL, JAC) – Painter managed just 188-1-1 in the loss to Cincy, but it appears the Colts are sticking with him.
Tim Tebow, DEN (@MIA, DET, @OAK, @KC) – It's almost time, folks. Let's try not to crap ourselves when he takes the first snap.

Running Backs
Off The Top
Montario Hardesty, CLE (SEA, @SF, @HOU, STL) – Hardesty (18 percent owned) got more touches last week (11 carries, 35 yards; 2-18-0 receiving) and could pull even with – or supplant – Peyton Hillis if the bulky back can't get himself going after sustaining a hamstring injury against Oakland. Hardesty is worth a roster spot in all 12-team leagues and makes a decent RB2 play this week if Hillis is out.


Digging Deeper
DeMarco Murray, DAL (STL, @PHI, SEA, BUF) – Murray (8 percent owned) looked sharp against the Patriots on Sunday and will be in line for more touches now that Felix Jones is out 2-4 weeks. He's worth a start at flex and makes a low-end RB2 if you're hurting from the Week 7 byes.

Maurice Morris, DET (ATL, @DEN, BYE, @CHI) – Morris will be the running back to see the majority of carries if Jahvid Best (concussion) misses any time. Morris had 5 carries for 20 yards last week. Remember, the Lions are a pass-first team so at best Morris would be a low-end RB2 or flex play.

Scouring The Barrel
Donald Brown, IND (@NO, @TEN, ATL, JAC) – Before Sunday's TD run, Brown had done next to nothing. I'm still not that psyched about his prospects, but he was a pretty highly touted guy a couple years back. He's worth adding in deeper leagues.

Updates
DeAngelo Williams, CAR (WAS, MIN, BYE, TEN) – After a brilliant Week 5, Williams fizzled against Atlanta with 44 rushing yards on 12 carries. Jonathan Stewart and Cam Newton scored the team's two rushing TDs.

Marshawn Lynch, SEA (@CLE, CIN, @DAL, BAL) – The upcoming schedule could mean a boost in Lynch's numbers.

Delone Carter, IND (@NO, @TEN, ATL, JAC) – Carter didn't get the rushing TD on Sunday (see Brown above), but he did manage 45 rushing yards.

Jackie Battle, KC (@OAK, SD, MIA, DEN) – Not sure how Week 7 will play out, but at least the Chiefs have had some time to prepare. Battle should get most of the offensive touches after his impressive Week 5 breakout.

Jonathan Dwyer, PIT (@ARI, NE, BAL, @CIN) – I told you the window had closed on Dwyer.

Wide Receivers/Tight Ends
Off The Top
WR Nate Burleson, DET (ATL, @DEN, BYE, @CHI) – Burleson scored his first TD of the season this week, and he's got a couple nice matchups coming before the Week 9 bye.


Digging Deeper
WR Devin Hester, CHI (@TB, BYE, @PHI, DET) – Hester's big Week 6 (5-91-1, return TD) probably won't again, but it's important to remember just how dangerous this guy is on fantasy teams. He doesn't need a bunch of targets to make a huge impact. While Hester hurt his chest late in the game, he should be okay – at the latest he'll be ready for Philly matchup in Week 9.


Scouring The Barrel
WR Danario Alexander, STL (@DAL, NO, @ARI, @CLE) – The addition of Brandon Lloyd could go a couple ways for Alexander, but I think it'll help. Alexander is a big, physical receiver, while Lloyd is more of a speedy deep threat who'll take some of the heat off him. Also – is it possible somebody in your league dropped Lloyd after he turned in a couple bad weeks? It's worth checking out.


Updates
WR Victor Cruz, NYG (BYE, MIA, @NE, @SF) – Eli Manning didn't throw any TD passes on Sunday, and Cruz finished with just 2-12-0 on four targets.

WR Hines Ward, PIT (@ARI, NE, BAL, @CIN) – Ward totaled 3-47-0 on four targets as the Steelers had a hard time finding the end zone versus the Jags.

WR James Jones, GB (@MIN, BYE, @SD, MIN) – Jones had one catch – a 35-yard TD reception that made him the 16th highest scoring Week 6 receiver in non-PPR leagues. Yeah – it was a low-scoring week for receivers.

WR Darrius Heyward-Bey, OAK (KC, BYE, DEN, @SD) – The speedy wideout's value took a huge hit when Jason Campbell broke his collarbone, but Heyward-Bey finished with six catches for 82 yards on nine targets.

WR Jason Hill, JAC (BAL, @HOU, BYE, @IND) – Hill (2-29-1) caught a TD pass for the second straight week.

IDP
Off The Top
DL Calais Campbell, ARI (PIT, @BAL, STL, @PHI) – Campbell is one of the leading scorers among defensive lineman, racking up 29 total tackles and 2.5 sacks in his first five games. He uses his hands extremely well and poses a significant pass-rushing threat to Ben Roethlisberger and the Steelers in Week 6.


Digging Deeper
LB Von Miller, DEN (@MIA, DET, @OAK, @KC) – The rookie linebacker has 3.0 sacks in five games to go along with 18 tackles (15 solos). You can't expect the tackle numbers to be that huge for a pass-rushing OLB, but the guys has a nose for the ball and could come up with some important sacks and turnovers in the coming weeks.


Scouring The Barrel
DB Jordan Babineaux, TEN (HOU, IND, CIN, @CAR) – Chris Hope's broken forearm assures Babineaux's place as a starter for Tennessee, a role where he's flourished in the past few weeks. On paper, the upcoming schedule doesn't look especially favorable, but Babineaux's a playmaker that finds way to make an impact.


Updates
LB Jamar Chaney, PHI (BYE, DAL, CHI, ARI) – Chaney registered just one tackle in Week 6 and his team's on a bye this week. It's safe to drop him in shallow IDP formats.

DB Sean Jones, TB (CHI, BYE, @NOR, HOU) – The veteran DB posted four solo tackles in Sunday's win over New Orleans. Keep him rostered unless you have better options on the wire.

DL Brian Robison, MIN (GNB, @CAR, BYE, @GB) – The rookie DE had three solos in the Sunday night loss to Chicago, but didn't get to Jay Cutler as the Vikings not named Jared Allen struggled to get any kind of pass rush.