10/25/11





MyFantasyLeague.com Users...
Check out the most popular waiver wire pickups this week across thousands of MFL leagues. Also, quickly see who's available on your waiver wire this week by using the MFL Power feature at FF Today. Just input your league's 5-digit ID number away you go!

Targeting weekly waiver picks is a completely subjective business, but this column hopes to point out some obvious and not-so-obvious selections to help your team from week to week while you strive to collect fantasy wins, reach your league playoffs, and win the elusive title that your friends say is out of your grasp. While I'm a big proponent of making trades to bolster your roster, the waiver wire can be a limitless resource when it comes to discovering fantasy value. Each week, I'll target both offensive and defensive players — sometimes breakout stars that eluded your team's draft — as well as players who can help your squad that may be lurking in deeper leagues.



Off the Top -

Includes my premier recommendations. These are sometimes players available only in more shallow leagues, and occasionally guys who are more readily but are thrust into the fantasy spotlight because of opportunity or exceptional production.



Digging Deeper -

Covers the next tier of quality waiver wire specimens, usually players available in a majority of online leagues. There are a lot of gems in this range who can be plucked rather easily.



Scouring the Barrel -

Chronicles the deepest of fantasy adds — and sometimes highlights players being tacked onto fantasy squads who I don't have much confidence in. Make sure you read the fine print.

Each week, I'll also provide a brief update on the 20-30 players I covered the previous week. It's the most accurate, comprehensive one-stop waiver-wire column available on the Internet, and it's only available here at fftoday.com.

Feedback is always welcome, appreciated and encouraged. I'll get to as many e-mails as I can.


---
Note:
Each player's next four matchups are listed in parentheses ()
Quarterbacks
Off The Top
Tim Tebow, DEN (DET, @OAK, @KC, NYJ) – Tebow waited almost four full quarters before rewarding his fantasy owners, and there's a lot wrong with his game, but his ability to scramble makes him a worthy roster add in leagues where he's not already snagged.

Digging Deeper
Andy Dalton, CIN (@SEA, @TEN, PIT, BAL) – The bye week probably helped out Dalton quite a bit, and he's facing the Seahawks in Week 8. If you're a Matt Ryan, Jay Cutler or Aaron Rodgers owner and you're looking for a capable backup off the wire, Dalton is it.


Scouring The Barrel
Christian Ponder, MIN (@CAR, BYE, @GB, OAK) – The Green Bay defense is full of gamblers, and because of this, Ponder made things quite interesting on Sunday afternoon. The general consensus is that he's a much better QB option than Donovan McNabb, and that holds true for fantasy owners as well.


Updates
Josh Freeman, TB (BYE, @NO, HOU, @GB) – Freeman had a solid second half and finished with 264 yards and two TD passes. The only problem is he threw four picks in the process. The bye week should help him sort things out.
Sam Bradford, STL (NO, @ARI, @CLE, SEA) – Bradford sat out with his high ankle sprain. Stay tuned for his Week 8 status.
John Beck, WAS (BUF, SF, @MIA, DAL) – Beck posted a decent fantasy line on Sunday (279-1-1) and also contributed a rushing TD. He's got the job barring any major setbacks.
Carson Palmer, OAK (BYE, DEN, @SD, @MIN) – Palmer relieved Kyle Boller (three INTs) at halftime and ended up throwing three picks of his own. While it wasn't the kind of debut Raider fans were counting on, he barely got any reps in practice and admitted knowing just 10 percent of the team's offense. The bye week should give him plenty of time to prepare for Denver.

Running Backs
Off The Top
Ryan Torain, WAS (@BUF, SF, @MIA, DAL) – With Tim Hightower (torn ACL) done for the year, Torain will get the nod as the Redskins starting running back – for now. The next few matchups are decent ones, so take a chance on Torain if he's still available.

Knowshon Moreno, DEN (DET, @OAK, @KC, NYJ) – Willis McGahee's injury should keep him out a week or two, giving Moreno first crack at carries in Denver. I'm not a huge fan of Moreno – I'd also consider Lance Ball in deep PPR leagues – but he's worth adding if he's the starter.


Digging Deeper
Michael Bush, OAK (BYE, DEN, @SD, @MIN) – There's talk that McFadden could be back after the Week 8 bye, but Bush is a productive option who gets a decent number of goal line carries. If you've got the room, don't hesitate.
Roy Helu, WAS (@BUF, SF, @MIA, DAL) – Helu is probably the better all-around back over Torain, but he's relegated to third-down duties… for now.

Scouring The Barrel
Leon Washington, SEA (CIN, @DAL, BAL, @STL) – If Marshawn Lynch misses any additional time, the capable Washington will take over in Seattle. Washington's got a decent history as a fill-in fantasy contributor; so desperate owners might have an option in this veteran back.

LaRod Stephens-Howling, ARI (@BAL, STL, @PHI, @SF) – Chris Wells is hurt…again, so Alphonso Smith and LSH will have a timeshare. I prefer LSH for his big-play capability, as he showed on his 73-yard TD catch-and-run Sunday.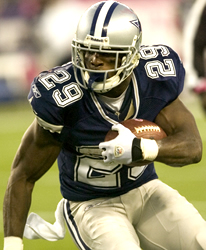 Last chance to grab Murray.
Updates
Montario Hardesty, CLE (@SF, @HOU, STL, JAC) – With Peyton Hillis out, Hardesty racked up 95 yards (on a whopping 33 carries) and 2-27-0 receiving. Not bad, but a TD would have been nice.


Maurice Morris, DET (@DEN, BYE, @CHI, CAR) – Morris didn't have an ideal day, but he filled in admirably (63 total yards) for the concussed Jahvid Best.

DeMarco Murray, DAL (@PHI, SEA, BUF, @WAS) – Wow. As a Cowboy fan, I'm pretty giddy about Murray's monster 253-yard day, which included a 91-yard TD run. He's definitely going to be gone in just about all formats after the waivers process this week.

Donald Brown, IND (@TEN, ATL, JAC, BYE) – Delone Carter had a solid day, but it appears that Joseph Addai is close to returning, relegating Brown back to third string.

Wide Receivers/Tight Ends
Off The Top
WR Plaxico Burress, NYJ (BYE, @BUF, NE, @DEN) – Burress is still available in over a third of fantasy leagues, but you'll have to wait a week to deploy him as the Jets are on a bye and then head to Buffalo in Week 9. It took a while for him to adjust, but his three-TD performance in Week 7 proves he's exactly the red zone threat the Jets were seeking when they signed him this summer.

TE Jermaine Gresham, CIN (@SEA, @TEN, PIT, @BAL) – The next few matchups could really help Gresham break out as one of the top TEs in the league this season. The Titans give up the most points to fantasy TEs and the Seahawks are one of the top five TE-friendly teams. He might be available in some leagues because of the Week 7 bye.


Digging Deeper
WR Antonio Brown, PIT (NE, BAL, @CIN, BYE) – For the third time this season, Brown had at least nine targets – cashing in for 7-102-0. He's yet to score a TD, but Ben Roethlisberger seems to be spending more and more time looking his way. In fact, the young wideout is 19th in the NFL with 48 targets this season.

WR Jabar Gaffney, WAS (@BUF, SF, @MIA, DAL) – Gaffney earns a bump in value with the injury to Santana Moss, who'll be out about 4-6 weeks. The veteran receiver has 18 targets the past two weeks and is coming off his highest yardage total of the season.


Scouring The Barrel
WR Michael Jenkins, MIN (@CAR, BYE, @GB, OAK) – Jenkins broke through for 3-111-1 on Sunday, scoring for the third time this season and showing some rapport with Ponder, the new Vikings QB. Aside from the Week 9 bye, the upcoming matchups look tasty.


Updates
WR Nate Burleson, DET (@DEN, BYE, @CHI, CAR) – Burleson contributed just one catch (no yardage) and 10 rushing yards during a stifled Sunday at home versus Atlanta. Boo!

WR Devin Hester, CHI (BYE, @PHI, DET, SD) – Hester didn't find paydirt but caught 4-46-0 in the win over Tampa Bay.

WR Danario Alexander, STL (NO, @ARI, @CLE, SEA) – Two receptions, no yardage. But that was with A.J. Feeley taking the snaps. Wait until Bradford gets back.

IDP
Off The Top
Derrick Johnson, KC (SD, MIA, DEN, @NE) – He'll be on the field a lot in the coming weeks, and he doesn't have a bad matchup left on the docket. The veteran linebacker just keeps getting it done; so far this season he's racked up 35 solos and he's been active in pass coverage, which helps lead to bonus points in IDP.


Digging Deeper
DB Patrick Chung, NE (@PIT, NYG, @NYJ, KC) – Chung isn't having the same type of impact as in the past, but the matchup[s are getting juicier as the season wears on. Look for some big plays and plenty of tackles in the upcoming games with Pittsburgh and the Giants.


Scouring The Barrel
DL Ahtyba Rubin, CLE (@SF, @HOU, STL, JAC) – Rubin is a top-notch tackler at the point of attack and should continue to post good IDP numbers in the next few weeks. He's an effective DL2 in fantasy and serves as an excellent bye week fill-in.


Updates
DL Calais Campbell, ARI (@BAL, STL, @PHI, @SF) – Campbell managed just two solo tackles in the crushing loss to Pittsburgh, but should be retained in all formats as he's still one of the top-scoring DLs in IDP.

LB Von Miller, DEN (DET, @OAK, @KC, NYJ) – Miller totaled five tackles and a sack in the Broncos comeback win over Miami Sunday. He's not a great option every week, but you can find matchups that work.

DB Jordan Babineaux, TEN (IND, CIN, @CAR, @ATL) – We got another solid game from Babineaux, who tallied 11 tackles (nine solos) in the loss to Houston. He remains an excellent DB2 option.