11/1/11





MyFantasyLeague.com Users...
Check out the most popular waiver wire pickups this week across thousands of MFL leagues. Also, quickly see who's available on your waiver wire this week by using the MFL Power feature at FF Today. Just input your league's 5-digit ID number away you go!

Targeting weekly waiver picks is a completely subjective business, but this column hopes to point out some obvious and not-so-obvious selections to help your team from week to week while you strive to collect fantasy wins, reach your league playoffs, and win the elusive title that your friends say is out of your grasp. While I'm a big proponent of making trades to bolster your roster, the waiver wire can be a limitless resource when it comes to discovering fantasy value. Each week, I'll target both offensive and defensive players — sometimes breakout stars that eluded your team's draft — as well as players who can help your squad that may be lurking in deeper leagues.



Off the Top -

Includes my premier recommendations. These are sometimes players available only in more shallow leagues, and occasionally guys who are more readily but are thrust into the fantasy spotlight because of opportunity or exceptional production.



Digging Deeper -

Covers the next tier of quality waiver wire specimens, usually players available in a majority of online leagues. There are a lot of gems in this range who can be plucked rather easily.



Scouring the Barrel -

Chronicles the deepest of fantasy adds — and sometimes highlights players being tacked onto fantasy squads who I don't have much confidence in. Make sure you read the fine print.

Each week, I'll also provide a brief update on the 20-30 players I covered the previous week. It's the most accurate, comprehensive one-stop waiver-wire column available on the Internet, and it's only available here at fftoday.com.

Feedback is always welcome, appreciated and encouraged. I'll get to as many e-mails as I can.


---
Note:
Each player's next four matchups are listed in parentheses ()
Quarterbacks
Off The Top
Josh Freeman, TB (@NO, HOU, @GB, @TEN) – Freeman is heading into some possible high-scoring affairs, so it's a good time to give him a shot. He's a big-time "Jekyll & Hyde" performer, but the smart money's on him turning things around in the second half of the season.

Digging Deeper
Matt Cassel, KC (MIA, DEN, @NE, PIT) – With the emergence of rookie WR Jonathan Baldwin and a viable every down running option in Jackie Battle, Matt Cassel looks like a guy with some decent weapons. He's got a few excellent fantasy matchups on the way, so dig your heels in and give him a play as a bye week fill-in.


Scouring The Barrel
Carson Palmer, OAK (DEN, @SD, @MIN, CHI) – Palmer is urging the Raiders to sign T.J. Houshmandzadeh, who could add a slot threat to the mix in Oakland. Once the veteran QB knows the playbook and can develop some rapport with his talented receivers, the sky's the limit from a fantasy perspective. It just might take a while.


Updates
Tim Tebow, DEN (@OAK, @KC, NYJ, @SD) – Count me as unimpressed. Tebow's tenuous value plummets if he loses the job, which could come soon with performances like Sunday.

Andy Dalton, CIN (@TEN, PIT, BAL, CLE) – He makes a few mistakes, but keeper league owners have to love Dalton (168-2-2) right now; the rookie could be making a run to get among the top 15 fantasy QBs by the end of the season.
Christian Ponder, MIN (BYE, @GB, OAK, @ATL) – Ponder (236-1-0) now has two straight starts (the first two of his career) with over 200 passing yards – not bad for a largely unheralded rookie.

Running Backs
Off The Top
Reggie Bush, MIA (@KC, WAS, BUF, @DAL) – The light sprite had 15 carries for 103 rushing yards and 4-17-0 receiving against the Giants. He'll get the majority of carries with Daniel Thomas nursing the hamstring injury.

Brandon Jacobs, NYG (@NE, @SF, PHI, @NO) – Giants fans booed just about every time he got the ball, but it makes sense that you'll see plenty of Jacobs to give Bradshaw the spells he'll need to stay healthy. You should find some roster room for this guy.


Digging Deeper
Javon Ringer, TEN (CIN, @CAR, @ATL, TB) – Chris Johnson and Ringer got equal workloads on Sunday, and Ringer looked like the better back. CJ2K's still got the job, but expect a lot more of this capable back down the stretch. He's worth owning in 12+ team formats.

Scouring The Barrel
Kevin Faulk, NE (NYG, @NYJ, KC, @PHI) – Now that he's healthy again, Faulk is quite relevant. He racked up 32 rushing yards and 5-20-0 – 10.2 points in PPR leagues.

Curtis Brinkley, SD (GB, OAK, @CHI, DEN) – His value hinges on the status of both Mike Tolbert (hamstring, hand) and Ryan Matthews (groin), but he looked pretty good on Monday night (10 carries, 43 yards, TD; 3-24-0 receiving). Stay tuned on his health also as he was being examined for a concussion after the game. And, he's already got a bullet lodged in his chest from a July 2009 incident. Yikes.


Updates
Ryan Torain, WAS (SF, @MIA, DAL, @SEA) – The Redskins couldn't run the ball against the Bills and they just signed Tashard Choice to help back up Torain (eight carries for just 14 yards last week). It's not looking great with the upcoming schedule either.

Knowshon Moreno, DEN (@OAK, @KC, NYJ, @SD) – Moreno might suck, but he's bound to have at least 50 yards and a possible score against the Raiders.

Michael Bush, OAK (DEN, @SD, @MIN, CHI) – Bush (Week 8 bye; 99 rushing yards in Week 7) will get the start Sunday if Darren McFadden (foot) can't go.
Roy Helu, WAS (SF, @MIA, DAL, @SEA) – Helu isn't getting enough work from Shanahan to have a fantasy impact, but that could change at any time.
Leon Washington, SEA (@DAL, BAL, @STL, DAL) – Washington had one big run on Sunday but wasn't much of a fantasy factor (34 rushing yards).

LaRod Stephens-Howling, ARI (STL, @PHI, @SF, @STL) – Beanie Wells actually got the start, so LSH didn't see much action.

Wide Receivers/Tight Ends
Off The Top
TE Scott Chandler, BUF (NYJ, @DAL, @MIA, @NYJ) – Ryan Fitzpatrick continues to target his valuable, super-reliable tight end in the red zone, where he caught two TDs on Sunday. Sure, that's just about the only time he does target him, but the Bills are getting in the red zone a lot, making Chandler a low-end TE1.

WR Lance Moore, NO (TB, @ATL BYE, NYG) – Moore hauled in a few of his catches (and TD) in garbage time against the Rams, but he's still one of Drew Brees' favorite options. He's worth a spot start and always gets at least a couple catches when he's healthy.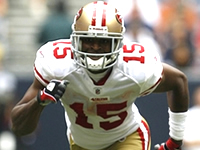 Michael Crabtree is trending up.
Digging Deeper
WR Michael Crabtree, SF (@WAS, NYG, ARI, @BAL) – In his last two games, Crabtree has 131 receiving yards and 14 catches. Last week, he even hauled in a TD pass against Cleveland. He's clearly the best WR in the 49ers offense and represents a solid WR3 going forward.

TE Brent Celek, PHI (CHI, ARI, @NYG, NE) – Celek's monster game (7-94-1) puts him back in the TE1 category. It's telling that Vick looked his way as much as he did in such a crucial game. He's got another great matchup in Week 9 against the Bears.


Scouring The Barrel
WR Jonathan Baldwin, KC (MIA, DEN, @NE, PIT) – Baldwin's breakout (5-82-1, eight targets) could be the sign of things to come. The rookie can make just about any catch and is clearly entrenched in the consciousness of Cassel. Now that his hand is better you should get at him before he's snagged by another owner.

WR Laurent Robinson, DAL (SEA, BUF, @WAS, MIA) – Despite the presence of Miles Austin, Dez Bryant and Jason Witten, Tony Romo targeted Robinson eight times on Sunday night, and the St. Louis transplant responded with 5-103-1. In happier times in Dallas, he might not get as many looks, but things are weird right now.

WR Titus Young, DET (BYE, @CHI, CAR, GB) – Detroit's third receiver came up big again (4-66-1), even with a modest number of targets (five). He's making the most out of his opportunities, which usually leads to more chances. He's worth a roster addition in some 12-team formats and a shot at a spot start in deeper leagues – once the Lions return from their Week 9 bye.


Updates
WR Plaxico Burress, NYJ (@BUF, NE, @DEN, BUF) – Jets were on a Week 8 bye, but I'm sure they were working on ways to get Plax the ball against the Bills.

TE Jermaine Gresham, CIN (@TEN, PIT, @BAL, CLE) – Gresham (hamstring) was listed as probable but was a late scratch before Sunday's tilt with Seattle.

WR Antonio Brown, PIT (BAL, @CIN, BYE, @KC) – Brown's breakout game (9-67-1) helped me win one big game this weekend, and it puts him among my Top 25 WRs to own in the second half of the season.

WR Jabar Gaffney, WAS (SF, @MIA, DAL, @SEA) – The consistency (no fewer than three catches or less than 40 yards in any game this season) is fine, but I'd like to see the occasional long TD pass hauled in by Gaffney. If he had one every two or three games, he'd be a top receiver.

WR Michael Jenkins, MIN (BYE, @GB, OAK, @ATL) – His owners were definitely looking for more than 2-30-0 out of their WR3.

IDP
Off The Top
LB James Harrison, PIT (BAL, @CIN, BYE, @KC) – Since most IDP formats don't allow for much depth on the defensive side, plenty of owners dismissed Harrison after his broken orbital bone sidelined him for multiple weeks. Now, Harrison's agent says he'll be back against the Ravens, a game I have no doubt he'll be up for. Give him a shot in prime time on Sunday night.


Digging Deeper
DL John Abraham, ATL (@IND, NO, TEN, MIN) – The veteran lineman missed some time with a groin injury but in Week 7 recorded a couple tackles and a sack. With a bye week to get him 100 percent, he's a decent spot start against the Colts in deeper formats.


Scouring The Barrel
DB Champ Bailey, DEN (@OAK, @KC, NYJ, @SD) – Bailey's balky hamstring has kept him out of the action a lot this season, but now that he's healthy, there's a good shot he explodes against Carson Palmer and the Raiders in Week 9. He's almost universally available in IDP formats and the matchup is a good one.


Updates
LB Derrick Johnson, KC (MIA, DEN, @NE) – Johnson was probably my best IDP recommendation of the season, finishing behind only DeMarcus Ware (11 total tackles, 4.0 sacks, FF) and London Fletcher (20 total tackles, 0.5 sacks, PD, INT) among linebackers in Week 9. Johnson was all over the field on Monday night, racking up 13 total tackles, a sack, a PD and an INT.

DB Patrick Chung, NE (NYG, @NYJ, KC) – Another spot-on pick, Chung tallied 13 total tackles (10 solos) and a PD on Sunday.

DL Ahtyba Rubin, CLE (@HOU, STL, JAC) – It's hard to argue with my genius. Rubin has eight solo tackles on Sunday, an awesome total for any DL.