MyFantasyLeague.com Users...
Check out the most popular waiver wire pickups this week across thousands of MFL leagues. Also, quickly see who's available on your waiver wire this week by using the MFL Power feature at FF Today. Just input your league's 5-digit ID number away you go!

Targeting weekly waiver picks is a completely subjective business, but this column hopes to point out some obvious and not-so-obvious selections to help your team from week to week while you strive to collect fantasy wins, reach your league playoffs and win the elusive title that your friends say is out of your grasp. While I'm a big proponent of making trades to bolster your roster, the waiver wire can be an almost limitless resource when it comes to discovering fantasy value in strange places. Each week, I'll target both offensive and defensive players — sometimes breakout stars that eluded your team's draft — as well as players who can help your squad that may still be lurking in deeper leagues. I'll also provide an occasional daily fantasy recommendation, as I'm hopelessly addicted to DFS sites.



Off the Top -

Includes my premier recommendations. These are sometimes players available only in more shallow leagues, and occasionally guys who are more ready but are thrust into the fantasy spotlight because of opportunity or exceptional production. Usually, they are available in at least 25 percent of public leagues.



Digging Deeper -

Covers the next tier of quality waiver wire specimens, usually players available in a majority of online leagues. There are a lot of gems in this range who can be plucked rather easily. Usually, these players are available in at least 50 percent of public leagues.



Scouring the Barrel -

Chronicles the deepest of fantasy adds — and sometimes highlights players being tacked onto fantasy squads who I don't have much confidence in. Make sure you read the fine print because I don't always love them. For the most part, you'll find these players available in about 75-100 percent of fantasy leagues

Each week, I'll also provide a brief update on the players I covered the previous week. It's the most accurate, comprehensive one-stop waiver-wire column available on the Internet, and it's only available here at fftoday.com. Let's get to some of the players who could be still out there on the waiver wire and in the free agent pool as you prepare for Week 1!


Feedback is always welcome, appreciated and encouraged. I'll get to as many e-mails as I can.


---
Note:
Each player's final four matchups are listed in parentheses ( ). Since IDP league composition is so varied, I'll just list defensive players per position and use their Yahoo ownership rates – which due to site ranking anomalies and the high rate of variance in availability, are often much lower than actual ownerships rates.
Quarterbacks
Off The Top
Eli Manning, NYG (@TEN, WAS, @STL, PHI) – Though it's obvious that Giants fans and many fantasy owners have given up on Manning (50-85 percent owned), he's in the conversation for Week 14 after the likes of Ryan Fitzpatrick carved up the Titans for six TD passes. Manning hasn't been the main problem, as an ineffectual offensive line, myriad injuries and wildly inconsistent skill position play have combined to lead to the majority of the Giants losses.

Digging Deeper
Johnny Manziel, CLE (IND, CIN, @CAR, @BAL) – Manziel (10-15 percent owned) came on in the fourth quarter of the Week 13 game against Buffalo after Brian Hoyer failed to put together any semblance of a drive in the second half. The brash rookie put together an impressive 80-yard touchdown drive, scoring the TD himself on a 10-yard scramble – as mobility is one of his strengths. He's probably going to be the QB unless Hoyer can somehow convince the coaching staff he's poised for better play.

UPDATE: Browns coach Mike Pettine is playing it close to the vest early in the week, but we suspect that Manziel gets the call against Indianapolis, as Hoyer has been remarkably ineffective his last two starts (0:5 TD:INT). Manziel looked far from polished, but he provided the spark that Pettine said he hoped would come from the QB change. They'll need a raging fire – not just a spark – to beat the juggernaut Colts, but it appears the Johnny Football era has begun.
Ryan Fitzpatrick, HOU (@JAC, @IND, BAL, JAC) – Fitzpatrick was the No. 1 fantasy QB on Sunday, finishing with 358-6-0 on 24-for-33 passing. The six TDs were a career high and a nostalgic throwback to his more freewheeling days in Buffalo. He makes a decent QB2 start in Week 14 and could be worth a look in DFS over the next few weeks.

Scouring The Barrel
Zach Mettenberger/Jake Locker, TEN (NYG, NYJ, @JAC, IND) – Before you start laughing, I'll just point out that the Titans have some decent matchups in the final few games, and they are clearly committed to heaving the ball downfield. Whether it's the rookie, who's playing well but dealing with a sprained AC joint, or the more experienced Locker (who filled in Sunday and went 6-for-12 with 91-1-2 and a lost fumble) – it's going to be a chuckfest these next few weeks.

UPDATE: Ken Whisenhunt said that Mettenberger's throwing shoulder injury is "not bad," and while it's still unclear if he'll be able to play in Week 14, the Titans think he can go if the soreness is tolerable.
Colt McCoy, WAS (STL, @NYG, PHI, DAL) – Those brave enough to start Colt McCoy in Week 13 were rewarded with an impressive 392-3-0 performance, as the Washington-Indy shootout got wild in the middle quarters. McCoy isn't a recommended start next week facing the Rams, but he's got some decent matchups down the stretch against division rivals.

Updates
Andy Dalton, CIN (PIT, @CLE, DEN, @PIT) – The talented but wild Dalton completed 19-of-27 passes for 176 yards, a TD, and three interceptions as the Bengals pulled off a squeaker win over the Bucs. He saved his fantasy performance with a two-yard rushing score, but he'll be tough to trust heading into the fantasy playoffs.
Josh McCown, TB (@DET, @CAR, GB, NO) – This is the Josh McCown we know (and hate). He essentially laid an egg against the Bengals, throwing for 190-0-1 and devastating owners who started him.
Derek Carr, OAK (SF, @KC, BUF, @DEN) – Wait a minute – we found a worse fantasy QB in Week 13! Carr finished with 173-0-2 and was pulled for Matt Schaub in the fourth quarter Sunday as the Raiders were handed a 52-0 shutout at the hands of the Rams. There's just nowhere to go from here.
Teddy Bridgewater, MIN (NYJ, @DET, @MIA, CHI) – Bridgewater wasn't all that impressive Sunday, but he did finish with 138-2-0 and 19 rushing yards – which was somewhere between Dalton and Drew Stanton (294-1-2) on the crappy fantasy outing scale.

Running Backs
Off The Top
Tre Mason, STL (@WAS, ARI, NYG, @SEA) – Mason, who had one TD on the season heading into Week 13 and is still just 70 percent owned in Yahoo leagues, exploded for 117 rushing yards and two rushing TDs, as well as 3-47-1 receiving in the 52-0 drubbing of Oakland. He's getting the bulk of touches in the Rams' offense and has relegated Zac Stacy and Benny Cunningham to change-of-pace roles. He's a must-own RB1 given his current usage and ability.

Doug Martin, TB (@DET, @CAR, GB, NO) – The much-beleaguered Martin, who was on plenty of waiver wires earlier in the season after getting injured and losing his starting job, rushed 18 times for 58 yards and a touchdown and caught a three-yard pass in the Bucs' Week 13 loss to Cincinnati. He's still available in about half of Yahoo leagues and could provide low-end RB2 or decent flex value in the fantasy playoffs.


Digging Deeper
Roy Helu, Jr., WAS (STL, @NYG, PHI, DAL) – Helu continues to be hit or miss from a fantasy perspective, but he caught all four of his targets for 61 yards and a touchdown Week 14 against the Colts. He also carried the ball for the first time in three games and appears to be a risky RB4/flex option unless something happens to Alfred Morris.

Knile Davis, KC (@ARI, OAK, @PIT, SD) – While Jamaal Charles played through a knee bruise in Week 13 and next week's matchup probably won't yield fruit for Davis (who didn't have any carries against Denver), it's not outside the realm of possibility that Davis gets heavy work in Week 15 against Oakland so the Chiefs can spell their starting RB. Keep him in mind.


Scouring The Barrel
Stepfan Taylor/Marion Grice/Michael Bush, ARI (KC, @STL, SEA, @SF) – The matchups aren't favorable and there's not a ton of upside in these guys right now. But if Andre Ellington misses Week 14, there's a shot one of them could emerge as a hot hand back and tally some decent numbers against a run defense that was gashed for over 200 rushing yards on Sunday night.

UPDATE: Bruce Arians said this week that Grice will probably get the start if Ellington (hip) can't go against the Chiefs. The 22-year-old Arizona state product was drafted in the sixth round by the Chargers but lost out to Branden Oliver in camp. While he's clearly not a world-beater, Grice could see a high number of touches if he gets off to a good start, and will serve as a decent RB3/flex PPR option in deeper formats if Ellington is inactive.

Marcel Reece, OAK (SF, @KC, BUF, @DEN) – If Latavius Murray misses additional time, Reece might be a decent PPR option as the team struggles to establish a running game and is forced to throw.

UPDATE: My gut tells me that Murray sits out at least another game and Reece gets a heavy dose of touches on Sunday against San Fran, but my gut also told me to play Ryan Tannehill on Monday night against the Jets over Jay Cutler in Detroit on Thanksgiving.
Updates
Andre Williams, NYG (@TEN, WAS, @STL, PHI) – The Giants change-of-pace back had eight carries for 21 yards in Sunday's Week 13 loss to Jacksonville, and could see more work as Rashad Jennings left with an ankle injury late in the fourth quarter. The rookie out of Boston College will be on the RB2 radar for a matchup against the Titans' league-worst run defense in Week 14 if Jennings can't go.

UPDATE: Jennings is unlikely to miss time, according to the NFL Network's Ian Rapoport, who said the ankle injury he suffered near the end of the Jacksonville game is "not believed to be serious." Jennings expects to play in Tennessee, but it's still a situation to monitor as the 3-9 Giants have no good reason to force their No. 1 RB into action if he's not at least 90-95 percent.
LeGarrette Blount, NE (@SD, MIA, @NYJ, BUF) – The resurgent Blount toted the rock 10 times and finished with 58 yards in New England's Week 13 loss to the Packers.
The Pats didn't have a chance to run much with the Packers at full throttle much of the game, but he remains a touchdown-dependent RB3 with plenty of upside.
Carlos Hyde, SF (@OAK, @SEA, SD, ARI) – The rookie rushed five times for 19 yards and caught 3-38-0 against the Seahawks, and looked more effective than Frank Gore in limited opportunities. He could see significant work against Oakland in Week 14.

Latavius Murray, OAK (SF, @KC, BUF, @DEN) – Murray was inactive Sunday after being limited in practice this week and failing his final concussion test. He's about the only player on the Raiders who stands to help during the fantasy playoffs, but he's got to get on the field and stay healthy.

UPDATE: It's hard to see anyone from the Raiders doing especially well against the 49ers defense in Week 14, but Murray is close to returning from his concussion and could suit up. Given what we know about head injuries, I don't understand why a team with no shot at the playoffs would put their best RB's future in jeopardy by rushing him back into action, but since Tony Sparano hasn't ruled him out, we can't either.

Daniel Thomas, MIA (BAL, @NE, MIN, NYJ) – Update coming Tuesday.

UPDATE: Thomas rushed for 5 yards on one carry and caught a 3-yard pass in the win over the Jets Monday night. With Lamar Miller healthy, he's off the fantasy radar for the stretch run. There are better handcuff-style options available.

Dan Herron, IND (@CLE, HOU, @DAL, @TEN) – Herron lost a fumble in the second quarter and had just eight carries and two targets in the passing game, but was able to finish with 88 yards on eight carries, including a 49-yard touchdown, adding 2-8-0 receiving. He'll be a capable lead back in the potent Colts offense if he can hang onto the football.

UPDATE: Chuck Pagano wasn't deterred by Herron's fumble, and he realizes he's a talented back with "long speed." It's important to point out that Herron's eight carries Sunday yielded more yardage than any of Trent Richardson's individual rushing totals in 26 games as a Colt. This means that Herron will essentially resume Ahmad Bradshaw's role in the offense and is the more valuable back – a fantasy RB2 with more upside and a considerably higher floor – than the disappointing T-Rich.
Wide Receivers/Tight Ends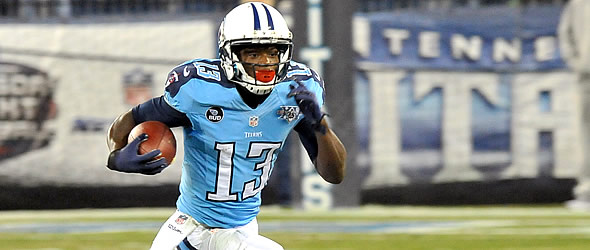 Kendall Wright (7-132-1 in Wk 13) will see more targets if Hunter (spleen) misses the final four games.
Off The Top
Kendall Wright, TEN (NYG, NYJ, @JAC, IND) – The Titans, regardless of who is under center, must pass the ball to stay in games, because their running game is one of the worst I've ever seen. Wright is a talented, athletic possession receiver who figures to be featured prominently in the offense with Justin Hunter injured.

Kenny Stills, NO (CAR, @CHI, ATL, @TB) – Stills had an epic 5-192-1 game on Sunday and appears to be the primary deep threat on the Saints. He was targeted just six times but is in line for plenty of looks against the woeful Panthers secondary in Week 14. He should be owned in all formats.

TE Jordan Reed, WAS (STL, @NYG, PHI, DAL) – UPDATE: Reed is available in about 50-60 percent of fantasy leagues and had a big game in his return from his second hamstring injury. McCoy looked Reed's ay from the jump and the talented TE tallied 9-123-0 on 11 targets. With some uncertainty clouding the immediate fatasy prospects of two of football top fantasy TEs (Julius Thomas with the nagging ankle injury, and Jimmy Graham getting zero targets Sunday), Reed offers a viable alternative and plenty of upside when healthy.
Digging Deeper
Greg Jennings, MIN (NYJ, @DET, @MIA, CHI) – The rookie QB seems to be getting his footing, so Jennings is worth a look in deep formats as an underrated red zone target. He could have a season-high in targets and catches next week against the pitiful Jets pass defense.

Donte Moncrief, IND (@CLE, HOU, @DAL, @TEN) – Moncrief blew up for 3-134-2 in the win over Washington, and while you can't count on that kind of production from a TD-dependent youngster, it's still nice to be the third WR in Andrew Luck's potent offense. He's under-owned, especially considering his potential as a high-upside play.


Scouring The Barrel
Nate Washington, TEN (NYG, NYJ, @JAC, IND) – Like Wright, Washington could see a bunch of targets as the Titans throw caution to the wind and open up their offense down the stretch. He's a veteran receiver who excels in long catch-and-run TDs, and he's only 1 percent owned on Yahoo.

Marqise Lee, JAC (HOU, @BAL, TEN, @HOU) – The rookie had a huge hand in defeating the Giants with his 6-75-1 line – a solid outing that could be interpreted as a breakout. I'm anticipating more targets next week against the Texans, who will undoubtedly go after the Jags and give Lee some valuable garbage time to rack up catches and yardage.


Updates
Odell Beckham Jr., NYG (@TEN, WAS, @STL, PHI) – Beckham hauled in seven passes for 90 yards (eight targets) but failed to reach paydirt in a game he was expected to dominate. He was nursing a minor back injury that he appeared to tweak on an awkward tackle in the first half, but played the entire game.

Mohamed Sanu, CIN (PIT, @CLE, DEN, @PIT) – Sanu had yardage in all three offensive categories (2-19-0 receiving; 10 rushing yards on one carry; and an 11-yard pass completion) but the offense focused on the RB timeshare and A.J Green. He's a risk/reward WR3 going forward.

Justin Hunter, TEN (NYG, NYJ, @JAC, IND) – Hunter suffered a lacerated spleen in Sunday's Week 13 loss at Houston, getting lit up by Danieal Manning after not aggressively pursuing an INT early in the game. He had 1-18-0 and did return to the game, but ultimately left after experiencing stomach pain and was taken to the hospital. He's safe to drop in all redraft formats, as he's likely headed for IR.

UPDATE: Hunter should be released from the hospital soon, but he's no longer on the fantasy radar for 2014. Go grab somebody special, amigos.
TE Tim Wright, NE (@SD, MIA, @NYJ, BUF) – Tim Wright hauled in his lone target for 12 yards in Week 13, as the game plan did not include much of the Week 12 standout. There's no easy way to predict how Bill Belichick will use Wright going forward, making him a TE2 with upside in the right matchup.
Charles Johnson, MIN (NYJ, @DET, @MIA, CHI) – Johnson caught 2-41-0 on four targets during the Vikings' Week 13 win over the Panthers. With a three-score lead, the Vikings ran a ball-control offense in the second half, but Johnson is the Vikings No. 1 WR and a high-upside WR3 who might have a breakout against the Jets' terrible secondary in Week 14.
Louis Murphy, TB (@DET, @CAR, GB, NO) – After a big Week 12, Murphy managed just one catch for 7 yards despite seeing five targets in the Bucs' Week 13 loss to Cincinnati. He's an inconsistent slot receiver and a hit-or-miss fantasy contributor with marginal upside.

IDP
Linebackers
LB Anthony Hitchens, DAL (@CHI, @PHI, IND, @WAS) – I like his chances for another big game versus the Bears, who will likely use a lot of Brandon Marshall on crossing routes and Matt Forte in the flanks, where Hitchens excels in side-line-to-sideline tackling.

LB Telvin Smith, JAC (HOU, @BAL, TEN, @HOU) – Smith is playing some impressive football right now, and his ability helped put some of the pressure on the Giants as they caved on Sunday. The rookie out of FSU has 63 total tackles, 2.0 sacks, an INT and three PD on the season.


Defensive Backs
DB Reggie Nelson, CIN (PIT, @CLE, DEN, @PIT) – Nelson is a veteran safety who often gets forgotten as one of the best in the game, and do far he's having a great season with 79 total tackles, 1.5 sacks, two INT and nine PD. He'll be forced to step up next week against the Steelers.

DB Richard Sherman, SEA (@PHI, SF, @ARI, STL) – Sherman is playing excellent football right now and looks like the player that tore through the playoffs last season as the league's premier cornerback. He's coming off a two-INT Thanksgiving game and should be busy in Week 14 against the Eagles and Chip Kelly's quick-hitting offense.


Defensive Lineman
DL Jurrell Casey, TEN (NYG, NYJ, @JAC, IND) – Casey is among the best one-gap DTs in the league and should excel against the weak Giants offensive line this Sunday. He's one of the top DT-eligible lineman in all of IDP, even if his ownership rates don't reflect it.

DL Everson Griffen, MIN (NYJ, @DET, @MIA, CHI) – The underrated Griffen now has 11.0 sacks on the season and is coming off a monster IDP performance (five total tackles, 2.0 sacks, blocked punt TD) where he showed off his next-level athleticism. More big games are coming.


Updates
LB Rolando McClain, DAL (@CHI, @PHI, IND, @WAS) – McClain finished with just seven total tackles (six solos), and Hitchens tallied more tackles (12 total) against Philadelphia.

LB Avery Williamson, TEN (NYG, NYJ, @JAC, IND) – Williamson had an uncharacteristically quiet Week 13, notching just one assist and a PD in the loss to Houston.

DB James Ihedigbo, DET (TB, MIN, @CHI, @GB) – Ihedigbo had just one solo tackle on Thursday but added a PD an INT against Chicago. He now had three INTs over his last four games.

DB Antrel Rolle, NYG (@TEN, WAS, @STL, PHI) – Rolle had seven total tackles and a PD in the devastating loss to Jacksonville, as the Giants imploded in the second half. Rolle gets plenty of chances in this questionable defense.

DL Carlos Dunlap, CIN (PIT, @CLE, DEN, @PIT) – Dunlap had one of his better games this season Sunday at Tampa, finishing with seven total tackles (five solos) 0.5 sacks and a PD.

DL Michael Bennett, SEA (@PHI, SF, @ARI, STL) – As expected, Bennett stepped up big on Thankgiving night with four solos and a sack, his best IDP line since Week 2. He's a good bet for another solid week at Philly on Sunday.